Kids are never too young for New Year breaks, and together, you and the little ones can have the perfect New Year's Eve celebration. Find 31 December's best fireworks, child-size ceilidhs, parties and processions right here.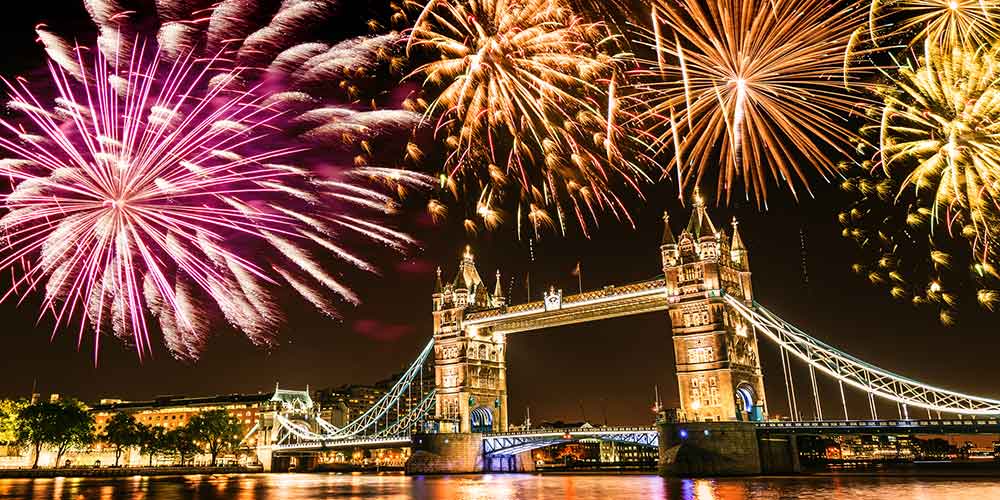 1/5

 Book now for London's astonishing New Year fireworks

Forget Sydney Harbour and Times Square in NYC, head to London for spectacular New Year fireworks and loads of other stuff for kids to get excited about in the lead up to midnight. Hyde Park Winter Wonderland is the place for funfairs and skating until 10pm on 31 December. The ice rinks at Canary Wharf, Somerset House and the Natural History Museum are all open on New Year's Eve. Explore the magical Kew gardens which are open late until 10 pm. And then come the dazzling, night-sky exploding, best-of-all pyrotechnics over the Thames on the dot of Midnight. It's tickets-only as always and you won't get a riverside vantage point without booking. But, the good news is, you don't have to turn up and bag a spot in the freezing cold from early afternoon, like you do in New York.

Top tip – London New Year Firework tickets are on sale from 21 October

Where: Central London

When: From 8pm on 31 December

Price: Firework tickets are £10 each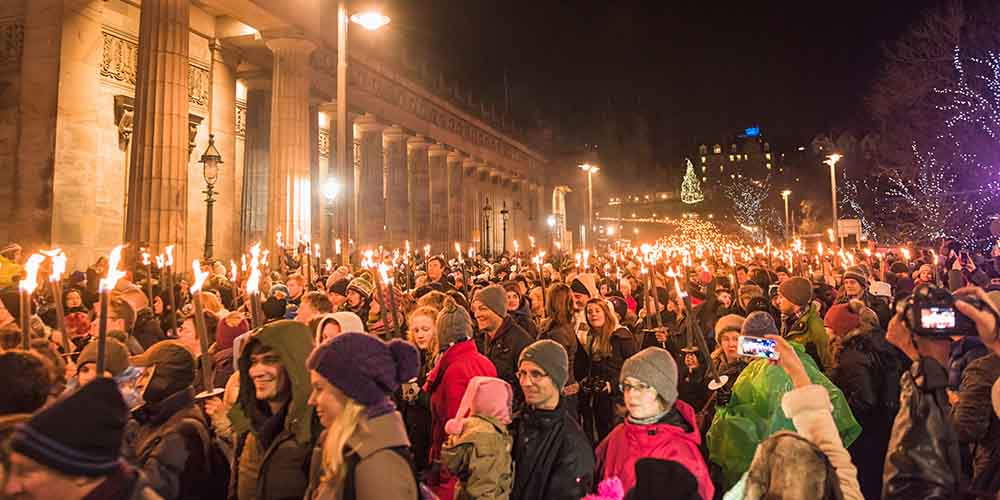 2/5

 Spend Sprogmanay and Hogmanay in Edinburgh

See what the National Museum of Scotland just did? They went all punny on us and turned Hogmanay into Sprog-manay. It doesn't mean Edinburgh's vast New Year street party won't still be the UK's biggest and busiest for grown-up merriment until the wee small hours, but this year, kids have their very own celebrations too, from 30 December right through to 1 January. Expect lantern processions, treasure hunts, concerts, music, theatre and, of course, a ceilidh – it's not Hogmanay in Scotland without a ceilidh. Can't make it to the Museum? Never fear, kids can take part in the Calton Hill Torchlight Procession (marching through the city with flaming torches, how can you resist?). There's the usual massive funfair in Princes Street Gardens. And, if you haven't overdone it the night before, get up early and go see the annual Loony Dook: mad Scots swimming in the freezing River Forth on January first.

Hint – Calton Hill has the best view of Edinburgh Castle's midnight Fireworks.

Where: National Museum of Scotland and Edinburgh city centre.

When: 30 December to 1 January

Price: Ticket prices vary based on event.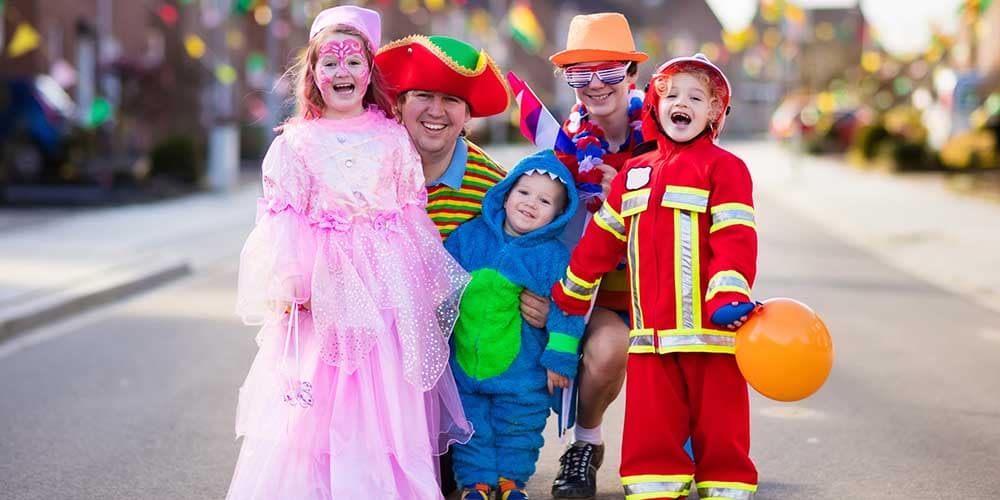 3/5

 Dress up for New Year in St. Ives (everyone does)
For such a cute, arty and cultured Cornwall town, St. Ives knows how to let its hair right down for New Year. If you haven't heard of this one before, it's time you did. From toddlers to grandparents, everyone's expected to turn up in fancy dress: local charity shops get stripped bare in December. The streets are closed to cars from 6pm on New Year's Eve and packed with food stalls, bands, performers and thousands of people instead. Every bar, restaurant, hotel and café throw a party of some sort and, to top it all off, there's a huge firework display over the sea on the stroke of midnight.
Top tip – Book restaurants early for St. Ives' at New Year
Where: All over St. Ives town centre and Smeatons Pier.
When: From 6pm on 31 December
Price: Free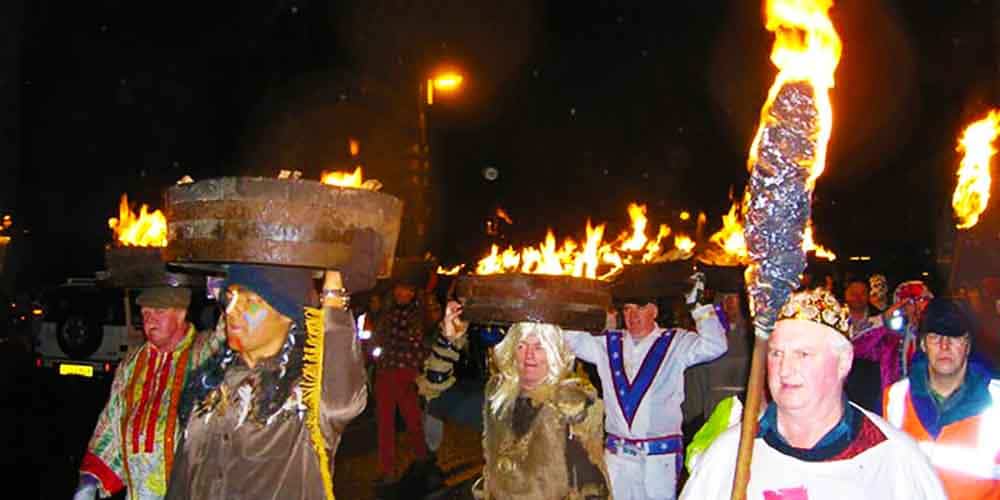 4/5

 Do a Tar Barle New Year in Northumberland
If 2019 is the year to introduce kids to terrifying antics in the name of tradition, Allendale in Northumberland is where to start on New Year's Eve. Since anyone can remember, the menfolk of this normally quiet Northumberland town have got together on 31 December, loaded barrels with tar, set them alight and marched through the streets with the flaming tubs on their heads. Painted faces and full costume are compulsory so the fire-carriers are known as guisers. Hundreds of local families and visitors pack the streets for Tar Barle, music, food and drink are plentiful and it all ends up with an almighty bonfire in the town centre at midnight. Top marks for most eccentric New Year festival and kids love it.
Top tip – Allendale's less than half an hour's drive from Newcastle
Where: Allendale, Northumberland
When: From 11pm on 31 December
Price: Free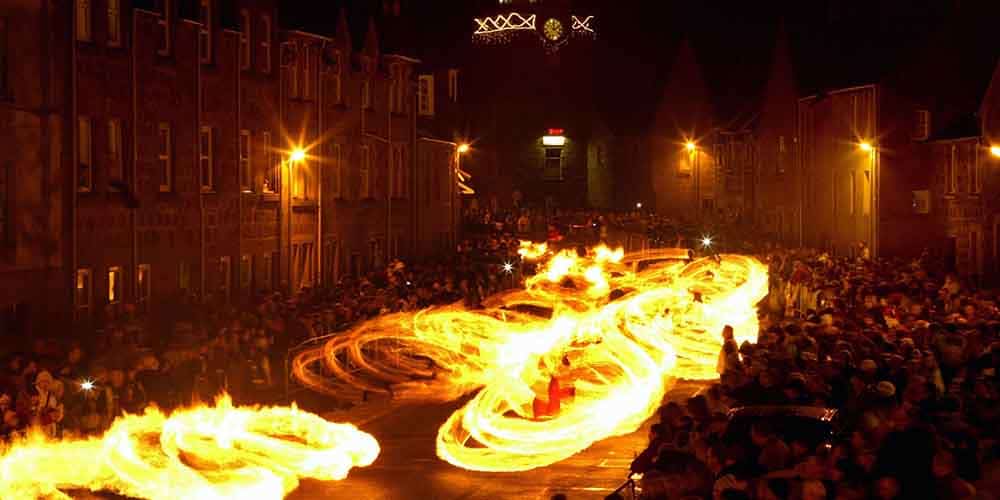 5/5

 See Stonehaven's fabulous Fireball Festival

Looking for something wild and pagan to entertain the kids this New Year's Eve? Stonehaven just outside Aberdeen is home to the Stonehaven Fireball Festival. Round about 11pm on 31 December the pretty harbour town is a theatre of flame as pyro-artists parade through the streets juggling, swinging, spinning and weaving huge orbs of fire about their bodies. It's a stunning sight, attracts big crowds and the finale at Stonehaven Harbour is unforgettable. There's a firework display over the sea at midnight too, just in case the fireballs aren't amazing enough.

Top tip – the Aberdeen Winter Festival has New Year ceilidhs and concerts just 20 minutes north of Stonehaven.

Where: Stonehaven, Aberdeen

When: Arrive at 10pm on 31 December

Price: Free