When family holidays are easy to do again there's a good chance you'll be looking for some beautiful beaches to play on with kids. Fortunately you don't have to look too far, because some of the loveliest beaches in Europe are right here in the UK.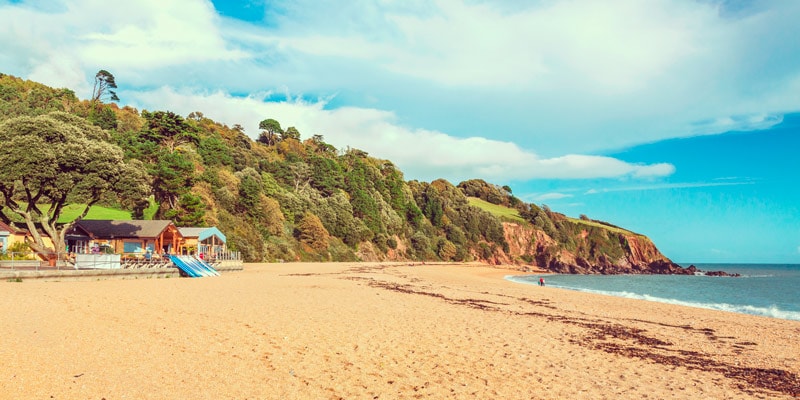 15/15

Blackpool Sands, South Devon
This Blue Flag Award-winning beach is backed by evergreens and scented pines, giving it more than a whiff of the Mediterranean. The waters are unusually clear and are tested regularly by the Environment Agency to confirm their cleanliness. The beach is cleaned on a daily basis from March to the end of October and its facilities include showers, toilets and even sandpits – just in case one of the sandiest beaches in the UK isn't quite sandy enough for kids.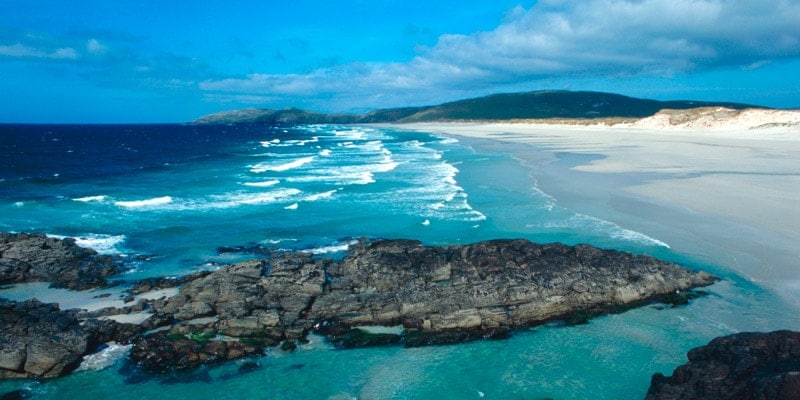 14/15

The Isle of Barra, Outer Hebrides, Scotland
The Isle of Barra, 60 miles from mainland Scotland, is the most Westerly inhabited island of the UK. Just eight miles long and five miles wide, it's blessed with a truly beautiful coastline, deserted white sandy beaches and crystal clear waters – the type you'd expect to see in the Caribbean.
The sands at Traigh Mhor are used as a runway for the daily air service into Barra (but only when the tide's out!) and it's quite a sight to see a plane landing on a beach. Barra is also brilliant for watersports – sea kayaking is a must to explore up-close the beautiful islands and sheltered bays of the island. And keep your eyes peeled for seals and porpoises too.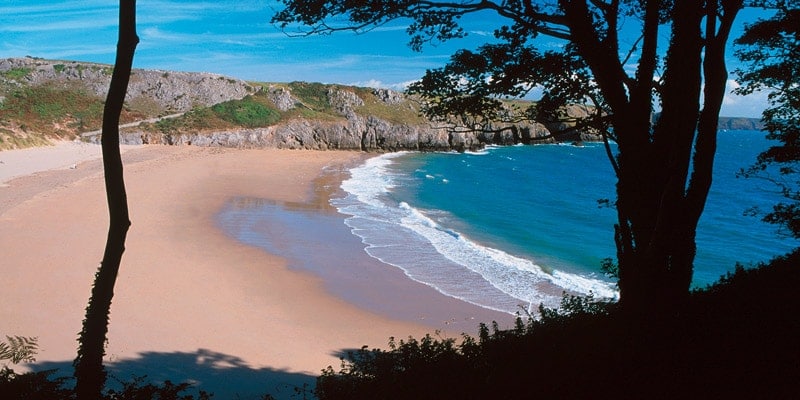 13/15

Barafundle Bay, Pembrokeshire, Wales
This crescent-shaped, soft-sanded golden beach certainly has that wow factor. It's still a secret of sorts – with no direct road access, you need to ramble along a cliff path for half a mile from the nearest car park to reach this gorgeous small bay backed by dunes and pine trees. But it will be worth it.
With swathes of golden sand and crystal clear waters, Barafundle has been voted one of the best beaches in UK several times. It's pristine, but also a little isolated so don't expect toilets or places to eat. Pack a picnic instead, this beautiful beach is often voted "The UK's Top Picnic Spot" too.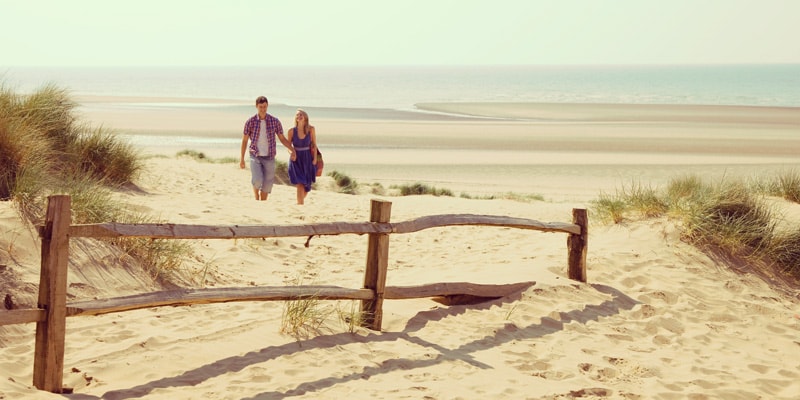 12/15

Camber Sands, East Sussex
Ranked one of the World's 50 Best Beaches in the Sunday Times Travel Magazine, Camber Sands, near Rye is a seven-mile-long sandy paradise. It's also home to the only dune system in East Sussex, so sand and sea can seem pretty much endless here.
Kids will love the freedom to explore the wildlife in the dunes and play in the shallow waters. The gently sloping beach has several public car parks and it's safe for swimming and zoned for water sports – medieval Rye is one of the nearest towns to Camber Sands.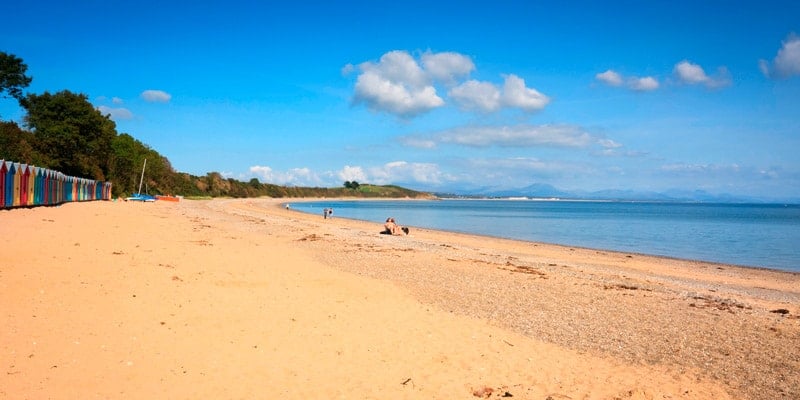 11/15

Llanbedrog, Llŷn Peninsula, North Wales
This mile-long stretch of safe, sandy beach lapped by shallow waters is situated on the south side of the Llŷn Peninsula, between the seaside resorts of Abersoch and Pwllheli. Lined by colourful beach huts that look out to the calm of Cardigan Bay, and sheltered by the huge wooded and craggy headland of Mynydd Tir-y-Cwmwd, you can bask in the sand when the weather's good and imagine you're on any of the most beautiful beaches, anywhere in the world.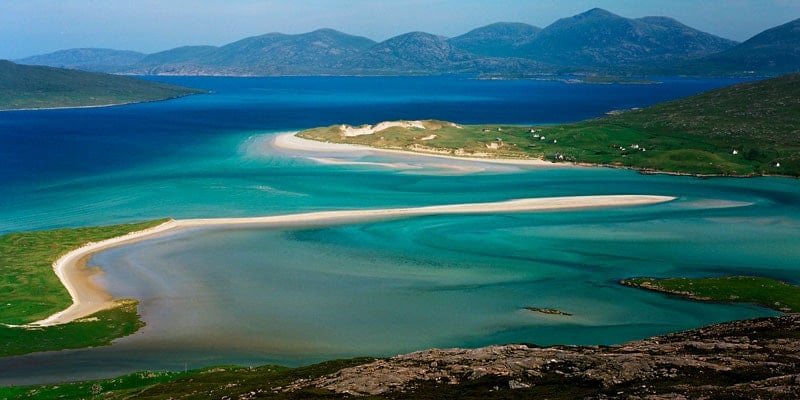 10/15

Luskentyre Sands, Isle of Harris, Outer Hebrides, Scotland
Miles of soft white sand and clear green-blue waters… who'd have thought we were in Scotland? Regularly appearing in round-ups of the UK's best beaches, Luskentyre Sands is a heavenly location – tranquil and unspoilt – that's often mistaken for the Maldives in photos.
It's backed by sand dunes with a view to the island of Taransay (the setting of BBC's Castaway). You get to the beach via a narrow scenic road lined with crofters' cottages – look out for wild ponies grazing on the dunes or try spotting seals and dolphins.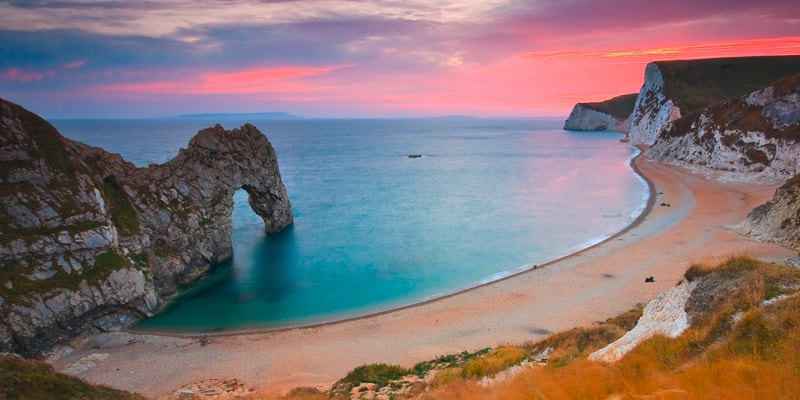 9/15

Durdle Door, Dorset
Dorset is famous for its Jurassic coastline, dramatic rock formations and spectacular Durdle Door – the sea arch which looks like a mighty dragon bending over to drink from the water. You can get to the shingle beach on foot by footpath path and steps from Lulworth Cove or down from the car park on the cliff top.
The Marine Conservation Society recommends the beach for its excellent water quality, but it does shelve steeply in places so children should be supervised even when paddling. Head to the east side of Durdle Door for the The Man O' War another beautiful beach and safer for swimming.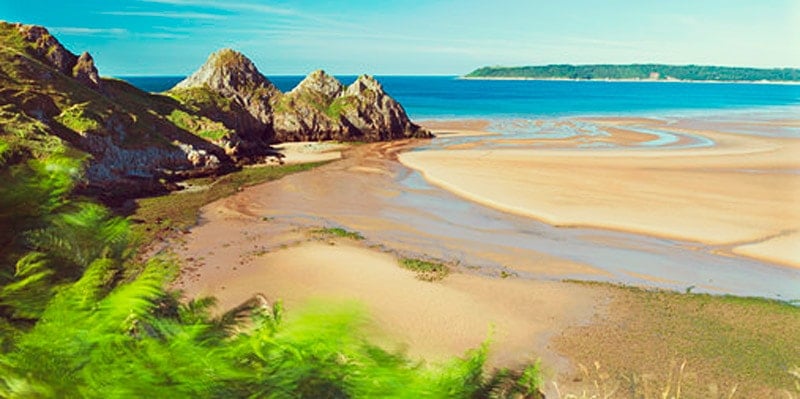 8/15

Three Cliffs Bay, Gower, South Wales
Wild and beautiful beaches at their best can be found at Three Cliffs Bay. A wonderland of sand flats and dunes, salt marshes and rocky coves, it's instantly recognisable for its three dramatic limestone cliffs – hence the name. Strong tides and currents mean no swimming or water sports for kids here. But there's still plenty fun to be had from picnicking to rock-pooling. Dogs are allowed on this beautiful beach all year round, and there's a car park nearby too.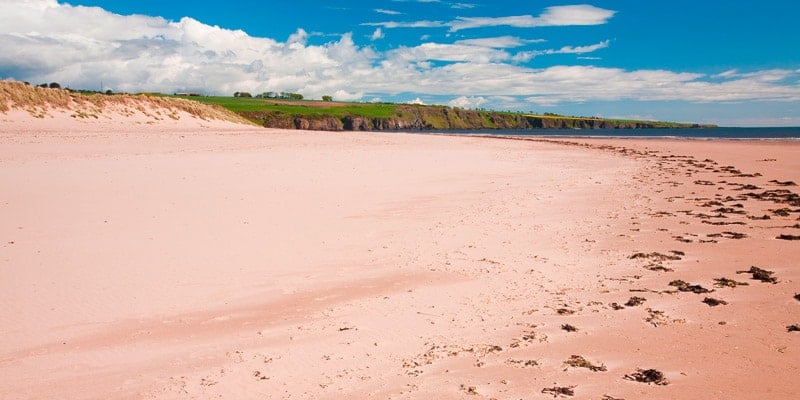 7/15

Lunan Bay, Montrose, Scotland
Regularly voted one of the most beautiful beaches in Scotland, this two miles stretch of secluded sand is family-friendly and very popular for horse riding, surfing and offshore fishing. It's backed by the crumbling ruins of Red Castle and kids will love combing the bay for shimmering pebbles and stones – real agates and gemstones sometimes turn up too, just remember not to take any home with you. Lunan feels plenty remote and peaceful, but has a car park close to the beach so it's far from isolated.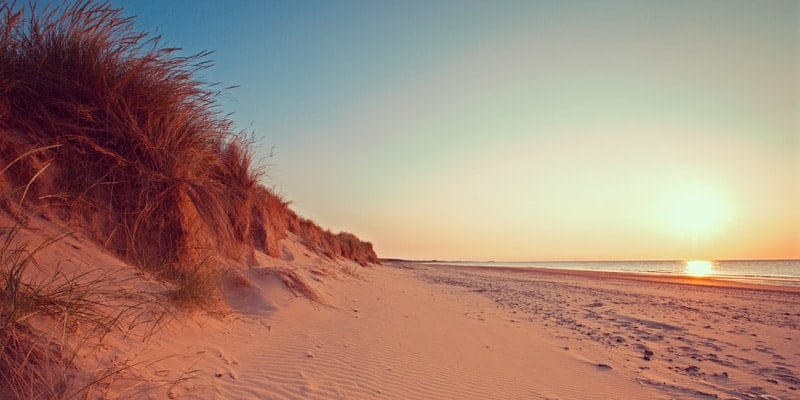 6/15

Holkham Beach, Norfolk
Holkham Beach on the North Norfolk coast is four miles of unspoiled, white-gold sands and regularly tops the Best Beach in Britain list – it's particularly loved by travel journalists. Part of a nature reserve, it's bordered by soft dunes and dense pine woodland and easily reached on boardwalks through pine woods from the car park close to Holkham Hall. If this beautiful beach looks a bit familiar, you might have spotted it years ago in the Oscar-winning movie Shakespeare in Love.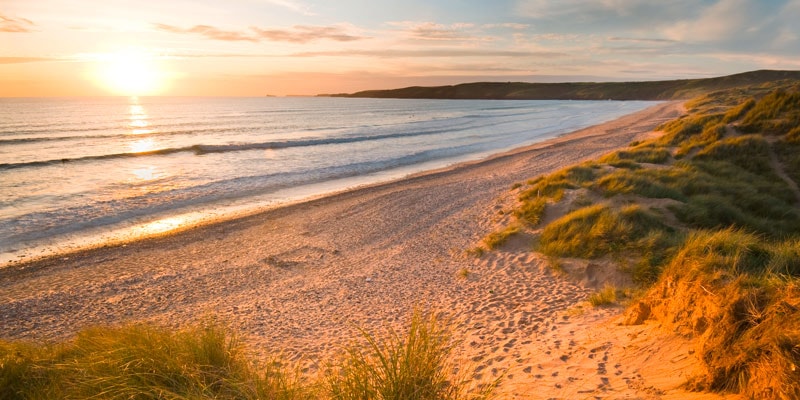 5/15

Freshwater West, Pembrokeshire, Wales
This beautiful windswept beach is arguably the most consistent surf spot in Wales; waves and currents are strong, so it's only for experienced surfers and there are usually plenty to watch from the shore. Backed by dunes and surrounded by an all-concealing headland, no surprise to find this beach was also once a haunt for smugglers. And if kids recognise Freshwater West, it's because it featured as the movie backdrop for Dobby's Shell cottage in Harry Potter and the Deathly Hallows.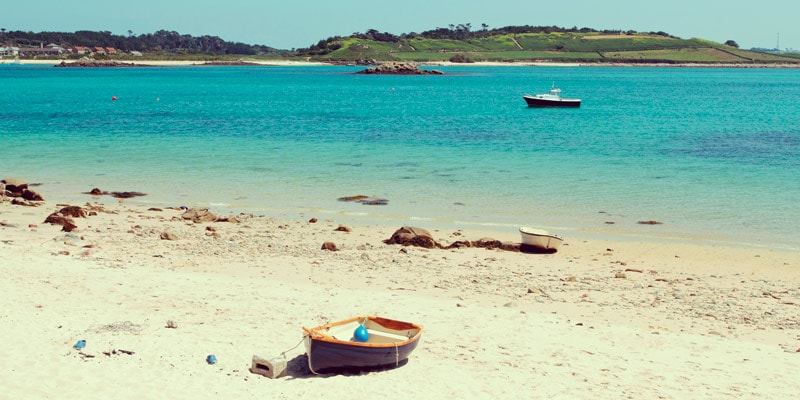 4/15

Pentle Bay, Tresco, Isles of Scilly
The Isles of Scilly's beaches are stunning and more often than not, pretty secluded too. Almost tropical-looking Pentle Bay is all white shores and transparent seas and lies just over 30 miles south-west of Cornwall's Land's End. Its half-mile crescent of gleaming sand is backed by low dunes and trees for shelter; the clear waters are safe for swimming and summer temperatures here are usually a lot warmer than on mainland UK.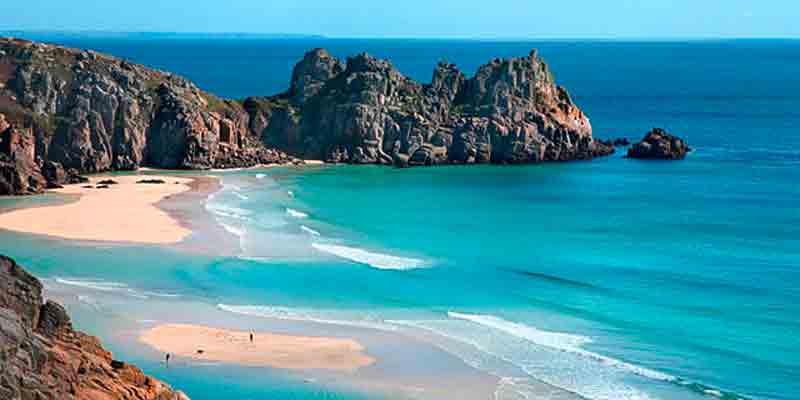 3/15

Pedn Vounder Beach, West Cornwall
This picture-perfect sandy cove on the remote shoreline of west Cornwall is a 15-minute walk from the village of Treen. It's a bit of a clamber to get down to the beach – so probably not your best bet with younger kids.  Because of the remote location, it's never busy, just make sure you check the tide times before visiting as Pedn Vounder gets cut off at certain times of day. Like a lot of beautiful beaches that are also quite private, this one's popular with naturists too, but that's entirely optional, of course.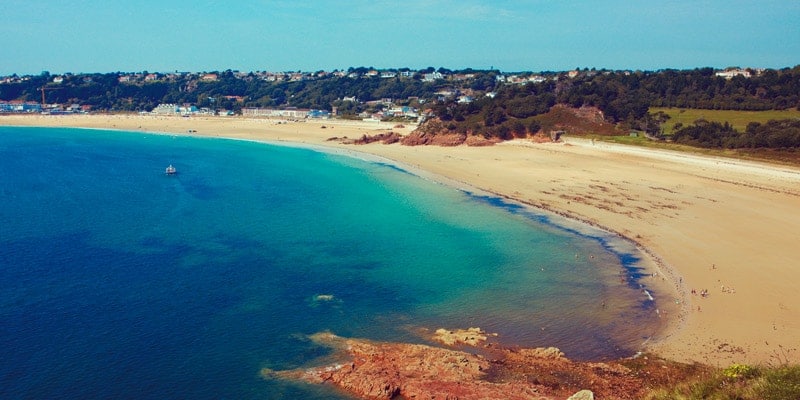 2/15

St Brelades Bay, Jersey
St. Brelades Bay's south-facing golden sands, picturesque jetty and small parish church is one of the UK's most beautiful beaches in the best seaside holiday tradition. Even swimming here is safe, the nearby town is charming and most summers you can hire deckchairs and parasols to sit on the sand.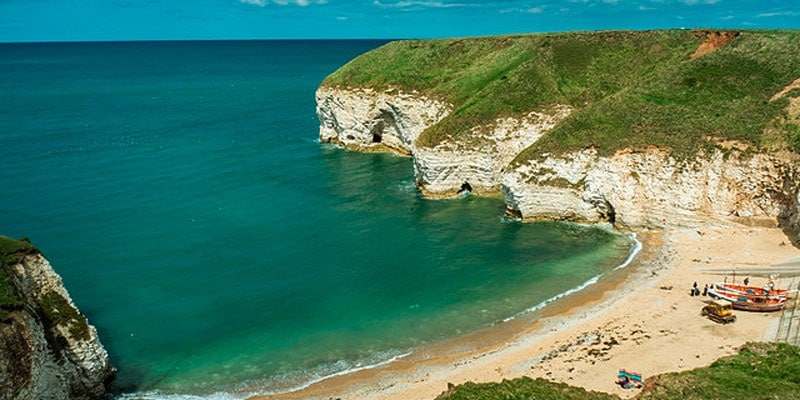 1/15

Flamborough Head, Yorkshire
Who'd believe this pretty inlet was in Yorkshire? The beautiful beaches of North and South Landing are peaceful coves where you can go kite-surfing, rock pooling, explore sea caves on smugglers' boat rides or spot colourful cobble fishing boats on the slipway. If the weather's good go for a cliff walk and visit the historic lighthouse and if it's not, go for fish and chips at Flamborough village.
Images © alamy.com
Ready for more holiday at home dreaming? Take kids to see 11 most awesome views in the world on Google Earth then follow Family Traveller on Instagram and Facebook, say 'hi' and tell us what your family's up to in these extraordinary times.