Summer is a glorious time for kids and there are many summer camps that inspire a sense of adventure in kids. From fossil-hunting to zipwires, these exciting adventure summer camps make the most of the sunshine and offer a great learning experience.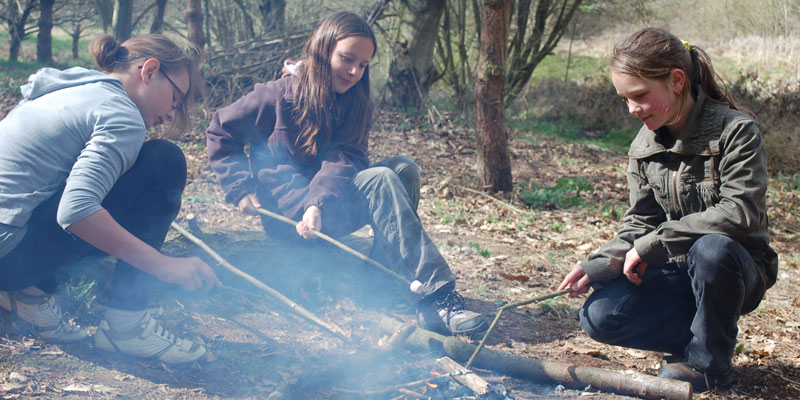 Camp Wild
Ask any child to design their perfect camp and we're sure they'd come up with something like Camp Wild, where they stay in a yurt village, feed otters and wild boar, go fossil-hunting on the Devon coast… Life at Camp Wild is all about fun and adventure – and lots of good, fresh Devon air. Most of the instructors are primary-school teachers and graduates specialising in outdoor education; kids can sign up for day or residential trips (one-, two- or four-night stays). And when they say 'wild', they mean it: the highlight of most kids' stay is the 100m swamp walk – cold, smelly, seriously manky and about 2ft deep in places, finishing with a wash in a pond.
When: 24 July-11 August 2017
Where: Wildwood Escot, Escot Park, Ottery St Mary, Devon, EX11 1LU
Who's it for: Ages 6-12 years
Price: From £86 for a one-night stay

Mill On The Brue
Child heaven in beautifully rural Somerset. Mill on the Brue is a small, family-run camp – they only take 70 residential children each week, so it's perfect for less-confident types who might be daunted by the hordes at bigger camps. Adrenaline-junkies will love the high-ropes course, the 'leap of faith' (as scary as it sounds), the two giant zipwires across the river valley, the assault courses, the climbing and abseiling tower, grass toboggans and waterslide… need we go on? Children learn archery, canoeing, firelighting, how to cook in a clay oven. They're hot on problem- solving, too, with a 24-hour challenge for the older children. Best of all (for parents) is the digital detox – no mobiles or TV all week.
When: 8 July-19 August 2017
Where: Mill on the Brue, Somerset, BA10 0BA
Who's it for: Ages 5-15 years
Price: £584 per child per week

Outward Bound
Outward Bound is synonymous with outdoor challenge, genuinely wild adventures, and lots and lots of good fresh air. Courses range from the seven-day Discover Adventure courses for 11-13-year-olds to the 19-day Skills for Life award for 15-19-year-olds. The three centres are in stunning natural environments, so children get to tackle real rock-climbing rather than climbing walls, and camp out under the stars or in log cabins, row across lakes, light fires and build shelters. All good, confidence-boosting stuff. Parents, please note: no hidden extras, because the prices are all-inclusive. There are generous bursary schemes, too.
When: Throughout the summer holidays
Where: Aberdovey (Wales), Loch Eil (Scotland), Ullswater (England)
Who's it for: Ages 11-19 years
Price: From £549 for a week

Rockley Watersports
Rockley was launched 40 years ago in Poole Harbour by a husband-and-wife team with a caravan and 10 boats. These days, it's still a family-run business, offering sailing and watersports courses in some of the most beautiful parts of Europe, with five centres in the UK and France. Whether you're an experienced sailor or dipping your toe for the first time, Rockley's philosophy is simple: they want to get people out on the water having fun. As well as sailing, there's powerboating, windsurfing and paddle sports courses – and we like the sound of their kids' multi-activity weeks, which include lots of fun on and off the water.When: Courses run throughout the summer holidays
Where: Rockley Point, Poole, Dorset, BH15 2NN
Who's it for: 8-year-olds to adults
Price: From £15 for a half-day holiday camp; £540 for the residential multi-activity course

Super Camps
Every working parent's dream: day camps which run Monday to Friday throughout the school holidays and half-term, offering an incredible range of stimulating activities to appeal to every child. Days are non-stop and action-packed – there's a good mix of outdoor sports (they guarantee at least two hours of exercise a day) – and indoor activities like facepainting and clay-modelling. They have partnerships with Lego and Meccano, too. At some centres, they offer swimming, archery and quad-biking. Steve Backshall fans will sign themselves up for the RAW Adventure courses, where they'll learn bushcraft survival and campfire cooking.
When: 8am-6pm, Monday to Friday, school holidays/half-terms
Where: 80 venues throughout the UK
Who's it for: Ages 4-14 years
Price: From £190 for five days

Wickedly Wonderful
The name tells you everything you need to know – these camps are, simply, wickedly wonderful. Started by Ned Rocknroll (aka Mr Kate Winslet) in 2003, the set-up is small, very simple (no electricity; everyone camps) and gloriously Enid Blyton. Camps come in three flavours: sailing, pony and multi (a bit of everything: sailing, riding, pottery…). Crabbing and cooking chocolate bananas on beach campfires also feature strongly. Camp leaders are mostly young graduates who love working with children. It's all very creative and outdoorsy – kids play outside from dawn till dusk, and yes, if it rains, everyone gets very muddy. Jelly and water fights on Friday; talent shows on Thursdays, when the dressing-up box comes out.
When: Monday-Friday from 3 July until the end of August 2017
Where: Sussex
Who's it for: Ages 7-13 years
Price: £525 for a four-night stay

Xplore Activity Camps
Xplore runs day camps and residential activity holidays at some of the loveliest public schools in the country, with super-swanky facilities and acres of grounds to run wild in. First-time campers head for their 'starter camp' at Brandeston Hall in Suffolk, for a fun-packed multi-activity week including everything from shelter-building to arts-and-crafts to quad-biking. At Finborough Hall, outside Stowmarket, 10-14-year-olds tackle the climbing wall, go riding or learn to kayak on the river. Grade I-listed Westonbirt School in the heart of the Cotswolds is the setting for the 13-16-year-olds' camp. All the centres have fantastic evening entertainment programmes – discos, talent shows, campfires.
When: Throughout the summer holidays
Where: Six centres in the UK
Who's it for: 6-16-year-olds
Price: Residential Camps from £475 per week and day camps from £160 per week.

XUK
There's a lovely family atmosphere at XUK's camps – some campers have been coming back for over 10 years, and staff undergo a rigorous four-hour interview process to make sure they fit the XUK mould. The course programme is an appealing mixture of art, drama, dance, sports, adventure, science… you name it, there's something for everyone. At the multi-activity camp in lovely Norfolk, 6-17-year-olds try everything from yoga to fencing to water-zorbing – and they can sleep under the stars, too. There's also a specialist activity camp in Wales for 8-17-year-olds, where they have the opportunity to focus in more depth on sports, forest adventure, creative arts or media, plus there are day camps for kids aged 3-13.
When: 9 July-19 August 2017
Where: Residential courses in Wales and Norfolk
Who's it for: Ages 6-17 years
Price: From £570 for a week's residential course

Wild Learning
'Forest school in the home counties' is Wild Learning's strapline, which pretty much says it all. They run day holiday clubs in 13 locations throughout London, Surrey and west Sussex, giving 5-12-year-olds the chance to hang out in the outdoors learning new skills and having a load of fun. Every day is different: they might be constructing shelters, making fires, whittling whistles, making dams and mud sculptures, building rope bridges or Viking knitting machines (yes, really), playing stealth games and tackling assault courses – or just gazing up at the sky finding cloud pictures. They guarantee that your child will come home exhausted, filthy and full to the brim with fresh air.
When: Throughout the summer holidays
Where: London, Surrey, West Sussex
Who's it for: Ages 5-12 years
Price:  from £38.00 per day