Academic summer camps offer a good balance between academic work and relaxing downtime for the kids. Courses include a wide range of subjects including theatre, cool tech and even rock school. Find the best academic summer camps for your kids here.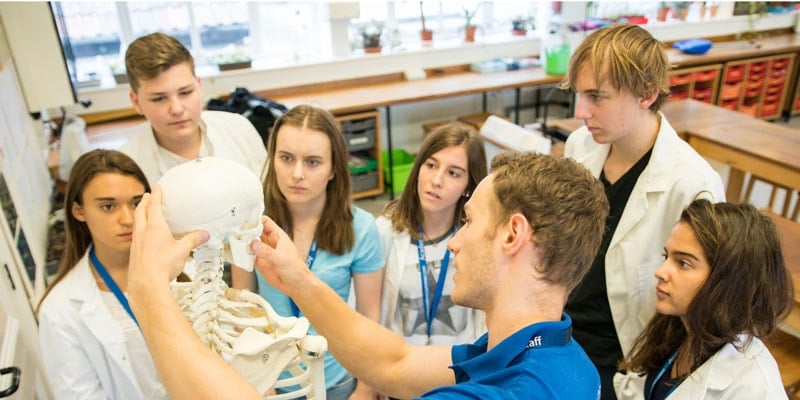 Academic Summer
We hate to be fun sponges, but for older kids, the holidays often have to include some study alongside the relaxation. Academic Summer's courses are perfect for students who need a bit of extra support, as well as those considering careers in tough fields like medicine, or facing Oxbridge exams or SAT. Courses cover a huge range of academic subjects, taught by specialist teachers – 13- and 14-year-olds follow the iGCSE programme; 15–18-year-olds have their own tailor-made timetable. They'll help you nail that UCAS personal statement, too. There are centres in London, Cambridge and Bristol, they offer day and residential options, and there's a nice balance between academic work and relaxing downtime.
When: 1 July-26 August 2017
Where: London, Cambridge, Bristol 
Who's it for: Ages 13-18 years
Price: From £1,050 for a week's residential course

Fire Tech Camp
Most camps are all about getting your children away from screens; Fire Tech's mission is to get them engaging more creatively with technology. They run courses in nine locations in the UK, and the watchwords are innovation and inspiration. Kids are encouraged to conjure up original digital creations, inventing apps, videogames and programs. The activities on offer are mind-boggling: 3D printing, animation, digital music composition and more. Of course, it's not all screen-gazing – the week-long residential courses are at Wycombe Abbey, so students get to stretch their legs in the beautiful grounds and use the school's superb facilities.
When: Residential July and August; day courses year-round
Where:  Nine locations across the UK
Who's it for: Ages 9-17 years (residential courses are for 12-17-year-olds)
Price: £1300 for a week

Marlborough College Summer School
Four thousand people from the UK and overseas flock to this Wiltshire market town to enjoy over 500 fascinating courses, a broad range of evening entertainment and, they tell us, 'possibly the best school dinners anywhere in the world'. Under-18s can do day courses unaccompanied, but need a parent or guardian with them if they want to stay at the college. So, while they're busily engaged with rock school or clay shooting, you get to brush up your creative writing skills or perfect your watercolour technique. Full- board accommodation is available in the College's boarding houses.
When: 9 July-5 August 2017
Where: Marlborough College, Wiltshire, SN8 1PA
Who's it for: Anyone from three years up
Price: Courses start from around £185 per week

Uppingham Summer School
In the heart of rural Rutland, Uppingham's music has always hit the high notes – no surprise, then, that its summer school is best-known for its amazing music courses. The young musicians' week, for 7-18-year-olds, gives children the chance to play in ensembles and bands, and perform to family and friends in a number of concerts throughout the week. Children have to bring their own instrument, be at least grade-one standard and be able to read music. There are also very popular jazz big-band weeks, and musical theatre courses. Alongside the music, there are a multitude of other courses, day and residential: drama, sport, science and technology, art and creative writing.
When: 3 July-25 August 2017
Where: Uppingham School
Who's it for: Ages 7-18-years
Price: From £230 to £620

West End Stage
Bring on the old razzle dazzle: if we could sign ourselves up for any of these courses, this would be the one we'd plump for. West End Stage runs a summer school at the Guildhall School of Music and Drama, one of the top drama schools in the UK. Just what every starstruck child dreams of – the chance to perform on a West End stage, see a show and be taught by professional actors who know what life is really like behind the red curtain. Children are grouped by age, and class sizes are small, so they guarantee each child lots of individual attention. They also offer the opportunity to act in front of casting agents, directors and agents – so who knows what it could lead to?
When: 7-27 August 2017
Where: Guildhall School of Music and Drama
Who's it for: Ages 8-21-years
Price: £595 for a week, excluding accommodation