1/15.

Play at Paddling!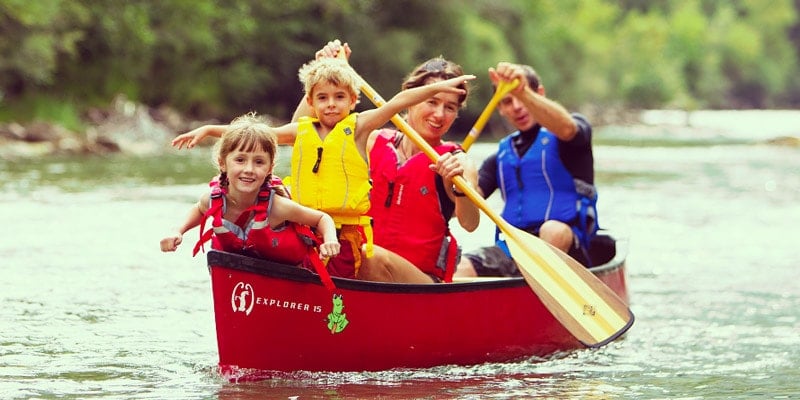 It's National Go Canoeing Week starting 28th May – the perfect time to get paddling! The Olympic inspired British Canoeing initiative aims to get everyone out on the water to have some splashing fun, no matter what their ability or age – and to get the nation to collectively paddle 30,000 miles during the week. With over 400 clubs and centres across the United Kingdom running activities, everyone can log on to the Go Canoeing Week website to submit the individual miles they paddle to help reach the target. There are plenty of 'Starter Sessions' on offer for novices as well as Challenge Paddles where you can get the family out onto the water to paddle and watch the pretty scenery pass by. Everyone who takes part in a Challenge Paddle receives a Go Canoeing medal too. There are also Guided Tours on offer, if you prefer someone to lead you on your way.
When/Where: 29 May – 5 June, nationwide
Price: event prices vary, see website.
Find out more: Find out more about Go Canoeing Week
2/15.

RHS Chelsea Flower Show & Dorchester Pop-Up

Prepare to be wowed by the world's greatest flower show. Awe-inspiring displays this year include a floral arch to celebrate the Queen's 90th birthday, a 60ft carriage from Belmond British Pullman in a planted-up station plus the memorable poppies tribute by Phillip Johnson. There will be hundreds of other floral exhibits, an interactive discovery zone created by plant scientists, plus don't miss the chance to enjoy afternoon tea – Dorchester-Hotel-style! The iconic London hotel is creating a pop-up restaurant on site, which will showcase the talents of head pasty chef David Girard and designer florist Philip Hammond. Their remarkable horticultural-inspired confectionery creations include 'The Dorchester and the giant Peach' (a peach mousse with peach verbena on a rice crispy biscuit) to celebrate the centenary of Roald Dahl's birth, plus a cake in a flowerpot served with a coulis in a watering can. The kids will love it.

When/Where: 24-28 May, Royal Hospital Chelsea, London

Price: All-day tickets to the Chelsea Flower Show cost from £47 for RHS members and from £100 for the public. Annual RHS membership starts at £42.75.

Dorchester Afternoon Tea at the Chelsea Flower Show costs from £60 per person, and is available from Tuesday 24 May until Saturday, May 28: 3.30pm, 4pm, 4.30pm and 5pm.

Find out more about the Chelsea Flower Show and buy tickets.
3/15.

Laserzone Brighton is Out of This World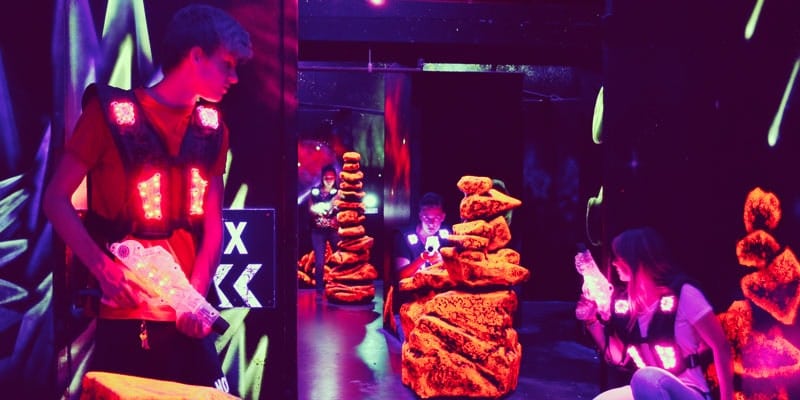 A derelict spacecraft has crash landed into West Street in the heart of Brighton. Beyond its airlock lies a 3000sqft galactic labyrinth filled with swirling smoke, strange sounds, flashing lights… and enemies! Equipped with your electronic jacket and phasor you seek out your opponents through swirling fog and zap them (with harmless beams of light) to score points for yourself or your team. Use stealth and strategy to emerge victorious and blast the base stations hidden inside the multi level arena filled with strange sounds, lights and stunning artwork. The mission begins with a briefing from the game marshal followed by kitting-up. The whole experience lasts around half an hour. Collect and compare your scorecards at the end whilst refreshing yourselves with ice cold drinks and snacks from Mission Control. Suitable for players aged six to 106, LaserZone is the perfect way for children, families (and bigger kids!), birthday parties, students and much more, to let off steam – seven days a week. Located in the City Centre, 2 minutes from Brighton Beach. Rain or shine, on your own or with friends… it's a blast!
When/Where: Open daily, West Street, Brighton
Price: Games start from £5.50
Find out more: Find out more about LaserZone Brighton
Special 2-4-1 offer at Laserzone!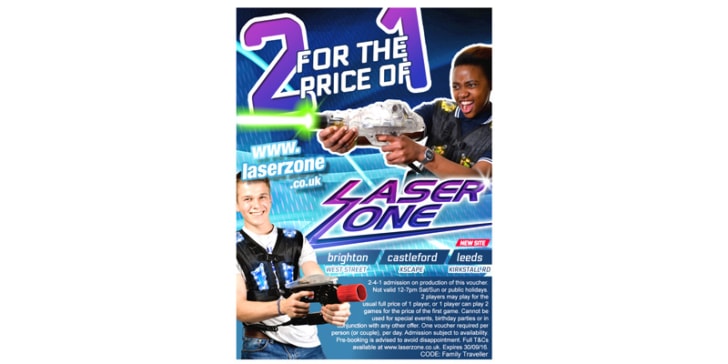 How to claim
Simply take a screenshot of the voucher above, or print it out, and take it to LaserZone in Brighton to redeem the offer. Offer expires 30 September 2016.
Terms and conditions: Two for one admission on production of the above voucher (either printed or a screenshot). Offer entitles the card holder to one free entry ticket when a full-priced ticket is purchased. Valid for one free ticket only, subject to availability. Not valid 12–7pm on Sat/Sun or public holidays. 2 players may play for the usual price of 1 player, 1 player can play 2 games for the price of the first game. Cannot be used for special events, birthday parties or in conjunction with any other offer. There may be queues at busy times. One voucher required per person (or couple), per day. Pre-booking is advised to avoid disappointment. See www.laserzone.co.uk for opening times, prices, details and full terms and conditions. All details correct at time of publishing (29 April 2016), but it is recommended you contact the attraction prior to visiting.
4/15.

Heritage Coast Festival: Reach for the Beach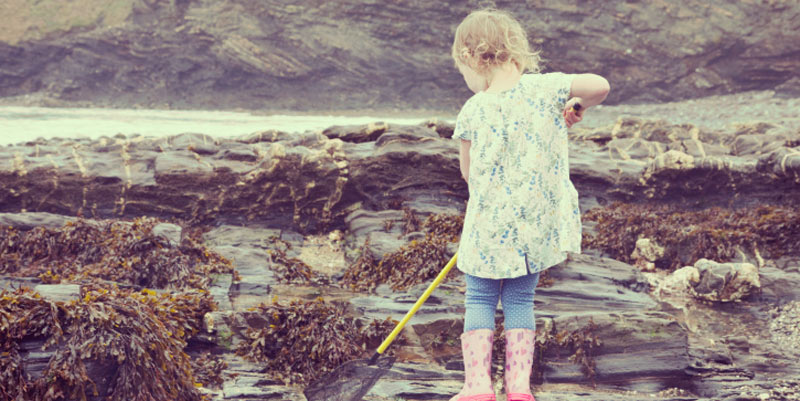 Durham's first ever Heritage Coast Festival will celebrate all that's beautiful by the beach from Sunderland to Hartlepool. There'll be all sorts of activities to get you involved including kayaking taster sessions, a superhero beach clean and the chance to be a Countryside Ranger for the day. Also look out for guided history walks, family beachcombing strolls and rockpool rambles where you'll learn to tell your dog whelks from your anemones, spot starfish and seaweeds –just don't forget your wellies! There will also be mini beast hunts (you won't believe what's lurking beneath all those rocks and leaves) wildlflower walks, bike rides, boat trips and the chance to join a Gramble (It's a bit like being a Womble – you go for a nice ramble, learn about the environment and grab bits of rubbish along the way!) Don't miss out on more family fun at the Marina and a 'Barn' Dance to round off your fun.
When/Where: 28 May – 5 June, Durham Heritage Coast
Price: free
Find out more: Find out more about the Heritage Coast Festival
5/15.

RBC Race for the Kids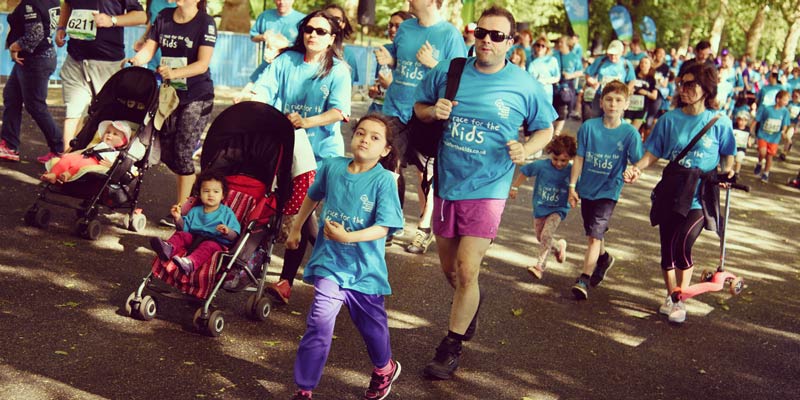 Tie up your trainer laces and step out on the 5K family fun run that raises money for Great Ormond Street Hospital Children's Charity. Get the whole family involved – children, parents, grandparents and even the dog. Bring along your buggies if you want to and run, walk or jog, hop, skip or stroll your way round the course. Supported by the Royal Bank of Canada for the seventh year running, over 10,000 people are expected to take part and raise funds for the world-famous hospital, which is at the cutting edge of children's medicine. Pack a picnic and make a day of it, with post-run entertainment, bouncy castles and more. Your registration fee includes a t-shirt to wear on the day, a goody bag and a medal for taking part.
When/Where: 15 May, Queen Elizabeth Olympic Park, Stratford, London
Price:  registration fees: £18 adult, £12 Child, Infant 4 and under, free
Find out more: Find out more about Race for the Kids
6/15.

Robinson Crusoe the Movie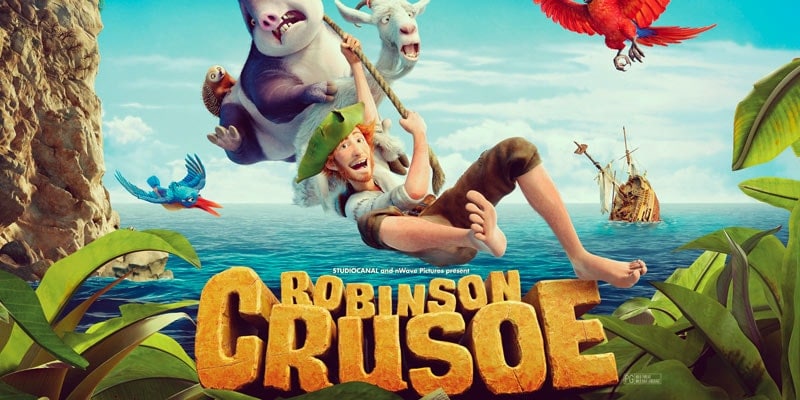 Robinson Crusoe is swinging (and sailing) into cinemas in a brand new film previewing over the May Bank Holiday and on general release from the 6th. Meet Tuesday, an outgoing parrot, who lives with his quirky animal friends in paradise on a tiny exotic island. Though he lives in idyllic surroundings, Tuesday dreams about discovering the world. After a violent storm, Tuesday and his friends wake up to find a strange creature on the beach: Robinson Crusoe. Could Crusoe be Tuesday's ticket off the island to explore new lands? Crusoe tries to enlist the help of the animals on the island to find food and shelter but as they don't speak "human," things aren't always easy! Slowly they learn to start living together in harmony, until their comfortable life is overturned by two savage cats, who want to take control of the island. A battle ensues between the cats and the group – and Crusoe and the animals soon discover the true power of friendship up against all odds (even savage cats).
When/Where: Bank Holiday previews April 30-May 2, and on full national cinema release from May 6, cinemas nationwide
Price: ticket prices vary
Find out more: Find out more about Robinson Crusoe the movie
7/15.

Walk London!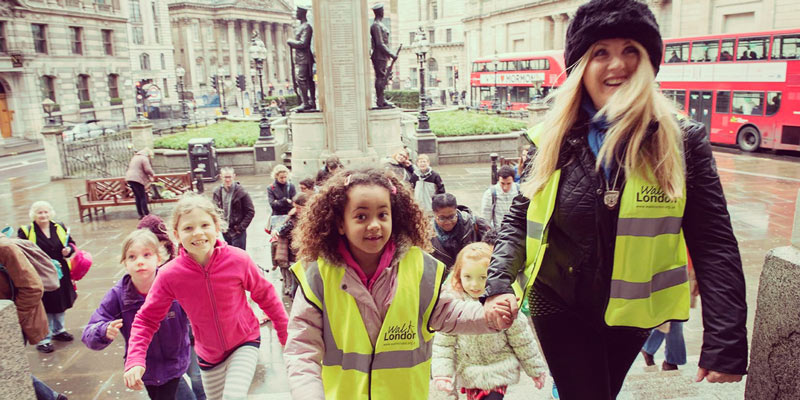 London is a fantastic city to explore on foot, with so many hidden gems just waiting to be discovered. Walk London, a Transport for London (TfL) project is launching Spring into Summer – a programme of 45 free guided walks covering London's seven top walking routes.  All walks are designed to connect some of London's best attractions, parks, woodland, rivers, canals and open spaces – and you'll get to find out fascinating inside information from your guides. There are walks to suit all ages and interests – family walks include Goodnight Mister Tom, inspired by the much loved book by Michelle Magorian, which tells the story of Willy Beech who is evacuated outside of London during World War II. This walk explores the City of London and you'll learn what life was like for those who remained in the capital during the Blitz.

Taking in a bird's eye view of St Paul's Cathedral you'll hear about the fire watchers that kept the iconic building safe during the heavy period of bombing. You'll also get to see how some of the City's buildings, including its magnificent Guildhall, were affected during the war and the surprising, historic remains that were discovered due to bomb damage. The walk ends in a charming small garden, close to the starting point.
When/Where:  21-22 May, around London
Price: free – book your place on the website below
Find out more: Find out more about Walk London
8/15.

Bring out the board games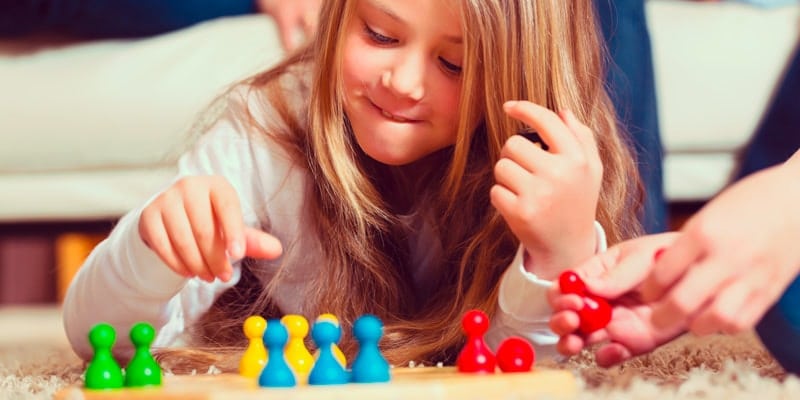 Hunt out the Cluedo, bring on the Buckaroo, get tactical with Trivial Pursuit, make your mark in Monopoly…and get ready to roll (your dice, that is)! It's Big Board Game Day on Friday 27 May, your chance to unleash your competitive side – and to play your part in helping to raise money for the NSPCC. All you have to do is to get together with the family, friends or neighbours and arrange a board game binge! Sign up online to host your own Big Board Game Day for the NSPCC and you'll get sent a welcome pack with everything you need to get your game party past 'GO'. You can also download fundraising materials such as sponsorship forms and 'tournament posters' to help you on the way to raising your fundraising target. The website is also full of ideas on how to raise more money via Facebook, 'Just Giving' and so on. Most of all of course, have fun!
When/Where: 27 May, nationwide
Price: free – but try raising money for the NSPCC!
Find out more: Find out more about the NSPCC's Big Board Game Day
9/15.

We're Loving Wagamama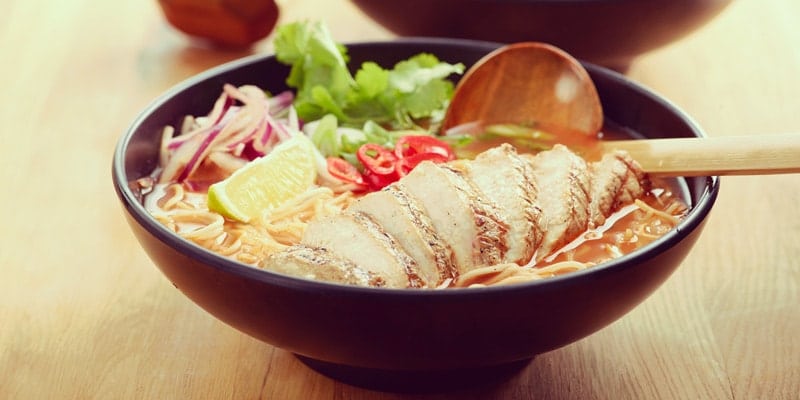 Wagamama's Japanese-inspired cuisine makes a family meal out a delicious (and healthy) treat. Cooked fresh to order, most of their dishes are teeming with vegetables making it a breeze to get their fill of their five-a-day.  Their latest kids' menus include mini versions of adult favourites including mini chicken ramen (noodles in a chicken soup topped with grilled chicken breast, seasonal greens, carrot and sweetcorn), mini chicken yaki soba (teppan-fried soba noodles with chicken, egg, sweetcorn, mangetout, peppers and amai sauce), plus everyone's favourite mini chicken katsu curry. There are plenty of vegetarian dishes on offer too and kids can finish off with a natural fruit ice lolly. You've got to try their freshly squeezed juices for a real health-hit too!
When/Where: open daily, nationwide
Price: prices vary, see menu
Find out more: Find out more about Wagamama
10/15.

National Pet Show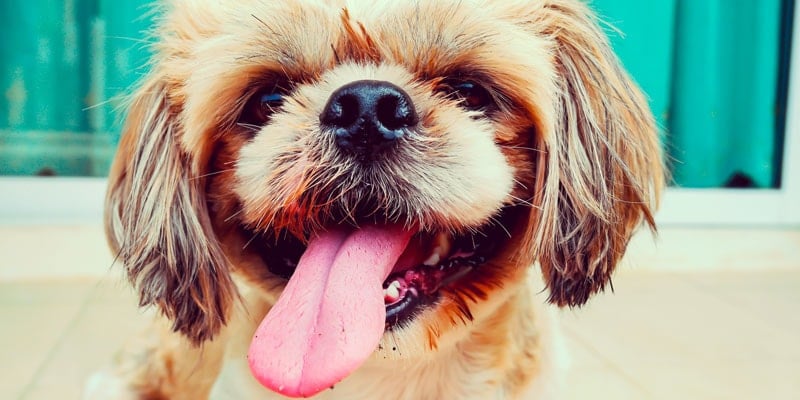 SuperDogs, TopCats, The Great British Bake Hop? It's got to be the nation's favourite pet show! The National Pet show has an action-packed line-up of features to wow the crowds this year. You won't want to miss the amazing agility displays at the Nerf Dog Activity Ring, plus training sessions at Hill's School 4 Dogs where even the most mischevious mutt can be trained up to become the perfect 'Head Pet'. If feline friends are more your fancy you'll be purring with pleasure at the Hill's Cat Zone where you'll get to meet Ragamuffins ,Sphynx Cats, Snowshoes, Traditional Ragdolls and more – and you can hone your cat grooming skills with a talk from Tania Murray, the Vidal Sassoon of the cat world.  The Burgess Small Furries Zone will be filled with super-cute hamsters, rabbits and chinchillas. And The Great British Bake Hop, a cookery demo with a difference, will see Bake Off star Sandy Docherty swap flour for flowers and sugar for stems as she whips up wild food for rabbits and guinea pigs. There'll also be a talk from TV's supervet Professor Noel Fitzpatrick, cat and dog talent shows, plus for those of you who prefer weird and wonderful to cute and fluffy, a Reptile and Aquatic Zone too.
When/Where: 7-8 May, ExCel London
Price: tickets vary, see online
Find out more: Find out more about the National Pet Show
11/15. Tiger Tales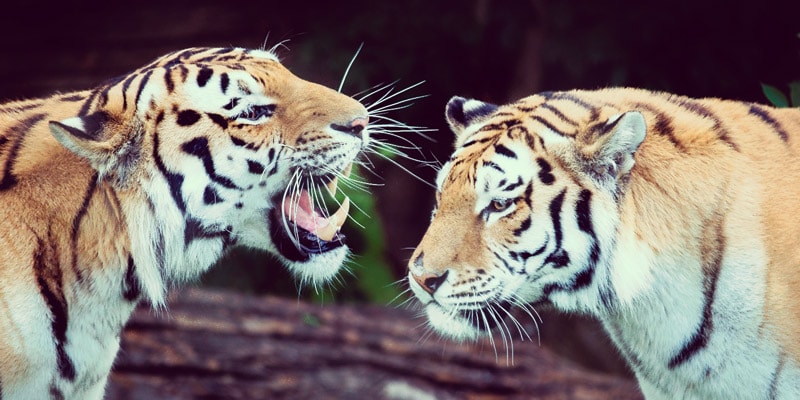 Marwell Zoo makes a great day out – you get to meet hundreds of animals including giraffes, cheetahs, meerkats and more plus there are three adventure playgrounds on site. During half term , the staff at the zoo are holding Tiger Tales events – where you  can earn your stripes and get to find out all about the zoo's Amur tigers (Milla and Bagai) and learn how they spend their days, what their favourite foods are and how tigers survive in the wild. There's a tiger-themed trail to follow, a free sticker to pick up plus totally roarsome face painting and the chance to shake paws with Taj the Tiger – Marwell's friendly costume character. Don't miss the new Wild Explorers exhibit of white rhinos, scimitar-horned oryx and Grévy's zebra while you're there. The zoo is actively involved in the conservation of these animals – and with
unrestricted views and 'spy in the grass' cameras, you'll have a cracking sight of the animals from the raised observation boardwalk. Kids will love the discovery zone complete with a safari vehicle resting by the water hole plus a themed play area to practice their ranger skills.
When/Where:  Tiger Tales runs from 28th May – 5th June, Marwell Zoo, Winchester, Hampshire
Price:  Ticket prices (including an optional donation) are £19 per adult, £15 per child (aged 3-16), Family Ticket (2 adults, 2 children) £63
Find out more: Find out more about Marwell Zoo
12/15.

Plymouth Pirate Weekend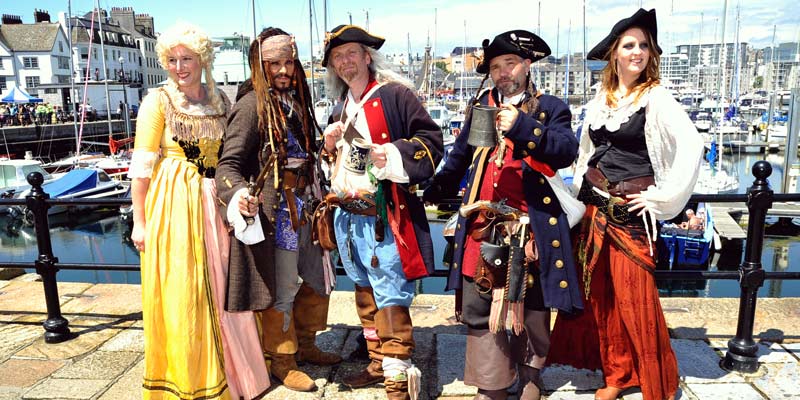 Ahoy there! Get yourself down to the Plymouth seafront and catch up with pirate 'Jonty Depp' and his crew who'll be lurking, limping and sashaying around the cobbled streets. There's a chance to board a real pirate 'Tall Ship', The Phoenix, which will be berthed in Sutton Harbour, and on land you can enrol in Pirate Swashbuckling School or meet a 'real-life' Mermaid at Mermaid School. There's also a Pirate Trail – uncover Cap 'n' Jack's hidden clues and you could win a prize. Children can also test their skills at making Georgian musket balls and candles and have a go at dyeing cloth. Entertainment includes shanty singing, a Yo Ho Ho Pirate Puppet Show, stilt walkers and a competition to find the best fancy dress. Oh – and there's a chance to see a shipwrecked pirate washed ashore with a real whale –  go inside the whale to hear tales of treasure, mermaids and pirates!
When/Where: 14-15 May, Plymouth Barbican and Sutton Harbour
Price: free
Find out more: Find out more about Plymouth
13/15.

Penguin Point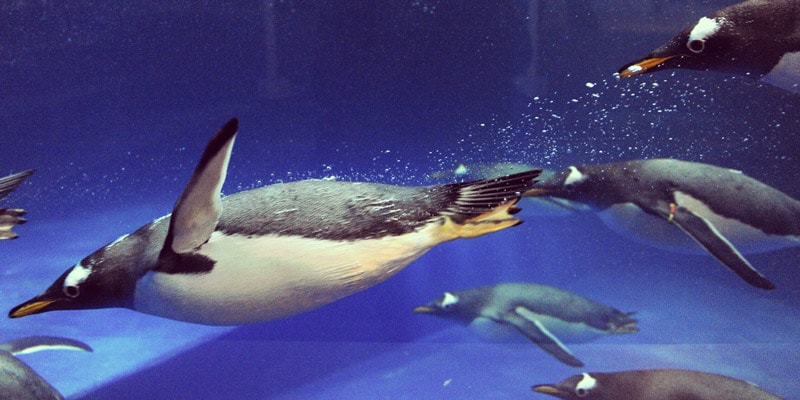 SEA LIFE London Aquarium is reopening its popular penguin display in late May – renamed Penguin Point, an expanded state-of-the-art viewing and learning experience complete with a colony of ten Gentoo penguins. The bespoke new and enlarged enclosure has been carefully designed to reflect the needs of the busy species – with two pools, a waterfall, underwater jets, rocks and landing areas plus ice flakes to ensure they're chilled! The indoor location of the enclosure will enable SEA LIFE's expert Penguin Keepers to carefully control temperature, lighting and humidity in line with the penguins' needs. The new Antarctic-themed experience will give visitors a real insight into the habitat and behaviour of penguins and explain how we can all play our part in conserving their environment. Through Penguin Point, SEA LIFE London Aquarium is supporting the efforts of the charity Falklands Conservation to conserve the Falkland Islands' natural environment.  The Islands a (the Islands are home to the largest population of Gentoo penguins on Earth). Also pop over to see the Aquarium's new  Frozen Planet: Face to Face exhibit – an immersive augmented reality experience based around the epic BBC natural history series.
When/Where: Penguin Point opens late May (see website for updates). SEA LIFE London Aquarium
Price: Prices from £24.50 per adult, £18.10 per child (3-15 years) and save up to 20% if you book online in advance
Find out more: Find out more about SEA LIFE London
14/15.

Museums at Night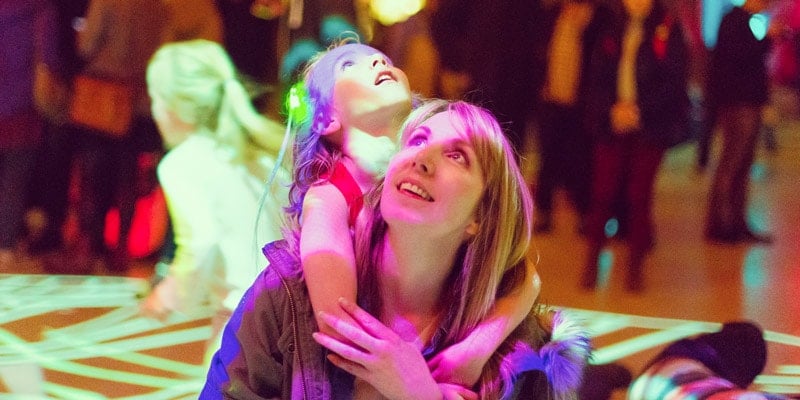 Museums at Night, the UK's annual after-hours festival of arts, culture and heritage lets you explore museums and galleries by torchlight. Hundreds of exciting after-dark events are happening all over the UK – from all-night sleepovers and nature walks, to twilight screenings and gallery gigs. Child-friendly highlights include 'Where's Woolly' – a night-time hunt for 'Woolly' the Giant Mammoth (with the sounds of thunder, fire and rain in the background). Or why not get back to nature with a Wild Woods Sleepover in a 16th century barn, complete with a campfire cooked supper? Perhaps a night of Laser Quest games, hands-on science experiments or stargazing is more up your street.  There's lots to see in a different light – check the website for what's going on near you
When/Where:  11-14 May, museums, galleries and historic spaces nationwide
Price: some events are free, others charged, see website.
Find out more: Find out more about Museums at Night
15/15.

Old Jack's Boat Sticker Trail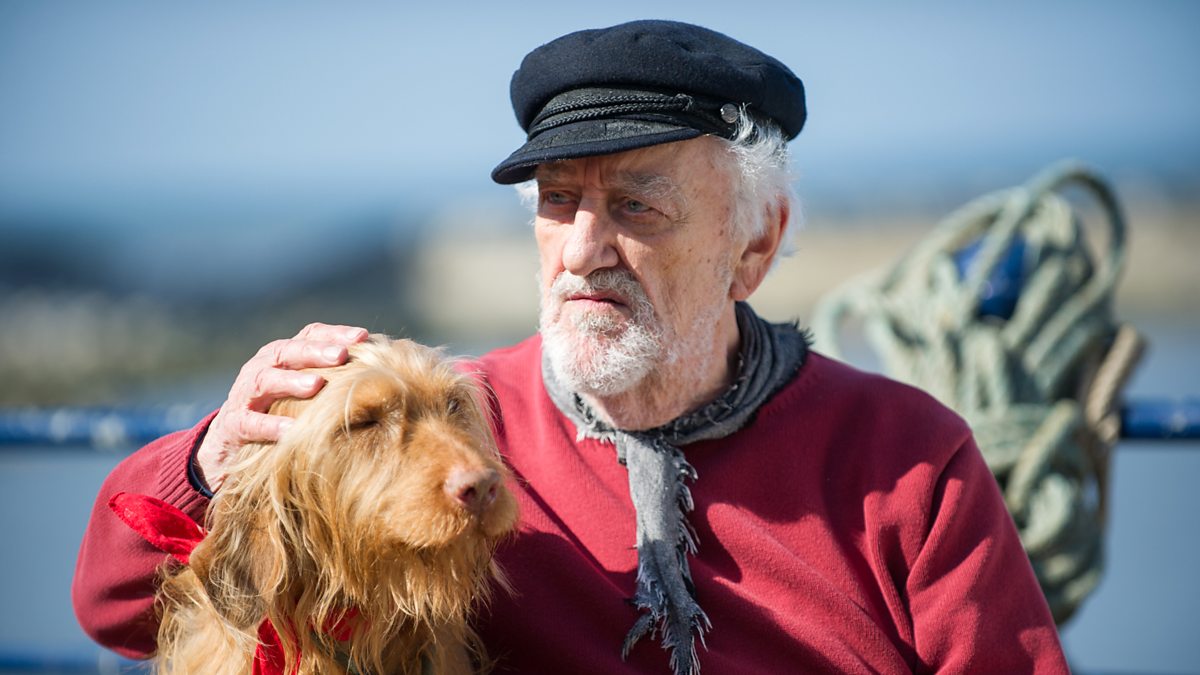 If your little ones are fans of the popular CBeebies's 'Old Jack's Boat' series, then they'll love a new sticker trail that's launched in the picturesque fishing village of Staithes, North Yorkshire where the series is filmed. The trail will guide families through the village of Staithes (near Whitby) which is the backdrop for the popular pre-school programme. You can pick up the leaflet from cafés, shops and other public places  – and it invites you to help Old Jack, played in the series by actor Bernard Cribbins, and faithful dog Salty to mend his boat 'The Rainbow'. The storyline will guide you through snickets and cobbled lanes around the village and you'll learn about the fishing heritage that forms the foundation of the Old Jack's Boat story. Look out for 'Old Jack' in shop windows around the village. When you spot him, call in for your stickers of the six friends needed to repair The Rainbow.
When/Where: daily, Staithes, North Yorkshire
Price: free
Find out more: Find out more about the North Yorkshire Moors
Looking for something new to try with the kids? Don't miss the 10 best UK days out.
About the author:
Kim Jones is an experienced journalist who has worked at various women's weekly magazines, and now freelances for them and the national papers writing about travel, health and lifestyle. She lives in Cardiff with her partner and their two sons, aged 15 and 11 and loves persuading them all to come away on holidays with her in the family VW camper van.
Find Kim on Twitter @kimsfeatures