1/15

 Top spots for snowdrops

Step out onto carpets of sparkling snowdrops sprinkled around scores of National Trust landscapes and see gardens wake up ahead of Spring. There are lots of exciting highlights to help your little ones enjoy the scenery including a Spectacular Snowdrop Weekend (4-5 Feb) at Newark Park in Gloucestershire and the chance to plant your own snowdrops with the garden teams at Saltram in Devon, Bodnant Gardens in Conwy and Wallington in Northumberland, where over the past two years, visiting families have planted more than 200,000 snowdrops. This year, they're aiming for 100,000 more so will need lots of little helping hands. Of course your tots will also get the chance to race around the meadows and woodlands of the National Trust countryside and play hide and seek amongst the trees and hedgerows, too.
When/Where
Through Feb, various National Trust gardens nationwide
Price
Admission prices vary, see website
2/15

 LEGO Batman Movie

LEGO Batman stars in his own big-screen adventure as he aims to save Gotham City from The Joker's evil attempts to take over. But should Batman really try to tackle everything on his own or is it time for him to drop the 'lone vigilante' label he loves to give himself? Will our arrogant superhero who hates being part of a team be prepared to work with others for a change – and maybe even lighten up a little? How will he deal with the orphan boy he accidentally adopted? Will he take responsibility – and maybe even help build him into another hero? As you'd expect from a LEGO film, there's lots of action, amazing animation and plenty of laughs to be had in this brick-brilliant film for half-term fun.
When/Where
From 10 Feb, cinemas nationwide
Price
Ticket prices vary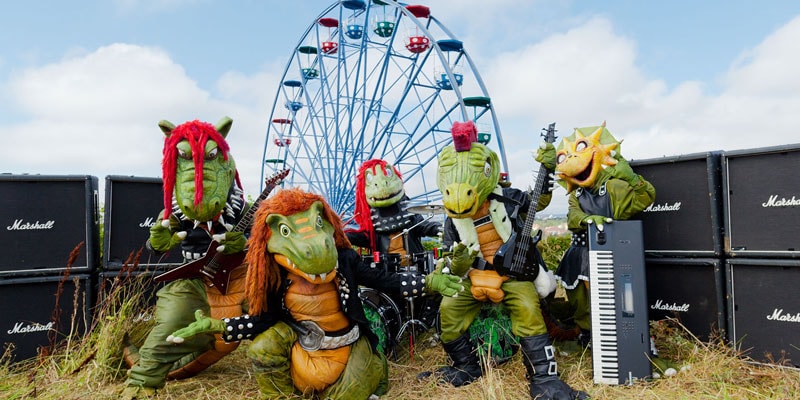 3/15

 Imagine Children's Festival

London's Southbank Centre's Imagine Children's Festival is an exciting series of theatre, dance and music events taking over the Royal Festival Hall. There are also readings and workshops with top children's authors. Highlights include a meet with Julian Clary and award-winning illustrator David Roberts as they introduce their new book The Bolds on Holiday, a free pedal-powered screening of Walt Disney's The Little Mermaid, cyclist Chris Hoy presenting a new range of books for young readers, dancing for babies with Groove Baby, LEGO building workshops and lots more. This year's festival has a strong Nordic focus, featuring top artists and authors from Iceland, Greenland and Finland, and you could get to see the London premiere of Finnish band Hevisaurus – four dinosaurs and a dragon who bring their own unique take on power metal for children to the stage. There's lots more to get involved in and half of the Imagine programme is free, with a range of free activities for the whole family to enjoy on each day of the festival, so what are you waiting for?
When/Where
9-19 Feb, Southbank Centre, London
Price
Many events are free, others incur a charge, see website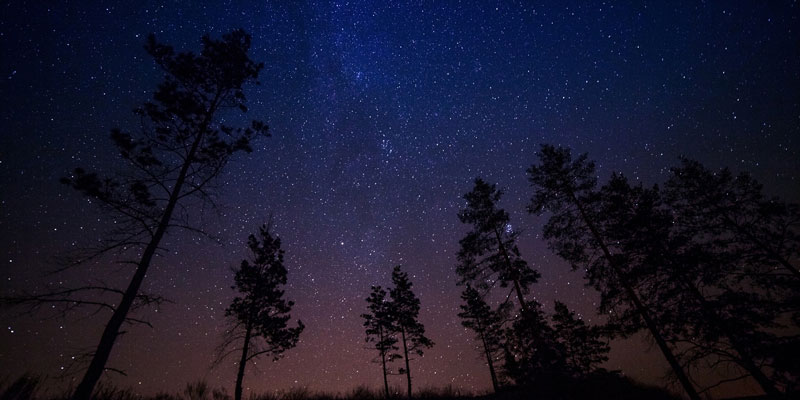 4/15

 Stargazing In The Forest

Free from light pollution, our forests are the perfect place to do a spot of stargazing. That's why Forestry Commission England are opening up forests after dark so we can all experience the night skies at their most dramatic and beautiful. Five of their forests have achieved Dark Sky Discovery status (meaning you may well be able to see Th eMilhy Way with your naked eye from beneath the trees) so keep your eyes peeled for astronomy events taking place across the country in February. Kielder Forest and Observatory is the fourth largest Dark Skies Park in the world and they are holding Family Astronomy Evenings, Aurora Nights and Night Sky Safaris. You can also head to various forests on a 'Why Stars Matter' self-led family trail during daytime to learn all about navigation using the stars, how stars support the forests, and about animals that come out in the night, too. Sign up, too for a free 'Beginner's Guide to Stargazing in the Forest' on the website – it has top tips on how to stargaze well and different formations to look out for.
When/Where
Selected dates in Feb, various Forestry Commission England Forests
Price
See website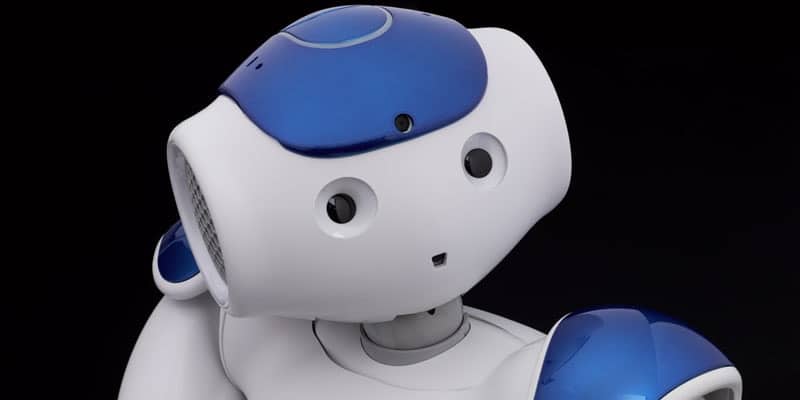 5/15

 Rise Of The Robots

Who knew that robots had a 500-year old history? This fascinating new exhibition at the Science Museum will hold a collection of over 100 robots – from a 16th century mechanical monk to robots from science fiction and modern-day research labs. There'll be the chance to interact with some of the 12 working robots on display, view an articulated iron manikin from the 1500s, meet Cygan, a 2.4m tall 1950s robot with a glamorous past, and check out one of the first walking bipedal robots. You can also discover how robots are becoming increasingly human, learning from mistakes and expressing emotions. There's also the chance to go behind the scenes to glimpse recent developments from robotics research, exploring how roboticists are building robots that resemble us and interact in human-like ways. The exhibition will end by asking visitors to imagine what a shared future with robots might be like. The exhibition will be open late on Fridays until 10pm in case you want to pop in after school.
When/Where
From 8 Feb – 3 Sep 2017, Science Museum, London
Price
£15 adults, £13 concessions (Free entry for under 7s; family tickets available)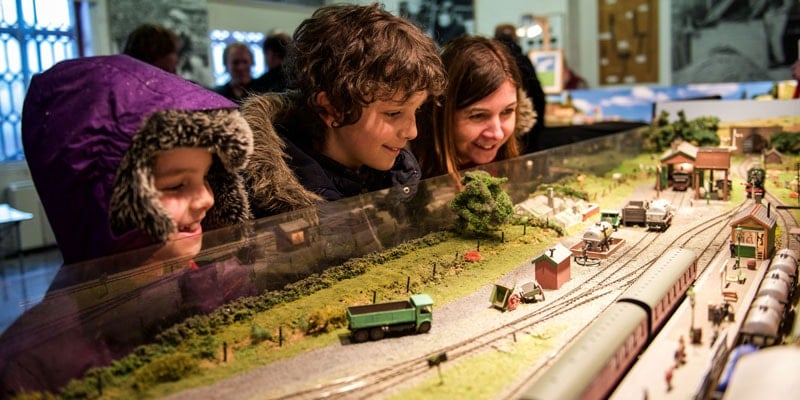 6/15

 Model Railway Show

All aboard for a fun filled family day out! If any of your little family travellers like taking the train, riding the railways and playing with their train sets, then they'll be raring to go full steam ahead for a day out at the Model Railway Show at the National Slate Museum in north Wales. There are storytelling sessions for children, the chance to hop aboard and take a ride on miniature steam engines around the grounds and the opportunity to bring their own trains to try them out on test tracks. Watch out for daily demonstrations, talks and see miniature engines chug around tracks great and small. There will also be trade stands to buy some items to take home if any new engines take their fancy. There will also be demonstrations of the slate-carrying incline, built to carry slate from the mountains to the railways below.
When/Where
22-24 Feb, National Slate Museum, Llanberis, north Wales
Price
Free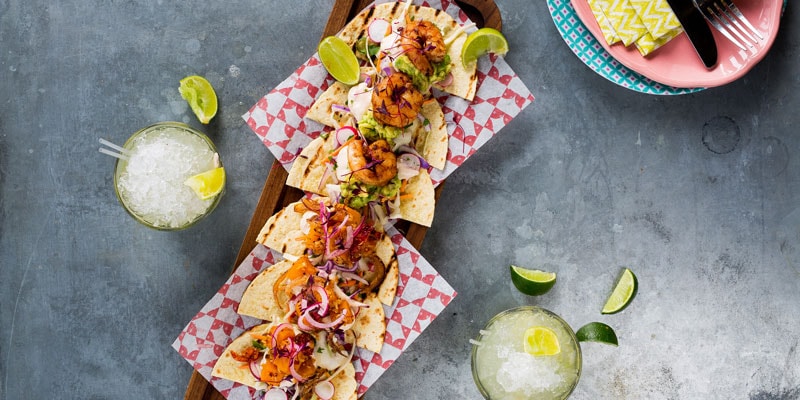 7/15 

Lively Latin Fun At Las Iguanas

A mixed medley of South American fusion food, salsa music playing in the background, a splash of two-for-one cocktails for the parents and pleny of new tastes for the kids to try makes a meal out at Las Iguanas fun and carefree. As well as the usual Mexican classics (think sizzling fajitas, smoky enchiladas and soft stuffed burritos) the menu at Las Iguanas moseys on over to Brazil and beyond, serving specials such as Moqueca de Palmitos (butternut squash, palm hearts and spinach in a creamy coconut curry) plus Bahian Coconut Chicken. A tapas menu (3 dishes for £14.95 and 5 for £24.95) means you can all dip in and try something new. Dadinhos anyone? (they're crispy cheese cubes served with sticky chilli jam). The Ninos menu for under 12s includes Wacky Tacos, Crazy Quesadillas and bottomless squash for the extra thirsty.
When/Where
Open daily, Las Iguanas restaurants nationwide
Price
The Ninos Menu includes a main course, dessert and drink for £5.90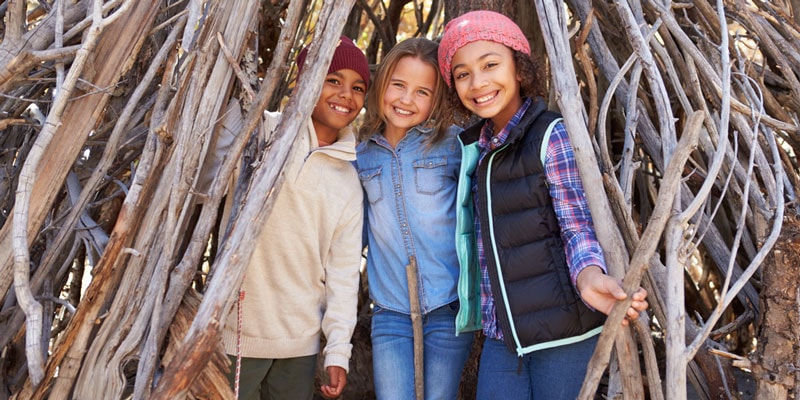 8/15

 Wild Adventure Week

There's lots of outdoor fun to be had in the forests of Groombridge Place this February half-term with three jungle explorer shows every day and the chance to meet the entertainers after the shows who will offer advice on where you might find treasure in the woodlands. There are tonnes of activities free with admission including 'have a go at den building' with twigs and sticks from the forest floors, plant a flower and take it home to grow, wildlife arts, crafts and talks, opportunities to meet some animals and you can help to build a bug hotel or nest to keep creatures cosy. As well as all these activities, you'll get access to the Enchanted Forest and have fun playing in Crusoe's World with its huge wooden ship with rope bridges to teeter along. Kids will also love the giant tree swings, plus zip wire, suspension bridge and rope swings. Don't miss the opportunity to peer at the majestic peacocks in the grounds and play wit the giant chess set and sneak a visit to the secret garden with streams that feed the moat.
When/Where
13-19 Feb, Groombridge Place, near Tunbridge Wells
Price
Adults £10.95, Child (3-12) £9.45; Family Ticket £35.95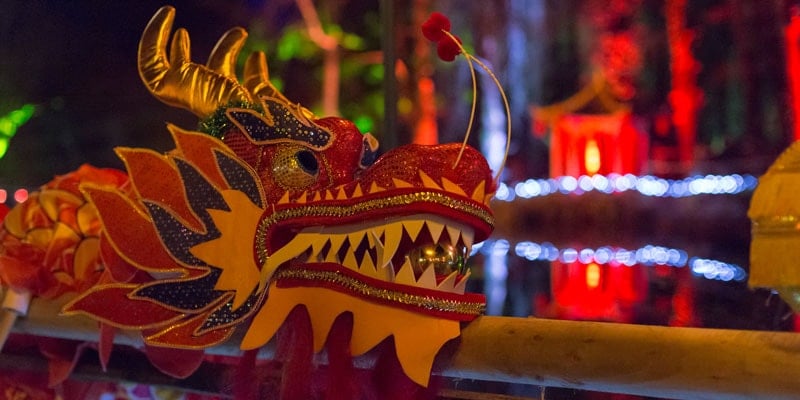 9/15

 Electric Woods

The Electric Woods Spirit of The Orient event at Robin Hill Country Park is an oriental light, sound and entertainment experience set in ancient woodland, capturing the spirit of the Chinese New Year in style. Set out at dusk to see a stunning array of coloured lanterns, flags and beautifully styled features such as the Golden Oriole Bridge complete with cascading golden waters. A special sound and light show set in the woodland glades tells the story of the legend of the Rooster and how it came to be chosen as one of the signs of the Chinese zodiac. Watch out for the larger than life Mystical Dragon who will also tell a few tales before inviting children on a fun interactive dragon procession with a 12 metre long dragon that will mender its way through the woodland and across the canopy skywalk surrounded by plumes of flames. There'll also be an illuminated Lion Dance and see glow poi performers wander through the woodlands plus a falconry show in the woodland amphitheatre will wow you. During half term week (18-26 Feb) there will also be a dazzling dance troupe performing a colourful Chinese fan dance.
When/Where
10-12 and 17-26 Feb, Robin Hill Country Park, Isle of Wight
Price
Tickets cost £12.50 per person or £46 for a saver ticket (4 people) children under 4 years are free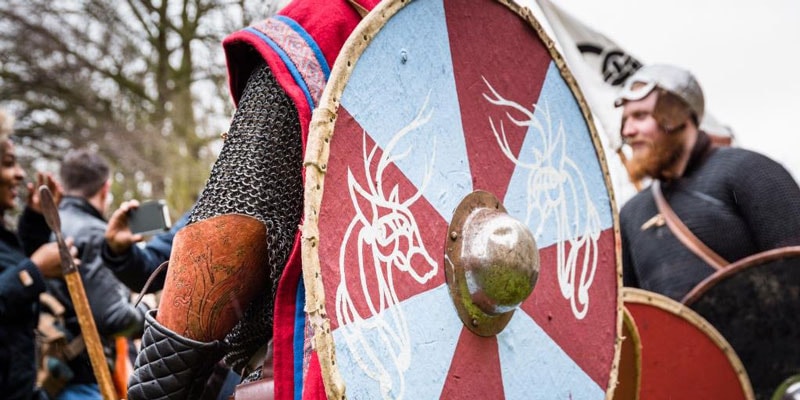 10/15

 Jorvik Viking Festival

Shield-smashing and sword-slashing, the annual Jorvik Viking Festival in York celebrates the city's vibrant heritage with gusto. As well as battle re-enactments, lectures and guided walks there are plenty of family-friendly events to whet their appetite for a bit of fun history. Pop along to the Yorkshire Museum and help create a collage using images from their Viking Collection and meet a 'real' Viking who can help explain what the objects in the collection were used for. Join the hustle and bustle of Viking life at Coppergate – a special living experience in the heart of York –  where you can discover how they lived, what they ate and wore. At DIG, an archaeology hands-on-adventure centre, you can get up close and personal with the animals the Vikings would have reared in the city – there'll be child-friendly talks on how it wasn't just the meat and milk that was of use, but the bones and antlers too. And there's the chance to have a go at archery, see what games Viking children would have played with and create mythical craftwork too.
When/Where
20-26 Feb, York
Price
Some events are free, others incur a charge; see website

11/15 

Have A Bad Hair Day

If ever there was an excuse to have a bad hair day it's this: Great Ormond Street Hospital Children's Charity are asking us all to do something silly with our hair on Bad Hair Day (10 Feb) to help make a difference to seriously ill children from across the UK. So whether you curl, crimp or colour, backcomb, braid or bouffant your way to cringe-worthy hair – or don a wacky wig to look the part – you could be helping raise funds that really matter.

All you have to do to take part is sign up for a fundraising pack where you will get the materials to help you fundraise for the hospital including a collection box, fun sweepstake poster (plus instructions on how to style a brand new wacky bad-hair day hairstyle.). Why not get the whole family involved and get everyone you know to sponsor you to walk down the street with your silly style on show? All the money you raise will go towards funding pioneering new treatments and research and providing cutting edge equipment as well as helping redevelop the hospital. For example, if you raise £137 through your Bad Hair Day, you could cover the cost of a week's valuable research time for one of our world-leading scientists' to try and make the next breakthrough.
When/Where
10 Feb, nationwide
Price
Free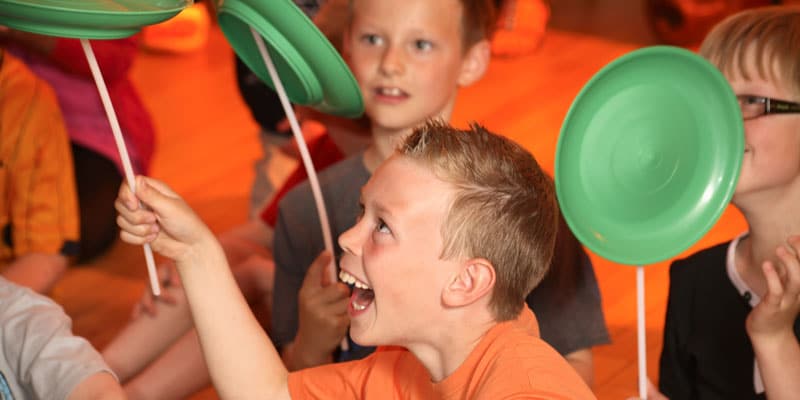 12/15

 Showzam!

This four day festival by the sea celebrates magic, variety and live performance, providing entertainment for young and old. Showzam! Central in Blackpool's winter gardens is a free attraction providing a central hub of information for the whole festival.  You will be wowed by some amazing street theatre and sideshows including appearances by the UK's most flexible contortionist Pixie Le Knot and Cleo, a tiny five-inch-tall girl swimming in a goldfish bowl. Join Sam the Scam for some amazing sleight of hand magic and be wowed by Dr Phantasma's Sideshow with nail-biting fire-juggling, whip-cracking and ladder-balancing feats on show. There will be free circus workshops daily for you to perfect your own skills too. A Mardi-Gras themed Carnival Ball will bring a colourful programme of circus and cabaret to Blackpool Tower Ballroom on Feb 11 and other street performances around the city include Polly Hoops an amazing hula-hoop specialist and daredevil escape artist Rob Roy Collins. You can also join dance workshops, ice-skating rink skills, and heritage tours of Blackpool Pleasure Beach and the Winter Gardens.
When/Where
11-12 Feb, Blackpool
Price
Some events are free, others are charged. The Carnival Ball costs £15 per ticket
Find out more about Showzam!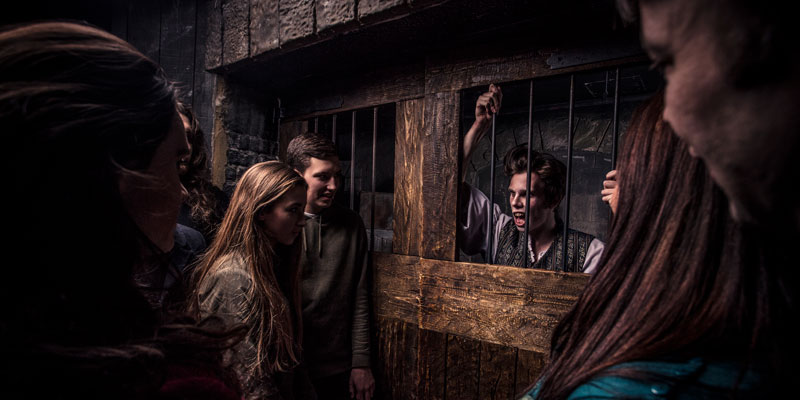 13/15

 A Great Escape

There's a new show on at The London Dungeon – featuring London's original escapologist. Long before Houdini came along to escape any shackles, there was Jack Shepherd, a petty thief who infamously managed to break free from not one, not two, but four prisons by breaking through ceilings or picking locks. Guests will journey back to 1724 to come face-to-face with Jack at Newgate prison – where he's been caught by the thief-catcher for the fifth time. Jack is being held in chains ready to be hung because no prison can keep hold of him. You'll hear from the audacious convict all about his tales of escaping from four prisons with the help of his love Bess and his handy carpentry skills. But all may not be as it seems. Are you part of Jack's latest escape plan? Will he face his fate or make one last getaway? Anyone with a taste for the dark and mysteries will love seeing London's  shadowy past brought to life.
When/where
From 11 Feb, The London Dungeon, London SE1
Price
Tickets from £21 in advance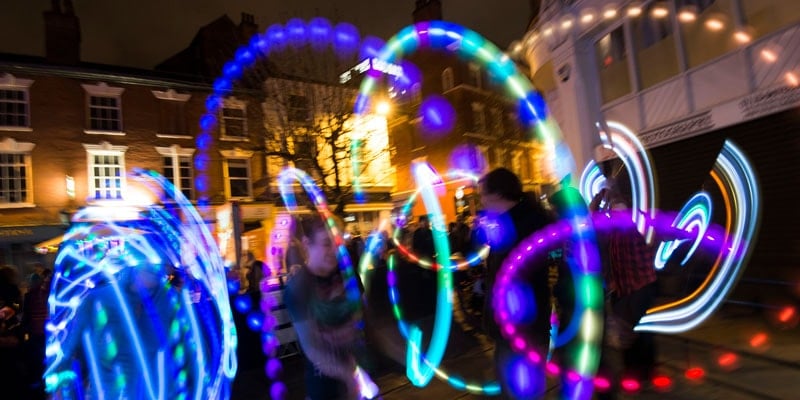 14/15

 Light Night

Nottingham's annual Light Night celebrates its 10th anniversary in 2017 and to mark the occasion, the biggest ever transformation of the city will be taking place with over 50 free activities and events to choose from.  See the streets brought to life after dark with a series of illuminations, spectacles, music, street theatre and much more. Make a night of it with music and performances in many of the city's cafes and restaurants, and outdoor street food stalls adding to the festive after dark atmosphere. There are free candle-lit tours at the William Booth Birthplace Museum taking you back in time to reveal the story of the man who set up The Salvation Army. Join poets in a tuk-tuk who'll recite a poem just for you, ride the Wheel of Light, or keep your feet on the ground for a colourful sound and light show; step into the Arboretum – the park that inspired J M Barrie to write Peter Pan – which will be decked with festoons of lights. There's a climbing wall to try, stories and silliness from Nitwit & Grump's Light Night Fiasco, physics tricks on the theme of light that will amaze and entertain you from Physics Buskers, an illuminated race track with electric toy cars, flying bird puppets to light up the night sky and lots more.
When/Where
10 Feb, Nottingham
Price
Most events are free, but some incur a charge
15/15

 Vets In Action At The Zoo

Ever wondered how to microchip a meerkat, or keep tabs on a tiger's teeth? ZSL London Zoo is inviting children to become zoo vets at Animal Hospital, an exciting role-playing experience for budding veterinarians. Kids will be able to truly step into the role – after arriving for work at the hospital's reception, junior vets will be prepped with gloves and masks before joining the team in the specially recreated 'surgery'.
Then they'll get to help experts examine, x-ray and carry out toy treatments – experiencing first-hand the huge variety of work carried out by the Zoo's vets, vet nurses and zookeepers on a daily basis. When the masks come off, a packed schedule of talks and activities throughout the week will take families further inside the exciting world of animal medicine, explaining everything the team do to keep the Zoo's 18,000 animals in tip-top condition.
When/where
11-19 Feb, ZSL London Zoo
Price
Included in admission price. See website for online prices
About the author
Kim Jones is an experienced journalist who has worked at various women's weekly magazines, and now freelances for them and the national papers writing about travel, health and lifestyle. She lives in Cardiff with her partner and their two sons and loves persuading them all to come away on holidays with her in the family VW camper van.
Find Kim on Twitter @kimsfeatures