1/15.

 Play with Peter Rabbit

Willows Farm Park has added yet another reason to visit them – a chance to play Peter Rabbit style! A new themed adventure play park is being created, tying in with the 150th anniversary of the birth of the cheeky bunny's creator, Beatrix Potter. The new area will include ten attractions, bringing the homes and habitats of the Peter Rabbit characters to life, including The Peter Rabbit Secret Treehouse, Mrs. Tiggy-Winkle Kitchen, Lily Bobtail Nature Discovery, and Mr. Bouncer Great Invention which includes state-of-the-art sensory gaming play. There'll be musical instruments in Jeremy Fisher Musical Pond, as well as traditional climbing frames and adventure play equipment.

When/Where: Opens 2 April, Willows Farm Park, Herts,

Price: see website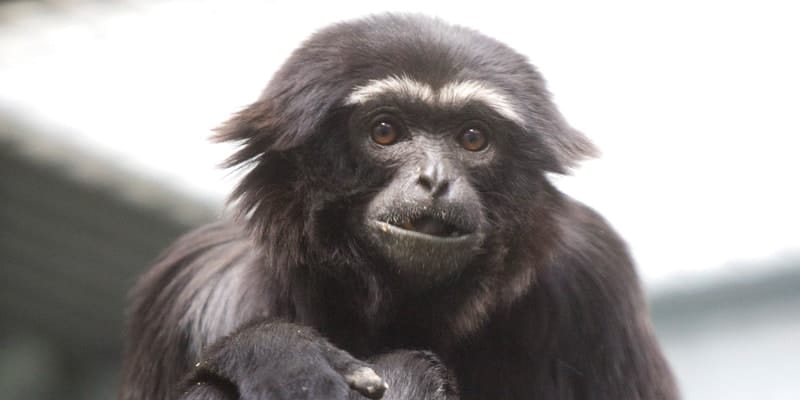 2/15.

 Gibbon Forest

The gibbons are going ga-ga for their new home at Twycross Zoo, and you'll love watching all their antics as they swing through the trees above four moated islands. Gibbon Forest is ten times larger than their previous enclosure so they're enjoying the space – and it's designed to recreate their natural habitat in the forests of south-east Asia. The zoo is home to four gibbon species, all of which are endangered – the agile, pileated, siamang and Northern white-cheeked. Top off your day with a visit to the zoo's other attractions including Giraffe Savannah, Elephant Creek and a huge water-play area

When/where: open daily, Twycross Zoo, Leicestershire

Price: see website for online discounted tickets

3/15.

 Roald Dahl's tremendous adventures at Tatton Park

Tatton Park is celebrating 100 years since the birth of Roald Dahl, the World's Number 1 storyteller with a fun programme of events. There'll be an exhibition, Cover to Cover: Roald Dahl Around the World, which will showcase a selection of book jackets. And don't miss trying to dodge gamekeepers in the Danny the Champion of the World trail in the gardens. Find Fantastic Mr. Fox at the Farm before the farmers do and go deep into the Parkland 'jungle' where you'll find The Enormous Crocodile lurking. Inside the mansion, you can enter the curious world of Matilda Wormwood by following the mischief-making trail. Dress up and take part in the fun family activity room too and look out for other April events including a creative writing workshop and the chance to help make treats for a gloriumptious tea party.

When/Where: Until 2 October, Tatton Park, Cheshire

Price: see website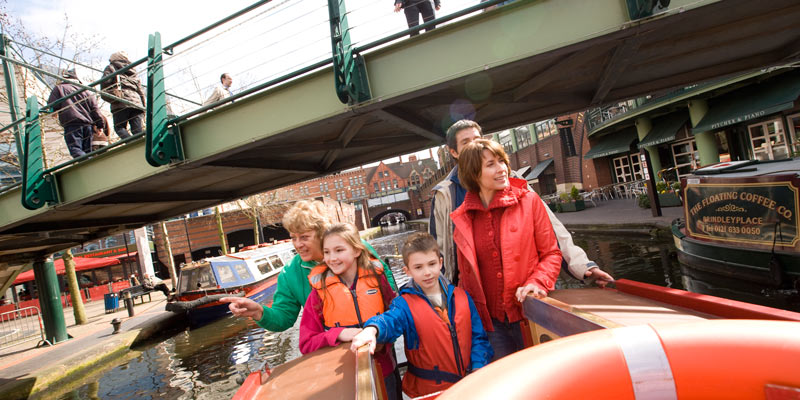 4/15.

 Try canal boating for free

Ever fancied sampling out the slow life, drifting along on a canal boat and taking in the pretty countryside views? Drifters Waterway Holidays and the Canal & River Trust are offering you the chance to try canal boating for free at 17 narrowboat hire bases across England and Wales. The taster sessions will include free trips on skippered narrowboats, as well as boat tours and holiday discounts – where you'll discover why, travelling at just 4mph through peaceful countryside, sleepy villages and exciting waterside cities, canal boat holidays are often described as 'the fastest way to slow down'. No booking is required, with people of all ages encouraged to just turn up.

When/where: 17 April, at 17 narrowboat hire bases across England and Wales

Price: free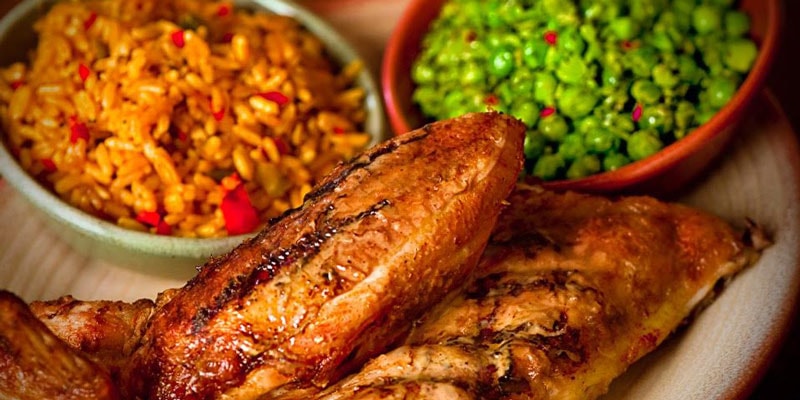 5/15.

   It's nice at Nando's

Even your teenager will be clamouring to grace you with their presence if you suggest a family meal out at Nando's. The perfectly spiced Peri-Peri chicken chain has attained 'cool' status thanks to its cult celebrity following. And the moist chicken (marinated for 24 hours and peri-peri spiced to your chosen heat rating)  – tastes tantalising too. They also cater well for younger children with a Nandino's menu for children under 10. Main courses for little ones include a Chicken Burger, Chicken Strips, 3 chicken wings, 2 chicken drumsticks or Veggie Strips, cooked Plain-ish (with just a tiny into of spice) or with a mild Peri-tamer sauce. Sides include chips, sweet potato mash, garlic bread, corn on the cob, tomatoes and sweet potato wedges and for dessert they can opt for a chilly lolly or frozen yogurt. Though they offer bottomless fizzy drinks, for your tots you can order organic milk or a Bottle Green Cordial. It's simple, but totally tasty food and don't forget to pick up a Nando's card at the till – you earn chillies for every £7 spent – which earn you free chicken rewards. Yum.

When/where: open daily, nationwide

Price: Nandino's Menu costs £5.65 for a main course, choice of two sides plus a drink or dessert.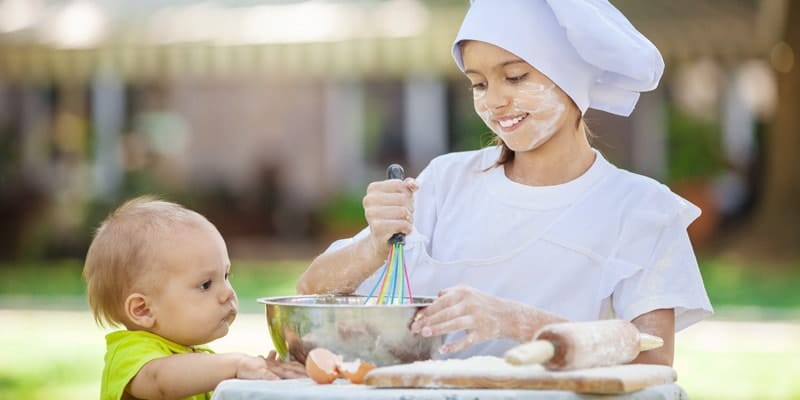 6/15.

 Liverpool food and drink festival

Check out local food and drink, inspirational for homes, gardening, craft and more. Enjoy rural crafts and pastimes – there'll be kid-friendly bushcraft activities, den making, animal tracking and survival skills, plus the Woodland Trust will be giving tips on how to encourage wildlife into urban back gardens. Sample produce from the region's best independent street food operators and local producers, try your hand at scaling the Army Climbing Wall, enjoy story time on beanbags, pan for gold, get creative at craft-time, be inspired by organic living ideas and decorate cakes and biscuits too. Something for everyone.

When/where: 23-24 April, Sefton Park, Liverpool

Price: see website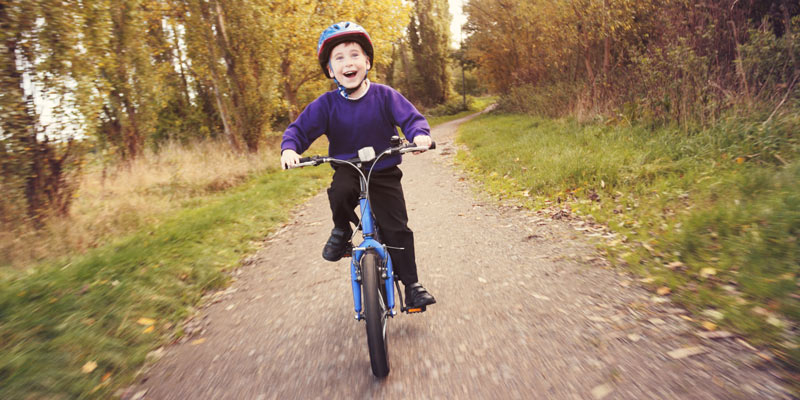 7/15.

The big pedal

The Big Pedal, run by Sustrans, is all about challenging kids, parents and teachers across the UK to leave their cars at home and get on their bikes and scooters for the school run. Get your school involved – sign up and receive tailored lesson plans, posters, maps, and ideas on how to encourage everyone in the school to get involved. On each day of the challenge, schools compete to see who can record the greatest number of pupils, staff and parents cycling or scooting to school. Even if your school's not taking part, why not set your own family challenge and make this the month you get into a new healthy school-run habit. Go on, get on your bike!

When/where: 18-29 April, nationwide.

Price: free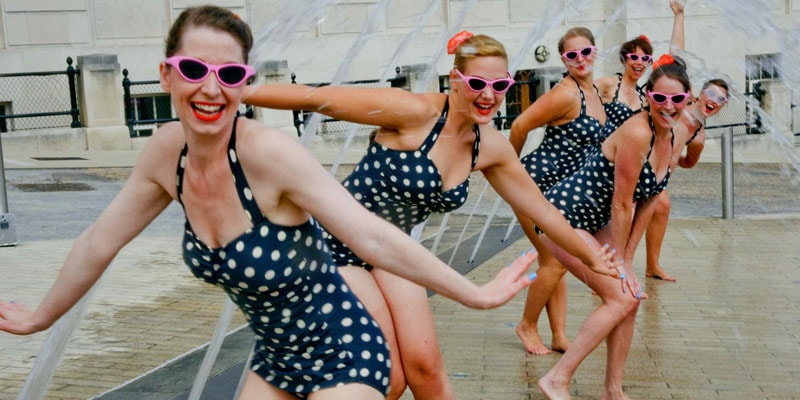 8/15.

 A day at the lake

Wild Rumpus (producers of the award-winning Just So Festival) are going back in time with their brand new outdoor event 'A Day at the Lake'. For one weekend only, Rudyard Lake will be 'reimagined' as it was in the late 1800s  – as a cultural destination for up to 20, 000 day trippers a day who came to take in the spectacular outdoor arts of the age. Now a sleepy beauty spot it was once known as "the Blackpool of the Potteries" and "the Geneva of the UK". Expect to see lots of unusual acts and feats including the recreation of the famous "African Blondin" tightrope walk, vintage dry land synchronised swimming routines, walkabout performances, storytelling and marching bands, juggling shows, Mesmerising Mermaids who have emerged from the depths of Rudyard Lake and who will be joined by their fish-juggling, shanty singing sailors.  There'll also be old-fashioned Helter Skelter and Swing Boats plus rowing boats, steam train rides a craft and vintage market, street food and local ales.

When/Where: 30 April – 2 May, Rudyard Lake, Staffordshire

Price: Advance tickets £14 adults, £7 child, under 3s free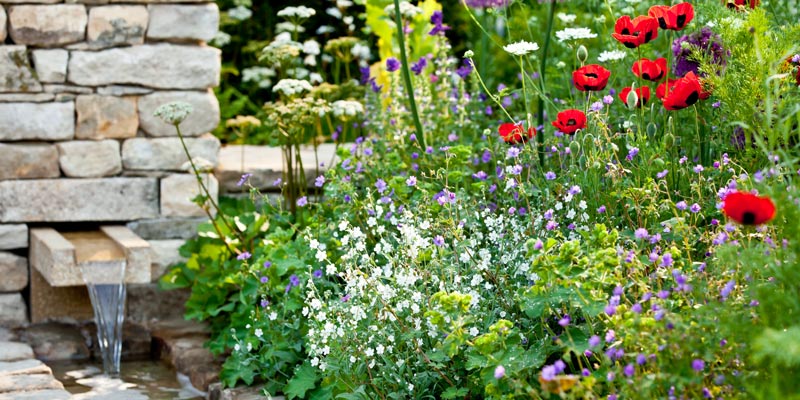 9/15.

 National gardens scheme open days

April is the perfect time to see lots of flowers come to bloom – and a perfect chance to have a peek into other people's gorgeous gardens in all their glory as hundreds of people and organisations open their garden gates to the public for the National Gardens scheme. All proceeds from entry to the gardens go to nursing, caring and garden-based charities. Expect to see magnolias in blossom, stunning water-features, kitchen gardens, manicured lawns, wild-flower patches, rare plants, topiary and there may even be tea and cakes on offer. Just go into the website and you can search for local gardens by postcode  – you'll then see opening times, admission (and of course if that all important pot of tea's brewing after you've had your potter around)

When/where: all year, nationwide

Price: prices vary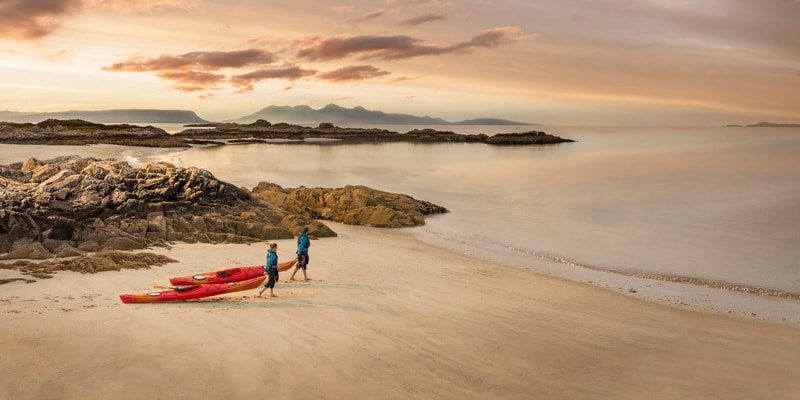 Image: Visit Scotland
10/15.

 Spirit of Scotland Travelpass

See more of Scotland than ever before thanks to a new pass that gives unlimited travel the length and breadth of Scotland for one fixed price. From Motherwell to Mull, Edinburgh to Eigg, or Stranraer to Stornoway, The Spirit of Scotland Travelpass, launched by VisitScotland in partnership with ScotRail and CalMac will take you everywhere. As well as saving you the hassle of having to book individual tickets for every journey you want to make, the pass is also designed to save money with a round-trip of Scotland costing as much as a quarter (27%) less than booking the tickets separately. The pass includes travel by train, ferry, and coach  – plus there are discounts on certain steam trains, city buses and cruises. There are are two types of pass available – 4 days unlimited travel over 8 consecutive days or 8 days unlimited travel over 15 consecutive days – and you can design your trip as you go.

When/where: daily, across Scotland

Price: Four days unlimited travel over eight consecutive days: £134.00. Eight days unlimited travel over 15 consecutive days: £179.70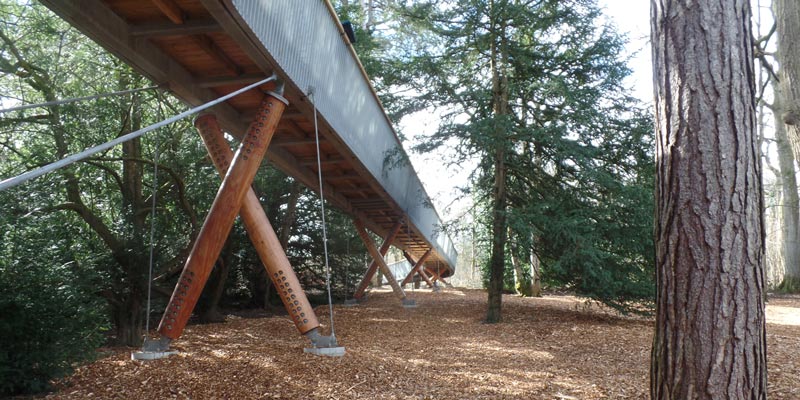 11/15.

 Westonbirt new treetop walkway

Get a bird's eye view of the wonderful trees at Westonbirt thanks to a brand new walkway that will whisk you into and above the leafy canopy of the woodlands. At 300 metres long, it's believed to be the longest treetop walkway in the UK and at 13 metres high, you'll get views of the arboretum you've never seen before as you follow a serpentine path through the trees. The walkway will also feature seven interactive hotspots where you can learn more about nature and the fascinating activities that go on in trees. Don't miss your chance to scramble up to the Crow's Nest, swing along the rope bridge and peer through the mesh-floored section to the forest floor below.

When/Where: opens 27 April, Westonbirt, The National Arboretum, Tetbury, Gloucestershire

Price: Admission is Adult, £9, Child, £3 – treetop walkway included in admission price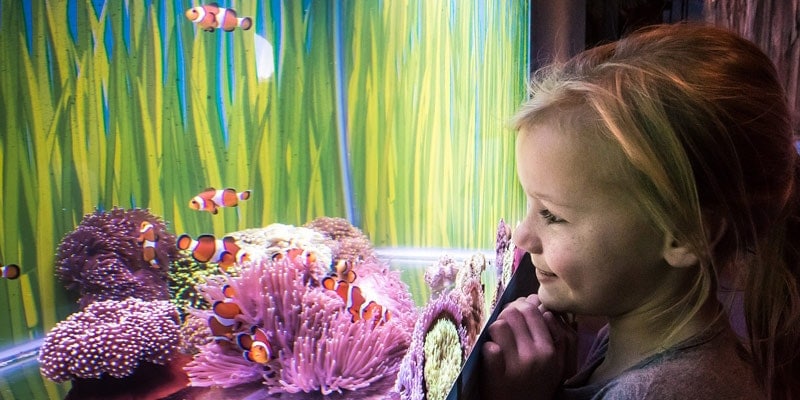 Image: Julia Claxton
12/15.

 Secrets of the reef

Dive into the vibrant underworld of a coral reef in a brand new exhibit at Sea Life Brighton. Secrets of the Reef takes you to the exotic paradise of a Maldives reef where you will be dazzled by the colours and get to meet its most famous residents including the regal tang and clownfish. You can get closer to the creatures at Sea Life Brighton than ever before with a series of interactive displays and an incredible new crawl-through coral reef. Keep your eyes peeled for more than 400 new fish across 31 different species plus 70 captivating seahorses, two tons of rock and over 15,000 litres of water. Two new zones in the exhibit –  Reef Coral Gardens and Seahorse Nursery  – highlight the aquarium's important coral conservation project where they are helping to rebuild a coral reef in the Maldives and its seahorse breeding program.

When/where: open daily, Sea Life Brighton

Price: see website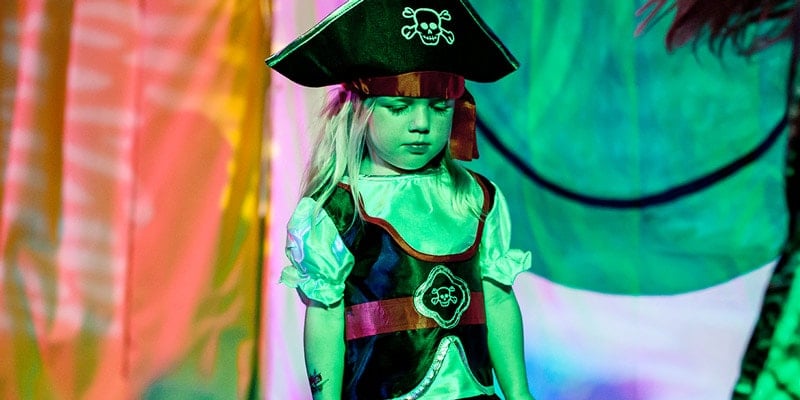 13/15.

  Big fish little fish sail the seven seas

Set sail on the seven seas and join award-winning family events crew, Big Fish Little Fish at Dreamland for a nautically themed family rave! Aimed at parents with kids up to 8 years old, there'll be raucous music from the decks to dance to as cannons rain glitter down on the dancefloor and bubbles appear from everywhere for little ones to burst in time to the tempo. There'll be magical light effects, a giant parachute plus a chance to get creative at Happy Monkey craft tables. There's also a baby chill area, pop-up tents and a toddler zone, a licensed bar, free glowsticks, transfer tattoos and a Happy Monkey smoothie to take home.

When/where: 9 April, Dreamland Margate

Price: Adult, £8.50; Child, £5.50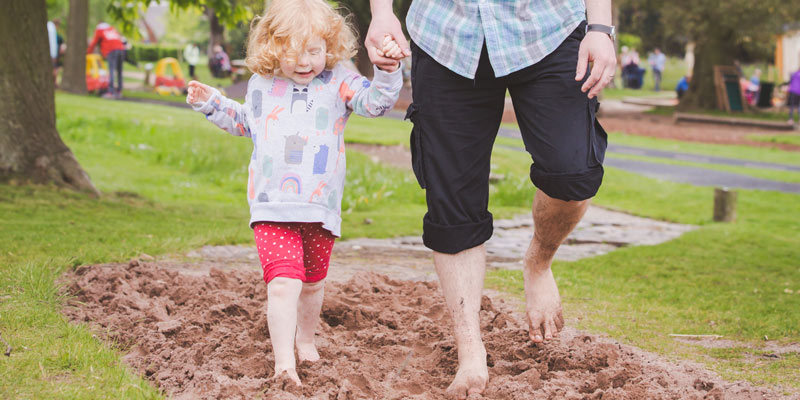 14/15.

 Go barefoot

Now that the weather is getting warmer, why not lose your shoes and enjoy the feeling of the ground beneath your feet at the Trentham Estate's Barefoot Walk? It's not just any old walk either  – you can splash, squelch, paddle and tiptoe through mud, bark, babbling streams, grass and pebbles for a fun toe-tingling experience all children will love throwing themselves into.  Shoe lockers and showers are available so you can put your best foot forward. And when you've dried off you can explore the rest of the estate – stop off at the monkey forest, go on a fairy hunt, hire a rowing boat or tackle the adventure playground. Worn out by the end of it? Of course you will be.

When/where: open daily, Trentham Estate, Stoke-on-Trent

Price: see website

15/15.

 Angry Birds at Madame Tussauds

Those Angry Birds are crash-landing and getting a starring role at the wax museum ahead of the launch of their movie next month. See larger-than-life figures of the larger-than-life characters Red, Chuck and Bomb in a digital experience that will be in London from the end of April until July, before touring Madame Tussauds attractions around the world. The exhibit will digitally bring to life one of the key scenes from the film in a 3-D backdrop and guests can step in, interact and star alongside Madame Tussauds' figures of explosive Bomb, speedy Chuck and furious Red.

When: from 30 April, Madame Tussauds, London

Price: tickets from £23.80 when you pre-book online