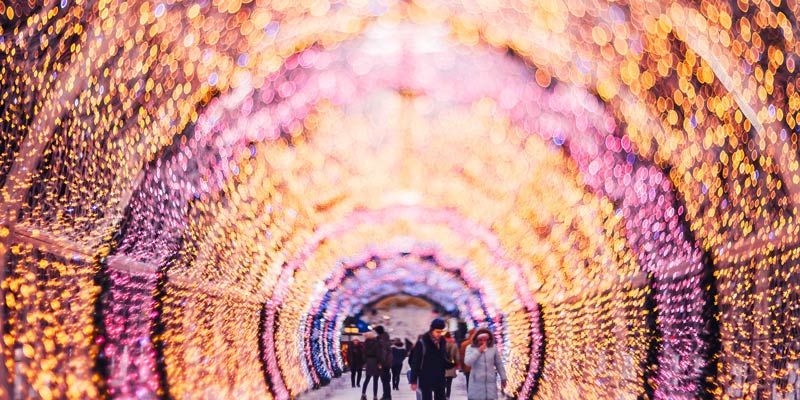 1/15

Sparkle in a tunnel of lights

The Christmas lights will be extra-spectacular this Christmas in Norwich as switch-on will include an awe-inspiring 'Tunnel of Light'  – a wonderland display made from 50,000 pulsating LED lights. The lights – which run 60 metres in length, are six metres wide and four metres high, will light up in a display of mesmeric dancing beams,  a sequence which will reflect the patterns and colurs of the Northern Lights. Inspiration for the tunnel has been taken from Nagashia Resort's theme park Nabana no Sato in Japan. As well as this supernatural spectacle, there'll be a beautiful traditional eight metre Norwegian Spruce which will twinkle proudly outside Norwich's art deco City Hall plus watch out for three commissioned original film projections of Christmas stories   – a tradioneal Christmas narrative and contemporary Chirstmas adventures – broadcast nightly on the iconic Art Deco City Hall plus Norwich Castle Museum and Art Gallery.

When/Where: 17 Nov- 5 Jan, Norwich

Price: free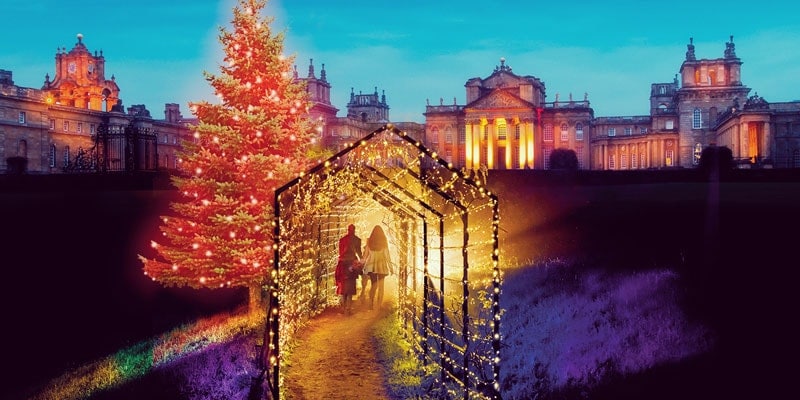 2/15

Christmas trail at Blenheim Palace

Blenheim Palace's Formal Gardens, landscaped by Capability Brown, will be transformed into an enchanted illuminated wonderland this Christmas. The hour long after-dark festive trail will take you along winding paths and will include a scented fire garden, a circular carpet of dancing flames, pretty lanterns, sparkling hedgerows, a swaying lawn of fibre optic colour, singing Christmas trees and a lake aglow with brightly lit boats filled with snowflakes and presents. Other highlights include the fairy-lit arbour and the lakeside boathouse, which will become a temporary home for Santa Claus, and the Cascades, which will also be bathed in light. Why not warm yourself up with some spiced cider, mulled wine or hot chocolate whilst the aroma of roasting chestnuts fills the air. You can also toast your own marshmallows and ride the vintage carousel.

When/Where: 25 Nov – 2 Jan, Blenheim Palace, Oxfordshire

Price: Adults £16.00/Children £10 when booked in advance

3/15

Meet Santa's reindeer

It's home to the largest working reindeer herd in England – with over 150 reindeer roaming freely across a 30 acre site. It's open to the public for selected dates and events throughout the year – at Easter you can visit as they prepare for calves to arrive and during summer, the sleigh-pullers are starting their training for you-know-what! Then at Christmas it all turns magical as the Lodge is transformed into a Winter Wonderland, with twinkling lights, festive trees, Santa and his little helpers and of course the dear reindeer- and sleigh rides! The Christmas Experience at Blithbury includes entry to Blithbury Reindeer Lodge, talks by experienced staff, the opportunity to feed and fuss over 100 reindeer, story-time with the Head Elf, a personal visit to meet Santa, access to his toy workshop, and a chance to attend Elf School. Christmas wouldn't be quite so terrific without a visit to the reindeer.

When/Where: Open Friday evenings start from November 11; Open Weekends from November 12, and Open Days are scheduled for December 20-23, Blithbury Reindeer Lodge, Staffordshire

Price: £9.95 for adults, £14.95 for children, £5.95 for under 2s, and £60.95 for a family ticket for up to two adults, two children and two sleigh rides

4/15

Frozen meets fireworks at Chatsworth

Children will be doubly thrilled by the spectacular fireworks at Chatsworth this year. A fantastic firework display will be set to musical classics from Disney's Frozen as well as other well-known family-friendly songs. The magical theme of this year's annual event will continue with live ice-carving by the award-winning company which created a huge ice installation for the hit TV series Game of Thrones. Get there early to see the lighting of the bonfire and the children's firework display which takes place at 7.30pm while the main firework display with its show-stopping grand finale follows at 8.45pm.Along with tasty bonfire food and drink, live bands and stilt walkers, this event has plenty to keep you warm and happy before the all important countdown to the fireworks.

When/Where:  5-6 Nov, Chatsworth House, Derbyshire

Price:  £10 children and £15 adults on Saturday; £8.50 children and £12.50 adults on Sunday.

5/15

Lantern magic at Chester Zoo

Watch their eyes light up with wonder in this magical night time event where you get to explore the zoo after dark. Take the zebra crossing through a constellation of stars and stroll through the enchanted forest where you'll meet colourful festive characters. The beautiful larger than life animal lantern sculptures and puppets will enthrall you  and you may even catch a glimpse of Santa on his sleigh . Designed and performed by The Lantern Company, the creators of illuminated events across the world, this year's lantern sculptures and puppets include many new characters, some of which celebrate our local woodland and garden creatures. Your ticket includes entry to a pre-booked session of The Lanterns and the route should take about 90 minutes. As well as meeting the illuminated creatures, you can enjoy winter warming meals and street food. If you'd like to book your meal in advance just add the Family Feast to your booking.

When/Where: 25 – 27 November, 2 – 3 December, 9 – 11 December, 16 – 23 December

Price: £9-12.50 for children and £10-15 for adults, booking early is advised.

6/15

Book Week Scotland

Calling all kids! It's cool to be a bookworm and read past your bedtime..That's the message from Book Week Scotland, now in its fifth year of championing reading and books for everyone, big or small. The national celebration of books and reading will see hundreds of free events and book related activities taking place across the country in libraries, schools, community venues and workplaces. There'll be talks and events with authors, poets, playwrights, storytellers and illustrators to bring a packed programme of events and projects to life.

This year's theme is discovery, a celebration of how reading exposes us to a world of exploration and adventure and how books are tools of discovery, opening us up to new worlds, new words and new cultures. Why not challenge your little ones to take part in the #ReadingDare or find your perfect book match with the Book Generator, a fun online quiz that will determine the ideal book for you or your friends and family.
Those who just want to spend the week reading will also be well catered for, with 150,000 free books being given away at libraries, bookshops and other venues throughout the week.

When/Where: 21-27 Nov, across Scotland

Price: free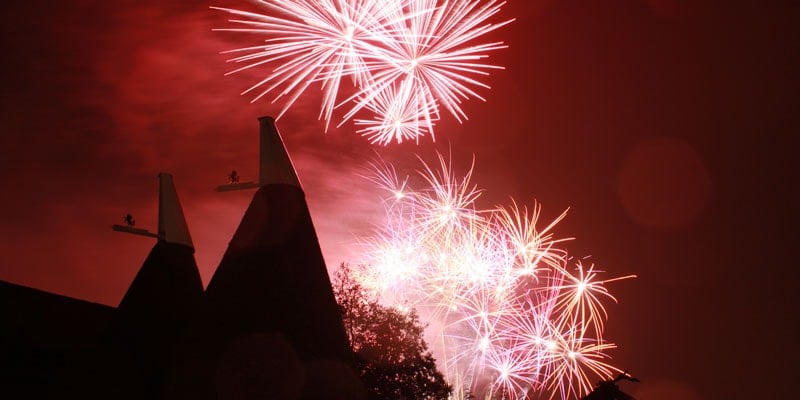 7/15

Kent Life's Firework Spectacular

This award-winning attraction has a super-fun event for Bonfire Night. Opening at 3pm, there's plenty to do in the run-up to the firework finale including face painting and plenty of children's fairground rides. Grab your glow sticks and explore the Vintage Village or enjoy some athletics in the indoor and outdoor play areas. Animal lovers will be thrilled to see some farmyard friends in Cuddle Corner. There's a licensed bar for adults and music provided by Hospital Radio Maidstone. In a super-stunt, fire breathers will light the bonfire before the evening culminates in a breathtaking firework display at 8pm. The attraction is open until 9pm, leaving plenty of time for a drink at the bar or an indulgent and warming hot chocolate at Dotty's Tea Room finishes.

When/Where: 5 Nov, Kent Life Heritage Farm Park, near Maidstone

Price: see website

8/15

Hamley's toy parade

For over 250 years, Hamleys of London has been charming children with their magical experiences. The Hamleys Toy Parade is one that will light up your little ones' worlds and set the scene for a sparkling Christmas. From 10 am to 4pm, a traffic-free Regent Street will be alive with life-sized and giant-sized toys in this enchanting parade. Basil Brush will be taking the stage as special guest host and an iconic giant Marshmallow Man is set to steal the show along with a cast of hundreds including marching bands, dancers and toy vehicles. New faces to this year's line-up include Lego Ninjago's Kai and a host of exciting additions from CBeebies, including Hey Duggee, The Teletubbies, Go Jetters, Q Pootle 5, Something Special and Twirlywoos. Much loved stars set to return include Barbie, Bing and Flop, Fireman Sam, The Gruffalo, Peppa Pig, Sonic, Power Rangers and The Transformers. The Hamleys Toy Parade will be followed by an action packed afternoon allowing families to see some their favourite characters.

When/Where: 20 Nov, Regent Street, London

Price: free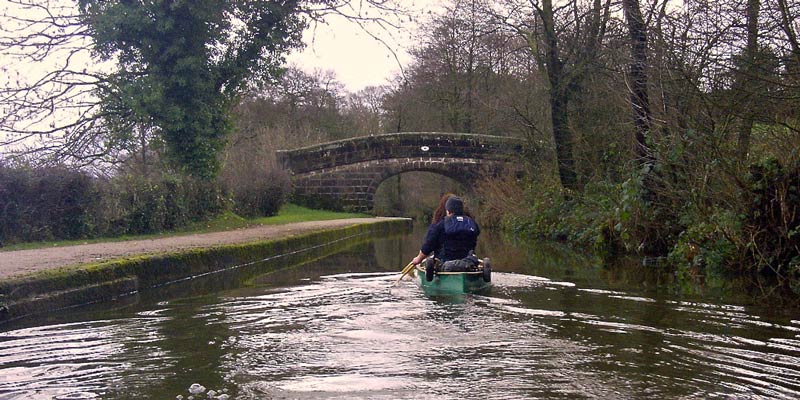 9/15

Canoe Trail

A new Heritage Canoe Trail through Stoke-on-Trent and The Potteries has launched for paddlers of all ages and abilities.  You can do as little or as much of the 20 mile route along the two canals in the region – the Trent and Mersey and Caldon canals. Special route markers will guide you along the canal and there's plenty to see on the way – as well as the nature all around you there are plenty of historical landmarks to watch out for as well as a wealth of pubs and inns to stop off at for a drink or meal to feed your paddling muscles. Don't miss Westport Lake Visitor Centre with its waterfront café and children's play area in a nature reserve. Explore the Emma Bridgewater Factory and Café and see where the iconic pottery decorated with polka dots is made. Or stop off at Churnet =Valley Steam Railway and take a journey back in time

When/Where: open daily, along Trent and Mersey and Caldon canals.

Price: The route map is available for sale at £3.75, or free as a PDF online

10/15

Try the fun new menu at TGI Fridays

A test menu bursting with new fun and flavours has just launched at selected TGI Fridays around the UK and it includes a mouthwatering medley of new tastes and flavours. Unusual appetisers include Bacon Lollipops topped with either a Jack Daniel's glaze with toasted sesame seeds and chilli flakes or chocolate sauce and marshmallows (yes, you heard right!). There are tasty new burgers to bite into including the Gravy Seal Burger – combining a beef burger, chargrilled chicken breast and popcorn shrimp served with beef gravy to pour over or dip into. Or pick a Pizza Me Hot Dog – a delicious dog coated in Marinara Sauce, Monterey Jack Cheese, pineapple and bacon bits. There's also a chance to 'Create your own plate' – with a choice of mains, glazes and sides adding up to an enormous 2,300 combinations to choose from! There's also all the usual scrummy ribs and salads and kids will love the new Ultimate Shakes and Coke Foams plus delish desserts such as Sweet Shop Sundaes and Milk & Cookies.

When/Where: Available daily at selected TGI Fridays including Cardiff and Bristol

Price: various prices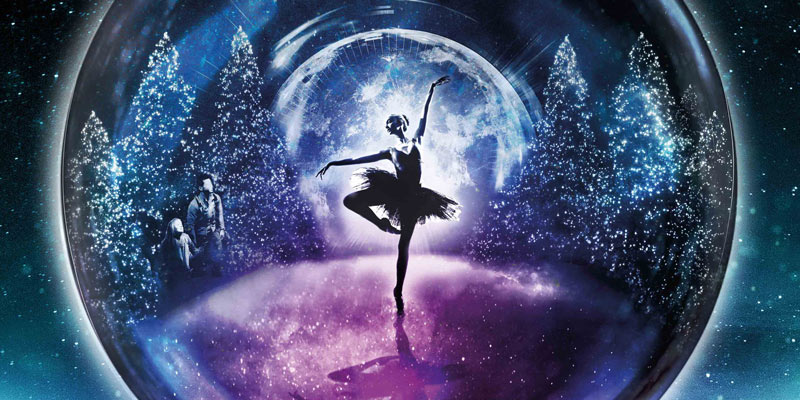 11/15

Will Tuckett's Nutcracker

Ballet has never been so amazing before! This winter, the worlds of classical ballet and immersive theatre are merging in the world premiere of choreographer Will Tuckett's Nutcracker at Wembley Park – the world's first immersive ballet. The show will feature live musicians and a cast of more than 40 performers, many of whom will come to talk to you about the show inviting you to step inside their fairytale Christmas in what's described as a 360-degree 'immersive environment.'   We're not quite sure how it will all work but apparently, as well as interacting with the dancers, you can visit the sets of the show including the toy factory and snow-filled forest. Whatever the case, the ballet is sure to be beautiful and we'd love to take a peek at (and maybe even be part of) the performances.

When/Where: from 30 Nov – 8 Jan, The Printworks London at Canada Water

Price: Tickets from £20 for children and from £40 for adults

12/15

Don a tash and go running for MoRunning

Don a tash and dash for charity! Stick on your moustache, kit yourself out in fancy dress if you fancy and sign up for one of the MoRuns being held at 17 locations across the country. You can take part in a 5K or 10K race (or even a 10 mile Muddy MoRun if you want to get down and dirty!) – but whichever race you choose you'll be running for a good cause and helping raise funds for the Movember Foundation for men's health. The runs take place throughout November and the MoRunning team will be on hand to cheer you on, offer support, and even take the mickey out of your moustache. You're sure to cross the finishing line with a smile on your face. There are even prizes for the best dressed MoRunner so don't be demure with your dress-code! Children, buggies and dogs are all encouraged to join the fun.

When/Where: Throughout November, 17 locations nationwide

Price: Entry costs from £18 and you're also encouraged to fundraise for taking part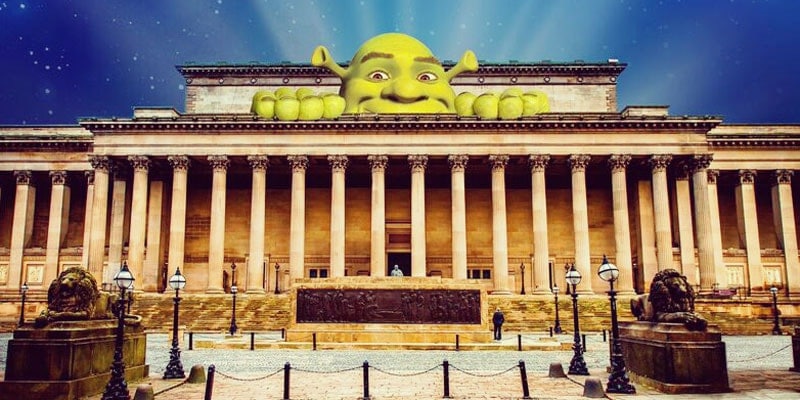 13/15

Dreamworks lights

Liverpool will be lit up with a fantastic lantern walk through experience from Dreamworks that is simply Shrektacular! There'll be illuminated surprises popping up on every corner and the chance to meet Shrek, Alex, Po and friends from favourite Dreamworks films Shrek, Kung-Fu Panda and Madagascar. Count over 100 figures of your favourite characters including the Penguins of Madagascar set in 25 scenes from the much-loved films. And watch out for the special green-screen photo experience where you can get up-close and personal with a snap of yourself with Shrek and his pals. Th event takes place in Liverpool's iconic Grade I listed building St George's Hall

When/Where: 26 Nov-15 Jan, St George's Hall, Liverpool

Price: £10 adults, £8 children

14/15

Portsmouth Historic Dockyard's Victorian Festival of Christmas

Get transported to a Victorian Christmas where colourful characters from a bygone era and a traditional Father Christmas roam snow-covered cobbled streets. The Festival of Christmas includes a Christmas Market, Victorian seasonal perfomances, festive food and parades. There'll be characters roaming around who might show you the darker side of Christmas in Victorian times too – look out for coffin measurers, ladies of the night, street urchins and market sellers! Tickets to the event include entry to all the attractions within the Dockyard, including the new-look Mary Rose, HMS Victory, HMS Warrior 1860, HMS M.33, The National Museum of the Royal Navy, Boathouse 4 and Action Stations so you can really make a day of it.

When/Where: 25-27 Nov, Portsmouth Historic Dockyard

Price: Early Bird Tickets cost £14.50 for adults; child tickets (5-15, under 5s free) £12.50; family tickets (2 adults and up to 3 children) £42.00

15/15

Moors Valley Junior Parkrun

See your kids have fun whilst keeping fit on a junior parkrun in the Moors Valley Country Park  – a community activity for children aged 4 to 14. The 2km running route follows a circular path through the forest and kids can either run the course alone or with friends. If you'd prefer to accompany them, that's fine, too, though only they can cross the finishing line and revel in the glory! Junior parkruns are open to all, free and easy to join and take place in a safe and secure environment overseen by experienced DBS-checked volunteers. It's a great way to get children away from screen-time to be part of a group enjoying active, healthy fun outdoors. You never know, this might be their route to becoming an Olympian! Register for the race on the parkrun website and obtain a membership barcode. Once you have the barcode you can get free entry to any parkrun anywhere in the UK.

Where/When: Every Sunday from 13 Nov. Moors Valley Country Park, near Ringwood, Hampshire

Price: free