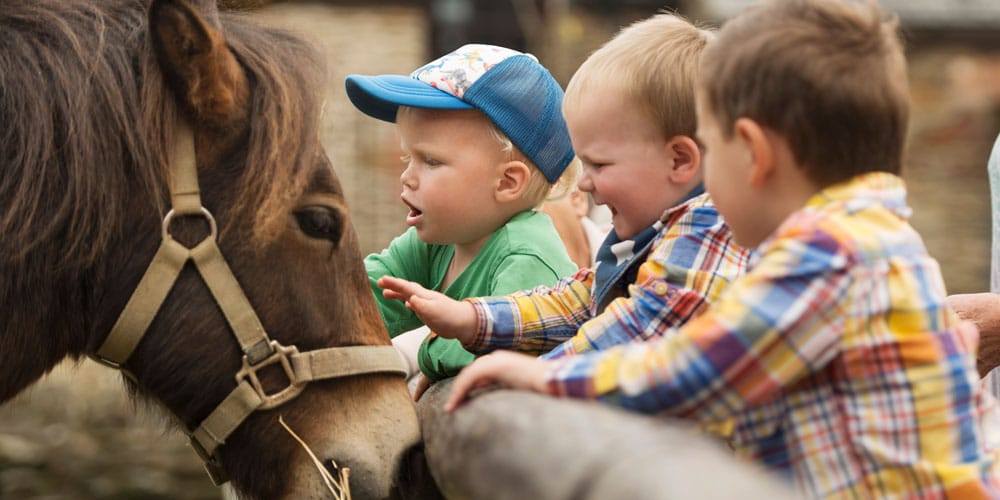 1/15

Healeys Cornish Cyder Farm

This family-run farm deep in the heart of Cornwall, near Newquay, makes award-winning ciders, wines, spirits and preserves – and a great family day out too! Entry to the farm is free and there's free parking too. Join a guided tour, which takes you on a journey through the press house, jam factory, museum, distillery, and cellars, before climbing a cider vat and enjoying an aerial view of modern cider production halls.

There are plenty of samples to taste – including ciders, spirits, juices, jams and pickles, The kids will love a tractor ride through beautiful orchards and meeting the friendly farm animals – a Shire horse, pigs, goats and more. There are free-roaming peacocks to take pictures of and you can enjoy a delicious homemade Cornish cream tea in the quaint Tea Rooms, or a full meal in the newly converted restaurant  – the 'Old Bottlery'.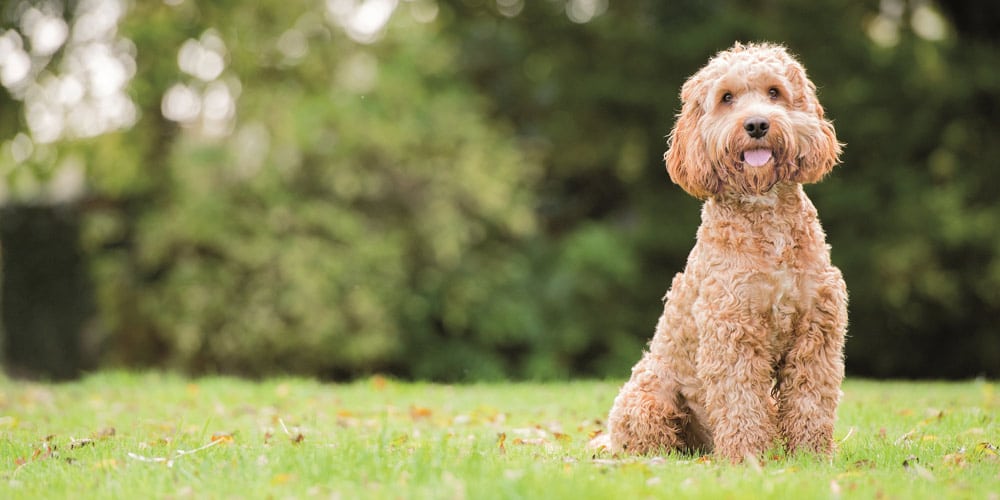 2/15

The Great British Dog Walk

Pooches and paws at the ready? It's time to grab your dog and join one of 20 fun-filled countryside walks to help raise funds for Hearing Dogs for Deaf People, to ensure more much-needed hearing dogs can be trained to bring life-changing benefits to deaf children and adults. Scenic venues, which include nine National Trust locations, have been handpicked by the charity to make sure the Great British Dog Walk is an enjoyable event for everyone. There's a free special limited-edition Great British Dog Walk doggie bandana for each adult ticket purchased and you can meet working hearing dogs at every walk. Each venue will have fun activities for all the family, as well as stalls with gifts and refreshments. To sign-up to your nearest Great British Dog Walk and for more information visit the website.

When/where: from 18 March – 1 July in 20 locations, including Gibside, Gateshead; Eastnor Castle, Ledbury; Holyrood Park, Edinburgh, Margam Park, West Glamorgan

Price: Tickets to each event are £10 in advance for adults online or £12 on the day. Children under 16 are free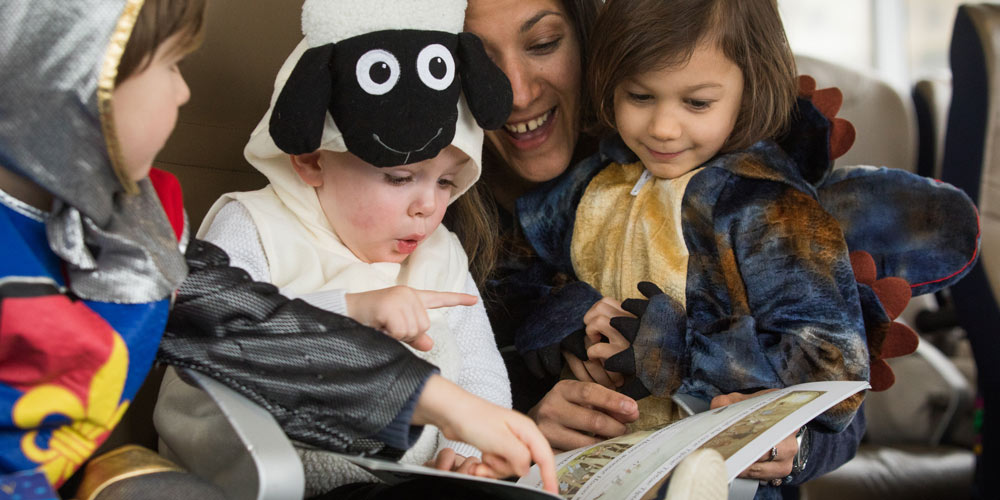 3/15

Tales on the Thames

London's fastest and most frequent river bus service, MBNA Thames Clippers has teamed up with leading children's publisher, Walker Books, for a series of free weekly storytelling sessions in March. The new "Tales on the Thames" series is aimed at pre-schoolers, and will feature favourite titles including We're Going on a Bear Hunt (by Michael Rosen and illustrated by Helen Oxenbury) and Owl Babies (by Martin Waddell and illustrated by Patrick Benson).

As the children enjoy the excitement of story time on the river, parents can grab a coffee from the on board bar. With free travel for children under five, easy access for buggies, and toilet and baby changing facilities on board, MBNA Thames Clippers boats are a comfortable and hassle-free option for exploring the capital with young families and give you the chance to take in the iconic London skyline from the river.

When/where: Fridays in March, on MBNA Thames Clippers, joining the RB2 westbound service departing London Bridge City Pier at 1015 and calling at piers through to Battersea Power Station Pier, or the RB2 eastbound service, departing Battersea Power Station Pier at 1045 for its return journey to London Bridge City Pier

Price: An adult single Oyster/contactless ticket in the Central zone costs £6.50. Also available is the Family River Roamer ticket, allowing unlimited all-day hop-on, hop-off access to MBNA Thames Clippers after 9am in the Central and East zones, for two adults and up to three children, costing £32.60 when booked online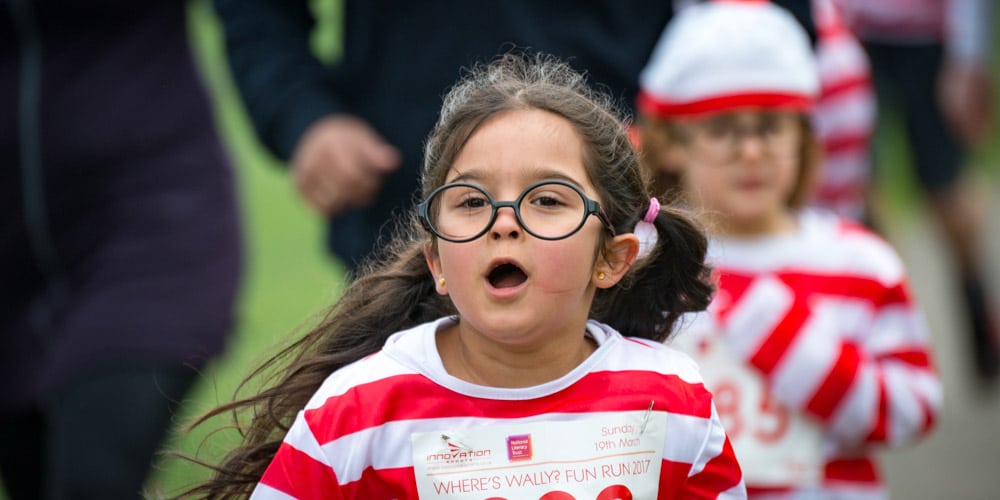 4/15

Where's Wally Fun Run, London

Everybody loves looking for Wally! Well now you can dress up as him and run for fun and to raise money for the National Literacy Trust. Runners can take part in either a 10K or 5K course, and there will also be a 1K race for children under 12 (adults can help their children round the course). There'll be fun warm up sessions, live music, a range of food stalls, a book sale, face painting and fun rides and games for kids.

The Trust is encouraging participants to fundraise as much as possible to help celebrate their 25th anniversary. Money raised can fund family literacy packs for parents with children on neo-natal wards, helping them bond with their babies, set up more National Literacy Trust Hubs to create long-term change in areas of the UK where low levels of literacy are entrenched or train volunteers to work with parents of young children, to develop their children's literacy and communication skills.

When/where: 18 March, Clapham Common, London

Price: 5k or 10k (over 12s) Individual place with costume £26 or £23 without costume. 1k children's run: Child's place with costume £13 or £10 without costume. Family place for one adult and three children, or two adults and two children, with a costume each – £58. Family place for one adult and three children, or two adults and two children, no costumes –  £48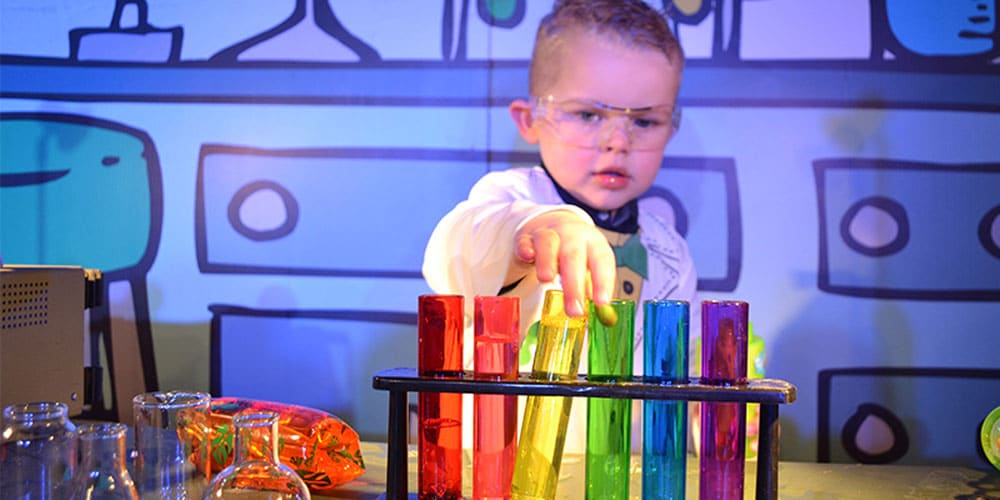 5/15

Explosive Easter at Flambards, Cornwall

Enjoy experiments, explosions and a chocolate egg trail as part of an action-packed 'Explosive Easter' at Flambards. Join a team of madcap scientists in a show where they stage a series of explosive fun experiments in their indoor laboratory – and even have a go at making gunge! Follow an Easter Egg Quiz Trail, searching for clues dotted around the park, then hand in your quiz sheet for a chocolate egg. Enjoy Flambards' fun mix of rides – feel the G-Force on the new 'Sky-Force' ride whizzing high above the Park, journey to the stars on Space Race or feel the buzz on the Hornet Rollercoaster.

For younger riders, traditional fun is guaranteed on the Carousel and Teacup rides plus the Cornwall Eye and Balloon Race. There's plenty of undercover soft play for little ones, plus outdoor adventure play at Ferdi's Funland. there's also the chance to spot life-sized dinosaurs on the Jurassic Journey and visit the Dino-Nursey & Hatchery to do a Dino-Dig to unearth fossilized remains in a prehistoric boneyard. Plus, for those rainy days, go undercover and journey back in time to discover Britain in the Blitz, The War Gallery and Aviation Experience and an entire Victorian Village – all under one roof.

When/where: Flambards is fully open throughout the Easter holidays (March 24th-April 15th). Explosive Easter runs from 31 March – 8 April. Flambards, Helston, Cornwall

Price: see Flambards website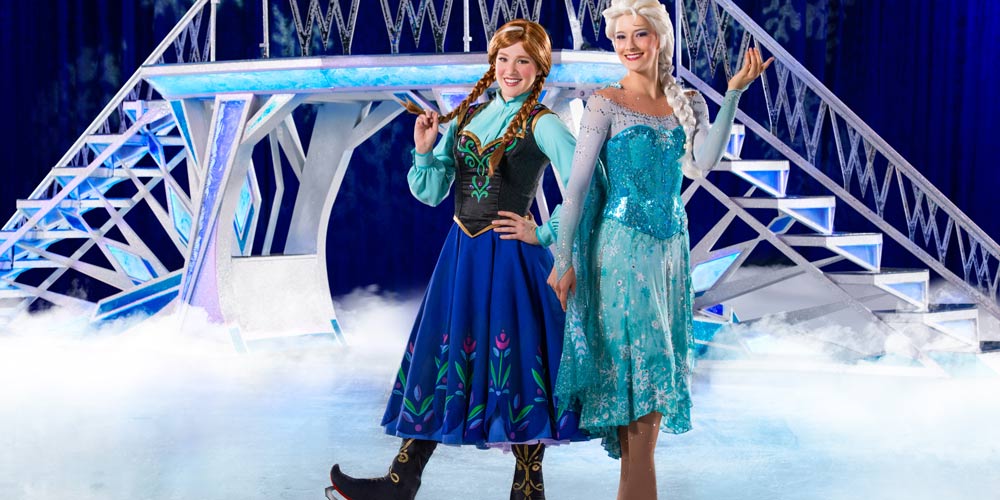 6/15

Disney on Ice presents Worlds of Enchantment

From wheels to waves, icy wonderlands to infinity and beyond – a new magical Disney on Ice extravaganza sees characters from four much-loved Disney tales – Cars, The Little Mermaid, Toy Story and Frozen. Expect high-speed stunts and races across the ice from Lightning McQueen, Mater and the rest of the Cars crew; see Ariel dive into an underwater kingdom; be thrilled as Buzz Lightyear, Woody, Jessie and the rest of the Toy Story gang try to escape from Sunnyside Daycare, and enter the wonderful wintry world of Arendelle with sisters Anna and Elsa, snowman Olaf and mountain-man Kristoff. Don't miss the chance to get moving and shaking alongside some of the stars in a Fit to Dance pre-show too!

When/where: on tour from 15 March – 6 May in Glasgow, Leeds, Birmingham, London, Liverpool. Nottingham. Cardiff, Aberdeen

Price: see Disney on Ice website; family package tickets are available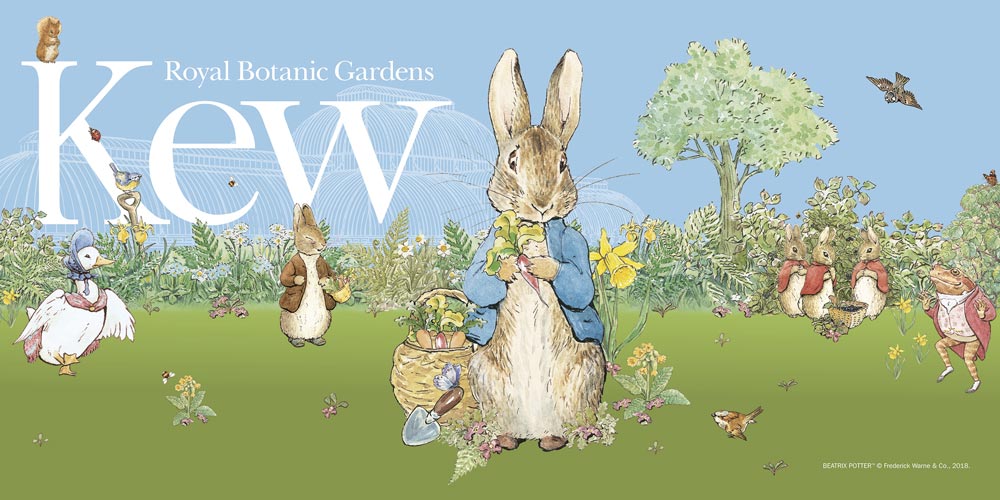 7/15

Peter Rabbit at Kew Gardens, Surrey

Join Peter Rabbit and all his furry friends on a botanical bunny adventure this Easter at the Royal Botanic Gardens, Kew. Visitors can expect an exciting activity-packed day out with games, crafts and storytelling inspired by Beatrix Potter's iconic tales. The Easter extravaganza will celebrate the beauty of nature at Kew and encourage visitors of all ages to explore the wonderful world of fruit, vegetables and other edible plants whilst learning about how they are grown and enjoy the dazzling colour of blooming crocuses, daffodils and magnolias.

From Kew's beautiful Secluded Garden, visitors will follow a Peter Rabbit trail to find activity pop-ups  – there's the chance to plant your own seeds to take home and nurture on a visit to Mr McGregor's potting shed and you can choose which Peter Rabbit character you'd like to be for the day and make some fuzzy bunny ears to match. Don't miss the hilarious veggie consequences workshop, which will offer the chance to create incredible monster vegetables. There'll be Easter culinary offerings available at the festival hub, as well as Peter Rabbit gifts and goodies available in the Kew shop.

When/where: 30 March – 15 April, Kew Gardens, Surrey

Price: Admission to the festival is included in the general entrance ticket to the Gardens (Adult – £17.00, child – £5.00)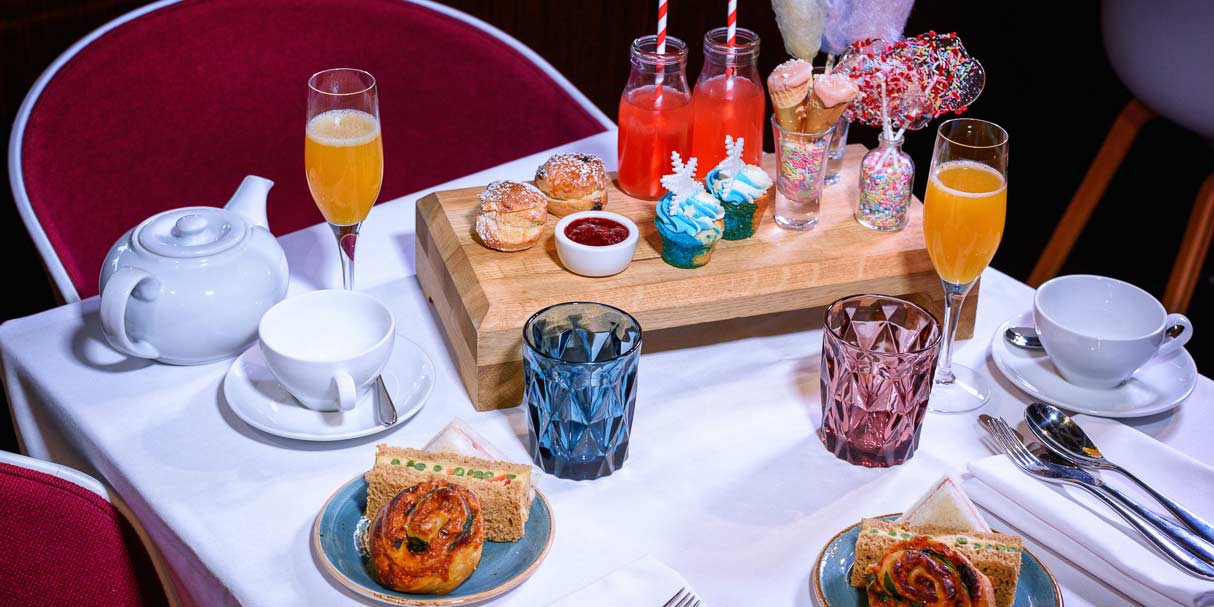 8/15

Hi-diddle-dee-Tea, London

To celebrate the arrival of Pinocchio to the stage, House Restaurant, located in The National Theatre on London's South Bank, has created an unique Hi-Diddle-Dee Tea, which will pay homage to Pinocchio's journey to the cursed Pleasure Island Amusement Park – infamous for making children mischievous and turning them into donkeys! Enjoy Stromboli calzones, blue fairy cakes, candyfloss lollipops, rainbow candyfloss, and white chocolate and vanilla ice cream cones. There'll also be afternoon tea classics such as finger sandwiches and scones with jam, paired with pink lemonade and some fizz for the grown ups.

When/where: available Monday to Saturday afternoons until April, House Restaurant, National Theatre. Book in advance

Price: £26.50 per adult, £19.50 per child. Special Afternoon Tea and Backstage Tour Package, £35 per person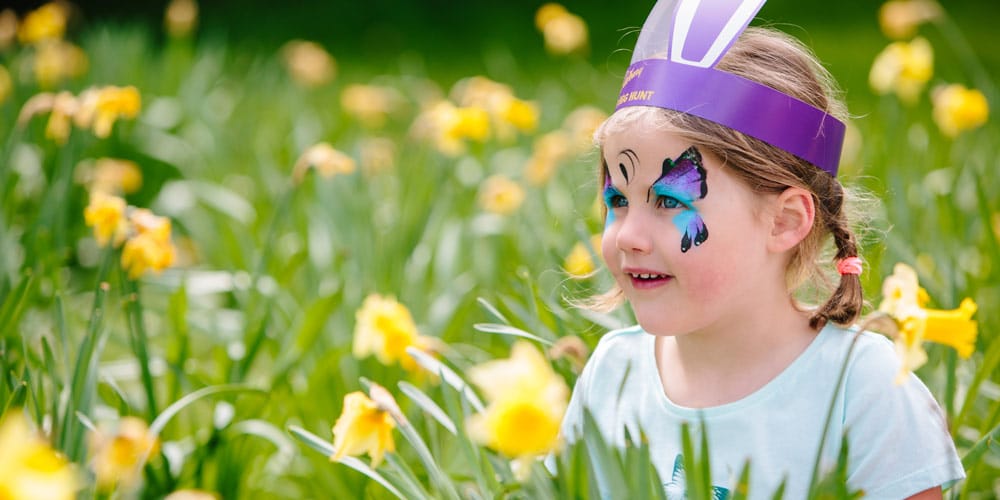 9/15

National Trust Cadbury's Easter Egg Hunt

The National Trust has got together with Cadbury again this year to bring fun Cadbury Easter Egg Hunts to 250 special locations. Search for clues amongst muddy woodlands, around mystical lakes, along nature trails and through spring gardens blooming with beautiful colours. Some of the trails will have special themes – you can search for specially-made bird boxes with a surprise inside at Scotney Castle in Kent, or learn nature survival skills by following the trail at Brockhampton in Herefordshire.

Become a Victorian explorer at Tyntesfield, near Bristol, and uncover ancient relics, mysterious creatures and fascinating geology to win your tasty treat. Or learn all about what it would be like to have the sharp eyes of an owl, or the big ears of a rabbit as you put all your senses to the test as you breathe in scents, see colourful flowers and hear the sounds of spring all around you at Dunham Massey in Cheshire. There's a buzzy honeycomb trail to follow at Wallington, Northumberland and you can track down elusive creatures at Plas Newydd, Anglesey as you follows the Easter trail.

When/where: 30 March – 2 April, 250 National Trust locations around the country

Price: Normal admission applies and there is a small charge for the Easter Egg Hunt (£2-£3)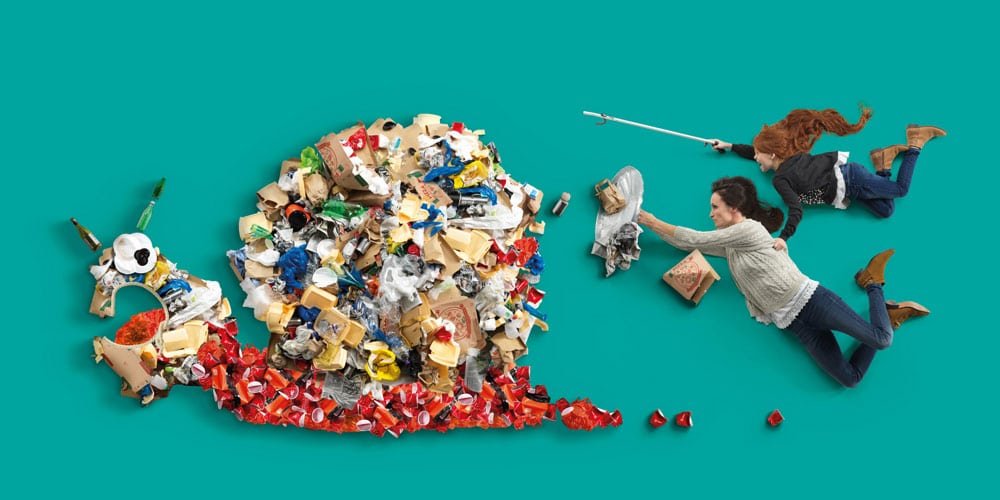 10/15

The Great British Spring Clean

Fancy doing your part to save the planet? Keep Britain Tidy is urging Brits to clean up their act and join the UK's biggest-ever litter clean up. This year the ambition is to recruit more litter pickers than ever before with 400,000 volunteers needed to help clear the streets, parks and coastlines of Britain. It's your chance to get outdoors, get active and to make a difference. Whether it's a canal-side clean-up, beach clear-up or simply a litter-pick in your neighbourhood, you can get involved wherever you live and help save some of the £700 million it takes to clean the England's streets every year.

Litter-picks come in all shapes and sizes so round up your troops and join the army of #LitterHeroes. You could even dress up in superhero gear to zoom around and clear up the community. To check what you can do to help in your area visit the Keep Britain Tidy website.

When/where: 2-4 March, nationwide

Price: free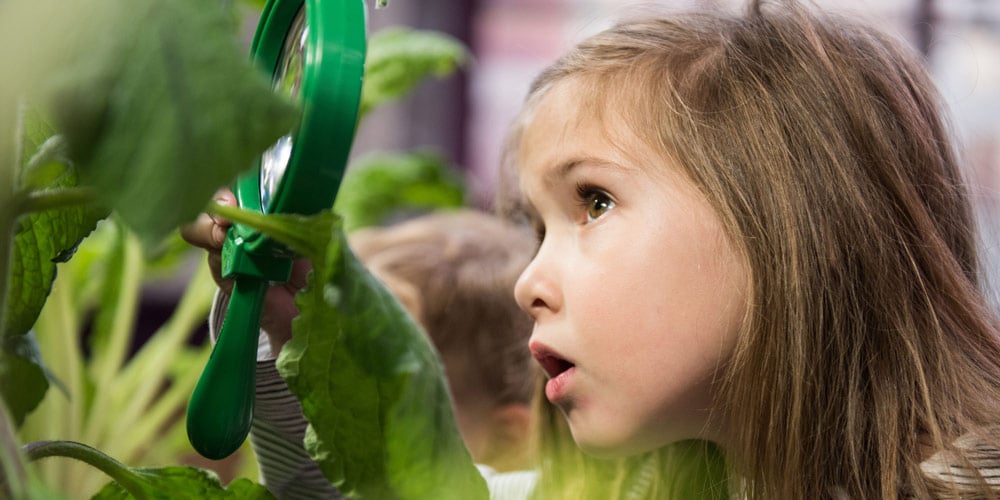 11/15

Wow! Weekend: Operation Earth, Cornwall

Explore the amazing science surrounding our planet Earth in a fun family interactive show at The Eden Project's WOW! Weekend. There's a chance for members of the audience to become trainee environmental scientists when 'Earthy' – a mini version of the planet earth – takes a trip to the doctors. With the help of Eden's expert scientists and storytellers everyone helps investigate Earthy's land, air and oceans to try and find solutions to Earthy's problems.

During the weekend there will be a host of hands-on activities including an insect pollination game, origami plant craft, a seed-planting workshop and a chance to explore the microscopic world of flowers and insects. Experts will also be on hand to talk about the science of soil and run activities to discover its incredible properties. Operation Earth is fun for everyone but especially recommended for families with children aged six to 11.

When/where: 10-11 March, The Eden Project, Cornwall

Price: all activities are included with admission price – see website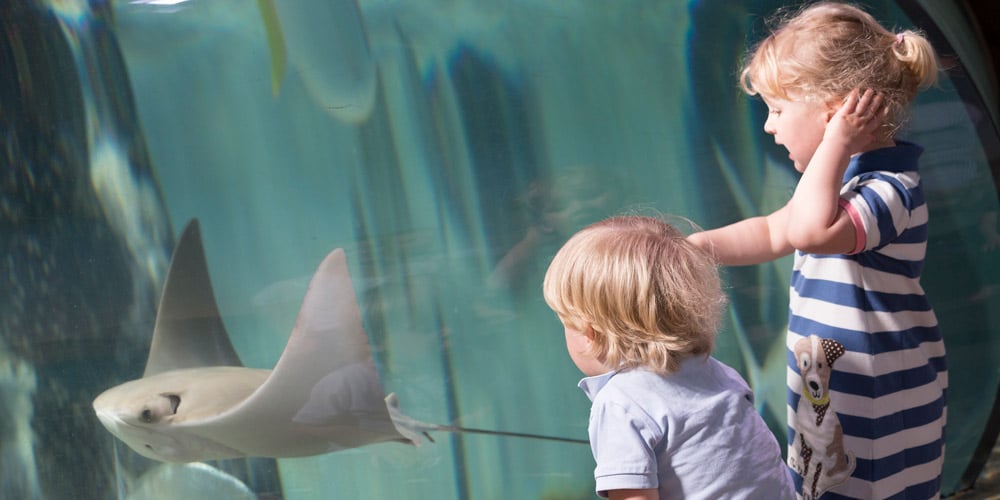 12/15

Octonauts Shark Mission at Sea Life, Weymouth

Come face-to-fin with all sorts of sea creatures at Weymouth SEA LIFE. And during Easter there's an exciting new event for the brave: Octonauts: Shark Mission. Join Captain Barnacles, Peso, Dashi, Shellington, Professor Inkling, Tweak, Kwazii and Tunip in a thrilling quest to uncover the secrets of the ocean's most jaw-some predators. Watch SEA LIFE's fascinating family of resident sharks – from guitar sharks to black-tip reef sharks – before meeting some of your favourite characters from the show, including an exclusive meet and greet with Shellington and his Octonaut friends.

Help the Octonauts crew solve the mind-bending puzzles of the mystery tanks and find out which sharks can live to be 400 years old, which sharks can smell a single drop of blood in an Olympic size swimming pool and why some sharks have skin as rough as sandpaper. Visit Professor Inkling's colour lab, take a special dive of discovery with Dashi and follow instructions from Captain Barnacles to make a shark puppet.

Honorary Octonauts and their families can capture their special day in the Octonauts photo area for a treasured memento of their magical marine expedition, while all children will receive a personalised certificate signed by Captain Barnacles to take home, as well as a Shark Mission pop badge. There's also plenty on offer for older kids, couples and adults, exploring sunken cities, looming shipwrecks and mystical underwater caves brimming with weird but wonderful creatures, from octopuses and turtles to stingrays and starfish.

When/where: 30 March – 15 April, Weymouth SEA LIFE

Price: Octonauts: Shark Mission is included in the usual admission price, with tickets starting from £14.50 per person. Best ticket prices can be found online by pre-booking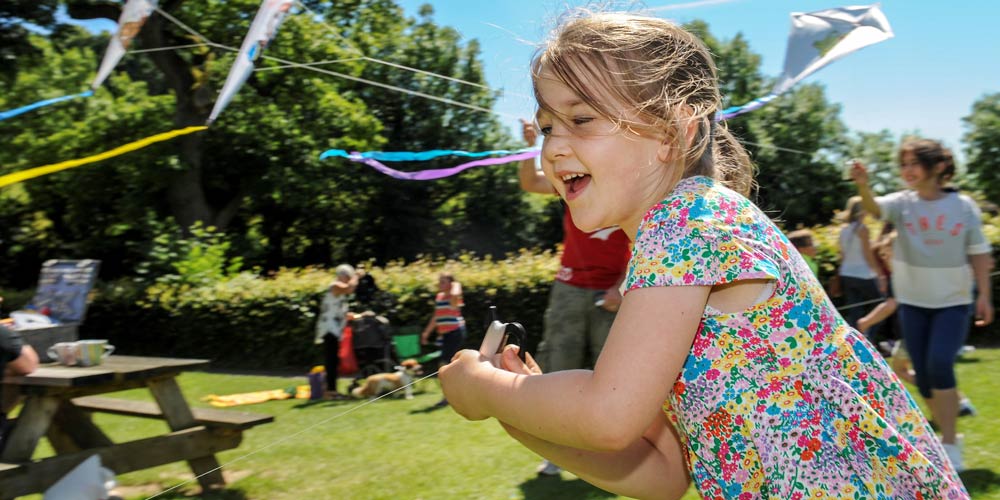 13/15

Edinburgh International Science Festival

It's the 30th edition of the Edinburgh International Science Festival and there's plenty of fun for all the family – boffin or not! There are almost 270 events taking place in over 30 venues across Edinburgh and some are designed especially for families and children. There's a programme of hundreds of hands-on activities which fill the five floors of City Art Centre – including the chance to play Indiana Jones in Unwrapping the Mummy where you can enter a burial chamber and unwrap an Egyptian Mummy to uncover and discover why it died; Robo Constructors welcomes the young to the world of mini robot engineering with Cubelets and littleBits™ is a fun introduction to circuits.

The Experimentarium at Summerhall will have a programme of fascinating events including Robot-Assisted Surgery, the Food Discovery Zone, 21st Century Brain and Our Outdoors – how healthy are public outdoor spaces? The Festival's Science in the Spotlight theatre programme includes Valentina's Galaxy, an intergalactic inspiration for starry-eyed 2–5 year olds and Space Ape by Andy Cannon (ages 7+) is a new science fiction storytelling performance that will take young audiences on a journey through art, science and philosophy, and on a mission with a very special ape.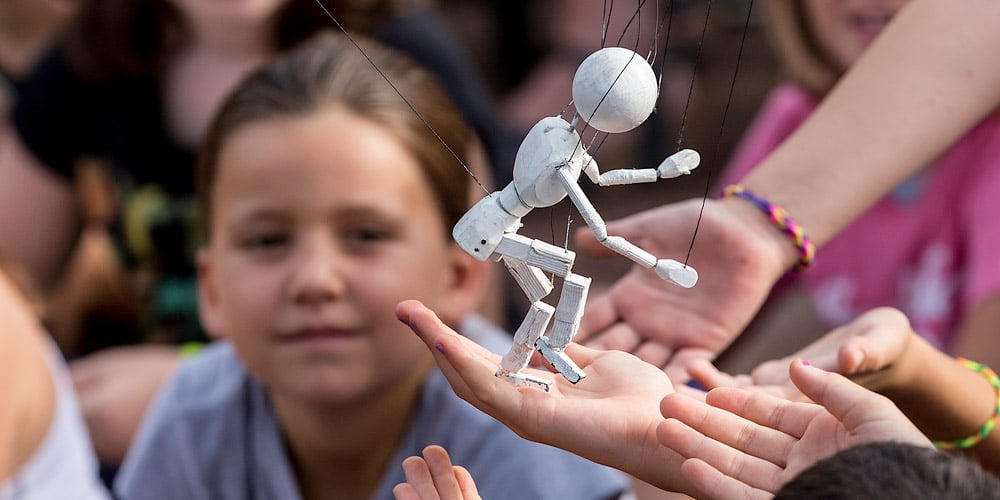 14/15

Nottingham Puppet Festival

The first ever Nottingham Puppet Festival will be a feast of fun family entertainment. Old Market Square will become a pop-up puppet village morning until night, with a medley of free street theatre, shows, workshops and music. There's a show about The Diabolical Mr Punch, the chance to make your own puppets with professional puppeteers, a Puppet Parade featuring puppets of all shapes and sizes (including a pack of dogs!), the chance to see the multi award-winning National Theatre production of War Horse, talks and workshops for aspiring puppeteers and plenty more puppetry fun.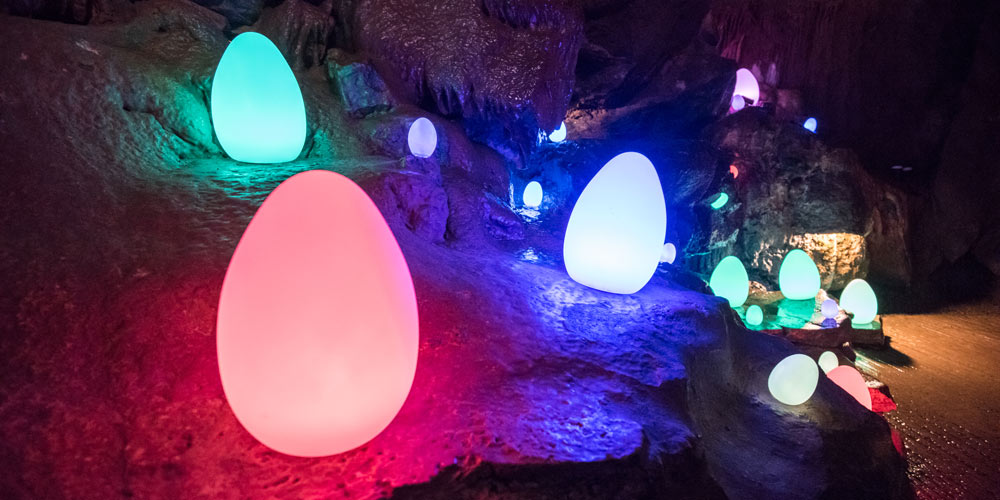 15/15

Cheddar Gorge Glow in the Dark Easter Egg Hunt, Somerset

Looking for an Easter Egg Hunt with a difference? Then head along to Cheddar Gorge and Caves in Somerset for a glowing example of how egg hunts should be done! The egg-citing trail will feature several clusters of large, glow-in-the-dark eggs that have been carefully placed (and partially concealed) in various nooks and crannies throughout the world-famous chambers of Gough's Cave. Keep your eyes alert and search for the bright and shiny eggs, take note of all the different colours, and see if you can "crack" the mystery code and hand-in a completed trail sheet to get your reward of a suitably chocolatey treat.

Participants will also be urged to keep their eyes peeled for Richard Gough's magical Golden Egg during the Hunt. Rumour has it that this has been hidden in the caves since Gough excavated it in Victorian times. And anyone able to take a 'selfie' with this particular egg, and post it online with the hashtag #CheddarEggHunt, could be in with a chance of winning one of a number of special prizes.

When/where: 24 March – 8 April, Cheddar Gorge & Caves, Somerset

Price: The Explorer Ticket – which includes Gough's Cave, Dreamhunters, The Museum of Prehistory, Cliff-top Gorge Walk and the new Beyond-the-View experience) – is priced at: Adults £19.95 (online £16.95); Children (5-15) £14.95 (online £12.70); Under 5s Free