1/15.

Where is Peter Rabbit?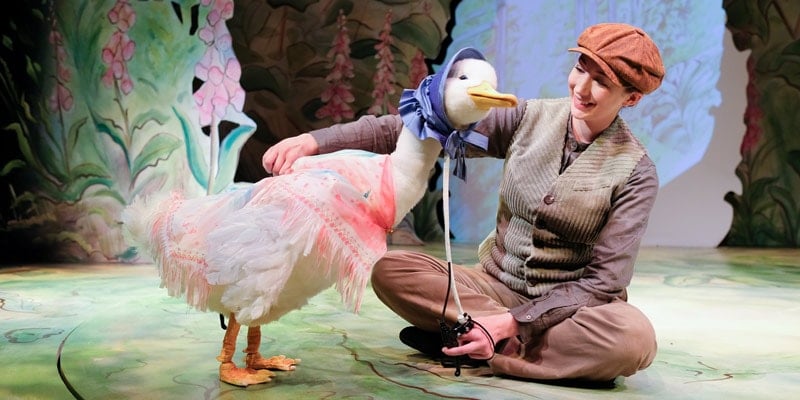 This brand new magical musical combines live performance, projection and recording – bringing to life the wonderful world of Beatrix Potter. Based on her much-loved little books and five of our favourite animal characters: Peter Rabbit, Jeremy Fisher, Mrs.Tiggy-Winkle, Jemima Puddle-Duck and the darker villainous Mr Todd, Where Is Peter Rabbit? musical adventure captures Potter's poetry and humour and explodes with music, special effects, dance, show-stopping songs, amazing puppetry skills plus the voices of Griff Rhys Jones and Miriam Margolyes with lyrics by Alan Ayckbourn. The show helps celebrate the 150th birthday celebrations of Beatrix Potter and you can combine tickets with the chance to enjoy afternoon tea with Peter Rabbit, take some photos with the star of the show, then finish off with a look around The World of Beatrix Potter Attraction. Delightful.
When/Where: Now until 4 Sep, The Old Laundry Theatre at the World of Beatrix Potter Attraction, Bowness-on-Windermere
Price: Tickets for Where is Peter Rabbit?: Adult £8, Child £6, Family Ticket (2 adults & 2 children) £25. For Afternoon Tea with Peter Rabbit (plus show tickets): Adult: £24, Child £14, Family, £70 (also includes entry to The World of Beatrix Potter Attraction)
Find out more about Where is Peter Rabbit?
2/15.

Visit the Houses of Parliament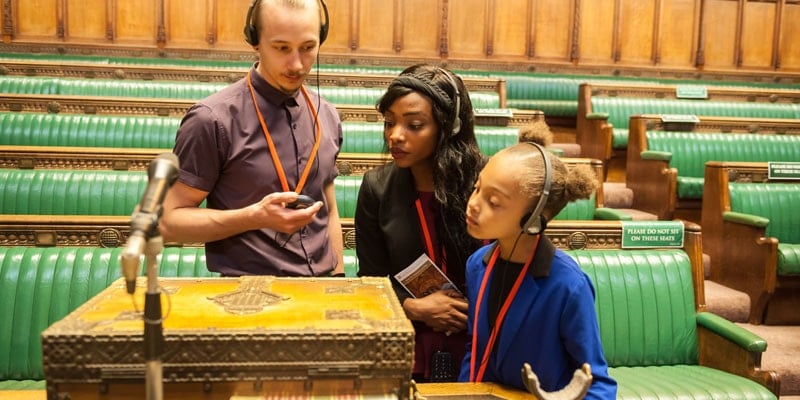 A visit to the Houses of Parliament offers a unique historical story-telling experience, coupled with fun activities for youngsters to enjoy. Aimed at 7-12 year olds, the family version of the audio tour is narrated in the style of a 'live' news broadcast with time-travelling journalists reporting back on some of the most renowned figures in history. The tour route takes kids through the iconic spaces of Westminster Hall, St Stephen's Hall and Central Lobby before arriving at the two famous Houses. They'll discover why Charles I lost his head, how Guy Fawkes planned to blow up Parliament and hear tales of Suffragette protests. In the Lords, you can enter a world of Kings, Queens and the Magna Carta, whilst following in the footsteps of Queen Elizabeth II at the State Opening of Parliament. The red and gold chamber will dazzle and amaze, especially Augustus Pugin's masterpiece, the gilded throne, whilst at the other end of the building, the plain green chamber of the Commons will inspire children to compare and contrast. They'll see exactly where the Prime Minister sits and stands, as well as that big green chair, from where the Speaker shouts, 'Order, order!' Parliament's regular audio-guide will lead early teens and adults through 1000 years of the Palace of Westminster's royal and political history, whilst the award-winning guided tours will thrill visitors with untold tales, past and present, of the building's remarkable architecture and heritage. Keep an eye out for the upcoming family activities on offer too, as well as Parliament's seasons of themed tours.
When/Where: open for tours on Saturdays through the year and most weekdays through the school holidays when the Houses are not sitting, The Houses of Parliament, Westminster, London
Price: For audio tours: Adults: £18.50, Children (5-15 years): One child free with each paying adult, but will require a ticket for admission, £7.50 for each additional child
Find out more about visiting the Houses of Parliament
3/15.

Fire! Fire!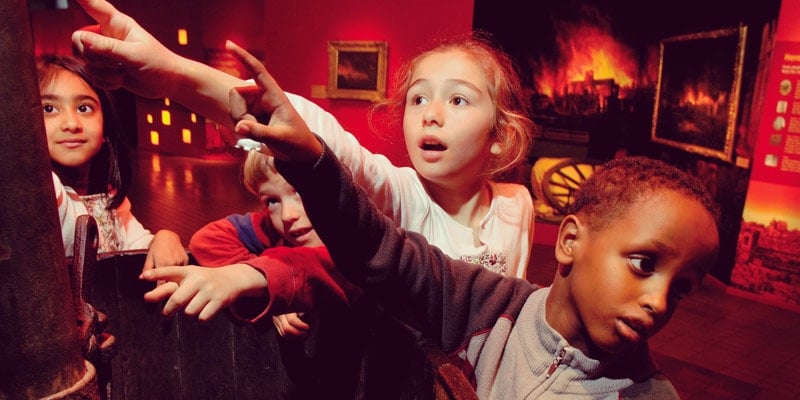 This imaginative exhibition marks the 350th anniversary of the Great Fire of London and focuses on life on the eve of the fire, the dramatic events as the blaze burned through a quarter of the city in 1666 and how London recovered from the devastation. A huge moving panorama of London in flames will be recreated along with a set of Pudding Lane so you can step inside to see what life was like for ordinary Londoners in the 17th century. You'll also get to walk into the bakery where the fire started, play archaeologist and see a variety of flame-scarred archaeological artefacts, read letters from eyewitnesses and try your hand at rebuilding London to rise again from the ashes. There'll be a host of talks, family activities and workshops plus children's sleepovers and festival days to watch out for too.
When/Where: 23 July – 17 April 2017, Museum of London
Price  Tickets from £8 for adults and £4 for children online. Family tickets also available.
Find out more about Fire! Fire!
4/15.

The Big Cheese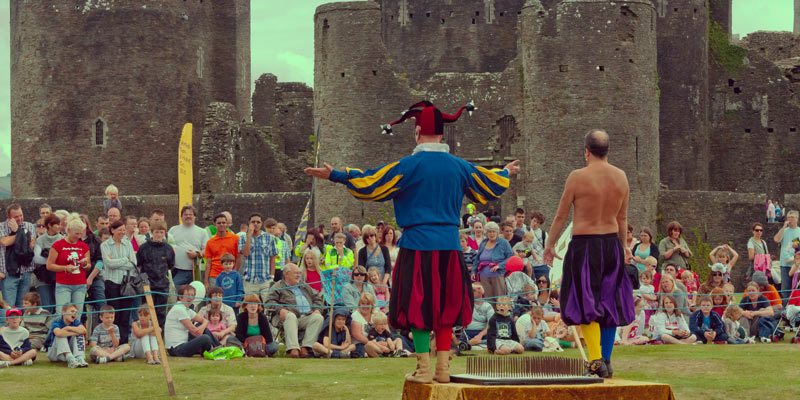 Grab a slice of 'Big Cheese' action in this extravaganza of street entertainers, living history encampments, live music, folk dancing, falconry, fire eating, minstrels, troubadours and a traditional funfair – all set in the impressive shadows of one of Europe's largest castles – Caerphilly Castle.  The Big Cheese not only portrays the history, heritage and culture of Caerphilly (well known for its famous cheese, of course) but it's also a fun and free day out filled with plenty to do for all the family. Don't miss The Great Cheese Race (a cheese-themed relay) and a chance to browse two food halls crammed with delicious local and national farming produce, plus craft stalls and animal marquees and an exciting Firework Display. There are designated picnic areas on the event site so you can relax with blankets and hampers and take in the atmosphere plus the town centre is within a five minute walk if you want to take a wander over there. You'll also get the chance to take a closer look at the wonderful Caerphilly Castle, the largest castle in Wales, surrounded by a series of moats and watery islands.
When/Where: 29-31 July, Caerphilly Castle
Price: Free
Find out more about Big Cheese
5/15.

Great British Tennis Weekend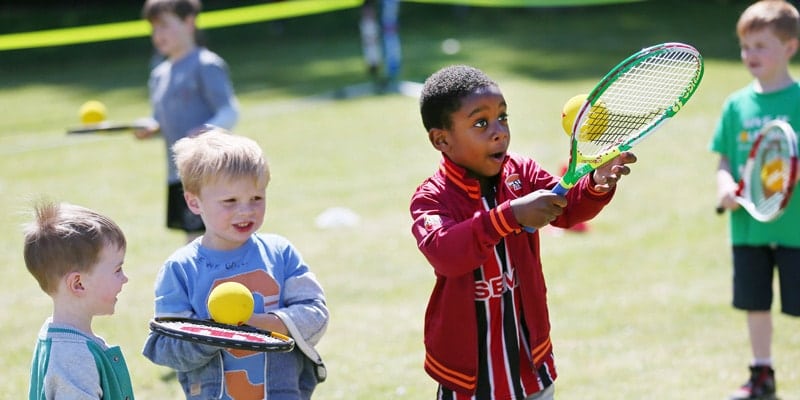 Tennis rackets at the ready? Tennis balls ready to throw? Then let's go! The Lawn Tennis Association's Great British Tennis Weekend is the UK's biggest free tennis event, where parks and clubs will be opening their doors to offer free tennis sessions and events to families and friends. There are Highland Spring Mini Tennis sessions, family time, free play, Cardio Tennis and numerous other kinds of activities to get involved in. No racket? No problem. They'll be provided, along with balls – so if you've never played before now's a great chance to get started. For kids there'll be plenty of opportunities to learn the basics of tennis with fun equipment on offer (including smaller courts, nets and rackets plus modified lower-bouncing balls to make it easier and more ace!) Plus it's also a great opportunity to get active as a family by hitting the tennis courts together, and battling it out to beat the parents! Coaches will be on hand at lots of events to point you in the right direction, help you scrub up your serving skills or just play umpire. There'll also be competitions and prizes to be won at some events.
When/where: 16-17 July, selected venues nationwide
Price: free (reserve your place online)
Find out more about the Great British Tennis Weekend
6/15.

Ice Age Collision Course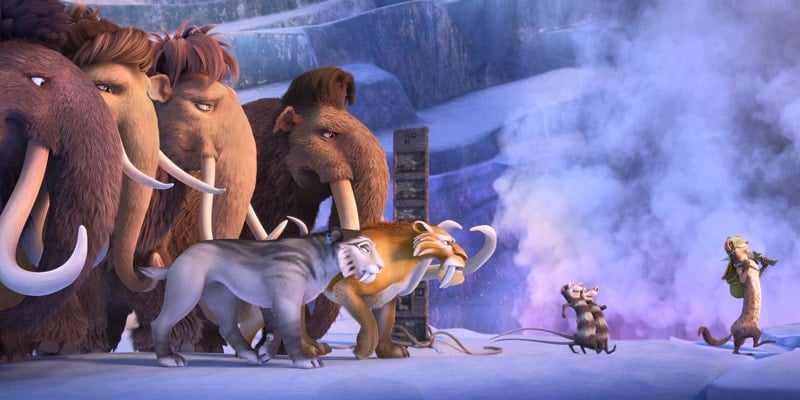 As usual squirrel Scrat is chasing his acorn when he takes one small step – and creates one giant mess (again!)  This time, Scrat's epic pursuit of the elusive acorn catapults him into the universe where he accidentally sets off a series of cosmic events that transform and threaten the Ice Age World.  To save themselves from a giant asteroid, Sid, Manny, Diego, and the rest of the herd must leave their home and embark on a quest full of comedy and adventure, travelling to exotic new lands and encountering a host of colourful new characters. Can they really stop an asteroid in its tracks and save the world in the process? Returning cast members include Ray Romano, Denis Leary, Queen Latifah, Josh Peck, Simon Pegg, Keke Palmer, Wanda Syke, and Jennifer Lopez with new cast joining the herd including Stephanie Beatriz, Adam DeVine, Jesse Tyler Ferguson, Max Greenfield, and Jessie J. See it in 2D or 3D
When/where: from 15 July, in cinemas nationwide
Price: ticket prices vary
Find out more Ice Age Collision Course
7/15.

Big Little Tent Festival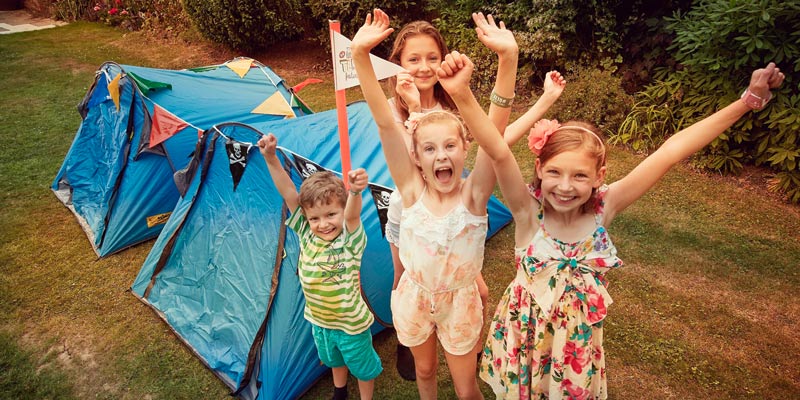 If you've never tried camping en famille before, why not get involved in this fun event run by The Caravan Club to get a flavour of life under canvas? Champions of the great outdoors, they're encouraging everyone to discover the joys of camping by urging you to pitch a tent in your own back garden, making memories together and exploring the nearby wildlife (whilst being close to home comforts should the need arise!). Sign up to the festival experience and order a free festival pack at caravanclub.co.uk/BLTF. The packs include wristbands, bunting to help transform the garden, recipe suggestions to be cooked over a campfire (or barbecue) plus festival flags and invitations for little ones keen to get their friends involved in the garden camp out.  There are plenty of chances to win prizes too – every family who signs up will be entered into a prize draw to win a European camping holiday. Plus if you share photos and videos of yourself across social media (using #BigLittleTentfest16) showing off your outdoor cooking skills during the Big Little Tent Festival you could be in with the chance of winning prizes from Keela outdoor clothing and Dometic cool bags. (Find out exactly how to enter online)
When/where: 16-17 July, nationwide
Price: free
Find out more about the Big Little Tent Festival
8/15.

Amazing Italian at Zizzi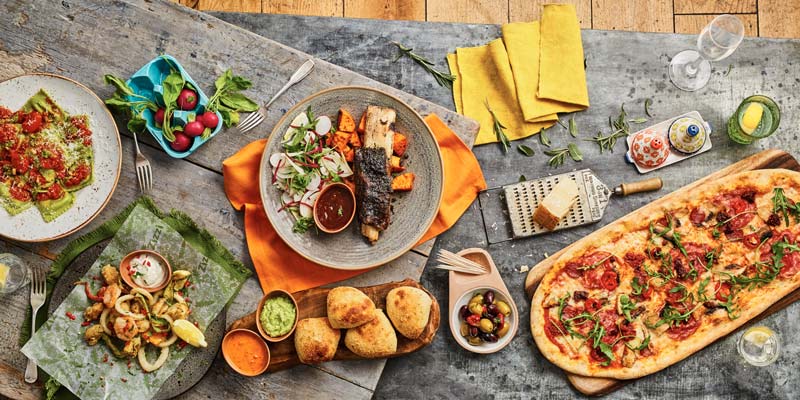 Serving up a tasty range of Italian pizzas, pastas and salads, you can't go wrong with a family meal out at Zizzi. Their latest menu incorporates some lesser-known, authentic Italian dishes such as 'Little Soul' Bread or 'Anima Piccola' – puffs of dough freshly baked with garlic and smoked sea salt. Or try Pulled Beef Arancini – risotto balls with a slow cooked pulled beef & melted mozzarella middle & breadcrumb coating (designed to look like a plate of pears – clever!). We also love the exciting seasonal salads like Pollo Fresca Salad with torn roast chicken, roasted nectarines & crispy prosciutto, mixed leaves, cannellini beans, courgette ribbons, balsamic tomatoes, radish & omega seeds, all tossed in super green pesto. Deliciously good for you. The Bambini Menu includes favourite mini pasta dishes (including Bolognese and formaggi) and with the mini pizzas, kids get the chance to be creative and decorate their margherita with cold toppings of tomatoes, ham and olives. Expect lots of smiley faces…on pizzas and the children!
When/Where: All year, Zizzi restaurants nationwide
Price: The Bambini Menu (3 courses and a Chocacino to finish) is £6.95 and for Really Tiny Tummies, you can order a tiny pomodoro pasta and dough stick for £3. Adult menu prices vary.
Find out more about dining at Zizzi
9/15.

Open House at "The Other Place"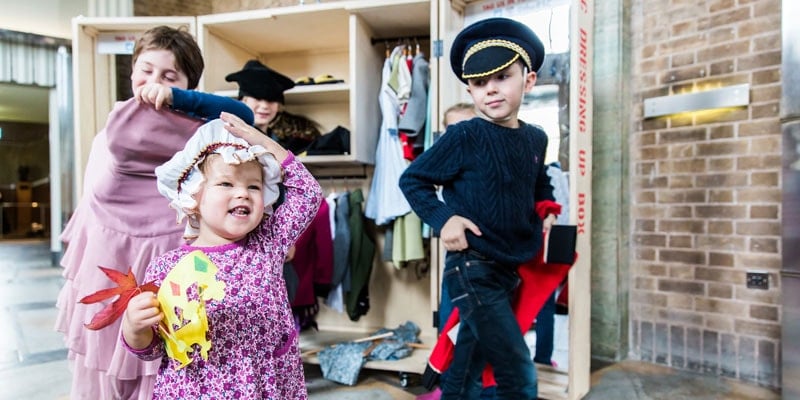 The Royal Shakespeare Company is holding an Open House – a day of special activities for the whole family – at its recently re-opened studio theatre, The Other Place.  Located on the banks of the River Avon on Southern Lane in Stratford-upon-Avon, The Other Place houses a brand new 200 seat theatre space, the RSC's extensive costume store, a new theatre tour (From Page to Stage), and a café bar. There'll be lots of free events to enjoy – all giving a flavour of the very special atmosphere at The Other Place. Take a 20 minute taster theatre tour, with glimpses into The Studio Theatre, a rehearsal room and the Costume Store, which holds over 30,000 of the RSC's costumes.  Enjoy live music in the foyer with Birmingham based musicians and singers, Alima, Rochaé, Ed Geater and Barbella, and poet Raza Hussein. Be brave and join a Blood, Guts and Gore session where you'll see how the RSC creates fake scars and bruises.  Activities for younger visitors include a dressing-up box, special colouring sheets and a playcart with fun craft activities. There's also a Big Pub Quiz and the chance to buy a ticket for the forthcoming Making Mischief festival of new work for just 70p, the price of tickets when the original The Other Place opened in 1974.
When/Where: 2 July, The Other Place, Stratford-upon-Avon
Price: Free
Find out more about Royal Shakespeare Company's Open House
10/15.

Beyond The Border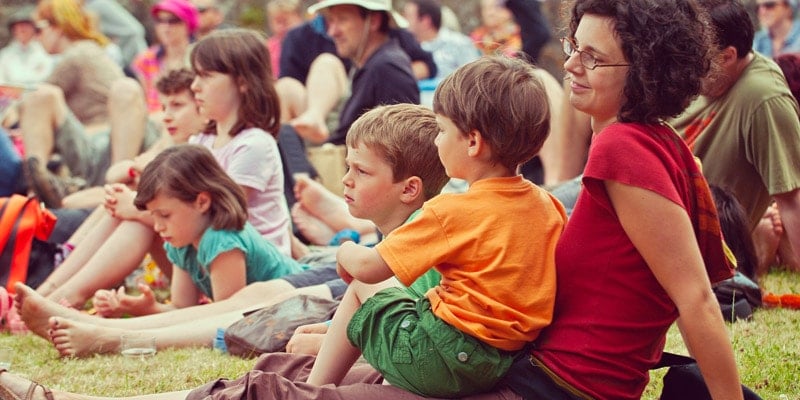 Wales International Storytelling Festival is a magical three-day event featuring stories and music from Wales and across the world, held in the fairy-tale setting of St Donats Castle. With nine different stages, over 100 performances, and guests from around the globe, this magical occasion will bring you storytelling, poetry, theatre, circus, puppetry and film like never before.  This year, giants in stories will be celebrated plus there'll be the chance to meet some giants in person. Also look out for the Myth and Music of India, with performances that evoke the sights and sounds, spice and colour of India with Urdu love poetry, shape-shifting goddesses, epic stories from the Ramayana, Indo Celtic jazz, Indian acrobats, and a Rajasthani wedding band.  And Stories from the Celtic World will feature tales of epic battles and magical cattle, a chance to meet the Welsh wizard who makes a woman out of flowers, discover the romantic secret of The Lady of The Fountain and learn how fairies are descended from fallen gods. For children there's a dedicated Kidzone, featuring the fabulous Flying Segulls, with their high-energy, all-day programme of music jams, circus sessions and an unmissable Fancy-dress Children's Joke Telling Cabaret. The Family Tent features a range of storytelling shows for children over the age of seven whilst The Little Tent provides stories and puppetry for the Early Years. And don't miss the magical tent-within-a-tent, offering Stories in the Dark. With street theatre and face-painting, lantern making and marching bands, acrobats and aerialists and the Young Storyteller Competition, open to all 8-18 year olds – there's something for everyone.
When/where: 1-3 July, St Donats Castle, Vale of Glamorgan
Price: from £12 for adults and £6 for children
Find out more about Beyond the Border
11/15.

Help Find Dory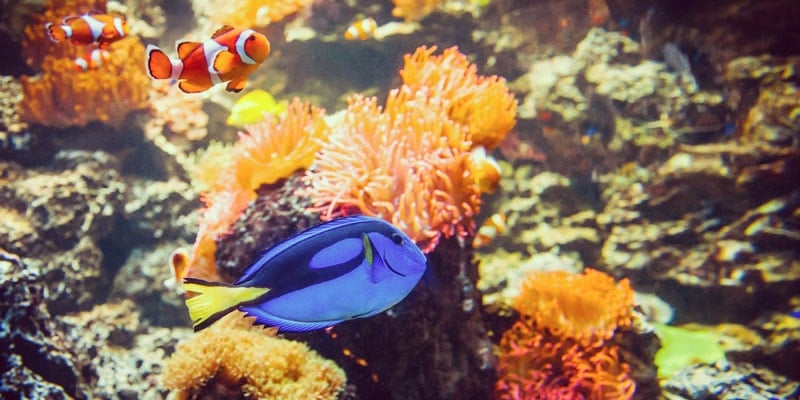 Sea Life centres around the UK have teamed up with Disney Pixar to celebrate the launch of the new 'Finding Dory' film which swims into UK cinemas on July 29 with a special Finding Dory event. Visitors will be led on an interactive trail by one of the new movie's star sea creatures Hank – a cantankerous octopus. Hank will appear in many displays revealing amazing fishy facts and providing collectible 'letters' which will need unscrambling at the end of the journey to earn a reward. There's plenty of other amazing marine activities at SEA LIFE centres to enjoy too, including feeding time fun with penguins, the chance to explore a frozen planet and come face to face with a polar bear and her cubs plus killer whales (thanks to augmented reality) and an opportunity to get close and personal with the secrets of seahorses, the regal tang (the real-life Dory) and clownfish in colourful Reef Coral Gardens.
When/Where: Jul 16 – Sep 11, 12 SEA LIFE centres around the UK including Birmingham and London
Price: see website
Find out more about the UK's Sea Life centres
12/15.

The BFG Film and Dream Jar Trail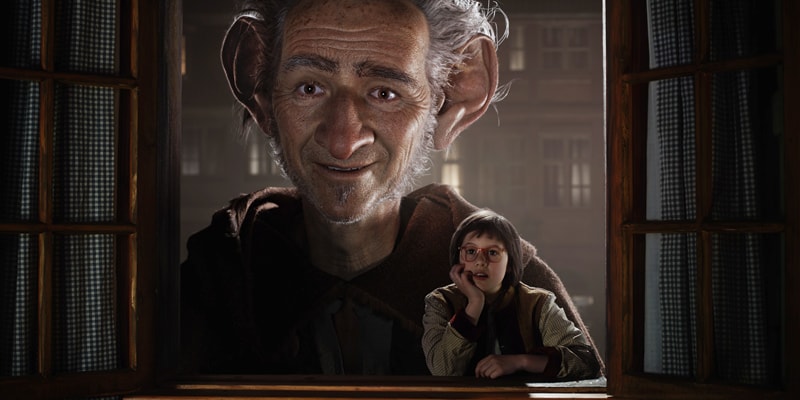 From the minds of two of the world's greatest storytellers – Roald Dahl and Steven Spielberg – THE BFG stars Academy Award winner Mark Rylance as the Big Friendly Giant and newcomer Ruby Barnhill as Sophie. It tells the exciting tale of a young London girl and the mysterious Giant who introduces her to the wonders and perils of Giant Country. To celebrate the film and those who dared to dream big when they were children, The BFG Dream Jar Trail is a new public art trail that will see well-known celebrities (including Spielberg, Sophie Dahl, Maisie Williams, Quentin Blake and more) have their 'dreams' bottled. The dreams will be transformed into sculptures made by talented artists and placed in 1.8 metre high jars across London – at key London landmarks such as Trafalgar Square, St Paul's Cathedral, The Tower of London, Leicester Square, the Emirates Stadium and, of course, the Buckinghamshire home of Roald Dahl himself, Great Missenden. After the trail closes, the jars will be auctioned off for international charity Save the Children and Roald Dahl's Marvellous Children's Charity, in an effort to raise money to help the lives of young people around the world.
When/where: The Dream Jar Trail takes place in London from 9 Jul-31 Aug. The BFG film opens in cinemas nationwide from Jul 22
Price: The Dream Jar Trail is free; cinema ticket prices vary
Find out more about the Dream Jar Trail
13/15.

All Abroad HMS Belfast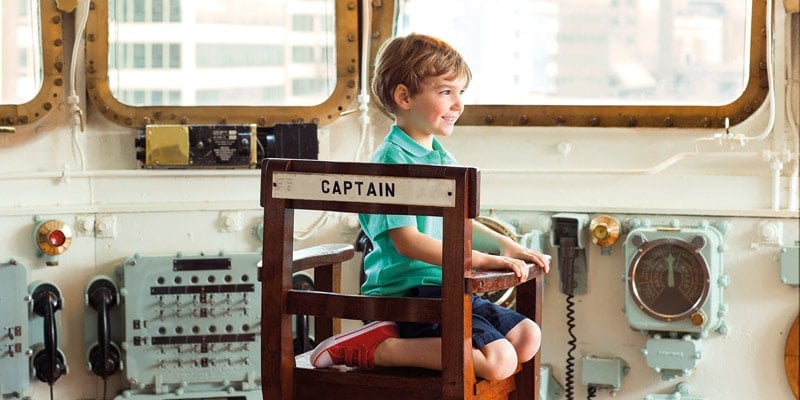 New for the summer season at HMS Belfast are 'Ship Shape Saturdays' especially for young ones, giving children the chance to learn the skills needed to become a member of the crew. With a different theme every month until August, July's activities revolve around 'Navy Games' – where kids can learn how sailors of all ranks spent their leisure time playing the Royal Navy game of 'Uckers'.  There's plenty more to do on your day out aboard the Second World War warship. Journey through the ship's nine decks to uncover its fascinating history that extends to the Arctic convoys, D-Day, the Cold War, Korea and beyond. Following the audio guide visitors can walk the same decks, duck through the same hatches, and climb up and down the same ladders as the men who served on board the ship. From the heights of the Flag Deck, where visitors can take in panoramic views of London, to the depths of the Engine and Boiler Rooms that lie below the waterline, there are facts and personal stories to uncover around every corner. Children can sit in the captain's chair, visit the ship's sick bay or take a peek at the galley where up to 10 miles of sausages could be produced every day! 'Fun facts' for kids include the true story that the vibration of the ship's guns at D-Day cracked the crew's toilets and that the sailors used to cool off in shark infested waters off the Far East by swimming inside a big net attached to the ship.
When/where: Open daily. Ship Shape Saturdays run until end of August. HMS Belfast, Queen's Walk, River Thames SE1
Price: £16.00 Adults; Children (5-15) £8.00, Family ticket (1 adult and 2 children) £28.00; Family ticket (2 adults and 2 children) £42.00
Find out more about HMS Belfast
14/15.

King Pocky's Derwent Water Regatta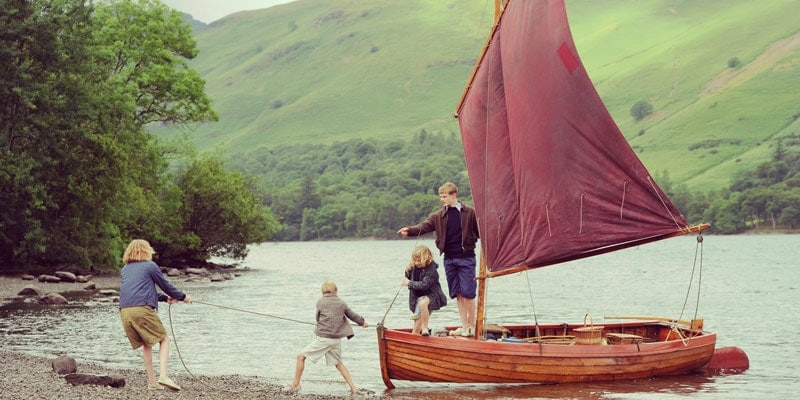 Even if you've never seen yourself as the sailing type, King Pocky's Derwent Water Regatta is all about joining in and having fun, getting out on the water and having a go. With low-cost 'starter sessions' led by qualified instructors in many different kinds of boats and craft (canoes, kayaks, stand-up paddle boards, sailing dinghies, a catamaran and even bath tubs!) it's a great opportunity to find your sailing legs and discover a new watersport you never thought you'd love. To celebrate the debut of the new Swallows and Amazons film (in cinemas from Aug 19), the sailing boats 'Swallow' and 'Amazon' will be coming to the regatta promoting the new film which was filmed at Derwent Water last summer and taking part in the Swallows and Amazons boat race. And if you come in your finest pirate fancy dress on Saturday 9 July you could win tickets to the film's premier for your family by entering the Swallows and Amazons Best Dressed Pirate Competition. If you're more of a land lubber, there's a free family activity zone with miniature raft-making, stone skimming, catch a water minibeast and wild art on dry land – plus free sports and games to play including badminton, volleyball, frisbee golf and strider-bike races. Don't miss the traditional fairground, food and drink stalls and lots more. Once you've enjoyed the activities at King Pocky's Derwent Water Regatta, you can then visit a brand new information hub from 5th July: www.visitengland.com/swallowsandamazons, designed to help you create your own Swallows and Amazons-inspired Summer. The site offers free inspiration and advice on the best places to sail, picnic and camp across England with the aim of getting children enjoying the great outdoors again – and having wild adventures.
When/Where: 6-7 July, Derwent Water, Cumbria
Price: free. Charges of £5-£8 made for 'starter sessions' – see website for details on how to book
Find out more about King Pocky's Derwent Water Regatta
15/15.

Cricket Fun (even for the very young) at Lord's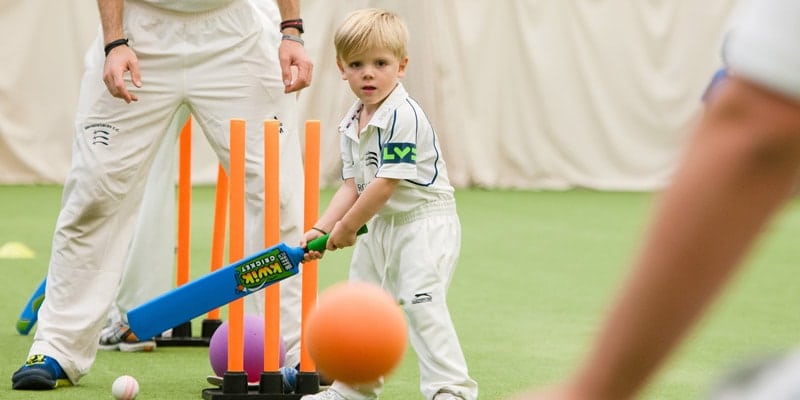 The iconic Lord's Cricket Ground is hosting a Family Day at the end of July when Middlesex take on Essex in the Royal London One Day Cup ensuring cricket fans of all ages will be kept occupied through the day. There'll be taster sessions run by MCC Cricket Academy for any budding wannabe cricket stars keen to give the sport a go plus the chances to learn about the innovative umpiring technologies 'Pitch Vision' and 'Hawk Eye', in interactive classes. Adding to the fun on Family Day, Middlesex mascot Pinky will be taking over the Nursery Ground with Pinky's Pavilion – a one-day fun fair experience. Music performances will also take place on the Nursery Ground throughout the day and the Lord's Food Village will host a barbecue in the afternoon. Also on Family Day, entrance to the world-famous MCC Museum will be available free of charge for those under-16 where you can view their most famous exhibit  – the original Ashes Urn, cricket's most precious artefact!
When/where: 31 Jul, Lord's Cricket Ground, London
Price: £20 adults, £5 children
Looking for fabulous UK days out this summer? When the sun shines, don't miss these 15 beaches so idyllic you wouldn't believe they're in the UK.