Top six family sailing holidays for 2018
Sponsored
Family sailing holidays aren't just for experienced sailors these days. More and more families are discovering the adventure, and learning as they sail. This won't be news to Sunsail, they've been championing the thrill of family sailing holidays for over 40 years, and are now UK leaders in flotilla and bareboat holidays worldwide, for seafarers of all levels: from complete beginners to seasoned skippers. 
Set sail at the perfect level for your family
Sunsail categorise their destinations in three different levels, so no one ever sails beyond their abilities. Level 1 is ideal for beginners: distances are shorter, hours of sailing easy-going, and calm conditions are with you all the way. Level 2 gives intermediate sailors a more varied experience, and experts have a choice of Level 3 destinations, where they can expect stronger breezes, longer sailing hours, and more nuanced navigational challenges.
Whatever level you sail at, hiring a professional skipper with Sunsail is always an option too. So novices can relax, learn skills and build confidence. And experienced sailors have someone else to take the wheel from time to time – it is a holiday, after all.
All the fun, and camaraderie, of flotilla sailing
Flotilla holidays are awesome for families and, with over 14 flotilla destinations, Sunsail are experts in this fun, sociable, safe, and very kid-friendly style of sailing. Think of it like a fraternity of yachts, guided by a lead skipper, host and technician. Everyone still enjoys the freedom of steering their own craft, only with peace of mind, camaraderie and like-minded companions to share their adventures on sea, and land.
Time to find out why sailing holidays are fast becoming the first choice for active families? Have a look at six incredible voyages from the Mediterranean to the Andaman Sea, created for all levels of experience, and setting sail this summer with Sunsail.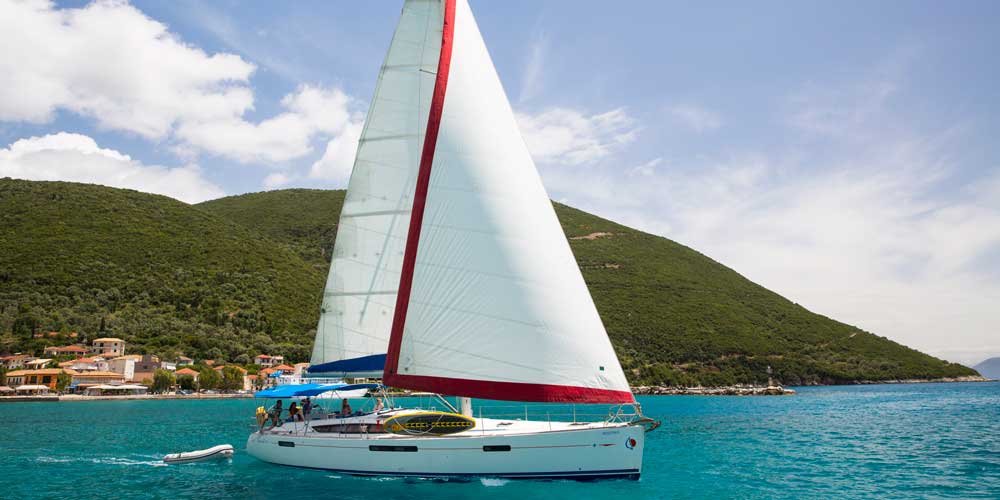 1/6 

Family sailing holidays in north west Greece – level one
Lefkas to Meganisi, is a Level One flotilla holiday, which means easy sailing, and almost perfect conditions for novice sailors to hone new skills. Your young crew will love the thrill of the Ionian Sea; visiting myth-laden Greek islands; dropping anchor in historic harbours, and discovering boat-only beaches for swimming and snorkelling. Plus, a Sunsail Kids Coordinator is on the flotilla's summer crew: even more fun for junior mariners. 
Highlights
Spotting dolphins all voyage long.

Rambling round ancient Byzantine and Greek ruins on Paleros and Kalamos.

Boat-only, hidden beaches, for snorkelling, swimming and diving.

Learning about the legends of Odysseus on Ithaca.

Exploring the traditional Ionia village of Katomeri.

Kitesurfing at Milos Beach in Lefkas.

Eating fresh seafood on island, after island.
The lowdown
Where: Ionian Sea, north west Greece.
Ports: Lefkas, Paleros, Kalamos, Ithaca, Meganisi.
Holiday type: Level One. Guided flotilla. Dedicated skippers available for first time sailors.
Length: Seven day holiday, approximately one to three hours sailing per day.