Sponsored Content
Want your child to learn a language on holiday? Here's how, says Alice Rose
Another tongue
Let's get the science bit out of the way first: study after study has proved the benefits of learning languages at a young age, when little brains are flexible enough to hoover up new information. Even children as young as three have been found to benefit from improved critical-thinking skills, creativity and mental flexibility when exposed to songs and games in a different language. Learning languages boosts their memory, their puzzle-solving ability, their reading skills.
There are emotional benefits, too: the power of being able to communicate with people from different countries and cultures gives children a tremendous confidence boost and sense of achievement. 'My children love going to France and understanding some of the language,' one mother tells me. 'For them, it's like breaking through a wall or being a spy.'
And what better way to immerse your child in a language than to learn it in the country where it is spoken, absorbing the culture as you go? You'll give them a head-start at school and (hopefully) instil in them a love of languages which will stick with them for life. We confidently predict that the more they learn, the more they'll want to know. Read on to discover 10 brilliant family holidays that put language learning centre-stage.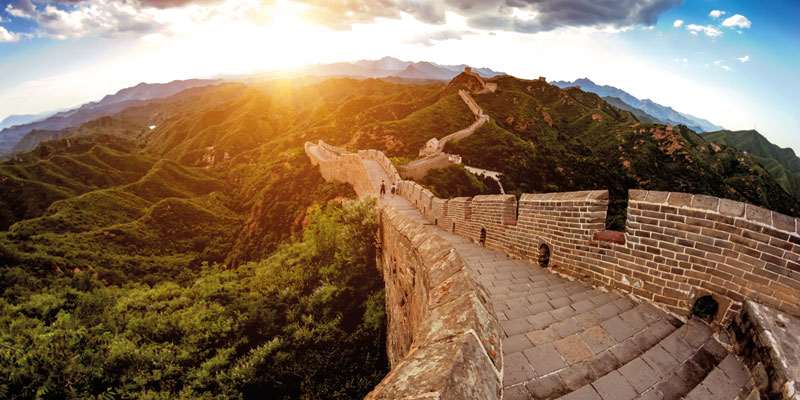 1/10

Original Travel, China

As we all know, China is The Future. Many schools are now offering Mandarin as a language option, but if it hasn't reached a curriculum near you yet, Original Travel can help. Its two-week trip to China includes such delights as the Great Wall, a visit to the Chengdu Research Base of Giant Panda Breeding and the Terracotta Army, a private martial-arts class with a kung-fu master and a kite-making session in Beijing. Throughout the trip, you'll be accompanied by a local Mandarin tutor and guide, who will teach you and your children the language as you travel.

Who's it for: Families with children 9+

When: April, May, September, October  is peak season

Where: China

How much: Original Travel offers two-week holidays to China, including Mandarin teachers and English-speaking guides, from £6,280pp, including all accommodation, guiding, return flights and transfers.

2/10

Cactus, Worldwide

Cactus has been running language camps and holidays for almost 20 years, and offers courses in more than 20 languages in over 120 destinations – we weren't surprised to hear that many students come back year after year. If you're thinking of a family trip, Cactus offers separate courses for adults and children in the mornings, and then you can get together for family activities or beach time in the afternoons. They also offer courses for individual children, staying with a host family or in a student residence, and take their safeguarding responsibility very seriously – each child is assigned a specific counsellor to keep an eye on them during their trip.

Who's it for: Ages 5 and over

When: Most family and junior courses are in the school holidays

Where: 20 destinations throughout the world

How much: A family language holiday to Dénia in Spain, with Spanish classes in the morning for both parents and children, and activities in the afternoon, starts from £306pp per week (excluding accommodation, flights and airport transfers).
Find out more about Cactus

3/10

Ailola, Argentina

Ailola's courses take place in a beautiful palacio in the centre of the Argentine capital, with awesome views across the city. It's very family-friendly – the school director is a mother of two, staff are experienced in working with families and they have a great range of teaching materials and games to appeal to children. Ailola will tailor tuition to suit your needs and dates, so you could combine a Spanish course here with a longer holiday in South America. The school can help you arrange accommodation in a homestay, hotel or apartment. And when the Spanish classes end, the tango lessons begin!

Who's it for: Anyone.

When: Throughout the year

Where: Buenos Aires, Argentina

How much: £155 per week per family member for 20 lessons per week. (plus a £53 registration fee); private tuition for a child is £12 per hour.
Find out more about Ailola

4/10

Coeur de France

If you're looking for a French immersion course for your family, this is our top pick – the school is in a 400-year-old chateau, smack in the centre of the pretty town of Sancerre. Coeur de France is owned and run by Marianne and Gérard Chartrand, who tailor tuition to each family's needs and abilities. They offer a great range of optional excursions (market visits, making croissants in the local boulangerie, kayaking on the Loire) – best of all, Gérard leads a weekly 'behind the scenes' wine tour of a local vineyard.

Who's it for: Ages 6 and over

When: Throughout the year

Where: Sancerre, France

How much: A 2-week family package for a family of 4 (2 adults and 2 children under 10), including accommodation and tuition, is £3,970.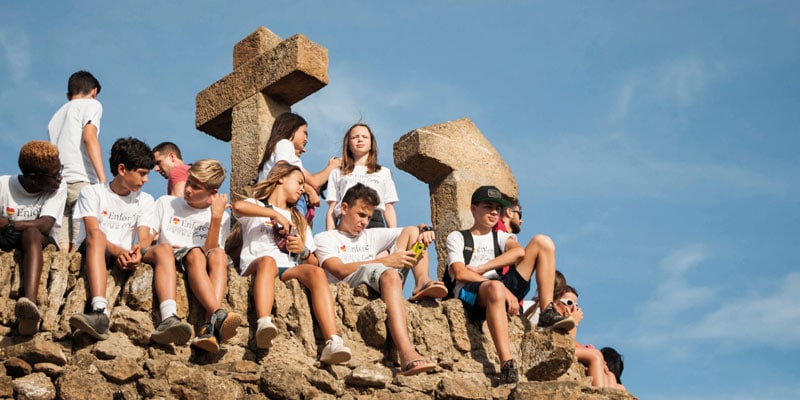 5/10

Enforex, Spain and Latin America

Enforex summer camps have a wonderfully international flavour, with students from 72 nationalities – so children make friends from all over the world. There are eight camps throughout Spain (students can mix and match), and another 20 schools in Latin America; all the teachers are native Spanish speakers and all have at least a four-year university degree.

The focus is firmly on learning by doing rather than on traditional language classes ('too boring for summer!' they say). Camps are for children up the age of 17, but they also have a family programme with classes for adults – you can stay with a host family or in an apartment.

Who's it for: 5-17-year-olds

When: Throughout the summer

Where: Spain and Latin America

How much: From £1,495 all-inclusive for a two-week stay, depending on location and accommodation. This includes 20 lessons per week, accommodation, full board, activities, workshops, excursions, 4 meals per day, books, study material, health insurance, sports, 24-hour supervision.
Find out more about Enforex

6/10

ESL, Worldwide

At last year's Study Travel Star awards, ESL bagged the 'Star Agency' award for the fifth time. It has over 20 years' experience and offers immersion courses in more than 20 languages all over the world. Their junior courses are for 7-17-year-olds, and include Mandarin lessons in China, Japanese classes in Japan as well as French, German, Spanish and Italian programmes (for over-16s and adults, the list goes on and on – Korean in Seoul, Arabic in Egypt, Hindi in India… you name it, they'll teach you it). They also offer family programmes in French, Spanish and Italian. In the words of a former student: 'Absolutely amazing!'

Who's it for: 7-17-year-olds and families

When: Easter and summer holidays, with some courses in the October half-term.

Where: Everywhere!

How much: Two weeks in a summer camp in Freiburg, Germany, for a 13-17-year-old costs £1,310, including 20 group lessons, full-board residential accommodation, activities and excursions. A one-week Italian family programme in Salerno costs £1,450 for two adults and one child, including group lessons in the mornings, activities in the afternoons and a stay with a host family, including breakfast.
Find out more about ESL

7/10

ISLS, Costa Rica

In Costa Rica, they call it 'pura vida' – a glass-half-full sense of ease and optimism, encapsulated in ISLS's winning combination of beach holiday with Spanish lessons. There's a lovely family atmosphere: ISLS is owned and run by a husband-and-wife team, and their nine-year-old daughter is the camp's junior counsellor – she's been attending the camp since she could walk. Many families come back year after year and become personal friends of the owners. They cater for the whole family, and split children into different age groups – the little ones enjoy a fun mix of Spanish games, lessons and beach time; for older students, there are adventure tours, exchange visits with local children and – woohoo! – surfing lessons.

Who's it for: 2 years and over

When: Camps run during the summer months and over the winter school holidays; adult Spanish courses and some children's courses run throughout the year.

Where: Costa Rica

How much: £160-£1,100 per week
Find out more about ISLS

8/10

Danai Beach Resort, Greece

Danai Beach Resort is luxury family-holiday heaven: 60 beautiful suites surrounded by glorious gardens, with a white sandy beach overlooking the turquoise sea. The Danai kids' club offers two-week programmes in Greek, French or German, taught by multilingual professionals who combine lessons with lots of playtime, which might mean Greek dancing or making tzatziki. Meanwhile, you get to fill your days with watersports, tennis, mountain-biking, massages on the sundeck of the super-luxurious spa or lessons with the hotel's resident art teacher… or you could just lie by the sea with a book.

Who's it for: Families with under-13s

When: May half-term, summer holidays

Where: Greece

How much: Original Travel offers 7 nights at Danai Resort from £1,620pp, based on 2 adults and 2 children sharing a 2-bedroom suite, including all flights, transfers, access to the kids' club and language lessons.

9/10

Les Elfes, Switzerland

Philippe and Nicole Stettler have been running spring, summer and winter camps in Switzerland for 30 years – they started with 100 students and now host 5,000 7-18-year-olds from 50 nationalities every year at their three campuses. Sport and adventure camps are their USP, but they also offer language courses in conjunction with the Verbier Language School. Students can opt for French, German or Spanish, and can choose from three different levels: conversational (eight hours of tuition per week), intensive (15 hours per week) or one-to-one tuition (flexible). Afternoons are packed with fun activities, which might be mountain-biking, snowboarding or waterskiing on Lake Geneva.

Who's it for: 7-18-year-olds

When: 1 December-31 August each year

Where: Verbier, Switzerland

How much: From £3,345 for a two-week camp.
Find out more about Les Elfes
[/infobox]

10/10

Teenagers Abroad

Teenagers Abroad has a huge range of language-immersion programmes for 13-21-year-olds all over the world, from cultural trips to volunteer schemes to adventure packages. Its trips are an amazing opportunity for teens to experience a new part of the world and make international friends: every year, Teenagers Abroad hosts 55,000 students from over 90 countries and 60 cultural backgrounds. So, your teen could study French in Nice or Montreal, Spanish in Salamanca or Guatemala, Italian in Florence, Mandarin in Beijing… Its sister company, Languages Abroad, caters for over-18s, so you can organise a package for the whole family. Accommodation is with a host family or in supervised student accommodation.

Who's it for: 13-21-year-olds

When: Throughout the year

Where: All over the world

How much: From £800 per week, including 20 lessons, full-board accommodation, leisure programme, airport transfers and supervision by its highly trained team.