There's nothing more magical than a family holiday on a car-free island where the air is fresh with no petrol pollution and kids can run free. These islands often have a yesteryear feel which works its magic after a few days as you all kick back and begin to live life at a gentle local pace. And breath!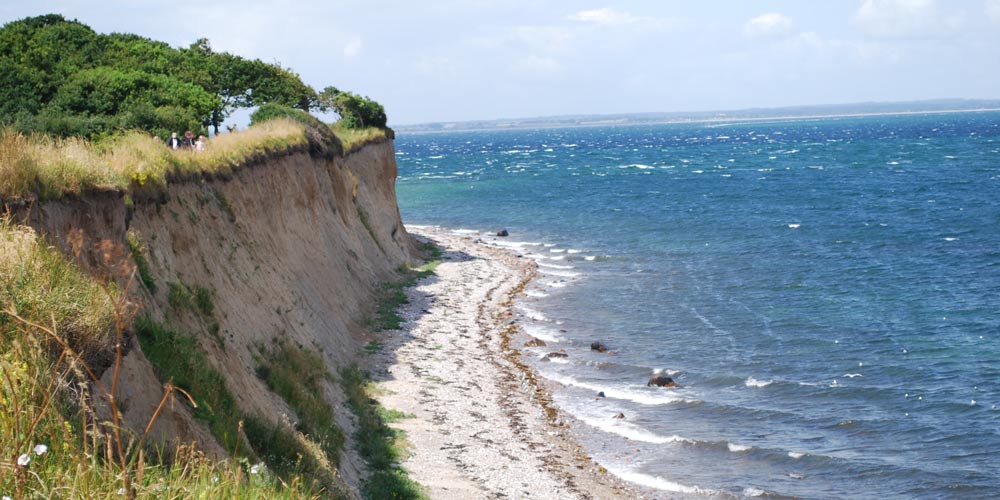 1/12

Kick back on Tunø, Denmark's car-free island

The mulberry and fig trees on the Danish island of Tunø, signal the fact this little oasis enjoys its own favourable micro climate. Located a one-hour sail from the mainland, Tunø is known by locals for its sandy beaches. There's just one village with farms and smart houses in traditional style set along the island's only street. The old smithy is now a working museum where kids can get a taste of pre-digital life. The church lies at the centre of the village on one of the highest points of the island, and doubles up as a lighthouse. Activities include bicycling, angling and hiking. Families who love walking will be in heaven as they set out on the three-hour walk following a narrow coastal path around the island with the chance to find fossils, most likely below the steep cliffs. As there are no cars you have to walk, cycle or catch one of Traxa-Vagns's cabs to get around – actually a tactor with a people carrier on the back. There's no schedule, simply call ahead.
Best place to stay: Stay in a traditional Danish summer house with has plenty of space for the whole family. The houses can be rented all year around from Feriepartner Danmark from £240 per week.
How to get there: Fly directly to Aarhus or Billund Airport from the UK with Ryanair from Stansted costs from £7.99 one-way. The ferry to Tunø departs from Hou. A one-way ferry ticket costs £3.50 for children and £6 for adults.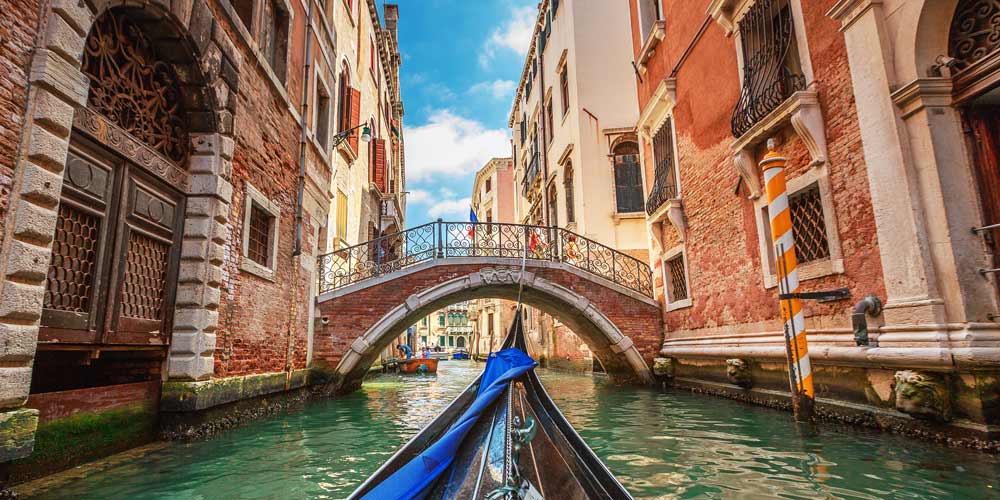 2/12

The canals and islands of Venice

You know you're somewhere special when Vaporetto waterbuses and gondolas replace commuter trains and cars. The floating city of Venice (actually a series of 117 small islands in the Venetian Lagoon connected to mainland Italy via the Ponte della Libertia) is an education for children when it comes to so many subject: architecture, art, history, music and of course, car free living.

St Mark's Square, christened the 'drawing room of Europe' by Napolean lies at its heart dominated by the 99m high Campanile bell tower which offers panoramic views to those willing to queue to get to the top.

And there's plenty for kids to soak up. Take a ride each way along the Grand Canal on the vaporetto No 1 route. It may be a cliché but it's worth taking an evening gondola ride with a charismatic gondolier. Fishing in the lagoon offered by some hotels including the legendary Cipriani, and darting around the narrow back streets are all magical and other worldly.

Don't miss a visit to the island of Murano, home to glass workshops where kids will be in awe at glass blowing techniques and colourful glasswork in every shape and size.

Lido is Venice's sleepy seaside strip. Disembark at the main waterbus stop, walk ten minutes down the Gran Viale and you're kids will soon be paddling in the lagoon and building sand castles.
Where to stay: Up the luxury with a family room at Belmond Hotel Cipriani, Giudecca from £589 per night.
How to get there: Easyjet flies from London Gatwick to Venice from around £121 return.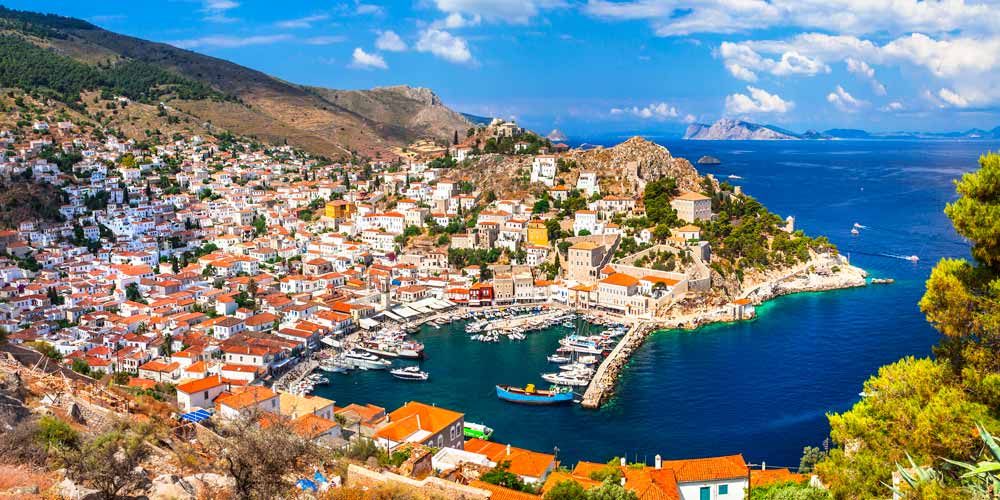 3/12

Hydra, Greece, the boho, go slow island

On Hydra's idyllic cobbled streets the only traffic you're likely to encounter are photogenic donkeys and bobbing boats in the picturesque harbour. Part of the Saronic Islands, highlights include spectacular walks, horse riding at Harriet Hydra Horses and scuba diving during which kids can learn of its bygone sponge-diving tradition. Beaches are pebbly and perfectly good with umbrellas and tavernas to hand. If it's good enough for singer-songwriter Leonard Cohen, who lived here on and off from the 60s, it's good enough… You won't even find a push bike here. No wheels have meant no large construction or over development. There are no street names here either. It's all about wandering and discovering its 50km square.
Where to stay: The Bratsera Hotel has family rooms. Doubles from about £120 per night.
How to get there: Fly to Athens with British Airways from £90 return. Catch the ferry from Pireaus. Crossing time is around two hours.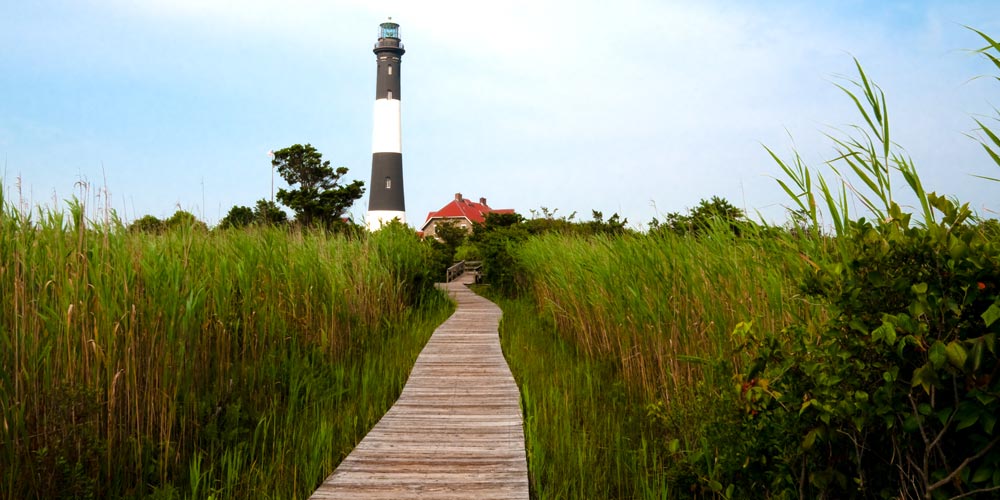 4/12

Fire Island, New York State's secret getaway

From the air, Fire Island looks like a long thin eel off Long Island's south shore. In the know New Yorkers head to Fire Island come the summer and it's the perfect place to escape the city frenzy and traffic along its 32 miles length by quarter of a mile width . This is a quaint escape has protected white sand beaches and sandy board walks. On the western tip, Robert Moses State Park offers picnic spots, pitch-and-putt golf and access to the 19th century Fire Island lighthouse. In the middle, accessible by ferry only, are 17 car-free communities. Unbelievably all within an hour and a half of downtown Manhattan.
Where to stay: Fire Island Hotel & Resort sits right on the beach and has an old school, New York State feel with a swimming pool. Book the two-bedroom Captains Quarters detached cottage with kitchen, lounge and private deck. Alternatively find a three-bedroom family beach cottage on Air BNB from around £250 per night
How to get there: Fly to New York with Norwegian form £150 one-way.
5/12

Middle Bass Island State Park, Ohio

Middle Bass Island is one of Ohio's newest state parks and is set in the western basin of Lake Erie. If you like messing about on the water and following hiking trails, this is the place for you and your kids.

Families can camp at St Hazards Waterfront Resort Brewery, a 21 acre resort on the island, which has its own private beach, several hiking trails and access to nearby smaller islands via kayak – which families can hire. There is also a swimming pool, hot tub, mini market, restaurant/bar and various rums and beers to purchase from the microbrewery. Families can rent kayaks or paddleboards from the marina next door. It's fun to kayak over to Kelley's Island and South Bass Island, with their nature reserves, wineries, caves and rock petroglyphs.
Where to stay: Pitchup offers non electric tent pitches from as little as £11 per night at St Hazards Waterfront Resort Brewery on Middle Bass Island including use of a shower block and washing facilities.
How to get there: Delta flies daily nonstop from London Heathrow to Detroit from £776.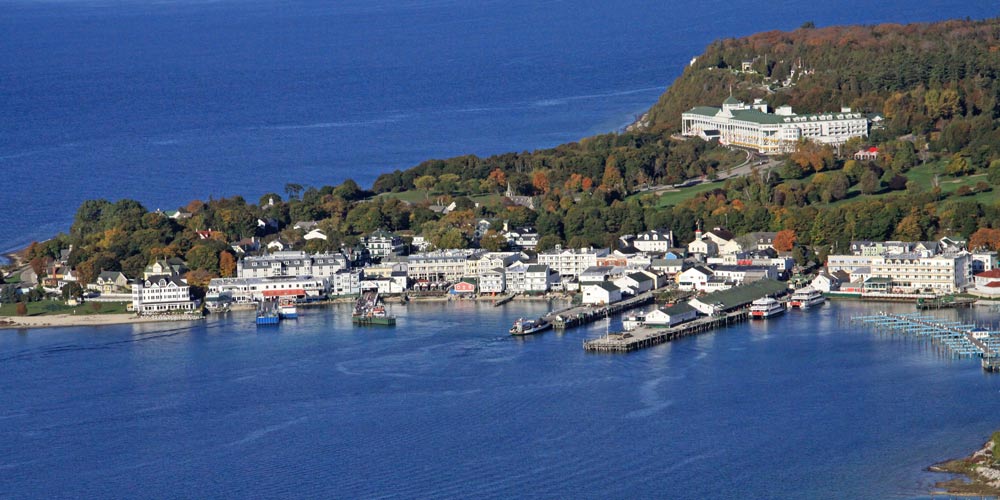 6/12

Mackinac Island, Michigan

For a car free vintage Americana feel where East Coast old money mingled with day trippers and horse drawn Carriages and bicycles are the main mode of transport in addition to feet, Mackinac Island is the bizz.

The 10km square island sits in Lake Huron. Its state park has trails, woods and limestone Arch Rock formation. Families will experience the community's history first hand at museums and historic sites. Alternatively take a horse-drawn carriage tour. Touring Mackinac by bicycle is easy too with push bikes and electric scooters to rent with 70 miles of natural and paved trails to explore. Getting out on the water is a must too with kayaks and fishing trips.
Where to stay: The Grand Hotel is a popular family-friendly resort with children's programmes, pool, biking and horse riding. Double rooms from £242 per night full board. Children under nine stay free. Ages 10-17 are £45 per night. Meal plans are the same as the accompanying adult.
Getting there: Delta flies daily nonstop from London Heathrow to Detroit from £776. Most families would visit the island as part of a fly drive holiday, but if you drive straight from the airport it takes around six hours. Alternatively fly to Pellston and take the three and a half hour ferry crossing.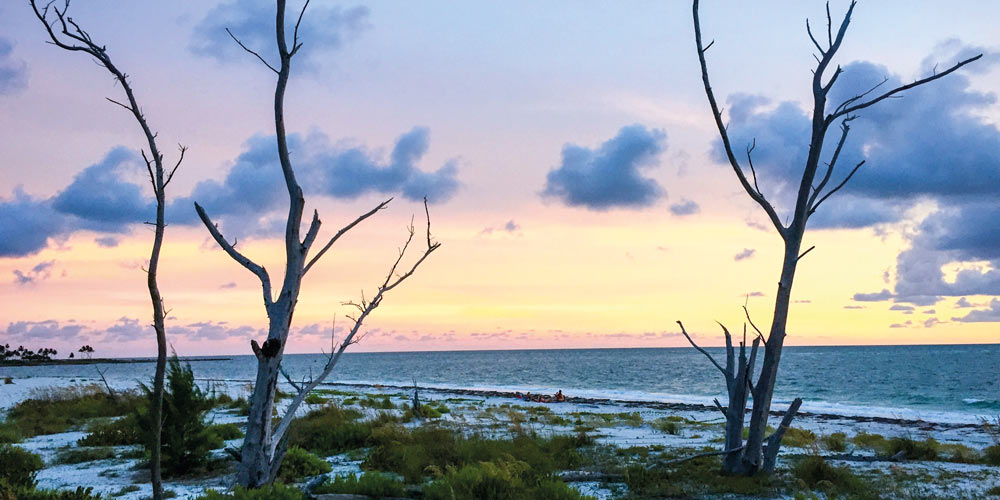 7/12

North Captiva in Fort Myers and Sanibel, Florida

Ditch the car and live like a local travelling by boat in dreamy North Captiva, one of west coast Florida's most idyllic family hot spots just five miles off the coast of Fort Myers Beach. The only vehicles you'll see here are golf buggies. There are no fast food or hotel chains and the beaches are blissfully uncrowded.

As there are no hotels, families can live like a local in their very own beach house through the North Captiva Island Club Resort.
Where to stay: Private villas or 'vacation rentals as locals call them are popular with families. The Moon sleeps six and has a private gatede pool and cost from £1,534 tax included. The Beach House Too sleeps 10 and has four bedrooms and two golf carts. The cost is £3,142 tax included.Otherwise the Calliope Cottage sleeps four and has two bedrooms and a pool. The cost is £1,163 tax included. Prices are based on a week in October.
How to get there: Fly direct from Gatwick to Tampa with British Airways from £633 return. The drive to Pine Island to catch the ferry is two hours.Island Girl Charters operates a ferry service to North Captiva running daily, and prices cost from: £15 per adult one way, £13 one way (aged between 2-12) and toddlers under two are free. The ferry runs from Pine Island.Families can explore the neighbouring islands via boat too including Captiva, Boca Grande and one of the area's best kept secrets, Cabbage Key. Located on an island covering 100 acres of tropical vegetation, this historic Cabbage Key restaurant embodies old school Florida. The walls are covered in dollar bills. Get your kids to estimate how much money is stuck to the walls – locals believe it to be in the region of US$700,000. Whenever it falls off, it's donated to charity.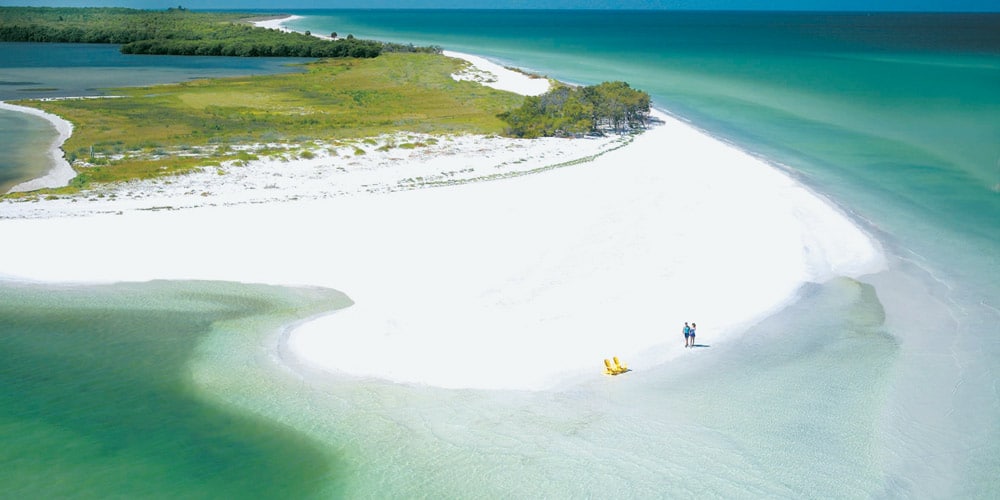 8/12

Caladesi Island State Park, Florida

This pristine barrier island along Florida's Gulf Coast is a world away from the big city vibe and theme parks associated with a family holiday to the Sunshine State. It's one of the few remaing undeveloped barrier islands in the state. One of the highlights for kids is renting a kayak and exploring the mangroves learning about their importance for sea life. Effectively they're nature's nursery.

The island is also home to osprey and in the waters around it dolphins are easy to spot. Other activities include boating, canoeing, fishing and chilling out on the three miles of sandy beach.
Where to stay: As this is a state park, there are no hotels, but you can reserve a camping pitch. The Caladesi Café is open daily but you may want to take your own supplies. The camping in Caladesi is £16 per night or £114 for a week.
Getting there: Fly direct from Gatwick to Tampa with British Airways from £633 return. The drive to Honeymoon Island is 35 minutes.Catch the Caladesi Connection ferry at Honeymoon Island State Park for entrance onto Caladesi Island. Entrance fees cost from: £11 per adult, £5 per child, (aged 6-12) and free for ages 5 and under.Departures from Honeymoon begin at 10:00 a.m. and are every half hour mid-Feb. to mid-Sept (departs hourly rest of the year). Alternatively, you can walk to Caladesi from Clearwater.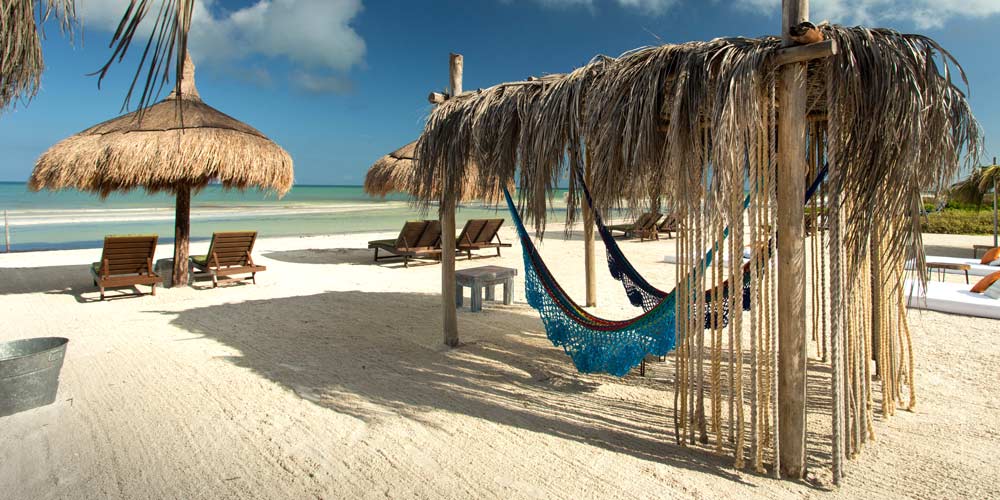 9/12

Escape with the kids to Isla Holbox, Mexico

Isla Holbox in Mexico is an island north of Mexico's Yucatán Peninsula, in Quintana Roo State. It's part of the Yum Balam Nature Reserve and separated from the mainland by the Yalahau Lagoon.

Isla Holbox has good conditions for kayaking and wind surfing. There is also deep-sea fishing, horseback riding and wildlife walks. Whatever you do, you'll encounter incredible wildlife including pelicans, pink flamingos and stingrays. Between June and September, it's the season for whale-shark watching – several companies cater for this so you can get a good deal.

There's some lovely loca places to eat too, there's not a huge amount as the island is small (you can always head back to the mainland for a day trip too) – there's an incredible family-run restaurant called Isla de Colibri, their famous dish is giant coconut prawns washed down with a large marga ( for the adults!). It really is just a spectacular place for children to see marine life and enjoy the water on an unspoilt and safe island.
Where to stay: Smith Hotels recommends CasaSandra, a remote and low-key hangout that gives families a warm welcome. The hotel can also arrange visits to local islands, including Isla Pasion, Yalahua and the bird-watching hub of Isla Pajaros, where crocodiles lurk. CasaSandra can arrange tours, and bring golf carts around for guests who explore the island on their own. Prices from £2,934 for two rooms for a week, including daily breakfast and welcome cocktails. Book through Mr & Mrs Smith and get a bottle of sparkling wine and a fruit plate on arrival.
Getting there: Cancun International Airport is the nearest airport, and is 180 km away. The hotel can arrange land transfers to CasaSandra from the airport for around £186 one-way for two; for each extra guest add £68 except for under fives, who travel free; the journey takes around two-and-a-half hours. A luxury transfer (with bar service, snacks, on board WiFi and music) costs £243 for two, one-way and can accommodate up to six people.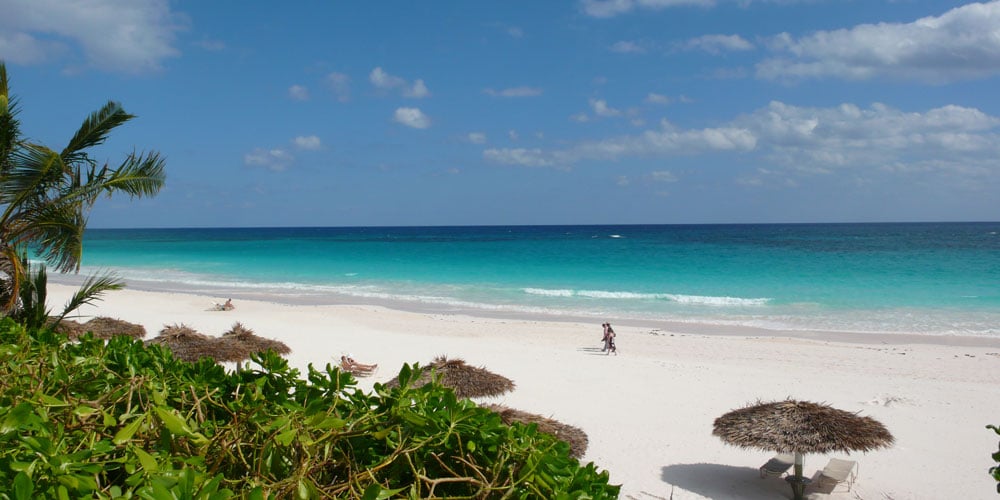 10/12 

Castaway chic on Harbour Island, Bahamas

Just a 10 minute boat ride away from Eluthera is the quaint enclave of tiny Harbour Island where it's no unusual to rub shoulders with rock stars actors, royalty and models. Elle Macpherson has long been a fan. Famed for its Pink Sand Beach where the conch shell sand is literally rose coloured, the most popular mode of transport here is the golf cart, perfect for gentle meandering to and from beaches and into tiny Dunmore Town, loaded with family beach paraphernalia.

Within the pretty clapboard houses of Dunmore Town, known as the Nantucket of the Caribbean, are ultra chic island boutiques, gourmet restaurants, boutique hotel gems and local nightlife in sandy floored bars.
Where to stay: One of the most popular hotels for families is Coral Sands, set overlooking the three-mile Pink Sands beach or Runaway Hill. A two-bedroom cottage costs form US$1,400 per night.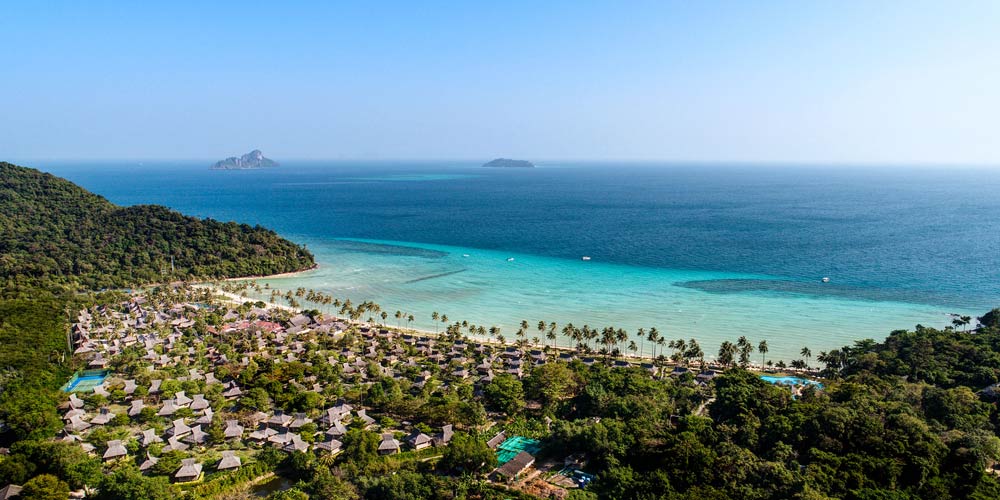 11/12

Phi Phi Island Village Beach Resort, Thailand

If you're looking for an exotic island escape getaway, Phi Phi Island Resort in Thailand is a tried and tested tropical family playground. Located amongst 70 acres of swaying coconut palms and a private stretch of 800m beach within the Nopparatta National Park.

The resort has exhilarating new expeditions for families learning about eco-sustainability whilst enjoying kayaking indigenous mangroves and being taught survival skills. Young minds can also learn about the island's precious coral reefs and take part tending to the resorts Coral Reef Nursery. For budding chefs, the junior cookery classes are led by one of the island's professional chefs and allow families to get creative in the kitchen with tasty Thai favourites.

The resort also runs a triathlon and seaside boot camp for competitive adults and children challenging everyone to swimming, running, aerobics and Muay Thai boxing.
Where to stay & getting there: Phi Phi Island Village Beach Resort offers two-bedroom Thai-style family bungalows. Destinology offers seven nights costs from £5,012 for a family of four with breakfast, return flights from London and transfers.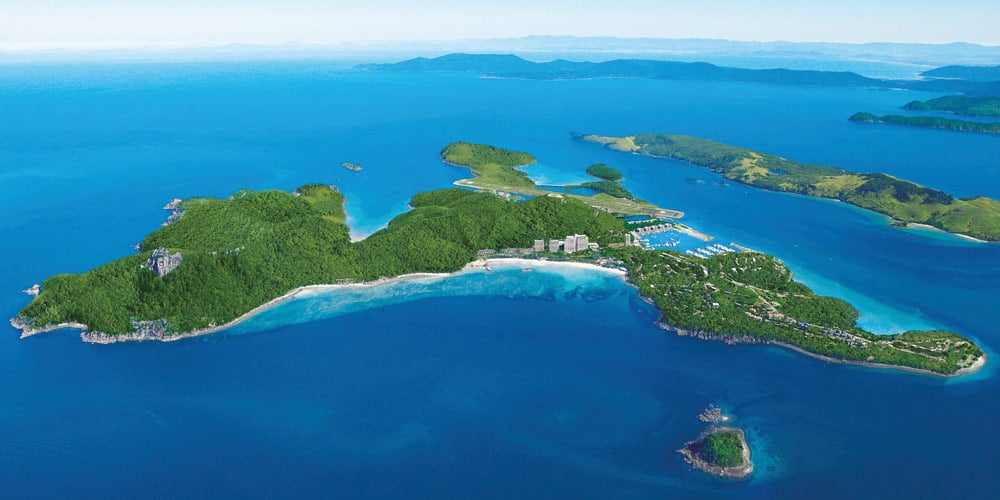 12/12

Head to the Great Barrier Reef's Hamilton Island

The largest inhabited island in the Whitsunday Islands, Hamilton Island is a digital detox family holiday sans car. Perfectly positioned among some of the world's most beautiful natural scenery including the Whitehaven Beach and Great Barrier Reef; the largest coral reef in the world.

Set amidst pristine surroundings, it offers a multitude of activities and accommodation options.  Families will be spoilt for choice with activities, from 'Breakfast with the Koalas' at the Koala Gallery, an abundance of water sports, island activities from bushwalking to mini-golf, scenic helicopter and seaplane flights or they might simply want to concentrate on doing nothing at all, and lay around one of the pools or simply relax on Catseye beach. There are a wide selection of bars and restaurants plus six different levels of accommodation to choose from across the island.

The island is car-free, giving it a very unique and relaxed atmosphere – travellers can hire a Hamilton Island golf buggy to get around, or travel on foot or by bicycle.
Where to stay: The Reef View hotel is great for families and costs from £220 per night, as are the palm bungalows from £232 per night. Both have great kids stay and eat free offers.
How to get there: Hamilton Island has its own airport with direct daily flights from Brisbane and Cairns. Cruise Whitsundays also offers a ferry service to and from the Hamilton Island marina.