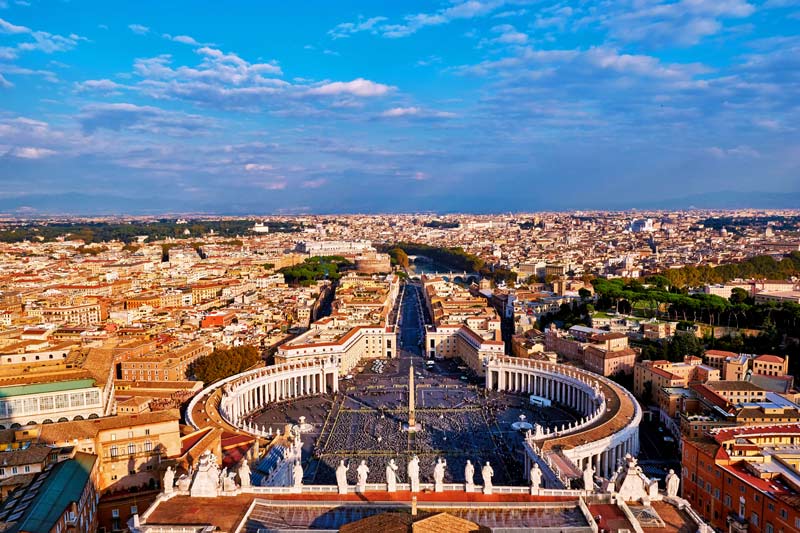 1/5

City breaks

City breaks are a popular choice with families, and the short October half-term offers the perfect opportunity for a short escape to a not-so-faraway city. In our roundup of the best city breaks for families you'll find something for every family, from Edinburgh's old cobbled streets to Marrakech's loud and colourful souks, there's something for every family in this list. Paris is more often than not known as the city of love, but it's also a great place for families. From great food, breathtaking sights and intriguing museums, the list is truly endless.

We recommend Hotel Montalembert which is housed within a magnificent 1920s stone façade. It's within walking distance of world-class museums, the famous Café Deux Magots and Café Flore in boutique filled St-Germain-des-Prés, the green leafy Jardin du Luxembourg and quite literally on the doorstep of some of the best restaurants in the city.

Price: A 3-night stay at the hotel, for 2 adults and 1 child in the Deluxe Room, during the October half-term starts at £2147
Rome
This cultural destination is usually perceived to be a romantic getaway, but look past the Vatican and you will see that the city is brimming with gladiator schools, pizza making workshops and vast gardens to keep your little ones preoccupied. Our city guide will show you the best places to see, sleep and eat.
Casa Montani, a five-bedroom guesthouse close to the Spanish Steps, has an apartment that would house two adults and two children for five nights, starts from £893.
Price: Flights start from £186, per person, during the October Half-Term.
Lisbon
Lisbon, Portugal, is a city of culture and history in equal measure. As a city with great transport links and ease of walking, it makes an unsurprising fit for a family city break. With the classic 28 tram, that will loop the city, the bright yellow funiculars, as well as the Santa Justa Lift up into the hilltop Bairro Alto district – you will see the city come alive before your very eyes.
With Lisbon Zoo and the Children's Museum, you'll be able to keep the young ones occupied. For the teens the historical streets come alive at night with jazz music, djs and bands, which should impress them.
Price: With prices starting from, fly direct from London to Lisbon from £156 with easyJet or £248 with British Airways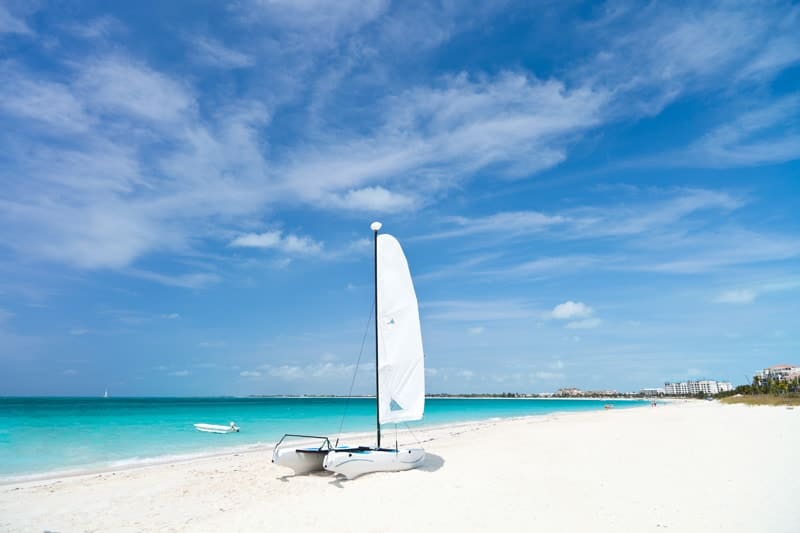 2/5

Beach breaks
Jamaica; Turks and Caicos
Jamaica and Turks & Caicos are some of the best places to grab some winter sun. With Jamaica's friendly people and endless white sand beaches and Turks & Caicos being an undisturbed tropical escape, we've compiled a list of some of the best hotels to stay in – whether you wish to relax, play a spot of golf, or enjoy the water sports available.
Beaches Turks & Caicos is nestled along the famed shores of Grace Bay – voted by the readers of Condé Nast Traveller as "The Best of All Island Beaches". This sprawling resort is set along a 12-mile stretch of beach edging turquoise clear waters perfect for Beaches' unlimited scuba diving (free for certified divers). Not to mention the 27,000 sq. ft. waterpark with nine thrilling water slides, water cannons, a lazy river and a state-of-the-art surf simulator. There's something for every taste at 21 gourmet restaurants, and an impressive array of entertainment for everyone, day or night. Find out more: beachesresorts.co.uk/
Price: Family Suite with kids room, £1366.57 per person. Based on October half-term dates
Private villas
If you want to stay clear from a crowded hotel, and want to unwind in your own private villa, we've got you covered. From farmhouses in Provence, with it's own pizza oven, to beach cottages located on Cape's West coast. Here are our top 10 pick of villas which will be perfect for a family retreat this October half-term.
More info: We particularly love the beach house in Queensland which is on a sheltered sandy cove which is only accessible by water taxi.
Price: £3,499 to £3,828 per week
European winter sun islands
If you want to escape the usual crowds you find in winter sun resorts but still want to keep that secluded island vibe, without leaving Europe, then look no further. Ibiza, the party capital, is home to pine forest-clad Portinatx. With coastal trails, ice cream aplenty, and snorkel trails, you'll welcome the peace and quiet with open arms. There is a water park attached to the Marconfort El Greco hotel.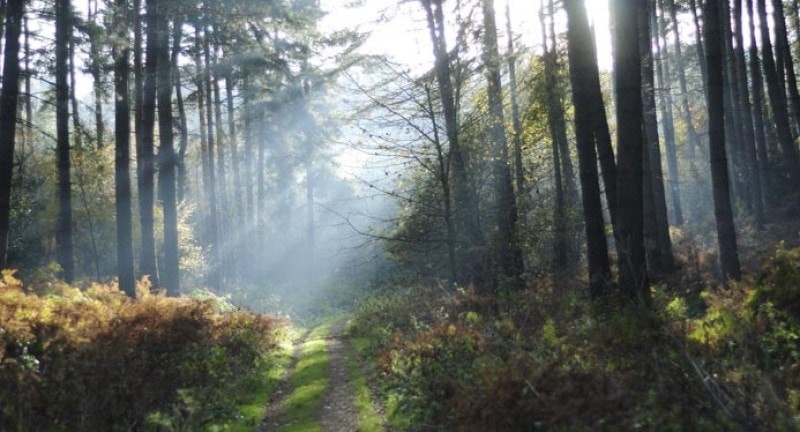 3/5

Active breaks
Best family adventure holidays
We bring you our roundup of the best adventure destinations out there that your tots and teens can get stuck in to, to help inspire. From UK holidays in Cornwall to European getaways and African ventures. Why don't you climb aboard a skippered yacht and spent eight days cruising the Bay of Naples? You'll be able to see the ruins of Pompeii as well as set your eyes on the limestone cliffs and pastel-tinted villages of the Amalfi Coast.
Climb aboard a skippered yacht and spend eight days cruising the Bay of Naples on this new trip from The Family Adventure Company. Highlights include Naples and the ruins of Pompeii, visits to the islands of Capri and Procida, as well as unforgettable sailing along the Amalfi Coast with its dramatic limestone cliffs and pastel-tinted villages. Throughout the trip, there are plenty of opportunities for shore excursions, swimming and snorkelling.  Find out more: adventurecompany.co.uk/family
Price: From £1,512 per adult and £1,361 per child (minimum age five), including international flights, seven nights aboard a skippered yacht, six breakfasts and five lunches, local tour leader, airport transfers, sightseeing and most activities.
Snow retreat
If taking a load off this half-term seems like your worst nightmare, then we bring you some of the best active escapes this October. If you're not quite up for travelling beyond Europe, then Norway's Oslo offers your teens unrivalled access to skiing, zip lining and luge tracks – that would make any winter Olympian jealous. Zip-lining down a ski jump isn't for the faint-hearted, but you would be able to feel the same rush as an Olympic ski jumper, visitoslo.com/en/
Price: The zip-line costs just over £55
Best wild camping spots in the UK
You need not travel far, as the UK contains an abundance of destinations that would make any adventure seeker happy. We've gathered the ten best camping spots in the UK, from the more advanced spots in Snowdonia to the Brecon Beacons. Our top pick is camping in the Sherwood Forest, as you will be able to get to the heart of nature with the Forestry Commission's courses in wild camping and bushcraft. To try your hand at building your own overnight shelter, visit forestry.gov.uk/sherwood-bushcraft

4/5

Cheap breaks
Family fun at Euro Camp
If you fancy a little more than a UK-based day trip this October, Euro Camp has the perfect solution, providing affordable week-long breaks in a variety of stunning European locations. Choose from either a two-bedroom, two-bathroom mobile home, or a two-bedroom, one-bathroom Espirit as the base for your European adventure. The park on the shores of Lake Garda, Italy, is the perfect destination to relax in the tranquillity of the lakeside beach – with swimming pools, lagoons and activities like cycling and canoeing, how can you say no.
More info: To see the list of all of the Euro Camp destinations, eurocamp.co.uk/
Price: For a 7-night family stay during October half-term, prices start at just £299
Seaside town treat
If you fancy an escape from the British weather this October, Vintage Travel has a wide choice of family-friendly villas available this half-term. Caso Olivio, a gorgeous two-bedroom cottage, sleeping four, near Conil de la Frontera, Costa de la Luz in Andalucía, Spain. The cottage itself has amazing facilities, with its own private pool, an enclosed garden and open and closed terraces, providing the optimum environment for a fun family holiday. Just a 10-minute drive from a plethora of sandy coves and beaches, the cottage is also close to Cadiz, Jerez and Seville which each provide ample activities for families. For an even easier, fuss-free experience, flights and car hire can be arranged by Vintage Travel on request.
Price: Starting from £395 for 7 nights starting on the 24th October
Quirky UK holiday stays
If you want to stay a little closer to home this October, fear not, because just a stone throw away you could be staying in yurts in the Lake District, treehouses in Snowdonia or even in a retro Airstream in Dorset. Our top picks are the yurts which are in a secluded area and do require a slight climb to reach them – we hear the view is worth the ascent. You'll be able to enjoy kayaking, wild swimming and walking among the beautiful wilderness. It's just under a five-hour drive.
Price: From £355 a night for a six-person yurt.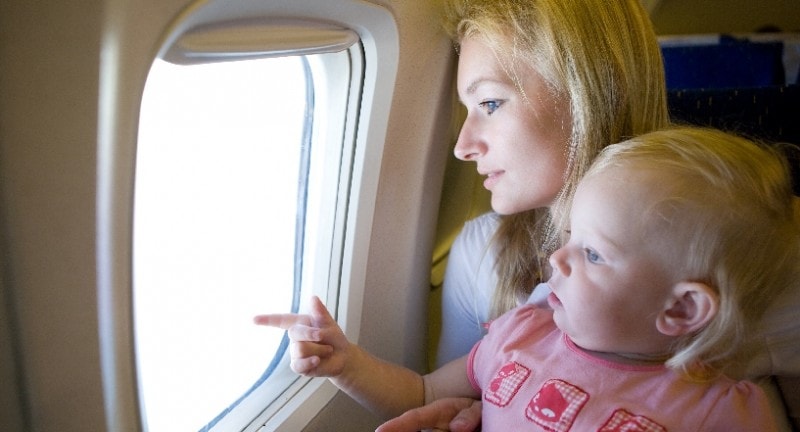 5/5

Breaks with babies
Club med for babies
In the Opio En Provence resort, just behind the city of Cannes, you'll get the chance to see the intimate side of Provence with it's olive groves and fragrant pine forests. With the Baby Club Med® (from 4-23 months) it's a gentle start for your little ones where they will be learning activities and motor skills with games and animation. You can rest easy knowing that everything is tailored to meet their needs with staying physical at Baby Gym as well as eating at the Baby Corner.
More info: You can perfect your serve on the tennis court or catch the bar on the flying trapeze under the expert tutelage of the Club Med team. With mild temperatures of 16 degrees celcius, you can always escape the small chance of rain in the wellness centre. clubmed.co.uk/cm
Price: Prices starting at £619 per person (including flights & transfers).
Baby-friendly cruises
You're not limited to exploring by just plane, bus or car. Cruises are one of the best ways to relax and delve in to the life of several cities – many cruise companies are now offering a baby friendly alternative, so you don't have to miss out on anything. P&O cruises, the Genoa to Venice route, offers a night nursery for children under five. Hapag-Lloyd cruises also offer children under the age of three a free baby welcome package.
More info: Baby monitors and 'portacribs', from Hapag-Lloyd cruises, can also be provided free of charge. Similarly babysitters can be booked as a special service. Find out more about Hapag-Lloyd cruises: hl-cruises.com/. Learn more about P&O cruises: pocruises.co.uk/.
Price: A seven-night fly-cruise, with P&O Cruises, from Genoa to Venice on Ventura costs from £1,399 per adult and £1,189 per child for four adults and two children in a family suite, including fights from Birmingham, London or Manchester. A seven-night sailing from Monte Carlo to Piraeus in the largest Veranda suite with a veranda, with divided living and sleeping area, costs start at £4,165 per person.
Luxury hotels
Having a young child as a travel companion should never be seen as a hindrance, especially in luxury terms. There are several hotels that cater for the needs of your little one, and our favourite is the Carlisle Bay Hotel in Antigua. The crèche is set within the hotel's tropical gardens and contains jungle gyms, paddling pools and tennis courts. Family suites have direct access to the beach. From 6-23 months there is a charge of just under £10 per hour.
Price: Prices available upon calling, 01279 639600