Sponsored Content
Active family holidays can still be luxurious in the extreme, if you know where to go.
With over thirty years' experience taking families on holidays all over the globe, Elegant Resorts know exactly which luxury resorts will satisfy your desire for adventure, soothe your soul, and indulge you completely in the downtime.
They handpick every resort personally, test the family-friendly atmosphere carefully, and pay attention to the details like amazing kids clubs, great pools, and thoroughly gorgeous locations.
So if plan to make your next holiday the most exciting ever, have a look at six Elegant Resorts where they simply don't know the meaning of inactive.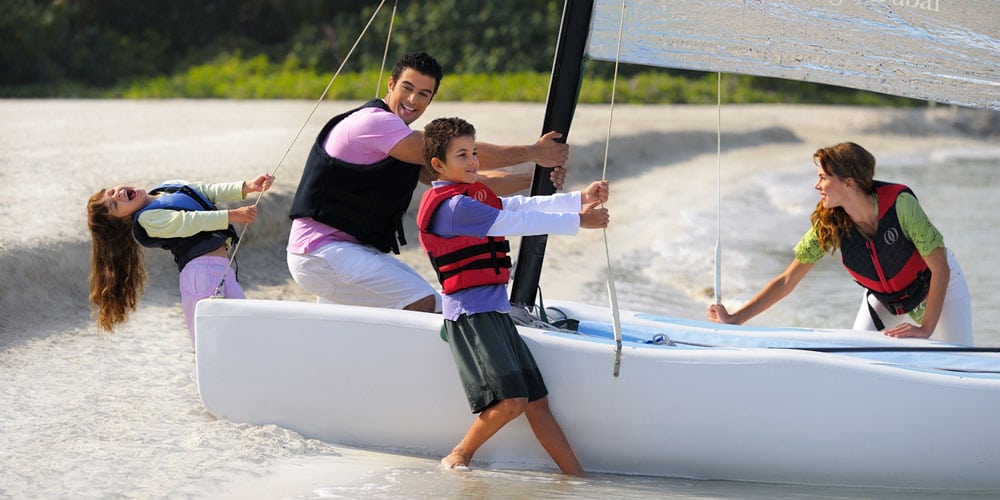 1/6
One & Only Royal Mirage, Dubai
Surrounded by 65 acres of lush, landscaped gardens, One & Only Royal Mirage is more like a grand Arabian palace than a luxury family resort. But, it's actually minutes from glamorous Dubai Marina, beachfront on Palm Island Bay, and sits right at the heart of the city's most playful and energetic districts.
Which makes it a perfect base for urban excitement in one of the world's most thrilling cities, and ideal for escaping to the desert for days – or nights – of entirely different adventuring.
Whether kids are up for hours of water sports on the Arabian Gulf, interested in aquariums, excited by theme parks and waterparks, or delighted at the idea of falconry, camel trekking or camping like Bedouins, Dubai delivers. And when you need to catch a breath, Royal Mirage takes care of that with creative kids clubs, luxurious spas, gorgeous pools and endless pampering.
The lowdown
Five star luxury resort with private beach, overlooking Palm Jumeirah.
Choice of spacious family rooms, suites, and interconnecting rooms.
Imaginative KidsOnly children's club for four to 12 year olds.
Programme of days out, desert adventures, cultural experiences.
One & Only Spa and traditional hammam.
Four pools; water sports; private beach club.
Aquaventure, Dubai's largest waterpark, is minutes away at Atlantis the Palm, which is also home to the astonishing Lost Chambers Aquarium, resident dolphin pod, and a sea lion colony.
Five nights in an Arabian Court Deluxe Room at One & Only Royal Mirage, from £5990 per family of three.
Learn more about active family holidays at One & Only Royal Mirage with Elegant Resorts.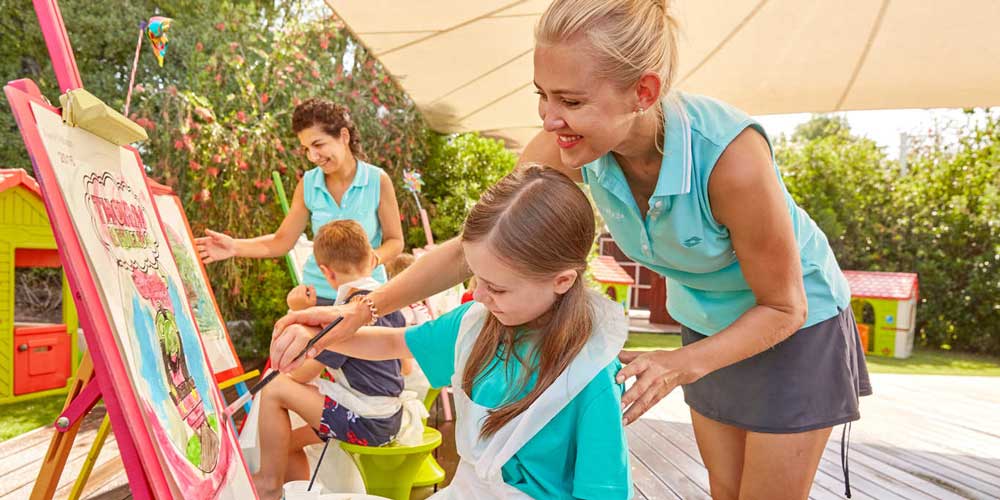 2/6
Forte Village, Sardinia
If the idea of no less than 13 sports academies, coaching with world-class athletes, and an entire kids mini-village, simply called Wonderland, isn't persuasive enough; perhaps the fact that Forte Village has been voted 'World's Leading Resort' for 17 consecutive years can tempt you to the sunny south coast of Sardinia to test run the award-winning family holiday legend for yourself.
It's like a resort designed by kids for kids. Although glorious spas and gourmet restaurants have plenty of grown-up appeal, and teens love cool U-Club; whether they're just hanging out or skill-building with make-up artists and resident DJs. Fun go-karting, swimming pools, beach games and brilliant water sports get everyone's approval. And of course, there's the whole of spectacular southern Sardinia to explore, if you've a moment to spare.
The lowdown
Five star luxury resort, beachfront on the south coast of Sardinia.
Choice of luxurious, family bungalows with private gardens.
13 sports academies, led by professional athletes.
Children's Wonderland mini-village, Barbie Activity Centre, and Wonderlab.
Aquaforte Thalassotherapy & Spa; Ayurvedic Park.
Land sports; family cycling; water sports; go-kart track; kids pools.
21 restaurants and 14 bars; beach bars; beach concierges.
Seven nights in a Deluxe Bungalow at Forte Bouganville, including breakfast, from £7330 per family of three.
Learn more about active family holidays at Forte Village with Elegant Resorts.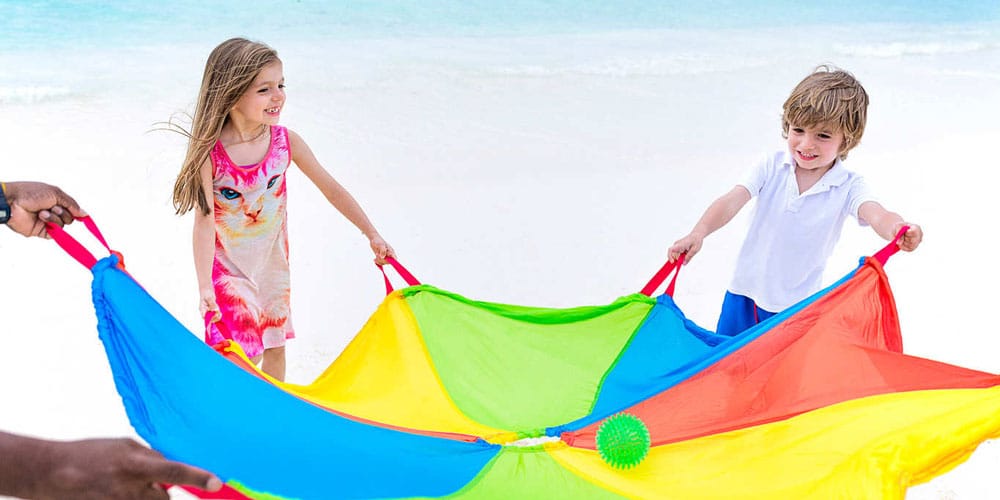 3/6
Niyama Private Islands, Maldives
Innovation is a signature in the Maldives, but few resorts are quite as exciting and imaginative as Niyama: two exquisite Indian Ocean islands, separated by a slim sliver of sea; each with a unique personality, and altogether, an unforgettable family holiday.
Chill is the island of calm and cool tranquillity, perfect for escapists, and time off parenting duty while kids are having fun on Play: the active island with children's clubs, splash-perfect pools, ice-cream bars, treetop aerial adventures, and masses of beachy excitement. The micro-island of Float is water sports' heaven for energetic teens to try jet-skiing, sailing, wakeboarding or tubing; before heading to Kasabu for serious surfing.
The lowdown
Five star luxury resort, across two neighbouring islands in Dhaalu Atoll.
Choice of beach villas or pool villas, beach studios and family suites.
Globetrotters creche for babies and toddlers from 12 months to three years.
Adventurers, Voyagers and Pioneers Kids Clubs for three to 12 years.
24-hour Drift Spa, with family spa treats.
Eight restaurants including treetop, Nest, and underwater, Subsix.
Float water sports island with PADI dive school; Kasabu Surf Point.
Marine Life Centre; ACTIVE game zone.
Seven nights in a Beach Studio at Niyama Private Islands, from £7160 per family of three.
Learn more about active family holidays at Niyama Private Islands with Elegant Resorts.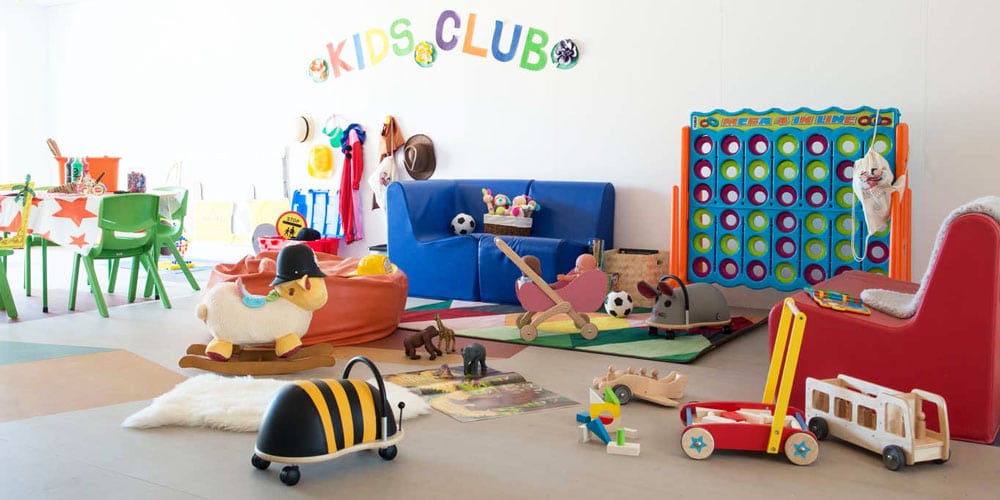 4/6
Anantara Vilamoura, Algarve
Anantara Vilamoura is the luxury golf resort where non-golfing kids love holidays almost as much as the family's most passionate players.
Football and dance academies, Adventurers Kids Clubs, The Hub for over 12s; plus innovative creches for babies and toddlers, are all designed and managed by Worldwide Kids here. It's the only resort in the region with childcare for kids from four months to 18 years, and one of the very few to welcome teenagers at its outstanding golf clinic.
Legendary Atlantic beaches nearby are some of the best in Europe for surf schools, as well as just about every other water sport. And splashing about closer to home is actively encouraged too, with an entire pool dedicated to kids being kids.
The lowdown
Five star luxury golf resort, minutes from Central Algarve coast.
18-hole Victoria Course designed by Arnold Palmer: over 10 championship courses with a 20km radius of resort.
Worldwide Kids Football and Dance Academies; Golf Clinic for teen players.
Worldwide Kids creche and kids clubs for ages four months to 18 years.
Tennis, Tai Chi, yoga, fitness centre, and Anantara Spa.
Five restaurants, all with kid-friendly menus.
A short drive from chic Vilamoura Marina, Praia da Falésia, Praia de Vilamoura, and water sport packed Fishermen Beach in lively Albufeira.
Seven nights in a Deluxe Garden View Room at Anantara Vilamoura, including breakfast, from £5160 per family of three.
Learn more about active family holidays at Anantara Vilamoura with Elegant Resorts.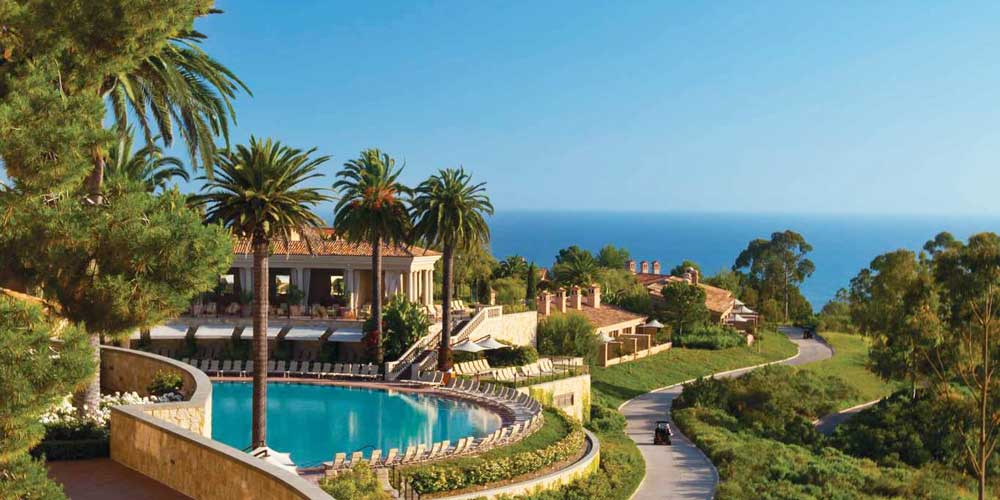 5/6
The Resort at Pelican Hill, Newport Beach, California
With Laguna beach as a near neighbour and Santa Catalina Island just across the bay, The Resort at Pelican Hill couldn't be anything but outdoorsy and fantastic fun for kids, surf-loving teens, and peace-seeking parents.
California's iconic coastline is a natural playground, and the resort takes full advantage of it. Camp Pelican is made for energetic four to 12 year olds and, on top of amazing activities all day, even has regular movie nights; so grown-ups get time off to chill. Surf camps and water sports are laid on for over 12s, and the Camp Pelican Clubhouse is one of the coolest kids hang-out zone on this stretch of the Pacific.
Families are Pelican Hill's main focus, and together time here has the potential for everything from cycling and sailing, trekking the countryside, exploring cute seaside towns, or just seeing what happens on any one of the eight iconic beaches within minutes of the resort.
The lowdown
Relaxed luxury resort, oceanfront on California's Newport Coast.
Luxurious, individually designed family bungalows with ocean or garden views.
Camp Pelican for four to 12 year olds.
Camp Pelican Clubhouse; surf camp; water sports; swimming pool.
Six restaurants and cafés; Kid's Night Out children's dining.
22-treatment room Spa at Pelican Hill; 36-hole Pelican Championship Golf Course.
Laguna Beach and Crystal Cove are within easy reach of the resort. Long Beach, Santa Monica, and downtown LA are less than an hour's drive west.
Seven nights in a Garden View Bungalow at The Resort at Pelican Hill, from £6990 per family of three.
Learn more about active family holidays at The Resort at Pelican Hill with Elegant Resorts.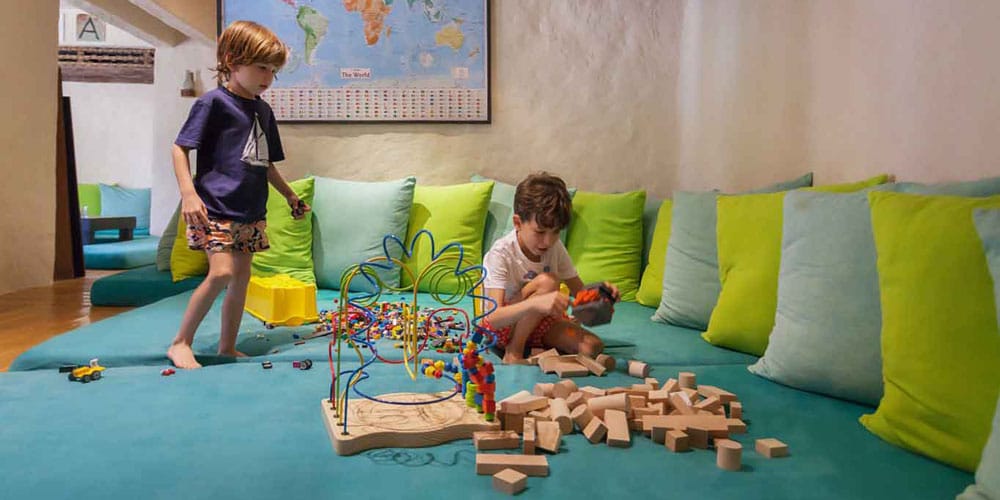 6/6
Six Senses Zighy Bay, Oman
Set on the wildly beautiful Musandam Peninsula in northern Oman, Six Senses Zighy Bay is a fabulous family retreat; luxurious to the point of indulgent, ridiculously good fun for kids, and a unique experience for adventurous teens.
Enormous cliffs dropping sheer into the Arabian Gulf, soaring mountains in every direction, all viewed from a captivating resort designed as a charming, traditional village – only opulent in the extreme – make for unforgettable holidays. Add in wonderful water sports, days out hiking and walking; tours of local towns and villages, dolphin-watching cruises, and superb kids clubs, and it's easy to see why families come back here time and time again.
The lowdown
Luxurious family resort, overlooking Arabian Gulf on the Musandam Peninsula.
Beautifully designed family villas with private pools and courtyards.
Chaica's Club for four to 10 year olds.
Teen Club and outdoor activity programme.
Private beach; swimming pool; Six Senses Spa; outdoor cinema.
Six restaurants and bars, cooking classes, and cultural experiences.
The surrounding area is famous for mountain biking, walking, trekking, climbing and sailing. Dubai is just over two hours from Zighy Bay, and RAK is a little over an hour away.
Seven nights in a Pool Villa at Six Senses Zighy Bay, from £5060 per family of five.
Learn more about active family holidays at Six Senses Zighy Bay with Elegant Resorts.
What says active adventure to your family? Call Elegant Resorts on 01224 897 396, speak to one of their expert travel consultants, describe the holiday you have in mind, and let them find it for you.