1/5  

Get arty in Majorca

To immerse the kids in a world of Majorcan art and culture, take them to Belmond La Residencia, a beautiful boutique hotel on Majorca's peaceful north-west coast.

The hotel is situated in the charming coastal and mountain village of Deià, which was once home to English poet Robert Graves and still attracts and inspires many artists and writers. On the grounds you'll find Spain's largest sculpture gardens, while in the recently renovated kids' club, younger guests can take an art or pottery workshop, cook with chef Guillermo, or take a tour with Alba the donkey.
Discover more
For mums and dads, there's an opportunity to explore the region's cultural treasures by Vespa, hike in the hills, or simply let the hotel pack a picnic on one of its resident donkeys, amble up into the ancient terraces and enjoy a Majorcan feast with an unforgettable view. The little village is blissfully tranquil, but just a 40 minute drive away is the island's bustling capital city, Palma.
Getting there: Majorca is less than three hours by plane from London, and easily accessible from Madrid and Barcelona. Palma International Airport is a 45-minute drive from Belmond La Residencia.
Price: Seven nights cost from £5,590 for a family of four, including breakfast, flights and transfers, with Tots Too.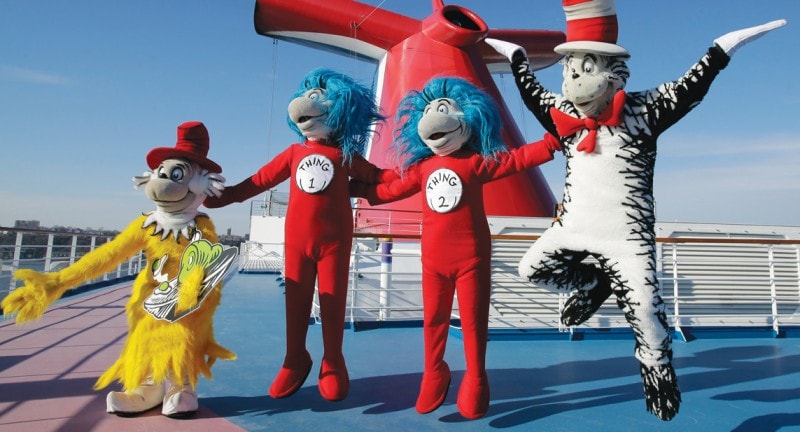 2/5

 Take a cruise with Dr Seuss

If your kids are fans of the wonderful, whimsical world of Dr Seuss, they'll love a holiday aboard Carnival Cruise Lines'new Fun Ships in the sunny Caribbean.

With Carnival's latest offering, Seuss At Sea, the whole family can still enjoy all the activities of a classic Carnival Cruise, but the little ones – particularly kids aged 2-5 – will also enjoy a brand new experience as the magic of Dr Seuss comes to life around them.
Bringing books to life
Pack your imagination, but don't forget your appetite. The fun starts with a Green Eggs and Ham breakfast that's part meal, and part journey into the deliciously whacky world of Dr. Seuss. The whole family is invited and beloved characters such as Thing One and Thing Two and Sam-I-Am will be your enthusiastic dining companions.
Kids will lose themselves exploring the delicious menu, featuring brightly coloured fruit, gravity-defying pancake stacks, blue yogurt and of course – green eggs and ham. (Don't worry, more traditional breakfasts are also available). After the feast, there's Seuss-a-Palooza interactive story time to enjoy, as well as a crazy Character Parade and Dive-In Movie screening of The Cat in the Hat.
Price: A seven-night fly/cruise on board Carnival Sunshine costs from £4,599 for a family of four, including flights.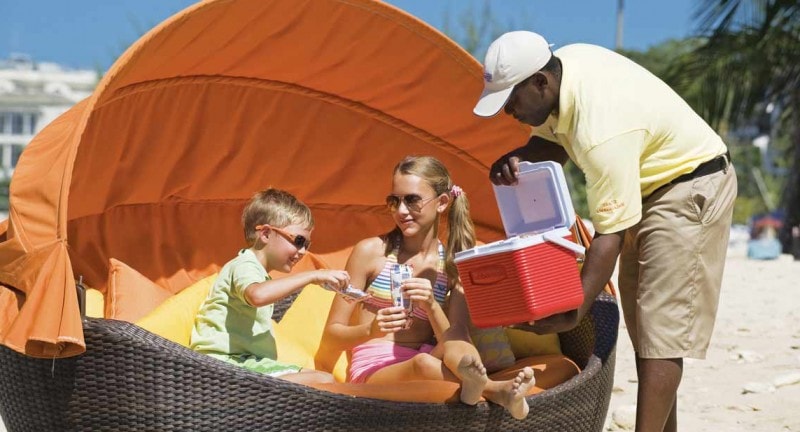 3/5

  Treat the kids to VIP holiday

The 30-bedroom Domaine de Manville looks like a rambling old farmhouse from the outside, but it's a five-star palace that oozes Provençal charm on the inside. It's a 45-minute drive from Marseilles in the Alpilles Natural Regional Park. There's a free kids' club and a bijou spa for parents. Other highlights include a private cinema, golf course, yoga and electric mountain bikes.

Price: A junior suite costs from £427 a night, including breakfast.
Teen adventures in Barbados
Elegant Hotels Barbados has launched an exciting kids' activity programme for 10–16-year-olds that includes horse riding, swimming with turtles and submarine tours to the seabed, with or without parents in tow. The Bajan Family Adventure Camp is available at Turtle Beach, Tamarind, Crystal Cove and Colony Club from £60 per day. With Virgin Holidays, seven nights at Turtle
Price: Beach cost from £1,545 per person, all-inclusive, including flights.
Concierge for kids
The Grand Hôtel de Bordeaux and Spa in south-west France has introduced a concierge service for children. Sixteen new suites have larger and lighter spaces for families and come equipped with kids' slippers, dressing gowns and bath goodies. The concierge can arrange treasure hunts, family vineyard tours, boat trips and personal shopping at the Bonpoint children's boutique. 
Price: Family packages start from £564 for a family of four.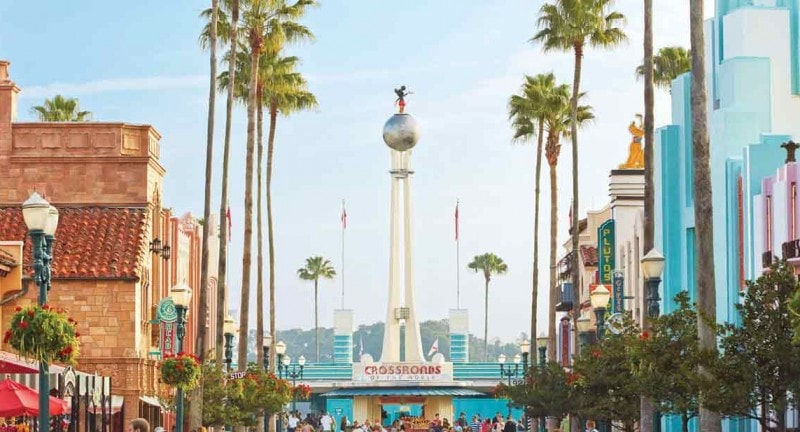 4/5

 Discover what's new in Florida

The fabulous Four Seasons has opened its first hotel at Walt Disney World Resort in Orlando. With views of the Magic Kingdom fireworks and character breakfasts, kids will love it, while parents will appreciate the ease of getting to the park. The hotel also has a complimentary kids' camp, giving parents the chance to head off to the golf course or tennis courts or enjoy a treatment in the spa.

Price: Seven nights cost from £1,824.60 for a family of four.
TOP TIP: BOOK YOUR DISNEY HOLIDAY WITH ABERCROMBIE & KENT AND YOUR KIDS COULD TAKE PART IN THE FAMOUS PARADE.
Fly Norwegian to Fort Lauderdale
Norwegian airline now flies from Gatwick to Fort Lauderdale in Florida, where you'll discover white-sand beaches, enjoy airboat rides and meet alligators in the Everglades. Families can explore peaceful mangrove-fringed waterways by kayak at West Lake Park, or go paddle boarding in the marina. And don't miss out on the free surf lessons at Deerfield Beach.
Price: Flights start at £179 one way
Top tip: Gatwick Airport now provides free plane-to-baggage reclaim pushchairs for infants and toddlers.

5/5

 Sail away on a Turkish sailboat

There's no finer way to escape the crowds than by taking a holiday on a traditional Turkish sailboat (gulet). The Ecce Navigo is an exquisite, five-cabin gulet that sails the Lycian coastline, which is dotted with twisted pine trees and gnarled olive groves. The calm turquoise waters are ideal for young children to swim in, and everyone can enjoy some gentle kayaking, or the more sporty can opt for water skiing and boarding.
All aboard
The Ecce Navigo comes complete with an experience crew of six, who are guaranteed to give you a warm welcome while respecting your privacy. The onboard chef caters for all tastes, from simple pasta dishes to sublime delicacies such as aromatic lamb chops.
Price: Unfortunately such luxury comes with a price tag to match – a whopping £25,000 per week for a family of four.