Sponsored Content
2017's shaping up to be a vintage year for family adventure holidays. It's not even January and bold ideas are already taking shape from Caribbean voyages to Western Cape safaris, Borneo jungle treks and South Pacific whale spotting tours.
Turns out next year is the one where road trips round New Zealand and across Australia are easier than ever. And if you thought anything from rainforest to desert was off-limits for kids, take a look at what Turquoise Holidays have in mind for young travellers over the next twelve months.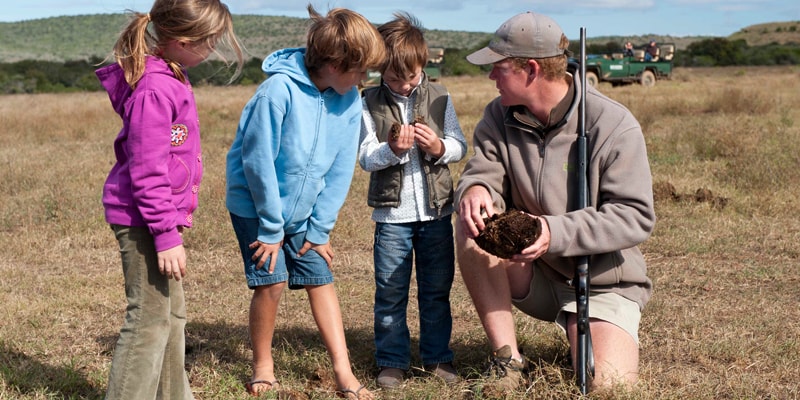 1/10  

Kids love poo-tracking on a South African safari
It's not every day your kids are invited to hunker down, pick up poo and have a sniff – unless, of course they're in South Africa. Animal poo-tracking's perfectly normal here. As normal as breaching whales along the coast, penguins on the beach, white rhino running wild, giraffes before breakfast and big-five jeep safaris.
Wide-eyed with awe is a default position anywhere in South Africa. But nowhere pulls everything together and does unforgettable better than the mesmerising Western Cape. Here, once kids get the hang of basic bush craft (that's poo to you), they can move on to ranger-training days on game reserves, dolphin spotting, mountain trekking and ticking beasts like lion, leopard, elephant and buffalo off their long and crowded must-see list. Even downtime in Western Cape manages to sneak in learning disguised as fun and turn anything from bread-making to traditional African storytelling into an adventure.
Wild and wonderful as it is, Western Cape's also the most visited South African province and one of the world's safest, most accessible and luxurious family safari destinations. But don't think tame: the animals are wild, the raw landscape's breathtakingly grand and even poo-tracking's the genuine article. Just think: authentic safari with stunning places to stay, incredible food, fabulous cities and legendary scenic drives on excellent roads.

2/10

 Go sailing round the British Virgin Islands
If the thought of sailing on crystal clear waters and dropping anchor at castaway islands is enough to make you misty-eyed with longing, it's time you voyaged in the direction of the British Virgin Islands.
This paradise Caribbean archipelago is tucked off the east coast of Puerto Rico and only fifteen of the sixty islands are inhabited. The BVIs (as they're known) are low-key, prefer to be discovered rather than invaded and don't really go in for tourism. Nature does the work here and, judging by the coral reefs, swathes of white sand, remarkable rock formations, tropical forests and soaring mountains, she's making a fine job of it so far. Towns are tiny, museums live in houses and the best restaurants are laid-back and beachside.
The BVIs are also one of the world's best loved sailing destinations, keeper of several celebrated dive sites, top location for whale and dolphin watching, snorkelling heaven and blessed by tropical year-round temperatures of 29˚C tempered by cooling trade winds. Which makes them altogether perfect for a few days island hopping with your water babies. All you need is a private yacht, expert crew, a spirit of adventure and some deserted isles to explore and that's easy enough to arrange in the BVIs.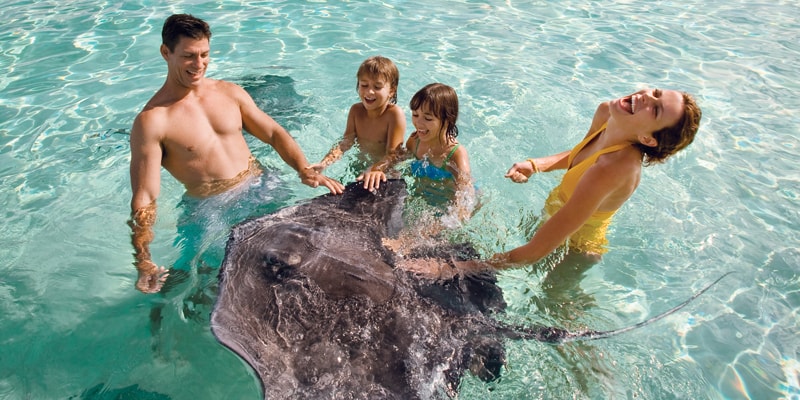 3/10  

Meet stingrays and dolphins on kid-perfect Laamu
Maldives' atolls are little dots of Indian Ocean paradise and if you're looking for a beach holiday surrounded by flawless in every direction, they're incapable of disappointing. But is it possible to have that type of perfection and a magical island adventure for kids too?
If it isn't, then Six Senses Laamu have achieved the impossible. Without diminishing any of the idyllic atoll charms, the resort's managed to weave wonderful kids clubs, fun water sports and brilliant beach games into the mix too. If that isn't quite wild enough, there are dolphin cruises, daily sting ray encounters (safer than they sound) and professional diving lessons for little fish as young as six.
No holiday in the Maldives is ever a bargain but Six Senses' invite two under 12s, sharing with parents, to stay free of charge. And there's a choice of villas from studio to two bedroom, several with private pools and all within easy reach of the resort's child-size activities.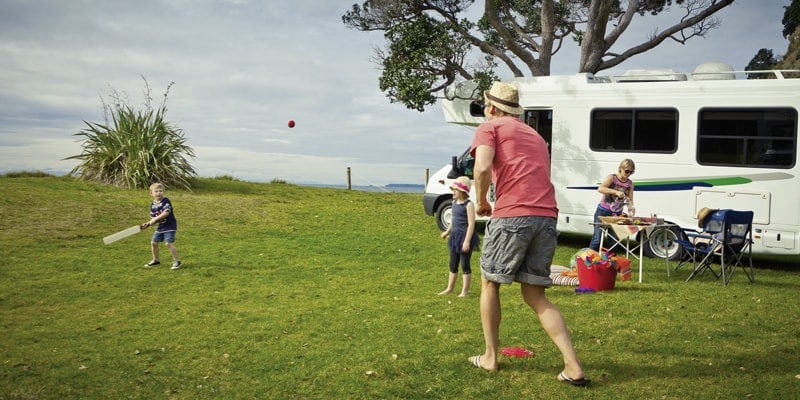 4/10  

New Zealand's ultimate family road-trip
If you had to pick your perfect family road-trip there's a high chance it would include an all-singing-all-dancing campervan, some of earth's best scenery, a fair smattering of coastline and a big, long list of unforgettable experiences to work your way through.
Welcome to New Zealand North Island: small enough to lazily meander round by road but packed with a world's worth of amazing wonders and plenty of pretty places to pull in, stop and go adventuring.
Visit Kaikoura on the east coast. Famous for beaches and breaching sperm whales, this is the place to catch a boat for dolphin spotting or take kids on a captivating Maori Tour.
Abel Tasman National Park and the rugged west coast has everything from sailing and swimming to glacier climbing, rainforest trekking and caving in glow-worm filled caverns.
And if you wend your way north, through water sport heaven Wanaka, you'll come to Queenstown. This is the heartland of Pinot Noir, mighty lakes, rolling vineyards and a mountain range they simply call, 'Remarkable'.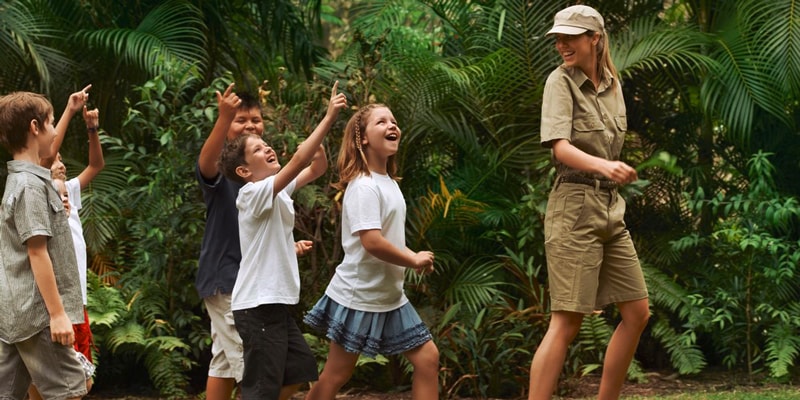 5/10  

Conquer Australia with your bush babies
Start with a sail round the world's most famous urban harbour and end up zipping through a dense, lush rainforest. Add in a massive coral reef, sub-tropical cities, the ancient art of earth's oldest living culture and then get up close and personal with wildest, wild beasts again and again and again. You really couldn't be anywhere else but the one and only, vast, astonishing and completely original Australia.
The world's sixth largest country with a population a third of the size of the UK is more manageable than you think with the right plan: once in a lifetime, filled with excitement, no shortage of travel, drenched in experiences and organised beautifully into an all-round adventure.
The kids get to see Sydney, surf on Bondi, visit the zoo and hang-out at fabulous Luna Park. You can all claim the Northern Territory by campervan – or at least two of its enormous national parks, Kakadu and Katherine. There's a wilderness safari in Mary River Wetlands and an overnight in sub-tropical Darwin. And if the crocodiles and buffalo and billabongs and desert don't satisfy, you still have Queensland, the Great Barrier Reef and Daintree Rainforest to look forward to.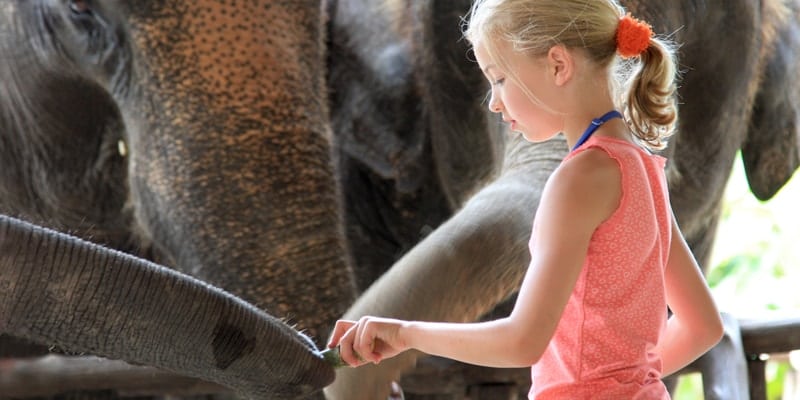 6/10  

Elephants, monkeys, gibbons and beaches in Thailand
It's hard to imagine kids loving anything better than two sunny weeks on a beach. Unless it's elephants, monkeys, rainforest safaris and even more big, beautiful beaches. Thailand does all that effortlessly, fits everything into a single holiday and still manages to leave families wide-eyed with wonder on an almost minute-by-minute basis.
Take five days by the Andoman Sea in Phuket, enjoy the peace and give kids the run of everything from water sports to wild jungle quad biking. All great fun, but nothing compared to what's in store at Khao Sok National Park. This is the land of the giants for closer than close encounters with elephants, canoeing on the enormous Sok River, wildlife safaris and camping under the stars in the company of gibbons.
And when you're done with the wilderness, head to Krabi and wind down, or not. Thailand's beach capital more than lives up to its colourful reputation, does tucked-away coves and gentle lagoons, throws in a scattering of iconic limestone karsts for good measure and is just about the perfect way to end the most wonderful two weeks ever.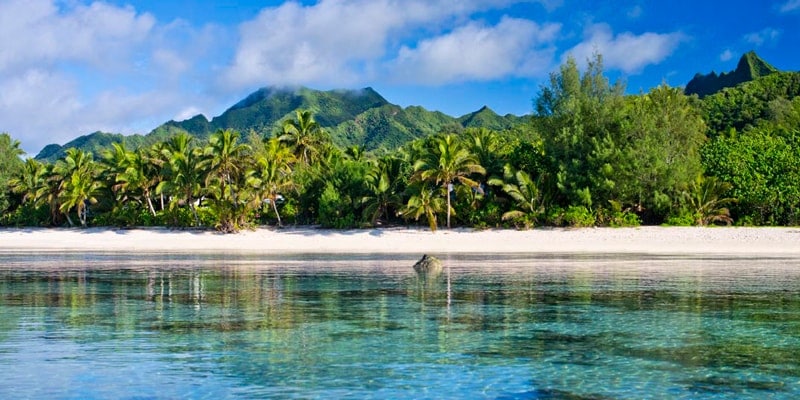 7/10  

Whale loving kids will adore the Cook Islands
The Cook Islands don't really do seasons. Just one of the many advantages of floating in the South Pacific where tropical and sunny is the default and temperatures seldom drop below 26˚C – safe to say there's not much of a market for knitwear in this part of the world.
The beachy and beautiful Cooks are more of a barefoot, shorts and tees kind of place which makes them pretty much perfect for a family holiday all-year round. Lush, volcanic mountains, palm trimmed sands and bluest seas are the main visitor attraction here. There's a notable lack of traffic, very little tourism and when the islanders build, they build low and lovely, leaving the impossibly gorgeous, natural skyline completely undisturbed.
If all that won't tempt you, visit between July and October when Humpback Whales glide into the neighbourhood, take up residence in the reefs and, every now and again, appear just offshore. While you're waiting for that rare occurrence, the island's Whale Watching Tours are a wonderful distraction and almost always guarantee sightings. Marine behemoths and instant-gratification, what more could kids want?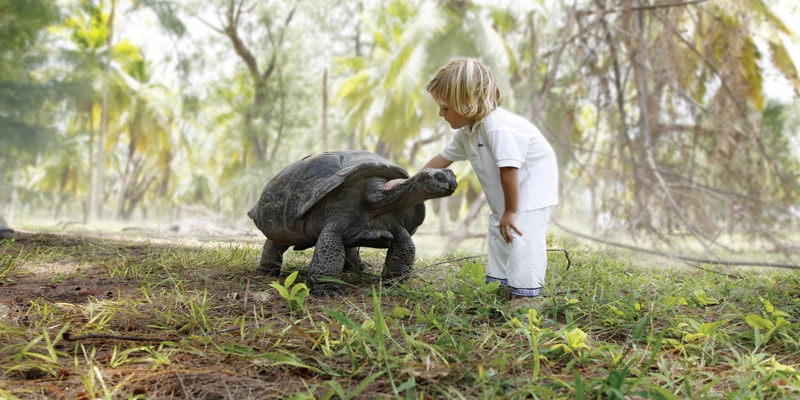 8/10  

Make friends with giant turtles in the beachy Seychelles
Few places in the world are as well protected as the enchanting Seychelles. Only three islands in the archipelago are inhabited and just one could even vaguely be described as bustling. Beaches are king here and regularly top lists for everything from 'most photographed' to simply, 'world's loveliest'. And the reputation for hushed, celebrity retreats and super-yachting is barely worth repeating.
Why would you even consider a family holiday somewhere this rarefied? Because the Seychelles aren't rarefied at all. They're astonishingly exciting, something's always happening and… giant tortoise live here!
Praslin's home to Vallée de Mai, a World Heritage site and earth's only primeval forest packed with giant Coco de Mer trees. Dolphins are daily visitors to almost every coast. Kids can learn anything from scuba diving to deeply satisfying snorkelling. And there's even an island where the preferred mode of transport is oxen drawn carts – or bikes, if you must.
So the only real question about a family holiday in the Seychelles should be: when's good to go?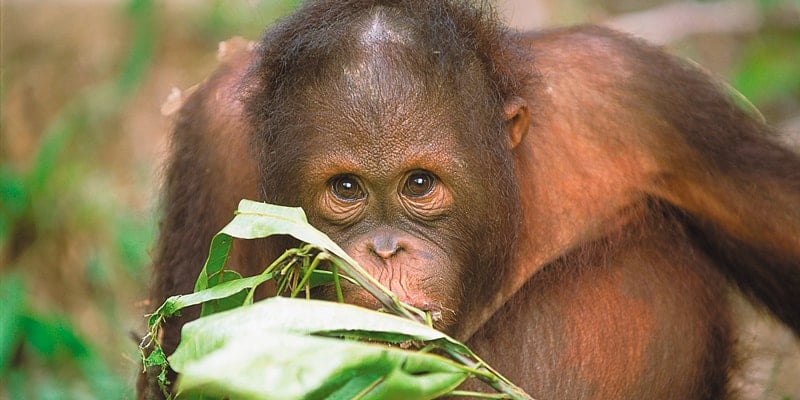 9/10

 Swing in to meet Orang-Utan in the wilds of Borneo
Why do they call Orang-Utan, 'old men of the forest'? Are the world's tallest twin towers really in Kuala Lumpur? Where's Borneo? There's no doubt Malaysia and its slice of Borneo is a bit of a mystery. Which only makes the mix of enormous cities, untamed jungle and lovely little islands, dense forest and huge stretches of lush wilderness all the more exciting.
If the kids are old enough to be curious, this adventure will thrill them like nothing else. Doleful orang-utan are just one of the many creatures to see in Borneo's rainforest – if they can tear themselves away from swimming in waterfalls, trekking Mount Kinabulu's foothills and trying to identify a million different wild hoots and hollers.
Kuala Lumpur's a holiday in itself: one minute shiny and new, the next more ancient than any child could possibly imagine. There are paradise islands to hop round, beaches to play on and something new to discover every minute – whether it's scuba diving at a luxury resort or basic survival in the middle of nowhere.
You'll never be able to untangle the intrigue from a distance. Better to go and let kids work it out for themselves.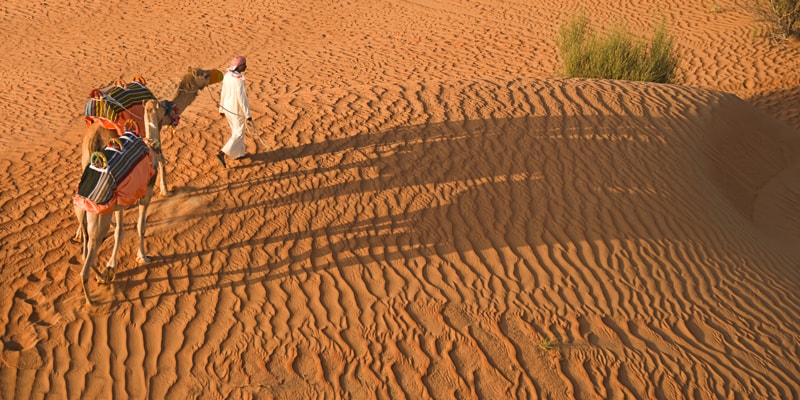 10/10

 Bigger, taller, wider Dubai is the perfect kid-size holiday
There are times when it's difficult to believe Dubai wasn't designed by kids. It's the emirate of outsize with the world's tallest everything from towers to hotels. Shopping malls look like small towns, indoor ski slopes are Matterhorn proportions and even the man-made islands are so vast, Dubai's legendary skyline is a dot in the distance.
But for all the enormous waterparks and theme parks, race tracks and beaches, nothing diminishes the immense desert which still conspires to be the biggest thrill of all. So whether you're travelling with mini white-knuckle ride fanatics, teenage shoppers, wannabe scuba divers or born Bedouins, Dubai is incapable of disappointing.
Visit from October to April and the weather's fantastic: just hot enough to warm the Arabian Gulf, plenty of sun in brilliant blue skies and more than bearable temperatures for desert exploring. Summer's more of a challenge with highs of 40˚C, a little too hot for conquering the dunes but great for Dubai's wonderful water sports, once you get used to it.