Cass Farrar and her family head to Nosara Beach for some winter sun and find soft-sand beaches, hip foodie hangouts, surf schools, yoga classes and an ubiquitous sense of tranquility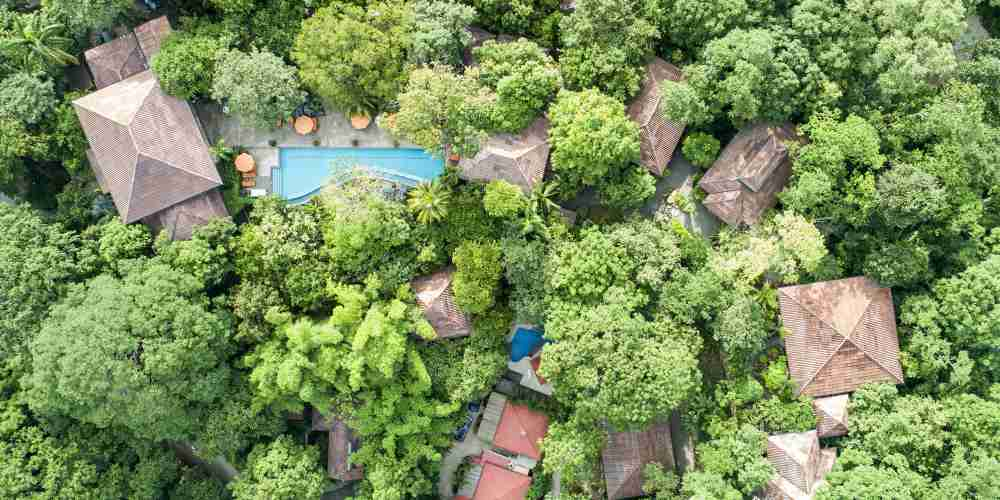 Despite having dirt tracks for roads and very little 'proper' infrastructure, Nosara Beach is about as hip a beach hangout as one can find and it was here that we fled as a family to escape another English winter.
On the western edge of Costa Rica's peninsula, Nosara is an area that has seen a huge resurgence in popularity in recent years and with good reason. First, it's out-of-this world beautiful. The beaches are made of powdery soft sand, azure water and palm trees with no backdrop of beach houses, because no one is allowed to build into the mangroves that fringe the sand.
The main drag of the beach is a smattering of yoga studios, super-relaxed (and usually organic) eateries and independent boutique hotels that flirt from behind a small wall. Everything and everyone is very understated and, because it isn't that easy to reach, it isn't overrun with tourists. It's loved by those in the know and adored for its quality surf, so there's a lot of cool (and also rather hot) surfers hanging about. If you can face the bumpy journey down from either Liberia or San José airports, you'll never want to leave.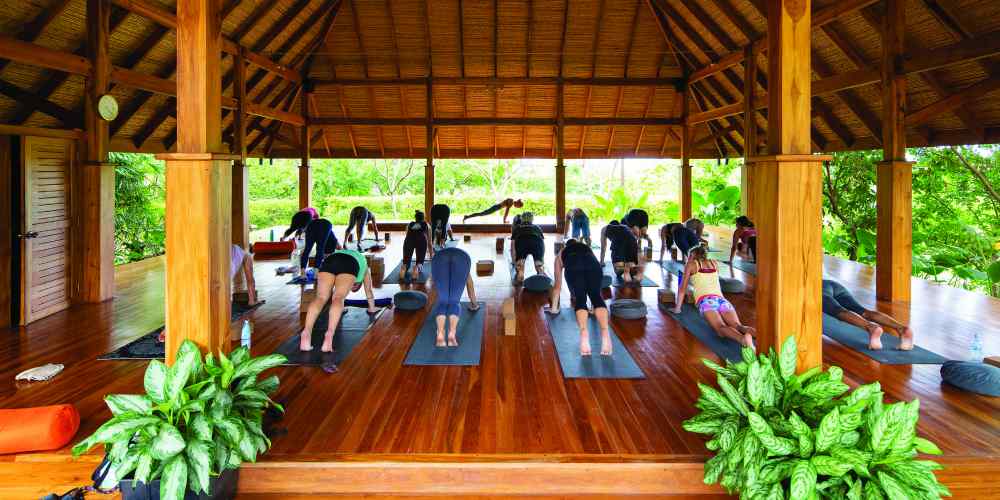 Much to my surprise on my visit with husband and two daughters in tow, it's very family friendly. You're in jungle surroundings, so there are bugs and it is hot – very hot – but there are endless amazing activities for little ones, all overseen by resident professionals, the locals adore children and we didn't enter a juice bar or a hotel, a restaurant or even a yoga studio that didn't welcome my two- and seven-year-old. My eldest declared it her 'very favourite holiday ever'.
We ended up staying in a lovely rented house. With its open windows and jungle surroundings, it was a little like staying in a very smart treehouse, but had we stayed in a hotel it would definitely have been the Harmony, where we hung out nearly every day. On the beachside of the town's main road, the pool-edged rooms, juice bar, restaurant and spa area all lead to a beautiful area of beach just a short walk through mangroves.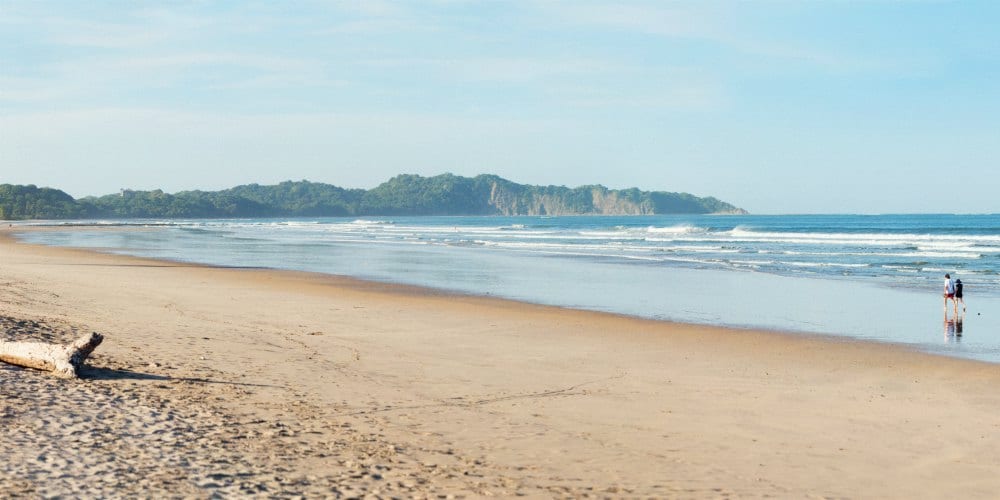 The beach itself has a wide swathe of shallow surf, so it's ideal for toddlers who can splash about, and if you go down at low tide you'll find wonderful rock pools in which to play and explore the morning away.
If you have children keen to get out on the water, Nosara is particularly well known for its surf schools and there are two that are revered for those with budding surfers.
Safari Surf School does day camps (both half and full day) and Coconut Harry's is particularly popular for those wanting individual lessons. They're offered to all ages, so you can learn with your children if you're so inclined. Safari Surf School also offers beach football, beach volleyball, crabbing sessions and sandcastle competitions to name a few of their activities, so it's a day camp and surf school wrapped up in one.
The whole area is very eco-friendly, and focused on sustainability and environmental protection, so everything is aimed at learning about the environment and protecting it. Nosara Day Camp is another popular option and focuses on preservation no matter what the activity.
We heard endless tales of places to go zip-lining in the centre of Costa Rica, areas east of us where whole communities of sloths could be found and ancient ruins to the north of us, but we weren't there long enough to start travelling around and, with a two-year old, we weren't all that inclined. We didn't feel we were missing out, so rich is the abundance of wildlife in and around Nosara.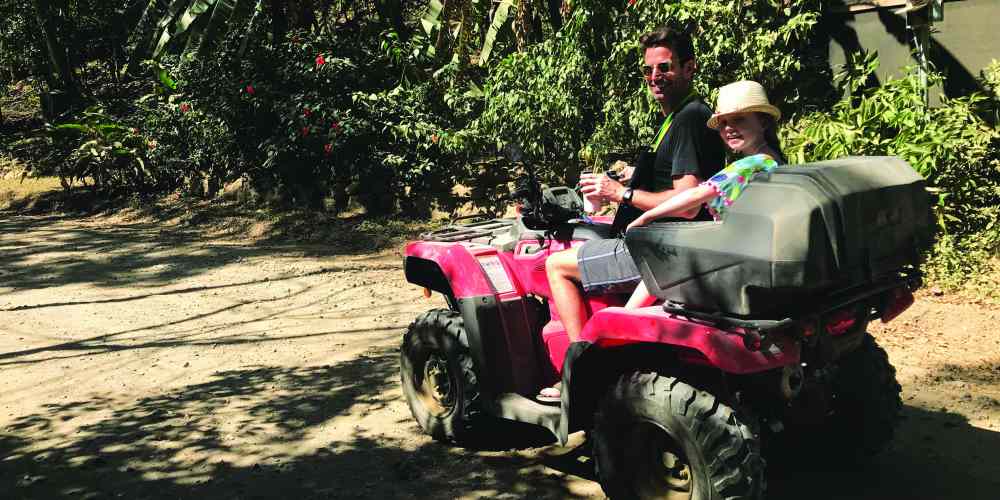 For kids aged five and above, Nosara Refuge for Wildlife is a magical place to while a way a day with monkeys in their natural habitat, many of whom have been rescued. Kids get to meet the wildlife up close and personal, and volunteers explain everything kids might care to know about the jungle. Entry is free, but they appreciate a donation.
Food-wise, we loved Nosara. The only small supermarket is totally organic and no matter where you eat, the fish is locally caught, the fruit picked straight off nearby trees. Most restaurants have relaxed seating made of beanbags and some are even on the sand. Far and away our favourite was La Luna. We wouldn't have stumbled upon it, because it's tucked away up an unmarked dirt road, but ask any local and they'll tell you exactly how to get there.
It's as close to the beachfront as any building we saw, so the open-air seating at the front of the restaurant peeks through palm trees to the ocean, from where you can enjoy magnificent sunsets over sundowners and local seafood. The wood-burning oven offers up kiddie favourites like pizza, but the local ceviche and seafood fajitas also delighted our children.
They played on the sand under the moonlight as we sipped a glass of something cold and marvelled at the magic of this tiny little gem of a restaurant. It was so good we went back a few times and also tried it for breakfast, which was just as impressive and made the perfect launch pad for a morning spent on the beach.
Aside from pulling in surfers, Nosara is also a hotspot for yoga lovers and, though I'm a novice at best, dropping into classes at Bodhi Tree Yoga Resort was a serious highlight. It also offers children's yoga and ballet classes.
We spent our last night dining at La Luna, knowing we would leave Nosara feeling very blissed out, but a little sad to be heading home to the snow and the school run. We will definitely be back.
The lowdown
Getting there
British Airways flies direct from London to San José from £299 return. Nature Air flies San José to Nosara from £194 return or it's about 4.5 hours by car.
Accommodation
Family rooms at Harmony Hotel, Nosara Beach from £378 per night.
Yoga
Bodhi Tree Yoga Retreat drop-in classes are available to non-guests from £12 per class.
Activity centres