Sponsored Content
Family activity holidays in Costa Rica are wildly adventurous, and almost everywhere. Which is amazing, considering over 25% of the land is protected. So how does one of the most conservation-conscious countries on earth manage to be adventurous, too? Getting people and nature playing together is what it's all about, and nobody understands that balance better than the Costa Rica Tourism Board. Have a look at harmony in action across their top pick of five land-based activities for adventurous families, and kids of all ages.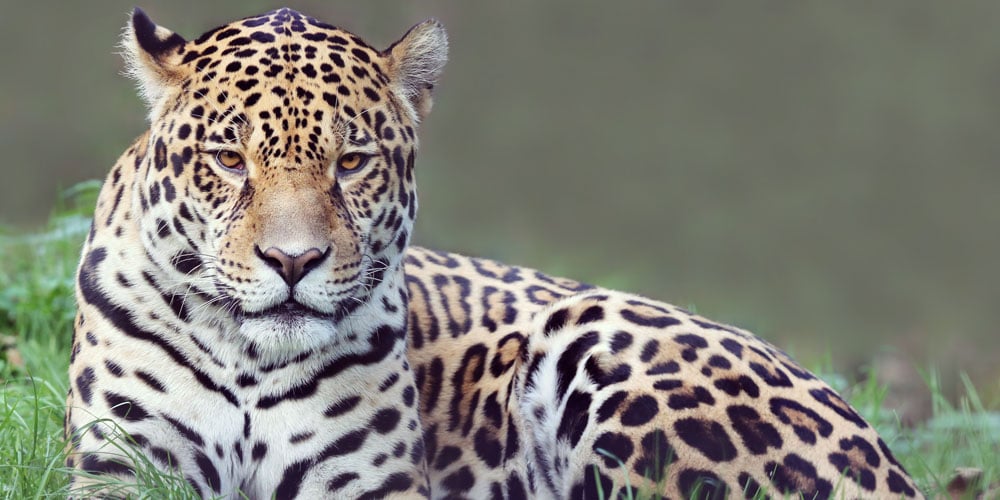 1/5

Jaguar Rescue Centre

The Jaguar Rescue Centre (JCR) first opened in Limón in 2008. Every year between 500 and 700 orphaned or injured animals are treated here, and remarkably, more than 40% are successfully reintroduced back into their natural habitat.

Of course, rehabilitation is always the main aim, but the centre has also become a permanent refuge for dozens of wild animals over the past decade, making it a must-see for families. The superb Public Tour in the company of JRC expert guides lets kids get closer than they ever imagined possible to the rarest wildlife, gaze safely at the most venomous snakes in the terrarium, and learn all about the day to day life of the centre. Tours take about an hour and 30 minutes, and your ticket price contributes to JRC's on-going work.

Good for families

Guided day tours at the JRC release station in La Ceiba Nature Reserve, just south of Limón, are another fascinating experience, particularly for older kids. 

Where: Limón, on the Caribbean Coast

When: JRC Public Tours, Monday to Saturday, 9.30am and 11.30am.

Cost: £14 for ages 10 and over. Free for children under 10 years.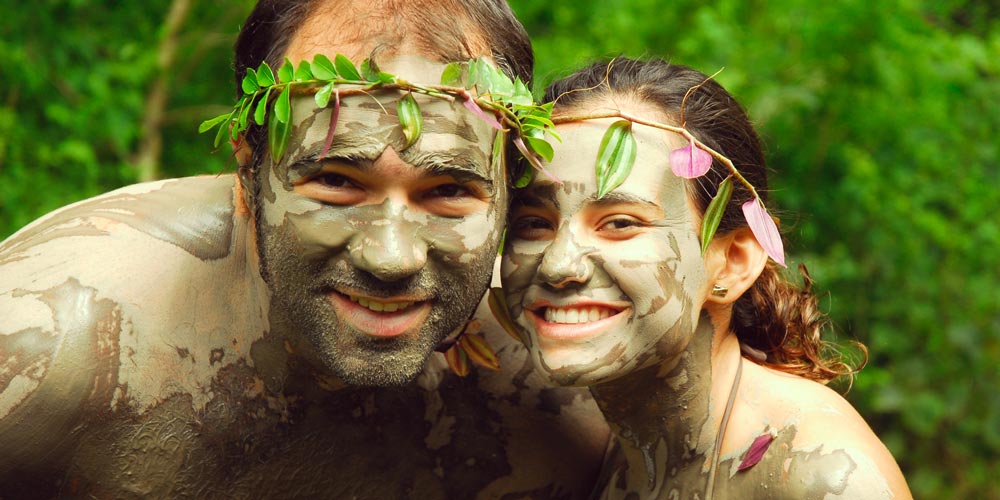 2/5 

Soothe and swim in mud baths and mineral springs
Costa Rica's north-west is volcano territory: home to Volcàn Arenal, and Miravalles, and spectacular national parks like Tenorio and Rincón de la Vieja. Here, you can gaze on the geothermal giants, then get down, clean and deeply soothed in mud baths, mineral springs and natural swimming pools.
If that sounds too 'spa day' for families, you'll be pleased to know this ancient Costa Rican tradition is as much about fun as therapy. So, while you're indulging in the purifying and healing properties of miraculous volcanic by-products, kids can explore their more adventurous side. The result, either way, is an unforgettable experience for everyone.   
Good for families
Choose family-friendly resorts with CST (Certificate of Sustainable Tourism) rating, and you know your natural mud bath experience is also low-impact and eco-friendly.
Try Blue River Resort & Hot Springs at the heart of Rincón de la Vieja National Park, Arenal Springs Resort y Spa for an incredible view of the Arenal Volcano, Arenal Paraíso Hotel set in 60 hectares of lush cloud forest or Montaña de Fuego Hotel & Spa set in a private nature reserve.
Where: Rincon de la Vieja National Park; Tenorio Volcano National Park; Miravelles Volcano; La Fortuna.
When: year-round family activity.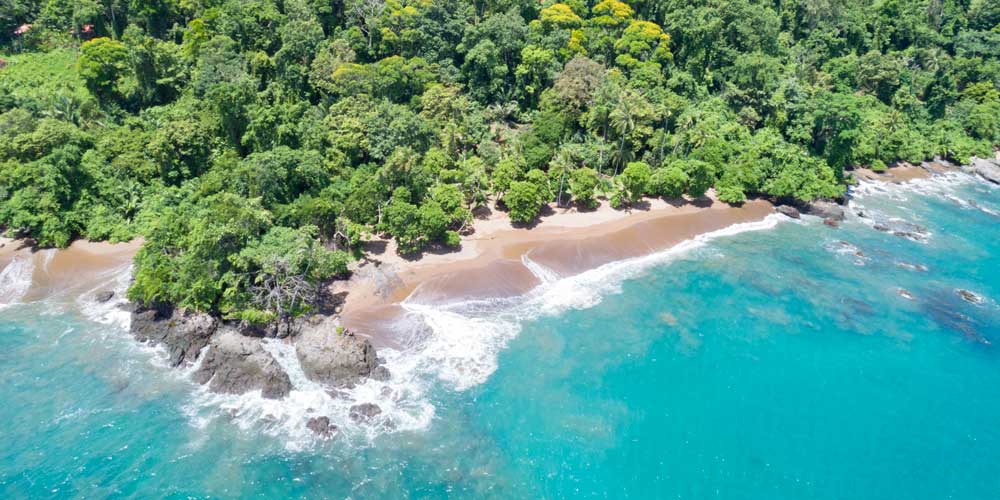 3/5 

Discover Costa Rica at its wildest on the Osa Peninsula
The Osa Peninsula, in the far south-west, is an incredible family adventure. The beaches here are stunning, it's prime territory for whale-watching, and over 41,500ha of the west coast is covered by the lush Corcovado National Park.
Considered to be one of the most biodiverse environments on earth, Corcovado is where jaguar and ocelot still roam, and sea turtles nest along 46km of Pacific coast. Giant anteaters are occasionally glimpsed here, too, and scarlet macaw sightings are a certainty: the country's biggest population inhabits the park, along with hundreds of other bird species, thousands of insects, and reptiles by the dozen. The park is as wild as it is wonderful, and tours are best suited to kids aged 10 and older.
Good for families
Understandably, most family-friendly resorts on the Osa Peninsula are committed to conservation, and CST (Certificate of Sustainable Tourism) rated. As well as organising permits and guided tours of Corcovado, they offer a wide range of other incredible family experiences, from jungle night hikes to whale watching safaris.
Stay at Golfo Dulce Retreat, four CST eco-resort overlooking Golfo Dulce; Lapa Rios Ecolodge, five CST resort set in 1000ha rainforest on Golfo Dulce; Luna Lodge, five CST resort, on the southern edge of Corcovado National Park; Bosque del Cabo, five CST resort on the southernmost tip of the Osa Peninsula.
Where: Osa Peninsula is six hours' drive south of San José.
When: Year-round, but July and August ('green season') is quietest and best value.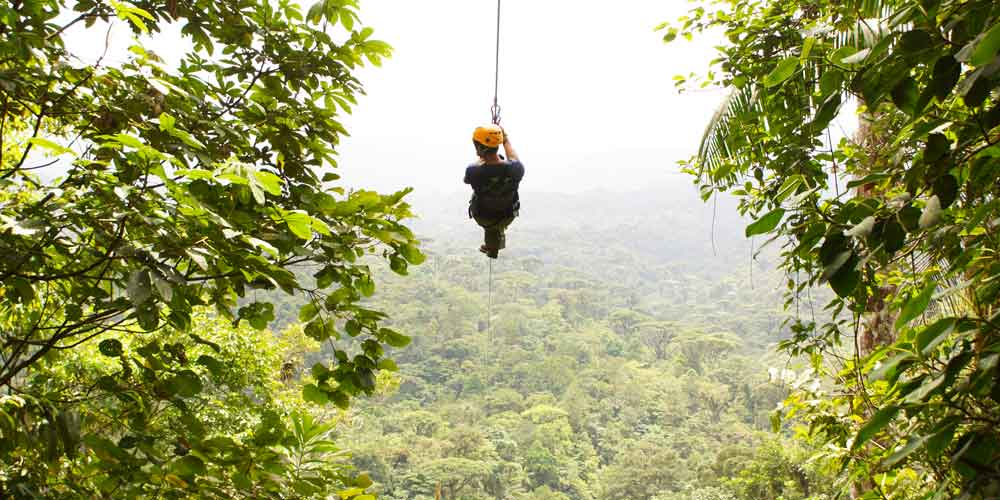 4/5

  Zipline Costa Rica from cloud forest to coast
Costa Rica's soaring volcanos, cloud forests, rainforests, and coasts are made for aerial adventures. So, it's no surprise to find enormous ziplines and lofty hanging bridges are by far the best (and most thrilling) way to get about in some of the most extraordinary places. They're all CST rated too, so fly with a clear conscience. 
Visit

Mistico Arenal Hanging Bridges Park

and take the Natural History Walk across 15 bridges: six of them 'hanging'.
Follow the

Sky Walk

on a guided tour of Monteverde Cloud Forest tree canopy at heights of up to 1,600m.
Less than an hour north of Manuel Antonio National Park, MidWorld Costa Rica has dozens of family adventures, including a mammoth nine zipline, 17 platform canopy tour.
Sarapiquí River is one of the loveliest in Costa Rica, and Sarapiquí del Aventuras' fantastic zipline canopy tour flies over it, not once, but twice.
Good for families
Rainforest Adventures Aerial Tram guided tours give younger kids the fun experience of flying over magical forest without the extremes of ziplining, five minutes from Jacó Beach on the Pacific coast.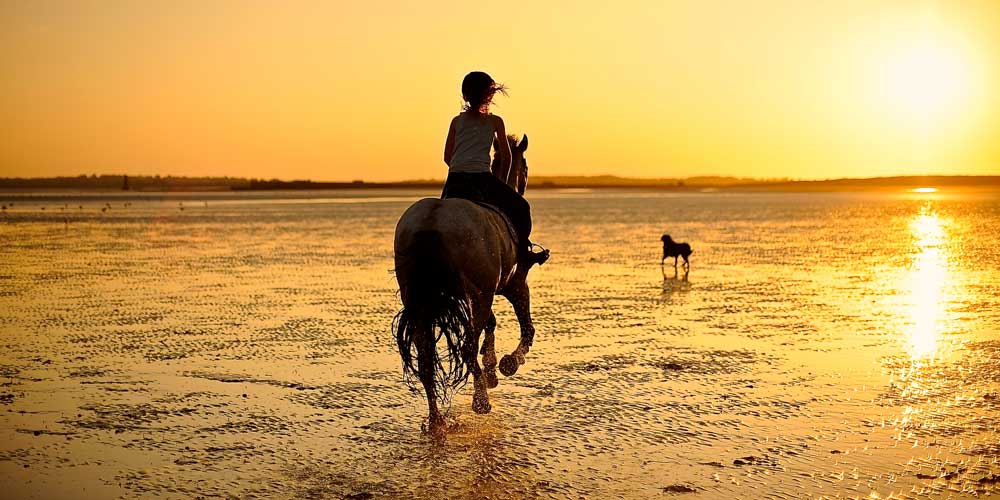 5/5 

Horse-riding
A quick look at Costa Rica's geography and it's not tricky to see why riding is such a big deal here. Horses go where cars can't and, in a country where over 25% of the terrain is conservation land, that's a lot of extraordinary places.
Legendary Tico horsemanship isn't essential. There are easygoing riding adventures at traditional Finca, less than an hour from San José. Mountain lodges and resorts all over the country let experienced equestrians and first-timers ride from dawn to dusk if they wish. Kids can saddle up and try out as cowhands on working ranches across Guancaste. And if you want to get to know Costa Rica's otherworldly wonders, hooves work better than wheels, everywhere from Arenal to the Osa Peninsula.
Good for families
Horseback tours at ranches and finca in Costa Rica are great for beginners. Horses can be individually matched to riders, and you can choose long or short treks, there are even special tours designed just for extra-nervous new riders.
Find out more about

family horseback riding

adventures all over Costa Rica
Up for even more wild adventures? Have a look at what else the 

visitcostarica.com

have in store across the playful eco-icon they call home.