Sponsored Content
How amazing is Costa Rica's wildlife? Four out of seven sea turtle species nest here and it's one of few countries to have two- and three-fingered sloths. There are hundreds of different amphibians, including the famous red-eyed tree frog. And if you think when you've seen one hummingbird, you've seen them all, allow Costa Rica to introduce you to its 50 plus varieties.
Curating the list of wild wonders down to 10 isn't a simple task. Fortunately, the local experts at the Costa Rica Tourism board know their stuff, understand what's likely to get kids' pulses racing, and what's good to see and when. Have a look at their final cut, and don't be surprised at how many fantastic creatures are best seen from May to October: perfect timing for UK school holidays.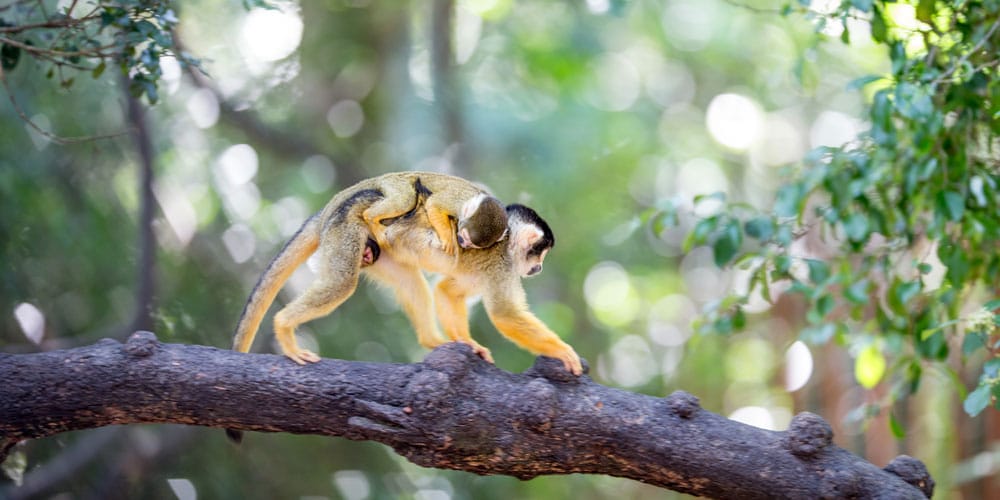 1/9 

Howler, capuchin, squirrel and spider monkeys
Costa Rica is home to four native species of monkeys: the mantled howler; white-headed capuchin; Geoffroy's spider monkey, and the Central American squirrel monkey.
True to its name, you'll probably hear the howler even if you don't see it: the male's loud and eerie calls reverberate around forests at dawn and dusk. Both capuchin and spider monkeys often pop up (sometimes at eye level) on aerial tours of Monteverde Cloud Forest, and soaring overhead through the tree canopy in Manuel Antonio National Park. Kids will need good observation skills to spot a tiny squirrel monkey, as the adult male seldom grows bigger than 30cm. 
Where to see monkeys in Costa Rica
All four monkey species are found in Corcovado National Park on the Osa Peninsula.

Monteverde Cloud Forest is a good bet for spotting capuchin and spider monkeys.

Mantled howlers are quite widespread and seen, or heard, in several of Costa Rica's national parks.

There's a high chance of seeing spider monkeys, along with capuchin and howlers on a tour of Manuel Antonio National Park.
Find out more about

monkeys

and where to spot them in Costa Rica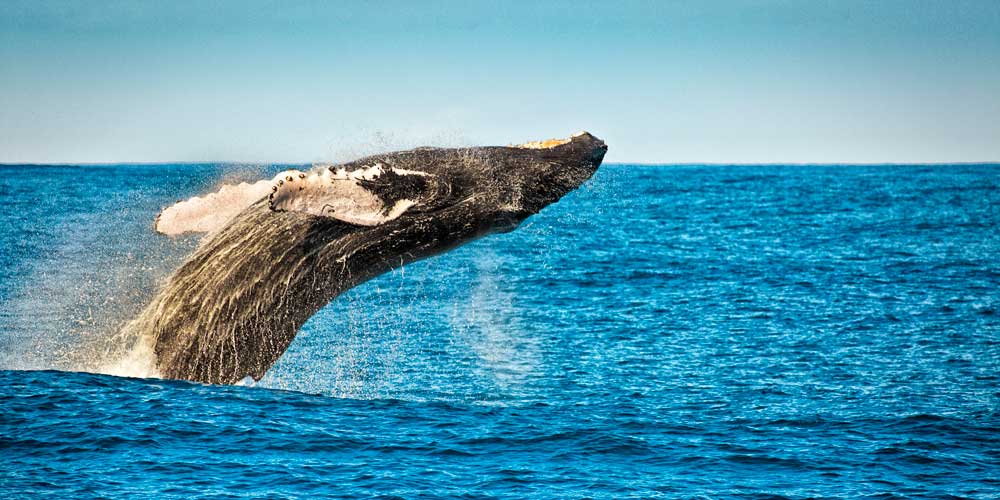 2/9 

Humpback whales
Not only is Marino Ballena National Park one of the best areas for whale-watching in Costa Rica, its coastline is naturally shaped like the tail of a whale, too. 
Fun as it is to imagine that feature is what attracts humpbacks to overwinter here between December and March, the warm South Pacific and a pristine marine environment are probably the real deal-breakers. Take a whale-watching cruise at the right time of year, and kids will occasionally see female humpbacks teaching calves to swim in Marino Ballena's safe waters. 
Where to see whales in Costa Rica
It's possible to see whales year-round in the Marino Ballena area, but sightings are almost guaranteed on whale-watching cruises between December and March.

Golfo Dulce to the east of the Osa Peninsula is the only place on earth where northern and southern humpback whales swim in the same waters. There are whale and dolphin cruises year-round here, too, but the best time to see the meeting of humpbacks is in August.

   
Find out more about

whales

and where to spot them in Costa Rica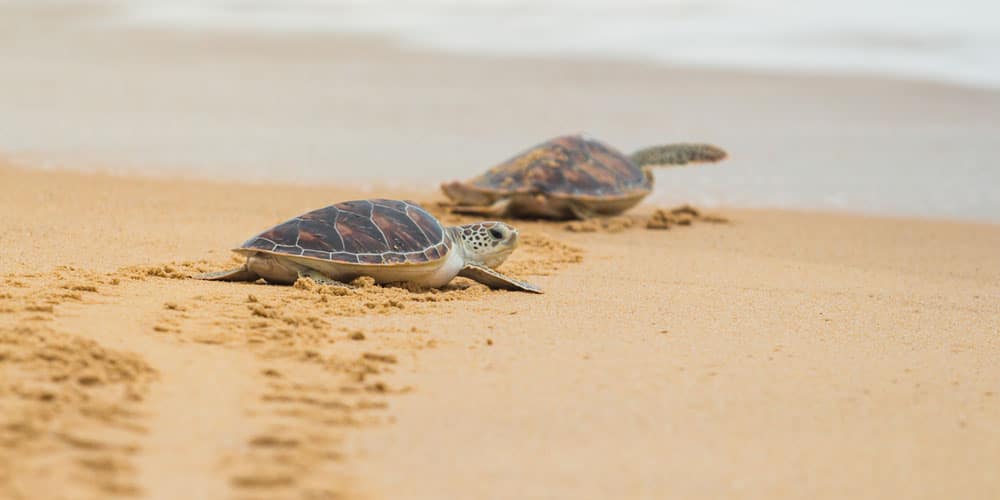 3/9

  Sea turtles
Out of the seven known species of sea turtles, four nest in Costa Rica: leatherbacks, green sea turtles; olive ridley; and hawksbill. Unsurprisingly, turtle-watching is one of the country's most captivating experiences, and high on every family wish-list. 
The spectacle everyone wants to witness is an arribada: when hundreds of thousands of turtles arrive on beaches, under a new moon, to lay their eggs. Just as mystical and astonishing as it sounds, exact timings for these miraculous phenomena are tricky to predict, although local experts make fairly accurate guesses based on experience, and resorts close to turtle beaches are a good source of information, too.    
Where to watch sea turtles in Costa Rica
Leatherbacks nest on the Caribbean from March to July, and on the Pacific from September to March. Las Baulas National Marine Park, in Guanacaste, is the world's second-largest leatherback nesting site.

Green turtles nest along the north Caribbean between June and October: Tortuguero National Park is prime territory.

Olive ridley turtles nest year-round on the Pacific coast. There's a good chance of witnessing an arribada in Ostional National Wildlife Refuge from July to November.

Cahuita National Park on the southern Caribbean is the place to see hawksbills nesting in September and October. They can also be found swimming in Golfo Dulce on the Osa Peninsula, at other times of the year.
Find out more about

sea turtles

and where to spot them in Costa Rica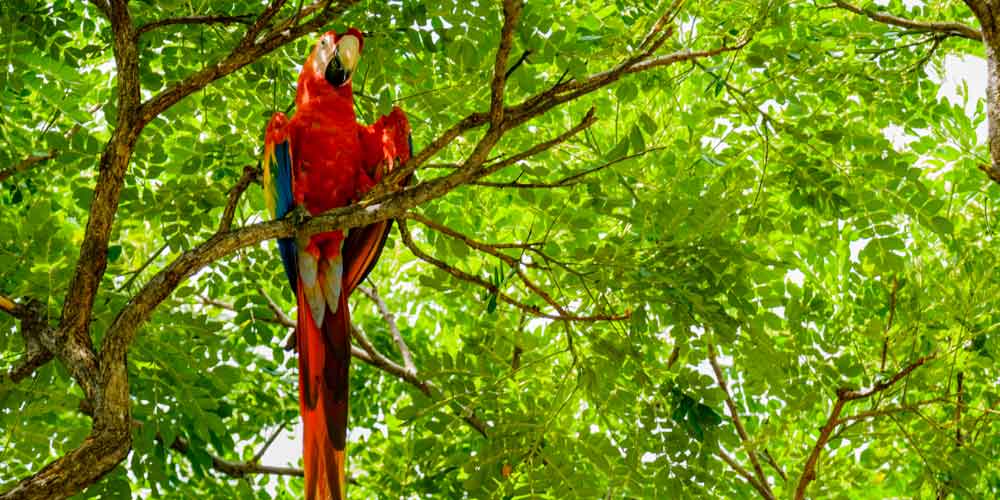 4/9 

Over 900 species of birds
Even non-ornithologists are astonished by the bird-filled skies of Costa Rica. Over 900 species are at home here, including an ever-growing population of noisy scarlet macaws, which were brought back from near-extinction as a result of widespread conservation initiatives.
Visit from June to November and kids can look forward to seeing 50 different species of hummingbird: they nest, and almost disappear from sight, between December and April. But the bird almost nobody can bear to miss is the quetzal. So colourful and exotic, ancient cultures believed it to be mythical, it's said to be the loveliest bird in Costa Rica – and the competition for that title is pretty fierce. 
Where to see birds in Costa Rica
Over 25% of Costa Rica's bird species are found in Los Quetzales National Park, including the quetzal, which gives the park its name.

The Osa Peninsula in the south-west, and Carara National Park are both top spots for sighting flocks of scarlet macaws.

Monteverde Cloud Forest is another prime location for spotting quetzals.
Find out more about

birds

and where to spot them in Costa Rica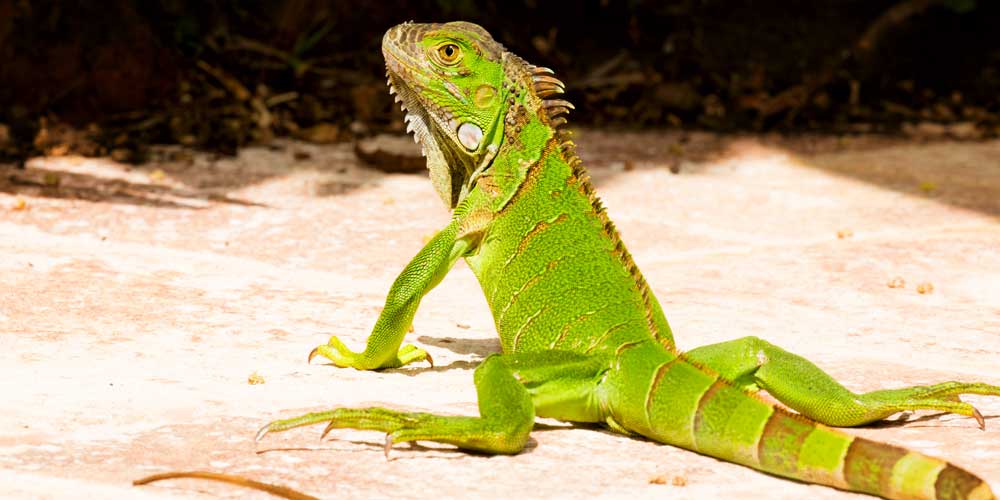 5/9

  Green iguana
Kids don't really need to keep their eyes peeled to see Costa Rica's famous green iguana.
These mighty lizards grow to almost 5ft in length and weigh in at a hefty 20lb. Plus, their favourite activity is basking in the sun, and since there's plenty of that in this part of the world, sightings are fairly frequent. Iguanas are huge but harmless, so don't worry if one pops up next to you: families eating lunch seem to be almost irresistible to them. 
Where to see Green iguanas in Costa Rica
Central America's largest lizard isn't shy, but if you want a surefire encounter, the country's eco-lodges usually attract more than their fair share of sunbathing iguanas.
Find out more about

Green iguanas

and where to spot them in Costa Rica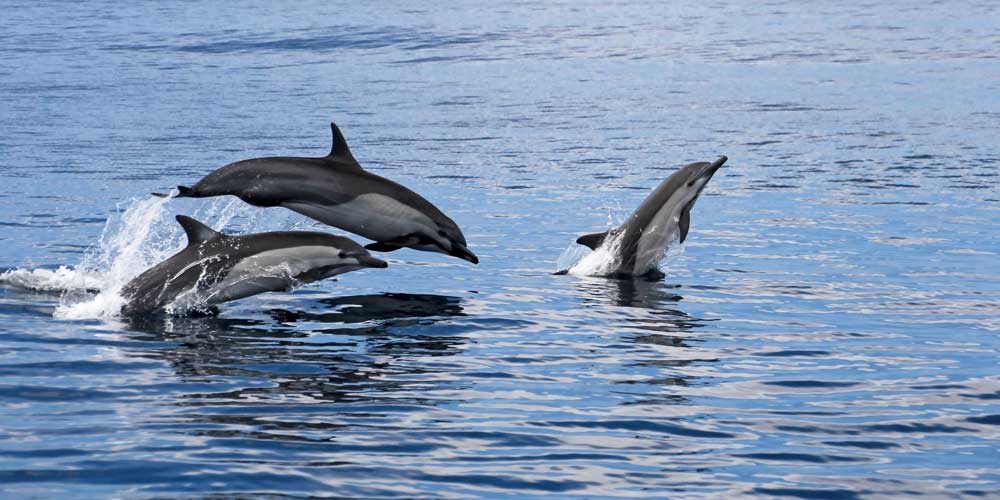 6/9 

Dolphins
Costa Rica's pristine waters are a magnet for whales in winter, and dolphins are in residence year-round. Enigmatic Risso's dolphins usually prefer deep ocean habitats, but can often be spotted on the west coast. Kids should watch for rough-toothed dolphins on the Pacific side, too – they're identifiable by their extra-long beaks. And it's not rare to see intriguing false killer whale here, either – the cetacean that looks and acts like a dolphin but has whale species' traits. 
Where to see dolphins in Costa Rica
Pacific coast dolphin-watching cruises are best for sightings of Risso's, rough-toothed, spinner and striped dolphins.

Cruises out of Drake Bay on the Osa Peninsula are famous for up-close encounters with huge pods of spinner dolphins.

Caribbean boat trips are the ones for spotting cute bottlenose dolphins, and shy but acrobatic costero.
Find out more about

dolphins

and where to spot them in Costa Rica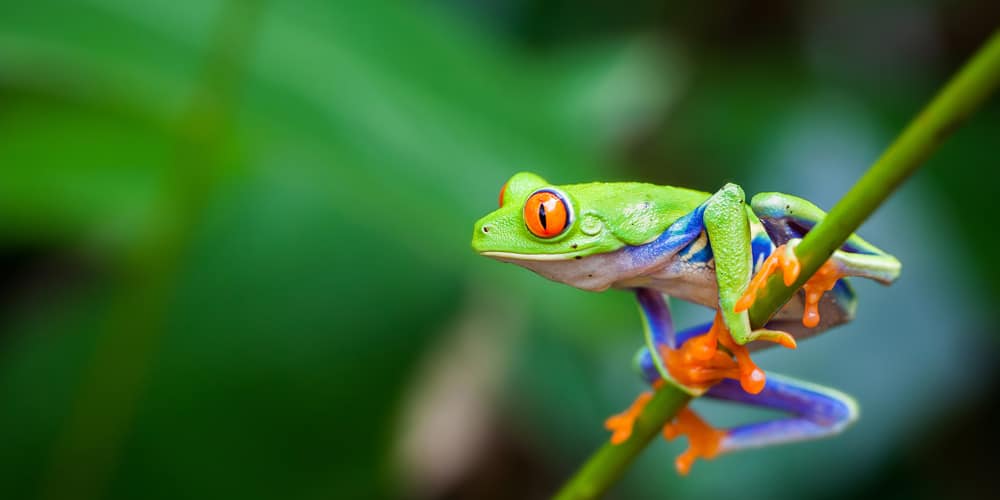 7/9 

Red-eyed leaf frogs (AKA tree frogs)
There are several different frog species in Costa Rica, including exotics like the poison arrow frog, glass frog, and the critically endangered lemur leaf frog. But of all the amphibians, none is more famous than the red-eyed leaf frog.
This dazzling little creature with mesmerising scarlet eyes is the best known of the country's 43 tree frog species, and a universally recognised symbol of Costa Rica. It's not poisonous, or dangerous, and can be seen year-round if you know where to look.   
Where to see frogs in Costa Rica
Costa Rica's most famous tree frog is found mainly in lowland rainforests, so Tortuguero National Park is good, as are cooler parts of Monteverde Cloud Forest. And, as always, thoroughly wildlife-packed Manuel Antonio National Park has resident tree frogs, too. 
Find out more about

frogs

and where to spot them in Costa Rica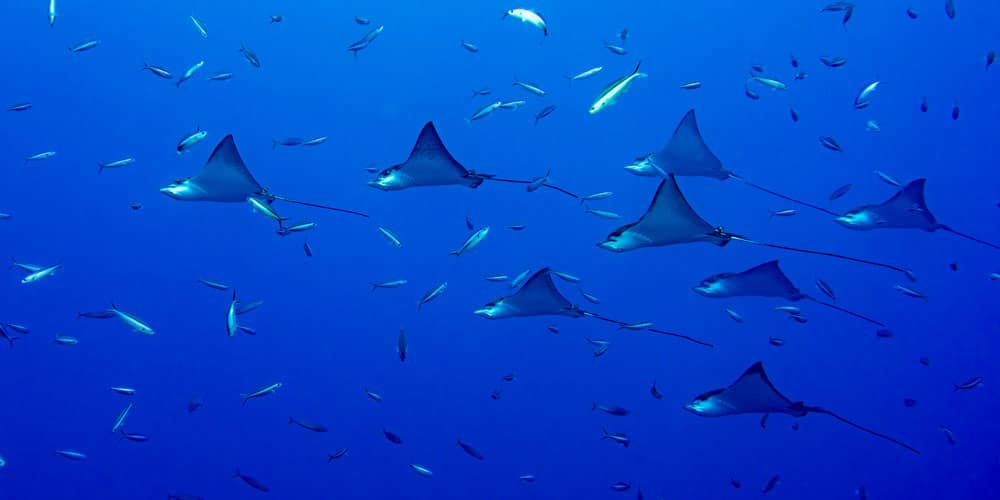 8/9 

Devil rays
Devil rays belong to the same family as manta rays. They're also close relatives of sharks, and quite probably some of the strangest creatures you may be lucky enough to see in Costa Rica.
Large enough to be mistaken for dolphins, but more winged than your average cetacean, they're famous for breaching, and 'flying' short distances across the sea. So far, marine biologists haven't come up with an explanation for this behaviour: theories range from fleeing predators to plain showing off. Devil rays aren't often spotted from land, but sailors and divers see them regularly offshore, and the sight of dozens breaching at once isn't unusual.
Where to see devil rays in Costa Rica
Between December and February is a good time to spot devil rays, and the best place to see them is off the north-west coast round about the Golfo del Papagayo.
Find out more about

devil rays

and where to spot them in Costa Rica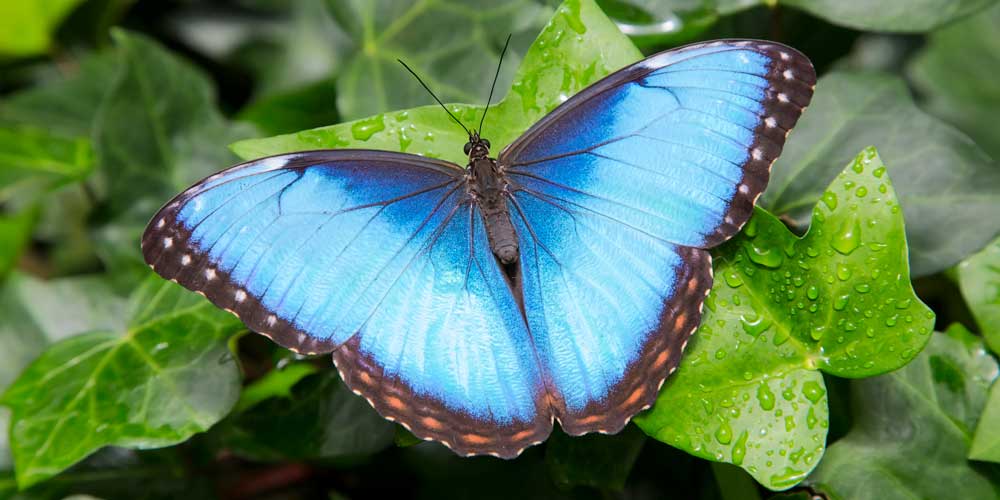 9/9

  Butterflies
Like birds, butterflies are everywhere in Costa Rica. So you don't have to go looking for them: just stand still long enough and they'll appear. Or better still, visit one of the country's many butterfly houses and you can feed the residents by hand with pieces of fruit. 
An astonishing 18% of the world's butterfly species, and 90% of Central America's, are found in Costa Rica. But despite all that colourful abundance, a sighting of the famous blue morpho is most prized of all: it's one of the largest butterflies in the world, with a wingspan of 8in.
Where to see butterflies in Costa Rica
The Monteverde Butterfly Garden has a strong focus on education, a wonderful collection, and includes a guided tour.
Find out more about

butterflies

and where to spot them in Costa Rica
Costa Rica's wildlife is even more amazing than you imagined. Have a look at visitcostarica.com and see some of the other curious creatures that make their home in the world's most conservation-conscious country.