John Lewisohn visits Serfaus-Fiss-Ladis, a family-focused and joyful ski resort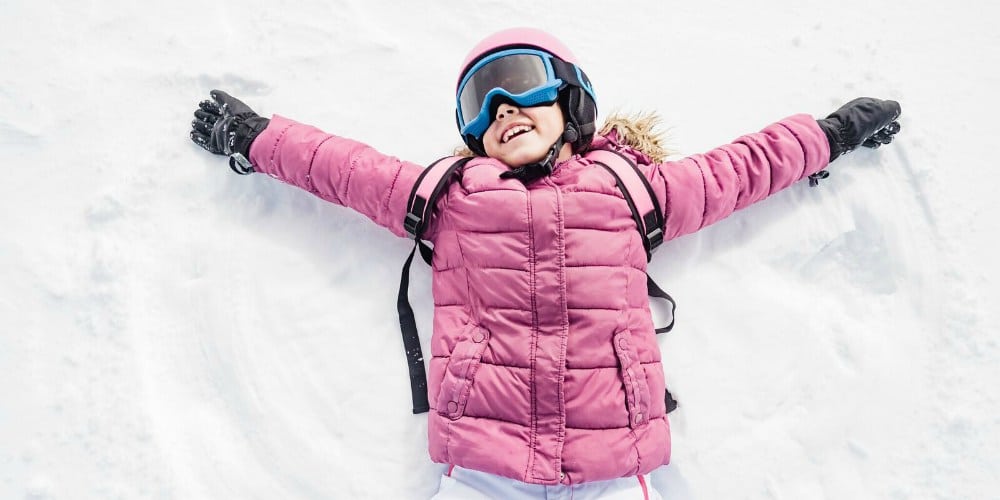 'We are Family', the famous 1979 song by Sister Sledge went to No 1 and has been covered countless times by everyone from The Corrs to The Spice Girls. It's also the tag line for Serfaus-Fiss-Ladis (SFL), a trio of three resorts in the Austrian Tyrol, with skiing from 3,000m down to 1,200m. 
'It was obvious that our three villages must be joined by ski lifts and the younger people realised this,' explained our friendly ski guide Klaus. 'But there were always rivalries going back generations between the three valleys, most of them based on silly jealousies between this farmer and that farmer. Mountain people are always a bit crazy,' laughed Klaus, tapping his temple with a gloved finger. 'We had to wait for the older generation to die off before we could come together and this finally happened in 1999.'
As he said this, our chairlift passed a cut-out of 'Murmli' the marmot, one of the mascots of Serfaus, Berta the Cow being another one. 'And we all made this decision,' Klaus continued, 'to completely focus on giving families the perfect ski holiday.'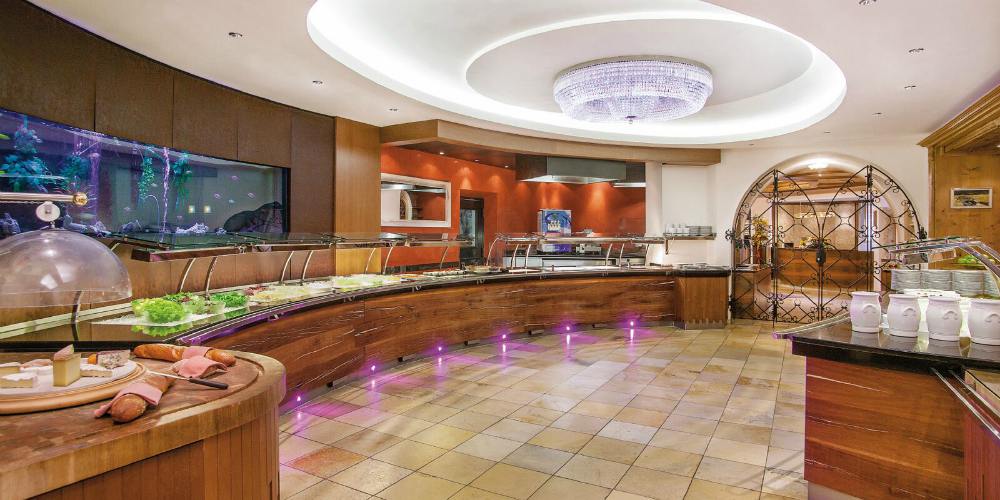 By my third day in the resort, it was abundantly clear that the needs of families have been imbued into every aspect of SFL. Relatively unknown outside Austria, I only wish it had been on my ski radar when my kids were younger. They would have adored it and that old maxim about family holidays, 'If the kids are happy, the parents are happy', is brought even more into focus on a ski holiday.
One of the many advantages of Tyrol ski resorts, particularly for families, is the relatively short transfer time from Innsbruck airport compared to, say, Geneva transfers to Tarentaise resorts such as Val D'Isère. Putting Serfaus on the map, it's about 50km from St Anton but nearer to Innsbruck. 
Leading Family Hotels & Resort's Hotel Bär was our host and it certainly lived up to its name. The spacious interior of the hotel was modern Tyrolean with a dedicated kids' club for little ones, which managed to be instantly welcoming to families without feeling you were entering a massive soft-play area. Staff wear traditional Tyrolean garb (dirndl dresses and lederhosen), service is hyper efficient and friendly and rooms are gigantic and luxurious, with plenty of seating for families and balconies overlooking the Samnaun and Otztal Alps that frame the resort.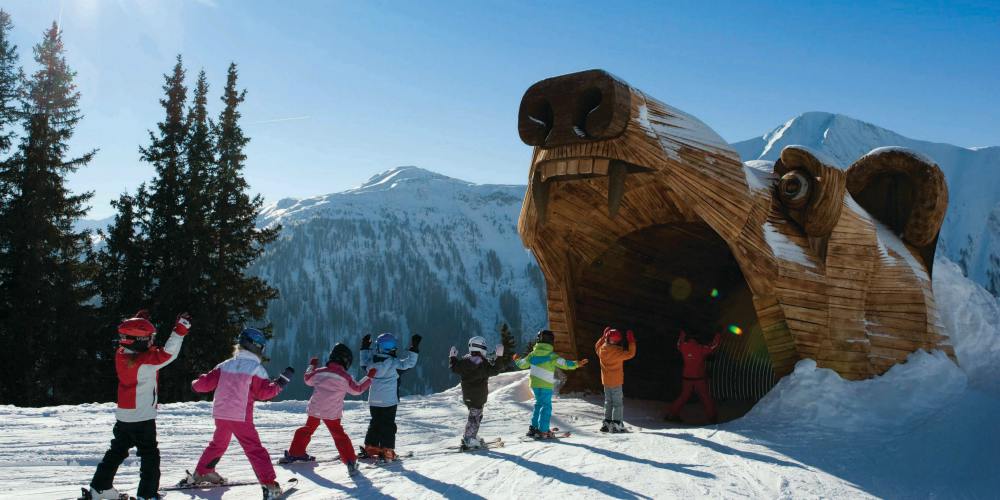 Children can eat from a specially designed buffet with far better options than nuggets and pasta. With three choices for every course, older family members will enjoy sophisticated yet hearty evening meals.
Adjacent to the hotel was the cutest enclosed nursery slope – almost like a park in a London square, albeit with a gentle incline served by conveyor belt lift. Only steps away from the hotel, it's the perfect location for nervous parents to watch their child's first tentative forays on the slopes away from any speeding adults, and it's great for sledging, too. There's also the bonus that parents don't have to turn into Inspector Gadget, carrying 20 different items – the normal modus operandi of skiing with young children. The main nursery area is also a fabulous place to learn with numerous playgrounds and adventure runs such as the Bear's Slope, Dinowald dinosaur forest, Berta's Indian Village and obstacle courses, ensuring that kids never have a dull moment. 
Serfaus, by far the biggest of the three villages, is connected to the ski lift by the Dorfbahn, the world's highest underground train. This means the village is car free, another boon for families.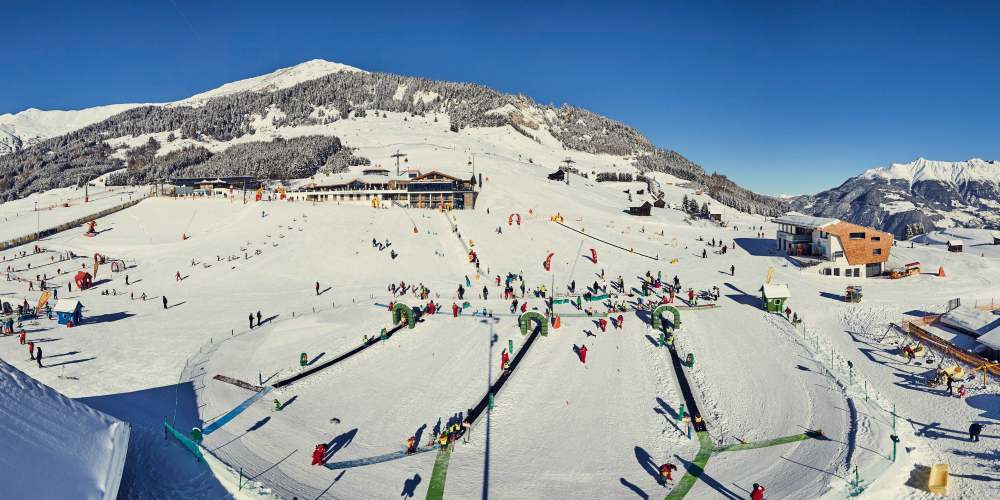 Skiing is really top-notch, with more than 215km of varied slopes for all abilities. In three days, even our advanced group only scratched the surface of what is available. There is a great selection of mountain restaurants and bars, too. 
Away from the slopes, SFL has plenty of activities for families of all ages, such as a 1.5km toboggan run on a rail, snowcat rides, weekly Broadway musical nights, climbing walls, zip-lining and climbing walls.
Aching thighs, after three days' hard skiing, led me to the hotel's fabulous adults-only spa, with its four different saunas, steam room, and gorgeous Jacuzzi overlooking the mountains. One floor above was the main indoor and outdoor pool with happy families splashing around. Noticing a waterslide, I sneaked up hoping adults were allowed. Whizzing down, I heard my own voice shouting in joy – SFL helps us all to discover our inner child again. 
The Lowdown
How to get there
Fly to Innsbruck with British Airways from £158 return per person.
Where to stay
Hotel Bär costs from £1,890 for a seven-night winter stay for two adults and two children, including all meals.
Ski school
Alpine skiing and snowboarding group lessons for adults and kids cost from £264 for six days (four hours per day). Group lessons for beginner kids cost from £46.