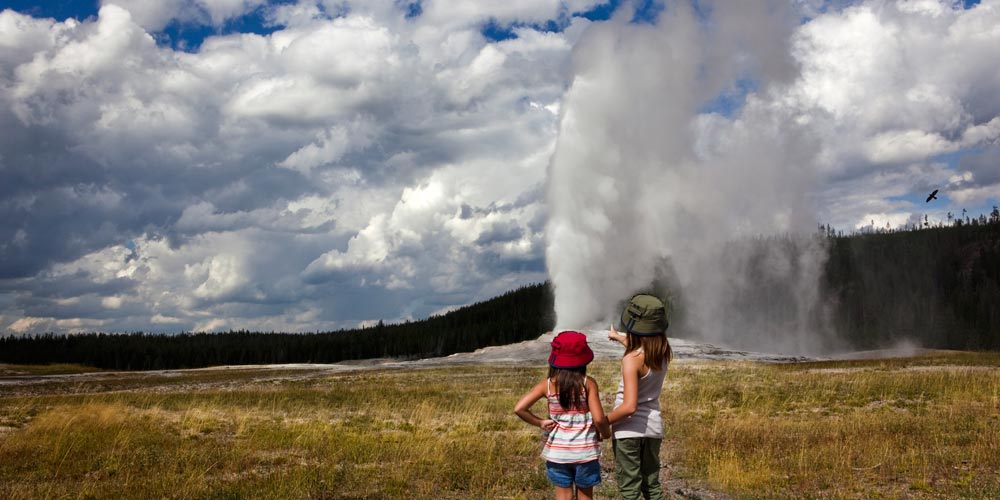 Why go?
"For the benefit and enjoyment of the people" says the 1872 inscription at the entrance to Yellowstone, the first National Park in the world. This pillar of American history actually feels pre-historic, with over half the world's geysers and 10,000 other geothermal features peppered across the verdant land.
A geothermic wonderland, Yellowstone has enough hot steam to keep even the most energetic child busy. Everyone will be mesmerised as Old Faithful hisses into life, shooting water more than a 100ft into the air. Ooh-ing and aah-ing is soon followed by the eggy whiff of underground sulphur. Altogether, one of the greatest natural shows on earth.
Activities
Yellowstone is an expert at delivering an outdoorsy experience: you can go camping, cycling, rafting, nature-hiking, fishing and boating, with or without a guide.
To take nature appreciation to a new level, children over five can become a 'Junior Ranger' or a 'Young Scientist' with Yellowstone's learning program. Soon they'll know all about the bison, wolves and grizzly bears that call the park home. 
Don't miss: Mud, glorious mud. Since ancient times we've known about the skin-boosting benefits of mud-bathing, and a Yellowstone mud bath is your chance to try this natural beauty fix.
The Lowdown
How to get there? Spread across the vast plains of Wyoming into southern Montana and Idaho, Yellowstone is awkward to visit by plane. We suggest you make a city visit first and then road-trip or catch an internal flight.
Fly to Atlanta, with British Airways; from £548 return, then on to Yellowstone's airport Jackson Hole (1 hour 30 minutes) with Delta, or to Denver, with British Airways; from £695, and drive 8 hours to the park.
If you prefer to out-source planning, call Audley, they'll be happy to organise your Yellowstone trip. 
Where to stay? Xanterra Parks and Resorts provide the accommodation within Yellowstone, offering nine areas with lodges, cabins and cosy campsites.