Sponsored Content
Are you weighing up the options of investing in a holiday timeshare? Or looking to mix things up with your current investment? Timeshare owner Tracie Bushell reveals how she uses her RCI membership to get the most out of her timeshare for her family…
My daughter, Shellie, and I were on our first US holiday, 20 years ago, when I was invited on a tour at the timeshare resort Holiday Inn Orange Lake – West Village, in Orlando, Florida.
That first look at Orange Lake really opened my eyes to how I could be holidaying, and I bought a week of timeshare there and then. The accommodation was amazingly luxurious, spacious and I valued the privacy it gave us as a family. After that, I never looked back, and returned with Shellie many times to Orange Lake.
The early years were all about Shellie. As a younger child, she adored Disney and Universal Studios, with their multitude of rides and attractions. In the resort, meanwhile, the pools and grounds to run around in were a real thrill for her. I was just happy to kick off my shoes and enjoy the freedom to relax that you just don't get in hotels.
Time to share, time to live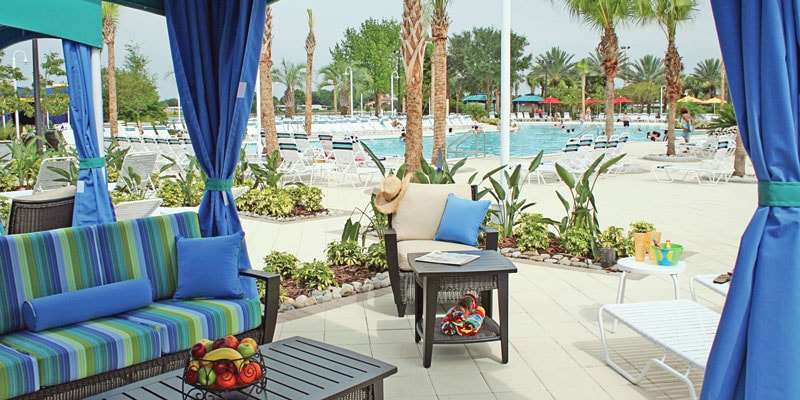 At Orange Lake, the fun is on your doorstep. The resort offers guests nearly five hectares of tropical grounds embracing the Family Fun Zone, as well as host of bars and restaurants in it's River Island area – ideal to relax in after doing the rounds on the rides under the Florida sun. Guests can try a little of everything by using daily shuttle service, which runs throughout the main areas of the resort.
Orange Lake is also a close neighbour of many of Florida's family attractions, including Walt Disney World Resort® and Animal Kingdom®, and I was impressed with what the family-friendly theme parks had to offer. The Downtown Disney area provided a shopping thrill for me! Alongside the many bars and restaurants there are dozens of retail outlets great for souvenir shopping – or you can just meander and take in the theatrical window displays.
Holidaying in Orlando brings activities that family members of all ages can enjoy, together in one place.  You'll never run out of things to do. Beyond the iconic family attractions, a wonderland awaits further afield, with the Everglades, museums, art galleries and more.
Trading places
When Shellie had outgrown Disney, travel in Europe was our next big adventure, and RCI membership allowed me to tailor my holidays to my changing family needs. Because I own a unit that sleeps eight at an RCI Gold Crown resort in the US, I can trade my Florida week for as many as three weeks of holiday in Europe with RCI.
We visited Ibiza, and found it to be a beautiful island. We spent our time scrambling over the rocks exploring. We also returned several times to Gran Canaria. Puerto de Mogán is like a little Venice – we would simply sit by the marina and watch the world go by. My 72-year-old mother, Joan, often travels with me, and Tenerife has a special place in our holiday hearts.
In 2014, my mother and I, Shellie and her boyfriend, and my brother and his wife took our first holiday as a complete family at The Villas at Chayofa Country Club. We had a huge villa with three bathrooms, a private pool, a sauna and wine cellar. It was ideal for a family party and it was my RCI membership that made it affordable to stay in such an extraordinary place!
How it works
To be an RCI member, you must own at least one week's timeshare – the cost of purchasing timeshare varies, but you can expect to pay between £2,000 and £20,000 per week for a right to use over a set number of years, which will vary, depending on the package and standard of accommodation selected.
RCI membership allows its members to swap their week with almost 4,500 resorts across 100 countries, with membership fees starting at £59 per year.
Visit RCI to learn more about the flexibility, choice and value that timeshare ownership with RCI membership brings.
Travelling with kids can be a nightmare, but it doesn't have to be. Check out these hacks to save you time, space and money on your next family holiday.