Sponsored Content
Family activity holidays in North Carolina come naturally. After all this is the state that boasts the Blue Ridge Mountains, Great Smoky Mountains National Park, the Appalachian Trail, and some of the tallest sand dunes in the US. It's so wild and unspoiled, they filmed scenes of The Hunger Games movies here: and that's all before you get round to the world's largest natural-habitat zoo, mile-high footbridges and daredevil waterfall plunges.
Tough as it's been, Visit North Carolina have curated a list of thousands down to 11 family activities you just can't miss.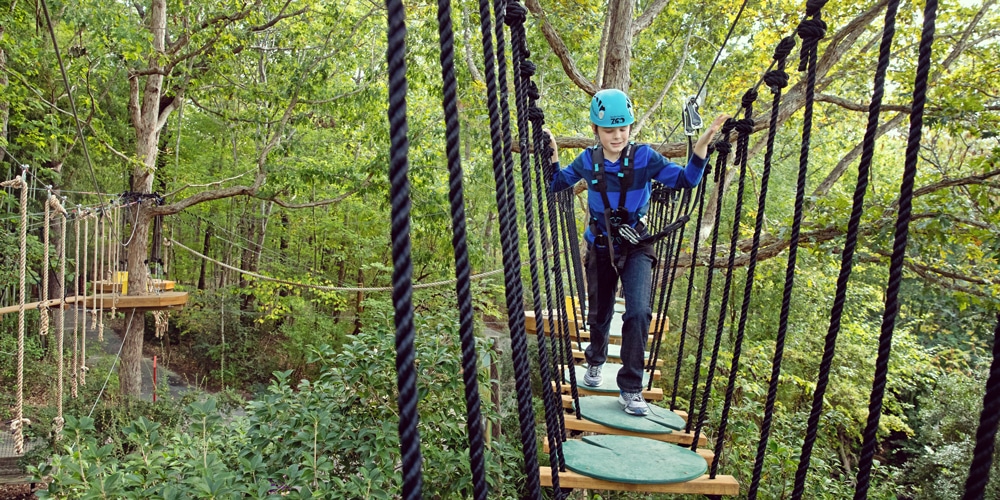 1/11 

Tackle the Air Hike Ropes Course at North Carolina Zoo
North Carolina Zoo is the world's largest natural habitat zoo. But if a day surrounded by over 1600 animals, from every corner of the globe, isn't exciting enough for kids, they can take an Air Hike challenge here too.
This 23-obstacle rope course includes giant webs, soaring bridges and tunnels, tightropes, plank walks, and some seriously high aerial platforms. To add to the fun, an expert guide leads the way, so it's not too daunting for younger adventurers, and parents can relax too.
Where: North Carolina Zoo, Asheboro
How to get there: Asheboro is one hour and 40 minutes drive north-east of Charlotte
When: Air Hike is open seven days a week, between April and October, from 9.30am to 4.30pm
Cost: Adult zoo ticket: £11 / Child zoo ticket: £8 / Air Hike Rope Course ticket: £9