Sponsored Content
Family activity holidays in North Carolina come naturally. After all this is the state that boasts the Blue Ridge Mountains, Great Smoky Mountains National Park, the Appalachian Trail, and some of the tallest sand dunes in the US. It's so wild and unspoiled, they filmed scenes of The Hunger Games movies here: and that's all before you get round to the world's largest natural-habitat zoo, mile-high footbridges and daredevil waterfall plunges.
Tough as it's been, Visit North Carolina have curated a list of thousands down to 11 family activities you just can't miss.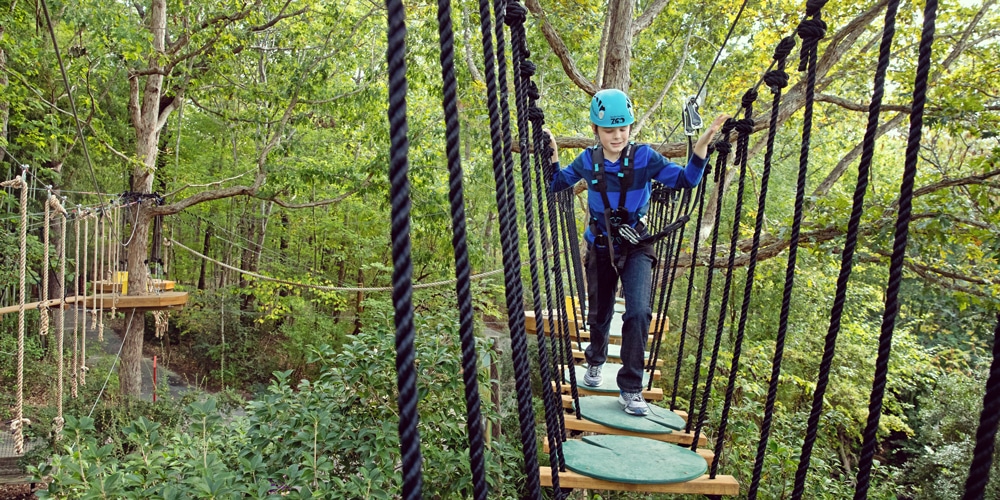 1/11 

Tackle the Air Hike Ropes Course at North Carolina Zoo
North Carolina Zoo is the world's largest natural habitat zoo. But if a day surrounded by over 1600 animals, from every corner of the globe, isn't exciting enough for kids, they can take an Air Hike challenge here too.
This 23-obstacle rope course includes giant webs, soaring bridges and tunnels, tightropes, plank walks, and some seriously high aerial platforms. To add to the fun, an expert guide leads the way, so it's not too daunting for younger adventurers, and parents can relax too.
Where: North Carolina Zoo, Asheboro
How to get there: Asheboro is one hour and 40 minutes drive north-east of Charlotte
When: Air Hike is open seven days a week, between April and October, from 9.30am to 4.30pm
Cost: Adult zoo ticket: £11 / Child zoo ticket: £8 / Air Hike Rope Course ticket: £9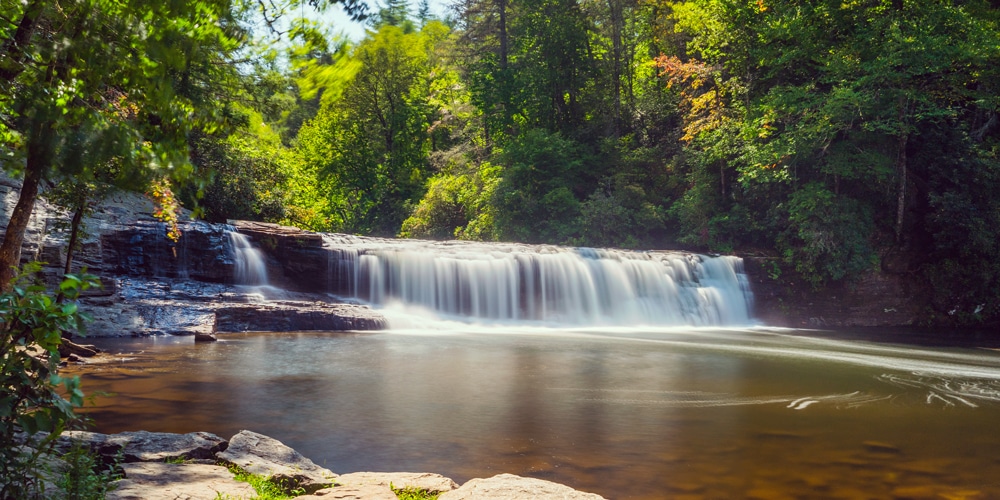 2/11

 Tour Hunger Games movie locations in Asheville
The first Hunger Games' movie was filmed in North Carolina. Visit DuPont State Forest, hike to spectacular Triple Falls, and have a picnic on the rocks where Katniss sang Rue's Lullaby. Don't miss Henry River Mill Village: the eerie ghost town east of Asheville which doubled as infamous District 12. And real super-fans might want to consider a night at hip Hotel Indigo in Downtown Asheville: the cast stayed here during filming.
Alternatively, try a 'Hunger Games Unofficial Fan Tour', which does DuPont in cinematic detail, and includes a themed lunch and activities like archery. Don't let the 'unofficial' part put you off: the tours are Five-Star Trip Advisor Recommended.
Where: Asheville, western North Carolina
How to get there: DuPont State Forest is an hour south of Asheville; Henry River Mill Village is an hour east
When: Hunger Games Unofficial Fan Tours are on Saturdays and Sundays, from March to October
Cost: 'Arena' five-hour Hunger Games Fan Tour (including lunch and activities), from £25pp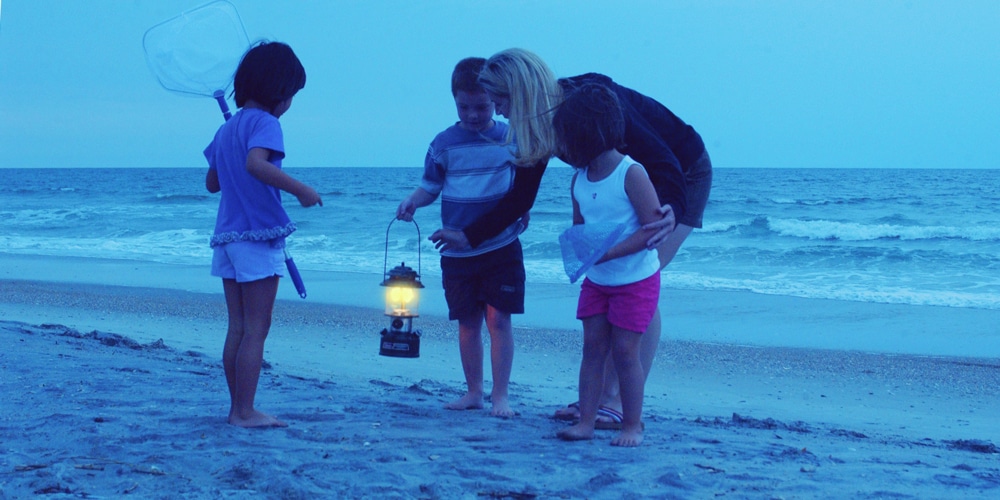 3/11

 Go twilight ghost-crabbing on the Outer Banks
Spanish mustang aren't the only wild and exotic creatures for kids to encounter on North Carolina's extraordinary Outer Banks. With a bit of patience, and keen eyes, they can spot tiny Ghost Crabs here too.
Best way to spy out these elusive little cuties is to head to Corolla Beach at twilight, armed with an Illuminet (cross between a fluorescent fishing net and a torch). Pick a prime spot on the sand, and wait: Corolla practically belongs to Ghost Crabs after dark. So if kids don't catch a glimpse of at least one pair of beady, black eyes and teeny, weeny claws on a night watch, they're not looking hard enough.
Where: Corolla Beach, Outer Banks, North Carolina coast
How to get there: Corolla is four hours drive east of Raleigh
When: Best time for spotting Ghost Crabs on Corolla is after-dark on a summer evening
Cost: Illuminets cost from £7, and Corolla Beach is free
Find out more about Ghost Crabbing on the Outer Banks of North Carolina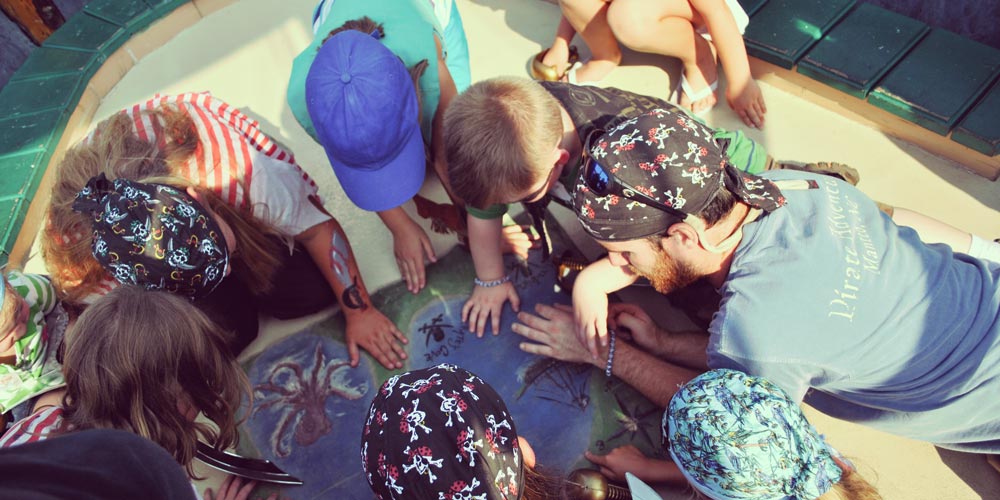 4/11

 Discover the legend of Blackbeard on Ocracoke Island
The fascinating North Carolina coast isn't short on myths, legends and enchanting islands, but for all three in one, there's nowhere quite like Ocracoke.
It's a charming and peaceful place these day, from the pretty town harbour to its 16 mile long stretch of Cape Hatteras National Seashore: named #1 US Getaway Beach by Dr Beach. But back in the 18th century, Ocracoke was choice hideout for none other than Blackbeard the pirate, and the site of his fatal final battle in 1718.
Hire bikes, or a golf cart, for the day, explore the island, and visit Teach's Hole Blackbeard Exhibit. Better still, stay awhile, get to know Ocraocoke's gorgeous beach better, and take a sunset sail aboard the Schooner Windfall II, to the site of the pirate's last battle.
Where: Ocracoke Island, southern Outer Banks, North Carolina Coast
How to get there: Ferries sail to Ocracoke from Hatteras Island, as well as from two mainland terminals
When: Visit from April to September for sunniest weather on Ocracoke Island
Cost: The passenger-only ferry from Hatteras Island to Ocracoke is in service from late July
Adult tickets are £11 and can be booked in advance, along with parking
Find out more about Ocracoke Island on the North Carolina coast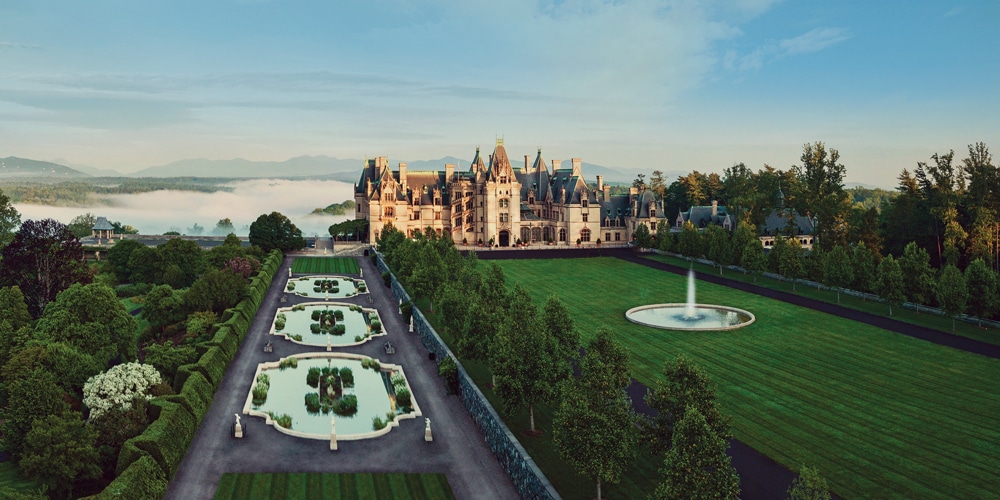 5/11
Explore breathtaking Biltmore Estate in Asheville
When one of the wealthiest men in the world chooses to live in North Carolina's Blue Ridge Mountains, it gives you an idea of how beautiful it is in this part of the world.
George Vanderbilt completed Biltmore House in 1895, it was America's largest private home then, and still is today. Only now you don't need an invite to gaze on the splendour. Take a self-guided tour of the house, explore the elegant formal gardens, and trail walk round the enormous 8000 acre grounds: it's all extraordinary. Leave time for Antler Hill Village Farm and Outdoor Adventure Centre, and don't miss a grown-up adventure at the Biltmore Winery.
Where: Biltmore Estate, Asheville, western North Carolina
How to get there: Biltmore is 20 minutes drive south of Downtown Asheville
When: Biltmore Estate is open 365 days, reservations are recommended
Cost: Adult tickets from £29, half-price for nine to 17 year olds, and kids under nine visit free
Find out more about Biltmore Estate in the Blue Ridge Mountains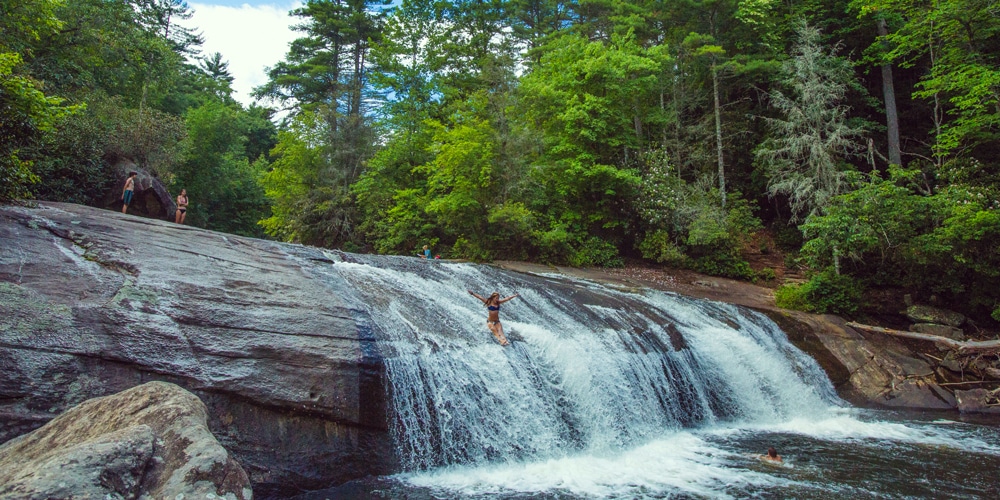 6/11

 Slide down Turtleback Falls in Gorges State Park
Skinny Dip, Bust your Butt, Wildcat and Hooker, are just a few of curiously named, and awesome, mountain swimming holes and waterfalls round about Asheville in western North Carolina. But even in this wildly exciting collection, nothing beats Turtleback Falls.
Reaching these wonders involves hiking a few miles through Gorges State Park. Well worth it for the thrill of racing down an enormous, natural waterslide at full speed, before being shot over a 20ft high cliff into a fathomless swimming hole. So popular, there's even a rope to help you up to the top of the falls, Turtleback is definitely an experience for older teens – although younger kids like the walk, and seeing teenagers screaming in terror is plenty entertaining.
Where: 3.5 mile round hike, marked Umbrella Falls, in Gorges State Park.
How to get there: Gorges State Park is just over an hour's drive from downtown Asheville.
When: Best in summer when water levels are lower. The park's visitor centre has daily updates.
Cost: There are no entrance fees to Gorges State Park.
Find out more about Turtleback Falls in Gorges State Park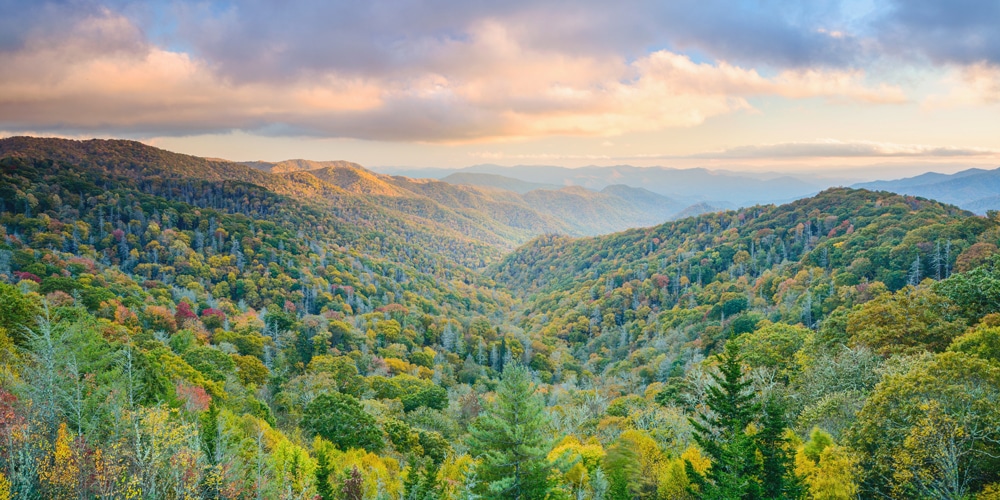 7/11

 Ride the Great Smoky Mountain Railroad
Hiking the Appalachian Trail through America's most visited national park is a bit of an extreme adventure for most families. The Great Smoky Mountain Railroad, on the other hand, is perfect for kids. Not only does it take in the grand sights along the park's southern boundary, the vintage steam train alone is a memory-maker.
Now listed as one of the World's Great Small Rail Journeys, the Nantahala Gorge Route is best for spectacular landmarks, and it includes an hour's playtime at Nantahala Outdoor Centre. If the weather's good, make sure to book the open-air gondola section: it's great fun for kids, and you change sides on the return trip, so no one misses a single jaw-dropping view.
Where: Bryson City Depot, Bryson City, western North Carolina
How to get there: Bryson City is three hours drive west of Charlotte
When: Spring, summer and autumn. The trip takes four hours, including an hour in Nantahala.
Cost: Open Air Gondola tickets from £21. Kids under 23 months travel free.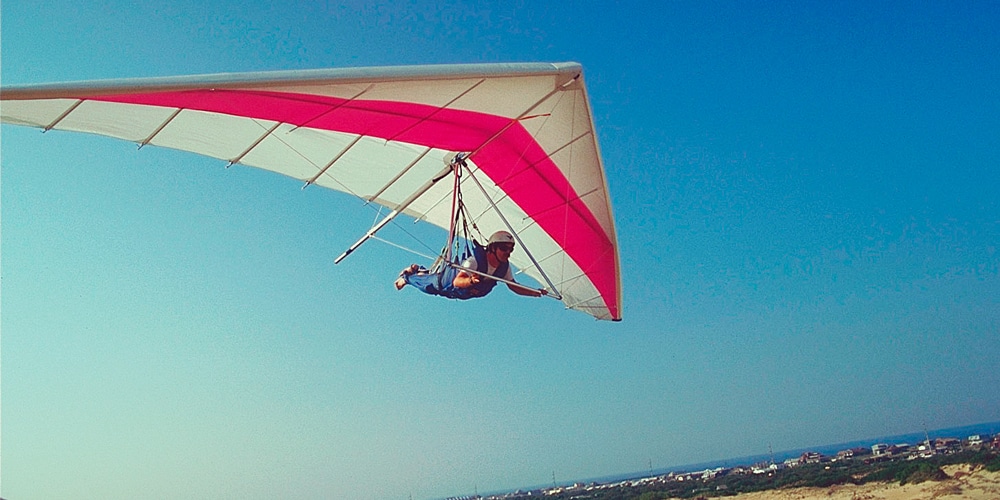 8/11
Start kids hang-gliding at Jockeys Ridge State Park
Visit Jockey Ridge State Park in the Outer Banks, and kids as young as four can learn to hang-glide on the tallest living sand dune in eastern US: only 10 minutes from where the Wright Brothers first took flight in 1903.
Kitty Hawk Kites have been teaching here for the past 25 years, and between the fantastic height of the dunes, and the soft sand landing, the conditions are so good, they virtually guarantee airborne kids in under three hours. Group lessons are limited to five and, apart from the fun of learning to actually fly, scrambling up the enormous sand mountain is an incredible adventure all by itself.
Where: Jockey Ridge State Park, Outer Banks, North Carolina coast
How to get there: Jockey Ridge State Park is three hours drive east of Raleigh
When: June, July and August are prime time for learning, and kids' lessons can be booked online
Cost: Three hour kid's lessons from £79 (GoPro video footage £35)
Find out more about the Kitty Hawk Kites at Jockey Ridge State Park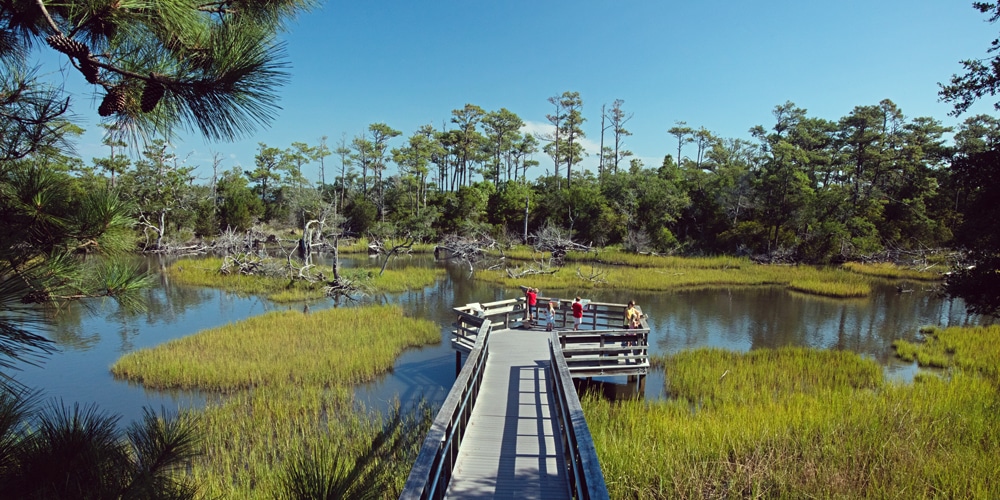 9/11

 Dive into North Carolina Aquarium at Pine Knolls Shore
North Carolina Aquarium at Pine Knolls Shore has over 4000 residents, including river otters, stingray, and even a rare white sea turtle.
Kids can visit Caretta's Cove and talk to a Southern Female Loggerhead, or watch hatchlings in the astounding Loggerhead Odyssey. There are daily Below the Surface Dive Programs where divers interact by microphone as they swim round tanks. Kids can watch feeding time at the Living Shipwreck, meet otters at Creature Connections, and even help to feed fish themselves. Amazingly, all these experiences are included in the ticket price, and Pine Knolls Shore is just one of four outstanding North Carolina Aquariums along the Atlantic coast.
Where: Atlantic Beach, Crystal Coast, North Carolina
How to get there: Atlantic Beach is two hours and 40 minutes drive east of Raleigh
When: The Aquarium is open year round from 9am to 5pm, seven days
Cost: Tickets for the aquarium, including daily activities, from £6.50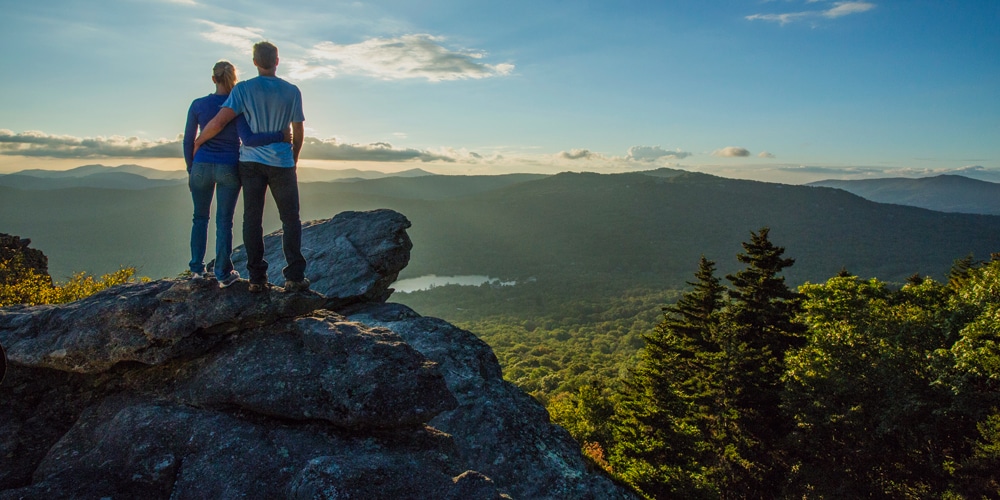 10/11

 Dare to cross Grandfather Mountain Mile High Swinging Bridge
There are endless reasons to visit Grandfather Mountain. The walks and trails are breathtakingly beautiful, and graded by difficulty, so you can easily identify what works for littler legs. It's in the midst of mountains designed by nature to stun you into silence, and you arrive on the Blue Ridge Parkway: one of the country's Great American Road Trips.
But save all your astonishment – and nerve – for the granddaddy of all Grandfather's great attractions: the Mile High Swinging Bridge. Stretching across an 80ft gorge, it's the tallest suspension footbridge in the US, and has been known to sway slightly in the wind. If you dare across, the reward is a 360˚ panorama from a height of 5280ft above sea level.
Where: Grandfather Mountain State Park, Banner Elk, western North Carolina
How to get there: Grandfather Mountain is two hours north west of Charlotte
When: Grandfather Mountain is open from 9am to 7pm from late June to early September, and closes at 6pm between September and early November.
Cost: Child, £6.50. Over 13s and adults, £14.50.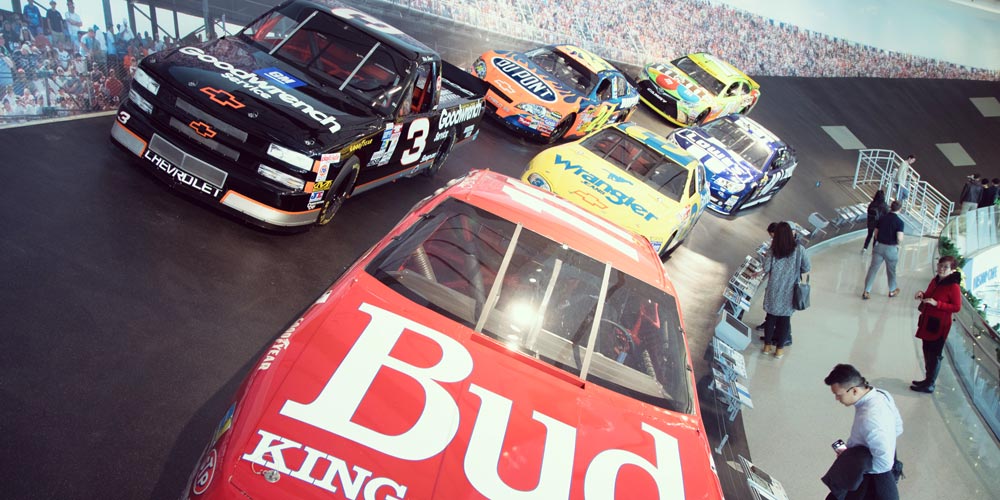 11/11 

Fast-paced action in thrilling Charlotte
North Carolina's largest city sets the state standard for fast-action, family adventures. Take Charlotte Motor Speedway's Feel the Thrill tour, and experience the same extreme 'tilt' of the 24˚ banked turns as drivers do on race day. The tour also includes a visit to the garage area, the zMAX Dragway and Dirt Track, and a photo-op in the Winner's Circle.
Thrills come in all forms at the US National Whitewater Centre, where Olympian kayakers train. The centre's recirculating river challenges families, and kids as young as eight, to test their nerve on class II to IV rapids. Try out the climbing wall, along with flatwater activities, ziplines, and rope courses. And you can come play in the evening too: they switch on the music Thursday, Friday and Saturday nights, from May through September.
But whatever you do, don't leave Charlotte without a turn on Fury 325: the world's tallest and fastest giga-coaster. You'll find it, along with another dozen rollercoasters and many more rides for all ages, at Carowinds amusement and waterpark.
Where: Charlotte, North Carolina
How to get there: Direct UK flights to Charlotte take nine hours, 15 minutes.
When: Charlotte Motor Speedway tours are available year round. Carowinds amusement and waterpark is open from March to October. US National Whitewater Centre is open year round.
Cost: Charlotte Motor Speedway, Feel the Thrill tour: child, £7.22; over 13s and adults, £8.66. US National Whitewater Centre Day Passes: child, £32.40; over nines and adults, £42.50. Carowinds: child from £32.50; adult from £47.60.
Inspired by the top 10 family activities in North Carolina? Take a look at Visit North Carolina for a few thousand more thrilling adventures.