The idea of being bored on a family holiday in Cancun probably never crossed your mind and why would it? The iconic Yucatan Peninsula resort has the entire Mexican Caribbean to play around with, so what to miss out rather than fit in, is probably more of an issue.
But where do you even begin on a coastline which has everything from 6th century Mayan cities to waterparks, beaches, lagoons, nightly carnivals and almost any other essential in the dream holiday mix?
Experiencas Xcaret are the team responsible for Xcaret Eco-Archaeological Park, opened in 1990 and now world famous for preserving some of Mexico's most important natural heritage and making it accessible to millions of visitors. So when it comes to local knowledge of Cancun and Riviera Maya and how to pack as much into a family holiday as possible, who better to hand out hints? Have a look at their top 10 family tours and fun days out for starters.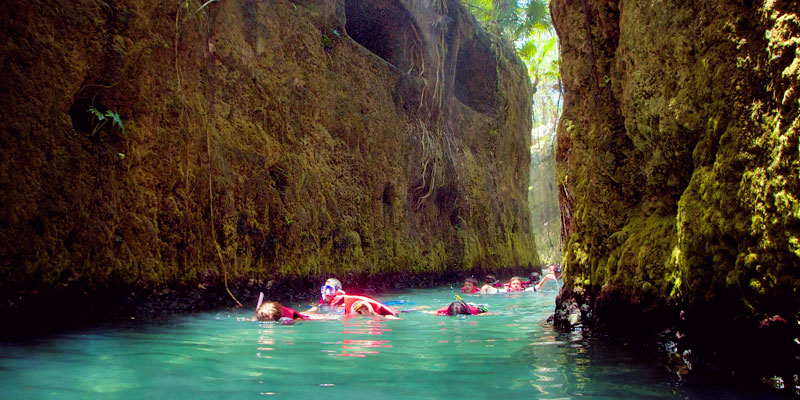 1/10

 Explore the amazing underground rivers of Xcaret

The Yucatan Peninsula's caves and caverns are archaeological marvels, but you don't have to be an archaeologist to explore their awe-inspiring network of underground rivers. Simply put on a life-vest, step into the water and natural currents gently guide you round ancient rock formations, into enchanting pools and along narrow, sunlit channels between soaring golden cliffs.

Choose from three different waterways: the Blue, Maya or Manatee. They're nature's own lazy rivers but much more captivating than manmade waterpark pretenders. Just relax and look around, from busy flocks of colourful flamingo to the strange beauty of mangroves, there's never any shortage of sights. And it's part amazing adventure, history lesson and organic water therapy in the purest form, which makes the entire experience all-round perfect for families.
Good to know
Extra bold navigators can hire snorkelling gear and delve even deeper into the mysteries of Xcaret's astonishing underground rivers.