Sponsored Content
Lucy Pares lands in north-western Florida's Panama City Beach, a dream spot for an activity-packed family holiday.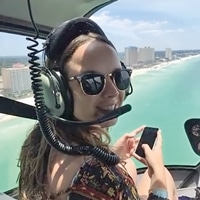 I felt the nudge of a couple of bottlenose dolphins on the soles of my feet and I began to move forward, faster and faster through the water, until I rose into the air, arms outstretched, grinning like an idiot. As I reached the shallows, both dolphins swam in a circle and appeared in front of me, ready to wave their fins at my command. I gave them a kiss on the nose, and off they swam, ready to frolic with their next playmate.
No, this was not a dream; it was all part of the Royal Swim at the Gulf World Marine Park in Panama City Beach. Not just an aquarium, the Gulf World Marine Park is a rehabilitation centre for injured sealife. Its aim is to help injured or sick sealife get better and then release them into their natural habitat. At the park, you'll also see a multitude of coloured birds, including parrots and flamingos, turtles, very friendly penguins and the sea lion and rough-toothed dolphin show, which is absolutely hilarious for both children and adults alike.
Panama City Beach is a coastal city, stretching along 27 miles of stunning beaches on the Gulf Coast of Florida. As I wandered along the sand, flip-flops in hand, I couldn't believe this place is perceived as the home of Spring Break, when it's filled with drunken teens, loud music and alcohol. The serene nature of Panama City Beach, with its national state parks and incredible wildlife, juxtaposes its reputation.
My favourite area of Panama City Beach was Shell Island, a beguiling barrier island home to extensive wildlife, such as ghost crabs, loggerhead turtles, green sea turtles, the endangered Choctawhatchee beach mice and piping plovers. Shell Island is a protected area and you can reach it by boat or jet ski.
The Shell Island Shuttle will pick you up from St Andrews State Park and cart the whole family over. Alternatively, you can book a tour boat or a jet ski. Shell Island is perfect for a family day trip. There are no pop-up shops, picnic benches or toilets, but all this adds to the magic of its natural beauty.
Families can climb the sand dunes, run around the inland lake, explore the coastal scrub forest, or simply set up camp on the beach and frolic in the sparkling turquoise waters. Don't forget to take lots of drinking water, a picnic and plenty of suncream, because there isn't anywhere to purchase these essentials on the island.
The Gulf World Marine Park wasn't the only place we were lucky enough to swim with dolphins. En route to Shell Island, mid jet-ski ride, our guide told us to pop on our goggles, turn off our engines and slide into the water. We found ourselves bobbing right next to a pod of dolphins who were playing together blissfully in the shallows.
Another way to spot dolphins (or even sharks) is to travel by helicopter. We took the Panhandle Helicopter tour, which carried us along the coast for 22 miles up to Shell Island and back, taking 20 minutes or so and flying over the stunning St Andrews State Park and Grand Lagoon. There's no age limit, so feel free to take your toddler or great grandma, as the views are spectacular.
There are two state parks in Panama City Beach – St Andrews State Park and Camp Helen State Park. Camp Helen is thought to have been inhabited by humans more than 4,000 years ago and hosts one of the largest coastal dune lakes in Florida. It's perfect for walking, with hiking trails winding in and out of the dunes, and fishing, campfires and boats are allowed in certain areas, but visitors can't stay overnight.
You can, however, stay overnight at St Andrews State Park, an area famous for its bright white beaches and turquoise water. Also rich with wildlife, St Andrews Park is great for bird-watching, so pick up your binoculars, pack your tents and head for the nature trails of the park to enjoy a weekend of wholesome outdoor life.
As well as beautiful scenery and marine life, Panama City Beach offers family-friendly activities for all ages, such as Barnacle Bay's minigolf and Ripley's Believe It Or Not! museum. We wandered around Pier Park, where you can shop and eat to your heart's content, and dropped in at the popular Pompano Joe's Seafood House for dinner, sitting out on the balcony to enjoy the sunset over the Gulf Coast – a sight to put on the bucket list. I'd recommend the delicious fish tacos, and there's also a kids' menu.
For a really special dinner out in Panama City Beach, we were lucky enough to visit FireFly, a restaurant with an ethereal feel, thanks to a large tree directly in the centre of the eating area, wrapped in fairy lights.
The Lowdown
Best time to visit: "Fall is a favuorite time of year for visitors and locals alike. The peak heat of summer passes, but the sun continues to shine," shares President and CEO of Visit Panama City Beach, Dan Rowe. "With some of country music's greatest acts and family-friendly festivals like Pirates of the High Seas Fest this fall, there's no better time for a family to visit."
Find out more about Panama City Beach
Find out where's best to stay in Panama City Beach for families