Dodge the big cities and theme parks, and head for Florida's north-west Gulf Coast, for jet-skiing with dolphins, fascinating history and the real-life Truman Show, says Lucy Pares
In my wildest dreams, I never imagined I'd be jet-skiing alongside three frolicking bottlenose dolphins off the gulf coast of Mexico. These beautiful mammals played jauntily in the wake of our jetskis, coming up close and allowing us to jump into the water next to them, snorkels on and cameras ready.
We Brits tend to think of Florida as mega-theme parks and fast cities, but look a little further and you'll find the tranquil serenity of a natural and historic Florida, with a beauty that draws its inhabitants to never leave the life they love. On my arrival in north-west Florida's Gulf Coast, I was taken aback at the natural landscape, acres of mangroves and long stretches of unspoilt beaches.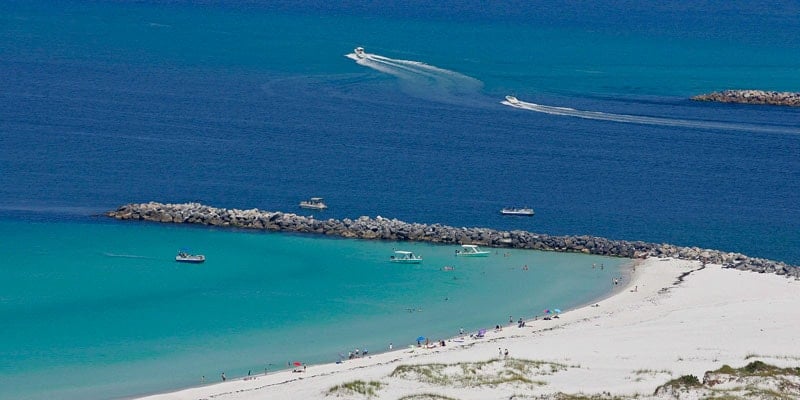 Historic Pensacola village
I arrived in Pensacola, one of the earliest European settlements in the US and the westernmost city in the Florida panhandle. It's a pure delight for adults and kids, with activities aplenty, stunning scenery and a neverending array of family-friendly restaurants, serving huge bowls of traditional gumbo next to spectacular ocean vistas.
A great way to get your bearings is to join a Segway tour with Emerald Coast Tours, (perfect for teens aged 14 and over) around the historic district, an educational and entertaining experience, learning about the British, Spanish and French colonial influences and how they have shaped the city during the past 450 years. For families with younger children, Emerald Coast Tours also runs bike and walking tours.
Whizzing around the Historic Pensacola village with a friendly and knowledgeable guide, we had a first-hand experience of the original 19th-century buildings and the history they held. From the Museum of Commerce, and a reconstruction of a traditional Pensacola street scene in the late 1800s, to the pretty Clara Barkley Dorr House, built in 1871, we soon got a sense of Pensacola's history. Make sure you visit between Tuesday and Saturday to see volunteers dressed in traditional 19th-century costumes.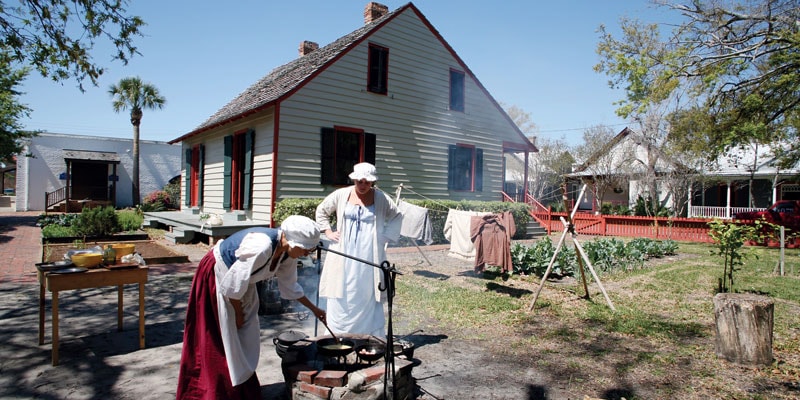 Gulf Islands National Seashore
To seek an unspoilt coastline, we drove over to the Gulf Islands National Seashore, which boasts the whitest sandy beaches. The beaches are so pure that while you walk, they 'speak', due to the amount of pure quartz crystal in the sand – an ethereal experience.
Between May and October (nesting season), female turtles lay their eggs in self-made holes high up on the beach. Florida is a great place to turtle-watch, with 80% of sea turtle nesting in the US occurring along its coast. At the Gulf Islands National Seashore, there are four different types of turtles that come to nest: green turtles, Kemp's Ridley turtles, the rare leatherback sea turtles and the most common loggerhead turtle. Sadly, all these turtle species are endangered, for a multitude of reasons, including natural predators, pollution, beach equipment left out and, most commonly, artificial lighting, which confuses the hatched turtles as to how to make their way to the ocean. We were told how we can actively help these amazing reptiles by turning off outdoor lighting as much as possible and keeping beaches clean.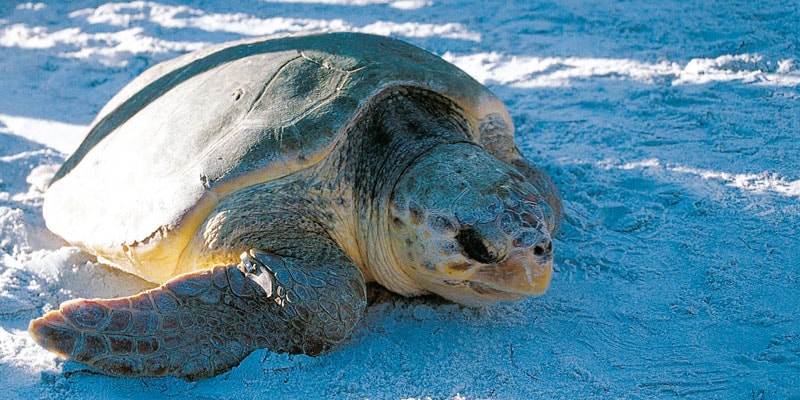 To start off the day with a hearty breakfast, we paid a visit to The Ruby Slipper for some good ol' southern hospitality and a Floridian special of grits, biscuits and gravy (with a side of fried chicken, if you dare!). The cheesecake-stuffed French toast is also something to behold.
We stayed at the Hilton Pensacola Beach, which is child-friendly and offers stunning views. It has two pools and a hot tub and, if you book ahead, you can order crab kits, which include torches, buckets, spades and nets, for the little ones to enjoy an exciting experience hunting ghost crabs. There's plenty of room to swing a cat (or a child) in the enormous suites, all equipped with balconies, and the family suites have bunk beds for the young ones.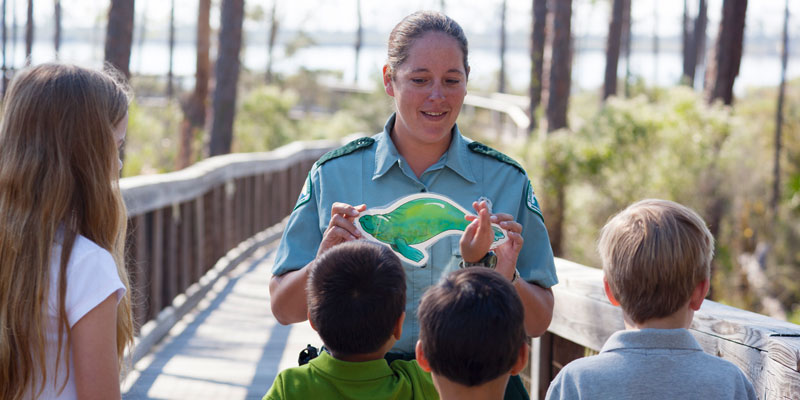 South Walton
Our next destination was South Walton, set on 26 miles of sandy shoreline east of Pensacola. South Walton offers a completely different atmosphere to Pensacola – calmer and more affluent. There are 16 beach neighbourhoods to choose from, all with their own character. Rosemary beach is perfect for families. It was built with the purpose of fulfilling the concept of New Urbanism – a movement formed to provide an escape from the everyday multitude of cars, highways and fast-food restaurants, bringing a sense of community back to the US.
Rosemary Beach is a place of luxury and tranquillity, where no house looks the same. The properties range drastically to cater for all sizes of party, and various spotless swimming pools are dotted around the town, which is centred around a quaint town square. We stayed in a self-catered house, perfect for multi-generational holidays, with a large living room and an outdoor seating area. To get around, we rented beautiful old classic bicycles, as cars are discouraged and bikes are definitely the quickest and easiest way to make your way through this miniature town. The road leading from the centre of Rosemary Beach straight to the coastline deliberately resembles an old cobbled Parisian street, and is perfect for a relaxing evening, with outdoor seating, live music, delicate fairy lights and beautiful fresh food.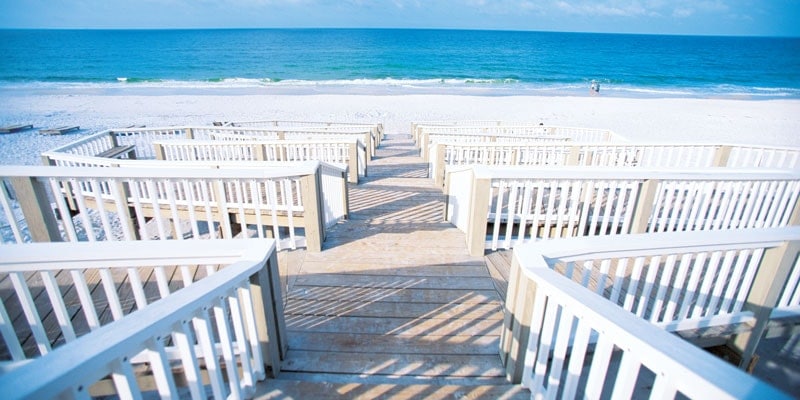 The real life Truman Show
Just down the road sits Seaside, where The Truman Show was filmed. Seaside is a more compact version of Rosemary Beach, more village-like, with plenty of boutique establishments and restaurants to choose from. Bud and Alley's is a particular favourite, and has been there since before Seaside even existed. This restaurant offers the best view of the sunset over the Gulf, live music and delicious fresh food (the crab cakes are a must). Fifteen minutes' drive away is Grayton Beach State Park, where you can take the family for a paddle around the coastal dune lake and cycle through the pine flatwoods. We rented YOLO paddleboards, because their boards are built to make stand-up paddleboarding easy and enjoyable for all ages and skill levels. The YOLO brand was founded in South Walton with the aim of encouraging everyone to enjoy the wonders of the outdoors.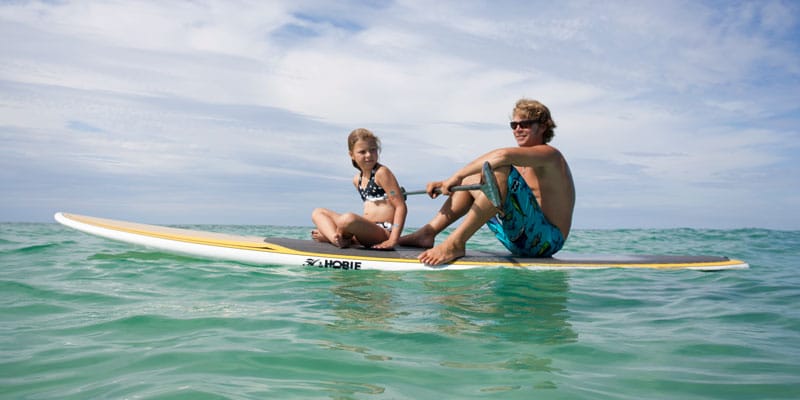 Panama City Beach
Our next destination was Panama City Beach, a half-hour drive east of Rosemary Beach along the coastal road. Panama City Beach sits along 27 miles of dazzling beaches and, although the centre is bustling with activities, you might be surprised to know that within those 27 miles sit two state parks, two city parks plus an uninhabited barrier island; perfect for bird-watchers, ramblers, adventurers or simply families looking for relaxation.
We stayed at the Holiday Inn, which offers both family rooms and kids' suites, all with ocean-facing rooms. The kids' suites include a room within a room – a partitioned section, which holds two single beds for the kids, offering slightly more privacy for both parents and children. The Holiday Inn is lively, and offers daily entertainment next to the pool, such as fire dancers and a poolside cinema just after sunset. There is also an Aqualand Water Playground for the young kids.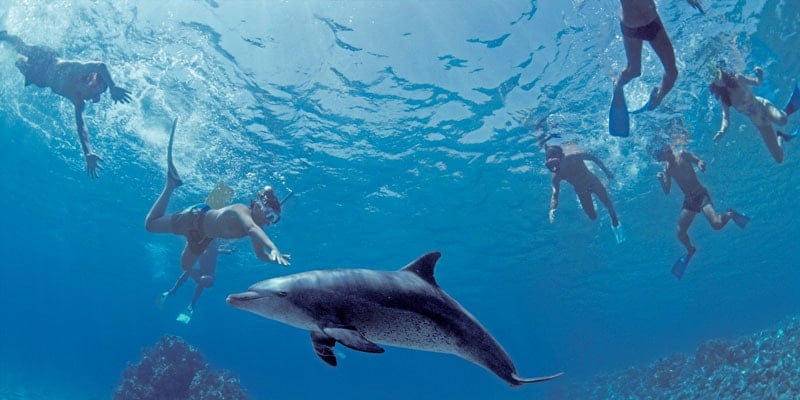 Shell Island
Shell Island is the uninhabited barrier island, a seven-mile stretch of dunes, coastal lakes and coastal shrub forests. To get there, you can take a boat tour or the Shell Island shuttle that runs from St Andrews State Park, on the mainland. We opted to get there by jetski tour from the mainland – a thrilling adventure. Only those older than 16 can operate a jetski, but younger kids can hop on board with an adult. Pop a picnic in your bag, plenty of water and suncream, and spend the whole day on Shell Island, frolicking in the shallows and exploring the dunes. Our experienced jetski tour guide took us up to groups of dolphins so we could slip off the vehicles and swim as close as possible.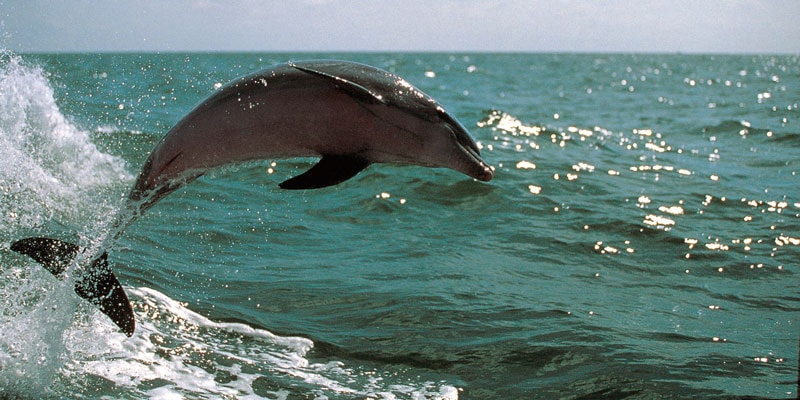 Florida is full of surprises, so don't write it off as a Disney-mad, Spring-break-crazed destination. Instead, delve deeper into the natural beauty of the Sunshine State.
The Lowdown
Getting there
Delta Air Lines flies from Heathrow to Northwest Florida Beaches International Airport (Panama City Beach) via its Atlanta hub from £547.35pp
Where to stay
Pensacola
Hilton Pensacola Beach costs from £323 per night for a sea-view suite with one king and two bunk beds
South Walton
Rosemary Beach Cottage Rental Company costs from £249 p night for a carriage house (sleeps six) or from £313 per night for a cottage (sleeps eight)
Panama City Beach
Holiday Inn Panama City Beach costs from £153 per night for a sea-view room with a queen bed and two bunk beds.
For more info