Sponsored Content
Florida's gorgeous Gulf Coast is where the Sunshine State keeps its best beaches, clearest waters and loveliest resorts. It's a bit of a family holiday legend and more than a little credit for that has to go to the charming seaside cities of Sarasota and Bradenton Area. With internationally recognised beaches, cute heritage quarters, pretty islands offshore and a parade of parks, gardens, activities and attractions, these Gulf Coasters would be clichés, if it wasn't for their sheer, irresistible individuality.
But if personality isn't enough to persuade, try a little local knowledge from America & Canada As You Like It tailored holiday specialists. They know the Gulf Coast like few others, so who better to give you 10 very good reasons to put Sarasota and Bradenton Area on your Florida family holiday wish list?

1/10

 Mote Marine Aquarium, Sarasota
Interactive Mote Aquarium starts the day breakfasting with sharks and more often than not ends up moonlight kayaking round Sarasota Bay. Conservation and education are as important here as fun: it's hard to spot the difference, but nice to know; over 450 turtles have been treated in Mote's Turtle Hospital in the past 20 years; the aquarium's AZA (Association of Zoos and Aquariums) accredited; and Mote marine biologists are actively involved in research projects as part of the Protect our Reef initiative.
Early risers can join sharks for first feed, hang off until later to help with Morning Rounds or book a tour of the Seahorse Lab. Eco-boat rides and guided kayak tours extend the aquarium adventure out into the Gulf for sightings of manatee, dolphin, eagles and osprey. Kids love hunting in Fossil Creek (the finds are satisfyingly real). They can't resist the tiny aquarium stars of the future at Oh Baby (the junior shark pool's amazing). And it's Florida, so no visit's complete without eyeing up a few alligators.
Between giving the permanent residents full attention and immersing in experiences, Mote easily fills a day – leave at least two hours to see the aquarium alone.
Know before you go: private eco-boat charters can be arranged for larger family groups.
2/10

 Treeumph Aerial Adventure Course, Bradenton Area
Head for heights? Head to Treeumph, South West Florida's biggest, tallest and zippiest aerial obstacle course in over 14 acres of sunny and soaring Bradenton forest.
Some adventures work best for teens and grown-ups. But Ape Up, Scramble and Ascent are designed for under 10s: plenty challenging for kids and just about bearable to watch for spectating parents.
Daredevil older aerialists and adults can ascend to even greater heights, launch across vast chasms and teeter on, what will occasionally feel like, the edge of infinity. Good news is: safety and thrills are well matched and Treeumph holds a TripAdvisor Bravo Award for all-round excellence.
The courses are a combo of zip-lines, bridges, slides, pulleys and spectacularly inventive obstacles you have to see to believe. All harnesses use advanced Clic-It technology. And nobody climbs anywhere until they've been thoroughly briefed by the friendly Treeumph team at Base Camp.
Know before you go: Treeumph junior courses are designed for kids from age seven.
3/10

 Kayak Tours, Anna Maria Island
For the laid-back, beachy and old time Florida charm, only found in ice cream paint colours, soda parlours, cute little stores, seafood shacks and acre upon acres of pure white sands; you want Anna Maria Island.
Just 20 minutes from Bradenton Area, this pretty offshore island is a perfect family holiday base and land of adventure for nature lovers. If you need proof, take a guided kayak tour of Anna Maria Sound.
Sailing through deeply mysterious Mangroves, spotting pods of dolphin feeding, gliding around rookeries, under bridges and close to oyster shoals, it's an archetypal Gulf Coast experience guided by fun and ridiculously knowledgeable locals. The protected waters here teem with strange and wonderful creatures and silent kayaking is as unobtrusive as it is rewarding.
Know before you go: Beach Bums on Anna Maria Island rent everything from bikes to paddle boards and even deliver to your holiday home.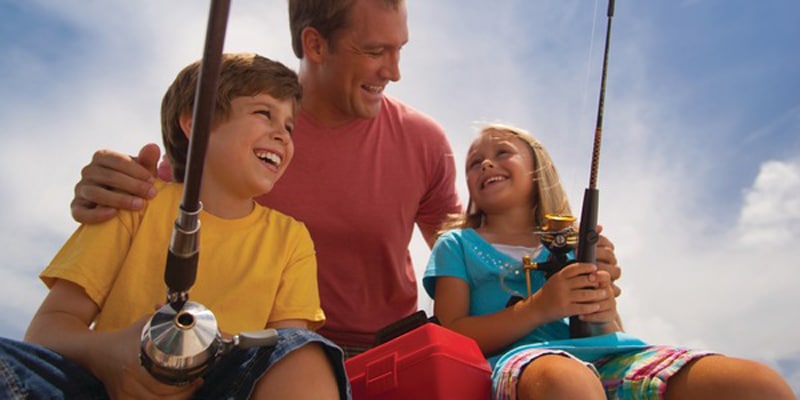 4/10

 Deep Sea Fishing, Bradenton Area
You don't need more than a passing acquaintance with Florida's Gulf Coast to be aware of its world class deep sea fishing. Hemingway was a big fan of the local sport and countless keen amateurs and hardy professionals follow his lead here every year.
Truth is, you don't need to know the difference between a Sea Bass and a Trigger for a family fishing trip.
Expertise, tuition, equipment and encouragement are all part of a day out with Cortez. They even clean your fish, so all you have to do is catch and cook. The experience is nothing like sitting on a dock, patiently waiting for something to bite: it's high energy, all action and far, far out to sea. No worries about bored younger kids, and teens will rise to the challenge in minutes. Plus there's nothing quite like satisfying that primal urge to feed your brood – from scratch.
Know before you go: Cortez go deep sea fishing twice a day, 363 days a year, weather permitting.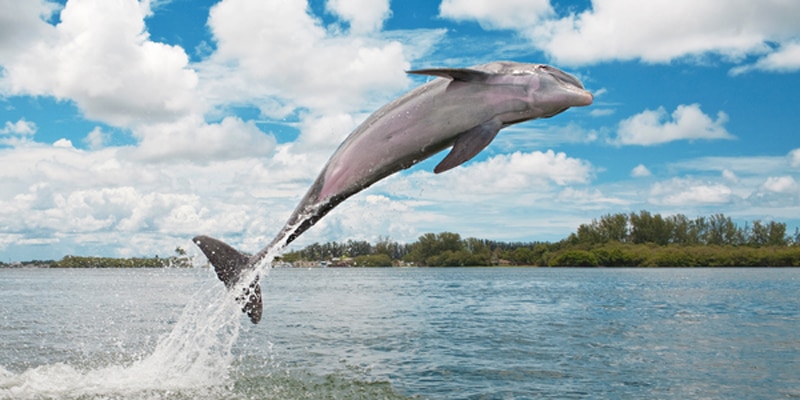 5/10

 Family Boat Tours, Sarasota
When a boat tour is upfront with a guarantee of a dolphin or manatee sighting, you have to put it to the test. Especially if the tour company are so keen to keep their word, they'll take you out sailing again for free if they don't come good on cetacean spotting first time round.
Le Barge Tropical Cruises in Sarasota aren't shy on promises of dolphins, they're good for manatee and stingray too and big on wild birds doesn't even begin to describe their in-depth knowledge of what flies above the Gulf on any given day.
A great choice for families, they offer discounts on group bookings, can be hired for private charters and if their boats could be cuter, it's difficult to know how.
Know before you go: Le Barge Tropical cruises are 90 minutes long and fully narrated by local wildlife experts.
6/10

 Circus Arts Classes, Sarasota
Sarasota's circus traditions stretch back almost 80 years to the days when John Ringling first made the city his winter home for Ringling Bros. and the legendary Barnum & Bailey Circus.
The historic legacy's kept alive today by Circus Sarasota where the smell of greasepaint and the roar of the crowd are up for grabs all summer long, thanks to an innovative Circus Summer Camp. A week of non-stop thrills, skills and unique adventure aimed at introducing kids to the art of everything from clowning to high-flying, tightrope walking and ring mastery.
If young performers aren't too sure about a week-long commitment, Tito Gaona's Flying Trapeze Park teaches the aerial arts to children from age five and classes are just two hour's long. Or, simply spectating's another option, best experienced at the incredible 66 acre Ringling Museum of the American Circus in Sarasota.
Know before you go: Tito Gaona's Flying Trapeze Park is in Venice, 30 minutes drive south of Downtown Sarasota.
7/10

 Sarasota Jungle Gardens
You can't help but feel Sarasota Jungle Gardens must be doing something very right: they opened in 1939 and are still going strong almost 80 years later. But it's hard to beat the winning formula of cute animal antics, petting zoos and creature meet 'n' greets, keeper experiences and wild residents ranging from charming Cockatoos to prehistoric alligators.
Year-round kids event programme, special occasion celebrations, adventure playgrounds and extensive nature trails are part of the fun too. Jungle Gardens has been a firm favourite with generations of local families but still manages to stay fresh and exciting. Look out for star attractions like feeding flamingos, playing with mini-pigs, caring for injured animals and exploring Old Florida.
Kids can touch skunks and hold snakes here too, so you'll be pleased to know the team are wonderful, and expert at keeping everything under control and amazing at the same time.
Know before you go: all animal shows and experiences are included in Sarasota Jungle Gardens' ticket price.
8/10

 Manatee Village Historical Park, Bradenton Area
If you've ever wondered what life was like in Florida before orange juice and theme parks, visit Manatee Village and all will be revealed.
This beautifully recreated pioneer village is precise down to the tiniest detail and sweeps you back to a time of mills and blacksmiths, wooden courthouses, dry goods' stores, smokehouses, potteries and well-tended vegetable gardens. The Settler's House is Instagram gold, kids love the fully kitted out Schoolhouse and you can't help but be enchanted by the village church's gentle charm.
It's a living museum without a hint of stuffiness thanks to a community of resident artists and artisans who work and exhibit here. There are events, big and small, all year round from farm markets to heritage open days – everyone welcome. And even the playground has a touch of history mixed in with the slides, chutes and swings.
Know before you go: Manatee Village Historical Park has free entry year round.
9/10

 Coquina Beach, Anna Maria Island, Bradenton Area
In 2015, Conde Nast Traveller named Coquina Beach one of the 'Top Five Beaches in the World for Perfect Sand'. Fortunately this accolade hasn't brought crowds flocking to Anna Maria Island to see for themselves. So, the sugary white shore is as flawless as ever but there's still plenty of space to spread out, have a picnic, play with the kids and compose your own glowing review.
Coquina's often described as Old Style Florida, not hard to understand when you catch a glimpse of the wooden lifeguard tower, brightly coloured sun umbrellas, paddling locals and peaceful atmosphere. If you can be bothered: go have a wander down the quaint pier, explore the shady pine forest or have a swim in the fabulously clear sea. Alternatively, just do nothing but sit on the 'perfect sand', admire the view and soak up the Gulf Coast sunshine.
Know before you go: Coquina Beach is part of Gulfside Park at the south end of Anna Maria Island and famously good for marked hiking trails.
10/10

 Siesta Beach, Sarasota
TripAdvisor' Traveller's Choice Awards 2017 named Siesta, 'Best Beach in USA', and ranked it in the world's top ten best. Why all the lavish praise?
It could have something to do with acre after acre of pure white sand comprised of 99% quartz (toe-cool even on the hottest days). Roll-out ADA walkways for buggies, wheelchairs and pedestrians, don't hurt either. There are several volleyball courts, safe and shallow waters for swimming and full time lifeguard patrols. And, just for good measure, Siesta also has Blue Wave status for cleanliness and water quality.
Picnic pavilions and shaded rest areas make a day out easy-going with younger kids in high summer and the beach is just 20 minutes' drive from Downtown Sarasota.
Know before you go: there's a good choice of resort hotels and self-catering holiday apartments overlooking Siesta Beach.