Sponsored Content
©Disney
No travel company understands Florida better than Ocean Florida. For the past decade they've taken more than 250,000 contented customers on holiday all over the Sunshine State, and last year they were named 'Best Overall Holiday Company to the USA', at the British Travel Awards 2018.
A well-deserved win considering their outstanding level of service – they even have a dedicated Ocean Holidays Welcome centre in the heart of Kissimmee so families have 24/7 support during their stay in Orlando.
Though it's probably not an exaggeration to say that Ocean Florida have also introduced many families to Florida well beyond Orlando. Since their holidays cover every coast from Gulf to Gold and Emerald, as well as sweeping down to the Caribbean Sea and over to glamorous Miami – a surprisingly fun city for kids.
But if you're looking for thrilling theme parks, great value UK school holiday breaks or beautiful beaches this year, Ocean Florida are going back to their roots this year and highly recommending Walt Disney World Resort and the singularly glorious Florida Keys, here's why: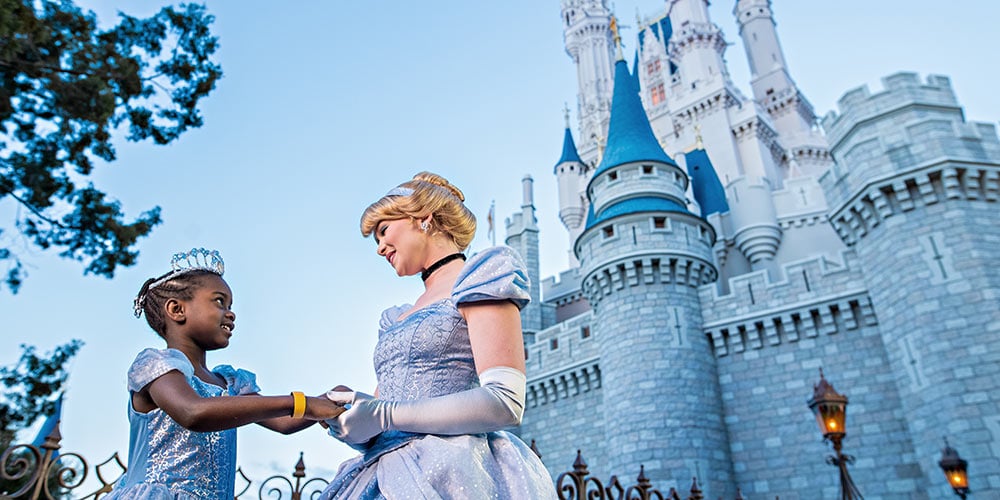 1/7

Once in a lifetime Walt Disney World Resort

Walt Disney World Resort in Florida doesn't have a cut-off point when it comes to amazing. So you can safely expect to be awed on a minute-by-minute basis and have all expectations exceeded endlessly.

But, if you're thinking a large-ish theme-park experience, think again: Walt Disney World Resort actually covers an astonishing 40 square miles. That's not just immense, it's roughly the same size as Manchester immense – only instead of the UK's third largest city, you have the world's biggest fantasy made real.

Taking into account its sheer scale and the fact that there are no fewer than six parks and 30 family hotels, not to mention acres of championship golf courses, luxury spas, dozens of restaurants and pretty much non-stop entertainment; you can see why Ocean Florida look at Walt Disney World Resort as a complete destination rather than just another Orlando attraction.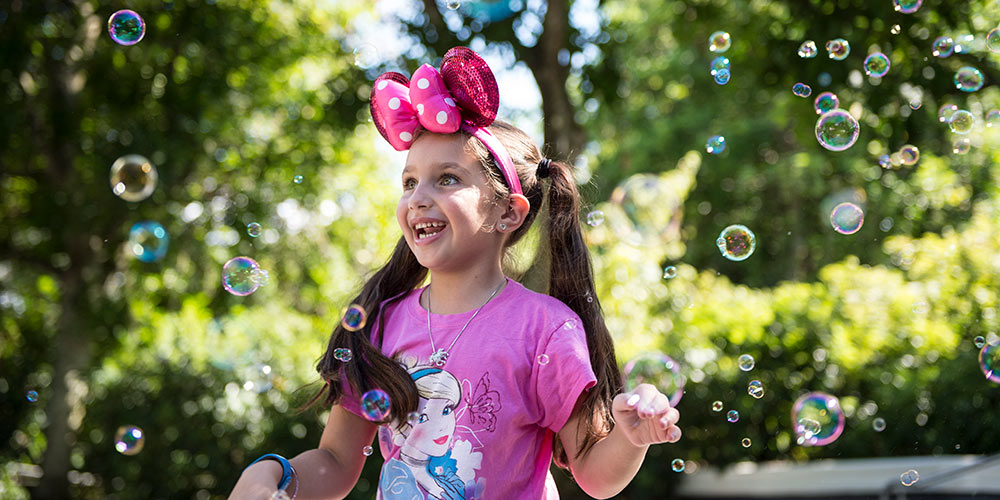 2/7

You do the Disney fun, let Ocean Florida do everything else

No surprise to find it takes quite a bit of know-how to pull off a fabulous holiday at Walt Disney World Resort. Which is why thousands of families every year let Ocean Florida do the planning side of things. Not only do they have a dedicated team of Disney experts to sort out everything from your dream hotel to the perfect park passes, they also offer the best deals thanks to their longstanding partnership with Walt Disney World Resort.

And on top of all their expertise, spectacular organisational skills and fantastic attention to detail, Ocean Florida's Disney team take time to listen to what type of holiday you want. Because diverse doesn't even begin to describe what's available:
Four sensational theme parks: Magic Kingdom Park, Epcot, Disney's Hollywood Studios and Disney's Animal Kingdom Theme Park.
Two world famous waterparks: Disney's Blizzard Beach Water Park and Disney's Typhoon Lagoon Water Park.
Dozens of incredible rides ranging from the AVATAR Flight of Passage to Slinky Dog Dash.
A choice of 30 themed Disney Resort Hotels ranging from Value and Moderate to Deluxe. All part of the Walt Disney World Resort, minutes from parks and a short drive from Kissimmee, International Drive and Orlando's other major family attractions.
Take a closer look at Walt Disney World Resort with Ocean Florida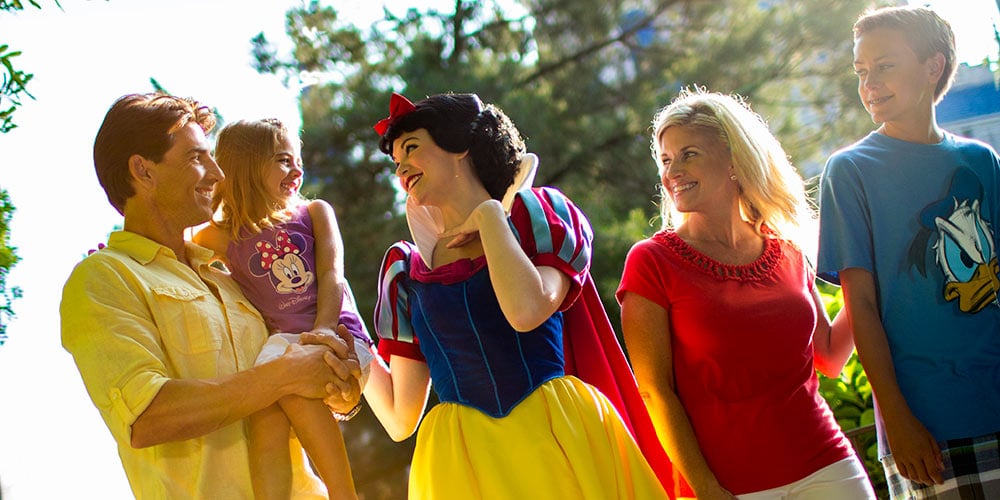 3/7

The Ultimate Ticket to fulfil all your Disney wishes

The enchantment of Disney doesn't have an age limit, it crosses just about every imaginable boundary, speaks a universal language and families just can't get enough of it. So you'll be pleased to know that Ocean Florida grant all your holiday wishes with Disney's Ultimate Ticket which, along with many other fabulous features, makes sure the magic of Disney isn't dimmed by dull stuff like queuing for rides, even when the parks are at their busiest (depending on availability you will be eligible for 3 Disney FastPass+ selections per park, per day).

A 7-Day, 14-Day or 21-Day Disney's Ultimate Ticket as part of your Walt Disney World Resort family holiday package includes:
Unlimited access to all six parks.
Disney FastPass+ for queue-free access to rides and attractions.
Free transport from Disney Resort Hotels to parks.
Free use of Disney's Oak Trail Golf Course.
Free use of Memory Maker: the online portal to store all your family pics taken by Disney's park photographers.
Find out more about Walt Disney World Resort family holiday packages from Ocean Florida
 Take a look at Ocean Florida's latest Walt Disney World Resort family holidays from just £579pp including 7-nights in a Disney Resort Hotels and return UK flights.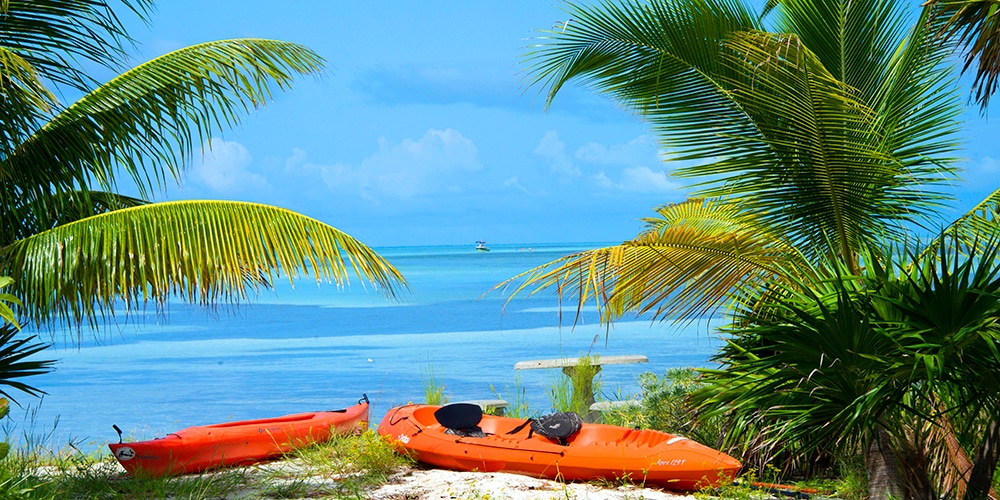 4/7

Unlock an unforgettable island adventure on the Florida Keys
The Florida Keys stretch for over 126 miles between the southern tip of the Sunshine State and the warm, blue Caribbean Sea. They're basically a long, skinny ribbon of low-rise, sandy islands on top of coral reefs, but that isn't what makes them one of Ocean Florida's favourite family holiday destinations.
Instead, think spectacular marine reserves, overseas highways and white beaches, literary legends, marooned Spanish fortresses, haunted houses, quaint customs, clouds of pelicans, schools of dolphins, and enough big fish tales to fill several lifetimes. Then consider luxury hotels with wide ocean views, cute heritage restaurants and even cuter seafood shacks, fantastic diving and snorkelling, water sports by the acre and everything from pirate museums to aquariums to fill in the gaps. Now you're getting close to understanding what makes the Florida Keys so perfect for families.
Plus of course, you can drive from Miami to Key Largo in just over an hour, get down to Key West in a little under three and a half hours, or choose a mid-point at Duck Key for the best of all worlds.
And happily Ocean Florida has heavenly family holidays top, middle and bottom in the Florida Keys this year and every single one is a true original and packed with kid-appeal.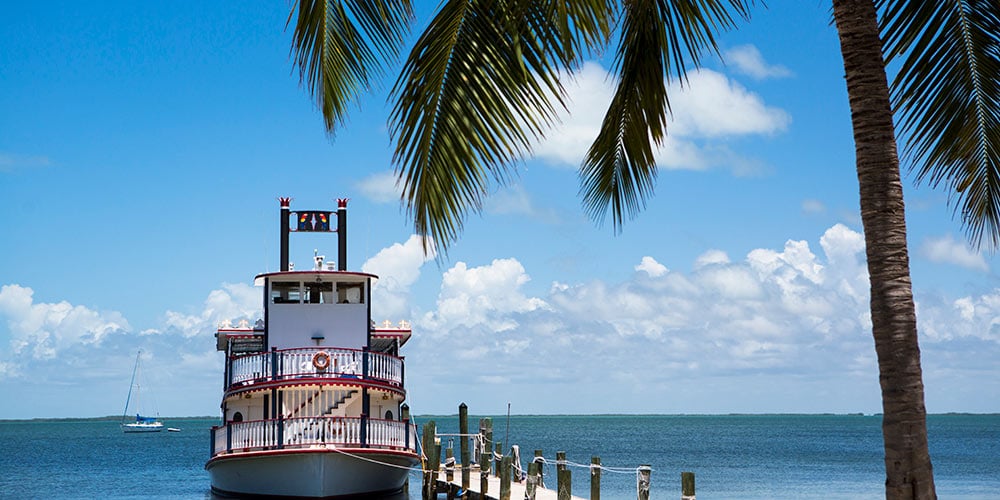 5/7

Key Largo – the Key for dolphin swims, coral reefs and world class diving

The first and largest Florida Key is no distance at all from Miami Airport and wins families over instantly with its laid back charm and easy atmosphere. Island time is definitely what they run on in Key Largo which is only perfect for long, lazy days on the beach; exploring local creeks by canoe or just hanging out, shucking shellfish and watching the sun go down.

Kids love it here, the pace is just right for them, and there's plenty of fun to be had. They can try out as a marine biologist and swim with dolphins at Dolphin Plus, a glass-bottom boat trip round John Pennekamp Coral Reef State Park is a must-do, and if that's not close enough to the action, Key Largo calls itself the Dive Capital of the World – there's no shortage of sensational snorkelling for underwater newbies.

Take a look at Ocean Florida family holidays in Key Largo from just £759pp for 7-nights including hotel and return UK flights to Miami.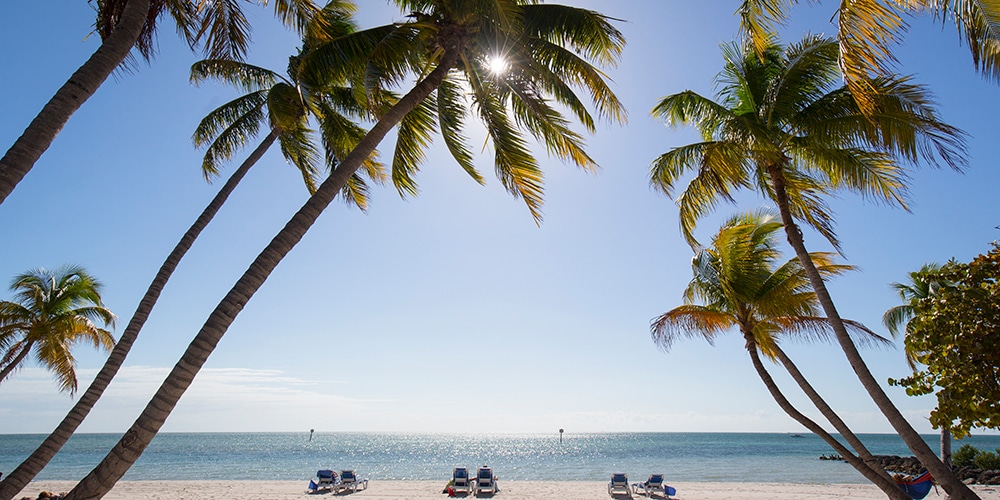 6/7

Duck Key – the Key for cool kids' activities, fun water sports and sea turtles

Even if Duck Key wasn't one of the prettiest and most peaceful of Florida's Keys, the fact that getting here involves a drive over the iconic Seven-Mile-Bridge is reason alone to go.

Once you've ticked the 'Family Road Trip' box, ease into the gentle spirit of Duck by discovering its gorgeous beaches and clear seas. Some of the finest scuba schools in Florida call this Key home, so it's a great place to don a mask and flippers for the first time. Beginners are more than welcome and gliding by sea turtles and colourful tropical fish is a great motivator for kids.

Apart from amazing diving, snorkelling and blazing sunsets, Duck Key is well know for its superb family resorts where children pretty much rule and can expect everything from imaginative activity programmes to junior water sports, kids' clubs and brilliant teen-friendly beach parties.

Take a look at Ocean Florida family holidays in Duck Key from just £969pp for 7-nights including hotel and return UK flights to Miami.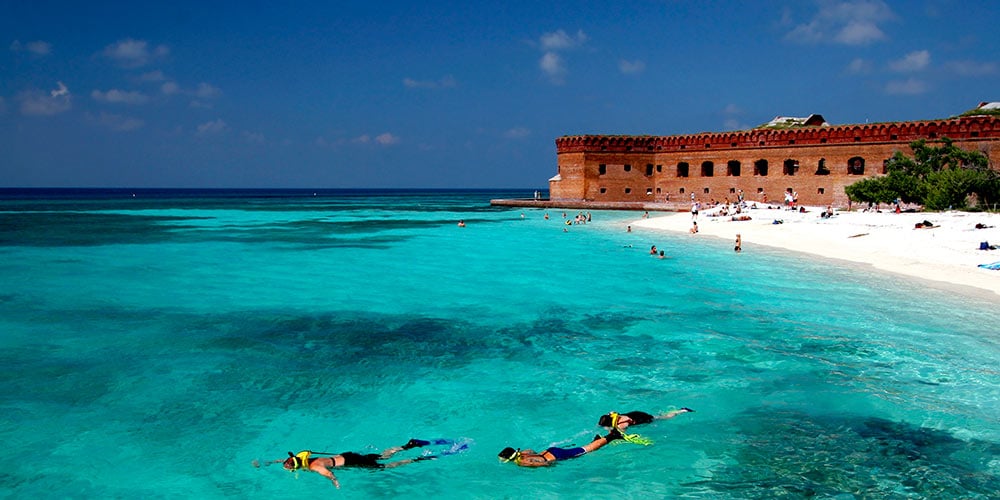 7/7

Key West – the colourful Caribbean Key that lives up to the legend

Closer to Cuba than Miami, but every inch its own true self, Key West has always been the island for eccentrics, escapists and free spirits – if you need proof, hit Mallory Square any evening for the famous Sunset Celebration.

Teens will like wandering old-fashioned streets lined with elegantly faded mansion houses and wildly exotic gardens. And a haunted graveyard tour is second only to a tour of Hemingway's house – parents can order up a Mojito in his honour on Duval Street. Kids of all ages can look forward to spending time on astonishing Smathers Beach, and a day sail to Dry Tortugas National Park easily ranks as one Florida's most fascinating experiences.

Take a look at Ocean Florida family holidays in Key West from just £759pp for 7-nights including hotel and return UK flights to Miami.

Of course Ocean Florida don't name themselves after the Sunshine State and then limit you to Walt Disney World Resort and the Florida Keys. So if you want to see the gorgeous Gulf Coast, get to know Miami, explore Orlando beyond Disney, or discover why US families adore the Gold or Emerald Coasts, take a look at all Ocean Florida's destinations in Florida, or give the team a call on 0208 131 8362.