Sponsored Content
Kissimmee, Florida is known for the world-famous theme parks and called the Vacation Home Capital of the World®. Did you know that Kissimmee also features adrenaline-pumping activities and awe-inspiring attractions surrounded by the beauty of natural Florida? Kissimmee features an incredible assortment of outdoor experiences and family-friendly adventures such as ziplining, kayaking, airboat ride and even meeting a sleepy sloth up close.
Ocean Florida, are as expert on Kissimmee's outdoor activities as they are about everything else in the area, from great value family villas to the best theme park passes. They even have an Ocean Holidays Welcome Centre right in the heart of Kissimmee – just one of the reasons they were named 'Best Holiday Company to the US' at the British Travel Awards 2018.
So if you're planning a holiday in Florida soon and you want to balance white knuckle rides and magical attractions with more natural experiences, here are five of the top outdoor activities Ocean Florida recommend for families this year.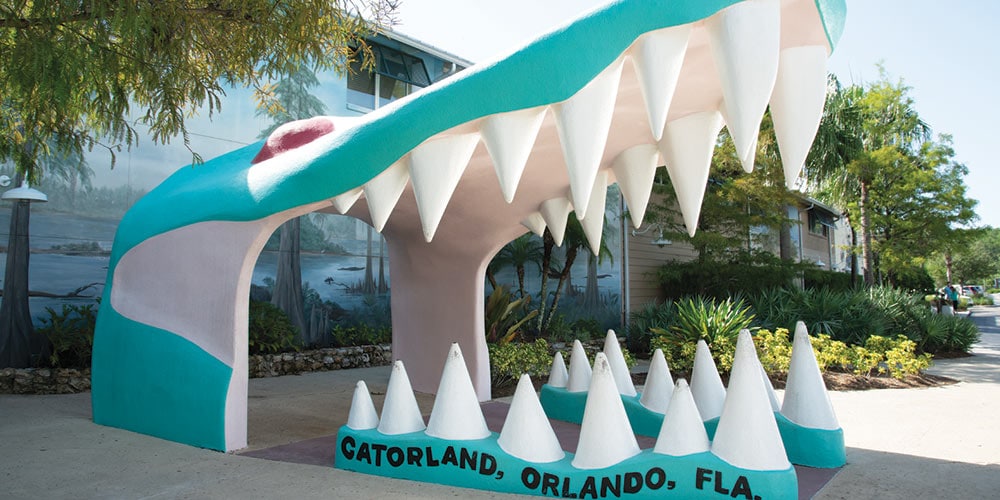 1/5

Gatorland: Alligator Capital of the World™

The enormous, impressively toothy entrance to Gatorland might look cartoony, but this wild 110 acre park is about as real as you want it to get with some of earth's most fearsome predators.

First opened in 1949, The Alligator Capital of the World™ predates Disney's arrival in Florida by more than 20 years, and today it's home to over 2000 alligators as well as crocodiles, snakes, free-flying exotic birds, giant tortoise and wild cats. There's also a petting zoo, for a bit of cute in between all the teeth and claws.

This is the place to catch Gator Wrestlin' shows; check-out the baby alligators AKA grunts, in the Breeding Swamp; eyeball rare leucistics in the White Gator Swamp and venture into authentic Florida wetlands on a Stompin' Gator Off-Road Adventure.

A network of wooden walkways, observation platforms and viewing towers let kids get close, but not too close, to the wild residents – truly bold families can take a night tour. And Gator Gully Splash Park and the Screamin' Gator Zip Line (voted Top Zip Line in the US by AOL Travel) easily exceed Kissimmee's recommended daily dose of rides and slides.
Lowdown
Where
10 minutes' drive north of Kissimmee centre on N. Main Street.
When
10am to 5pm, seven days, year round.
Cost
Single Day Pass, adult from £19; child (under 13) from £15.
Find out more about Gatorland in Kissimmee with Ocean Florida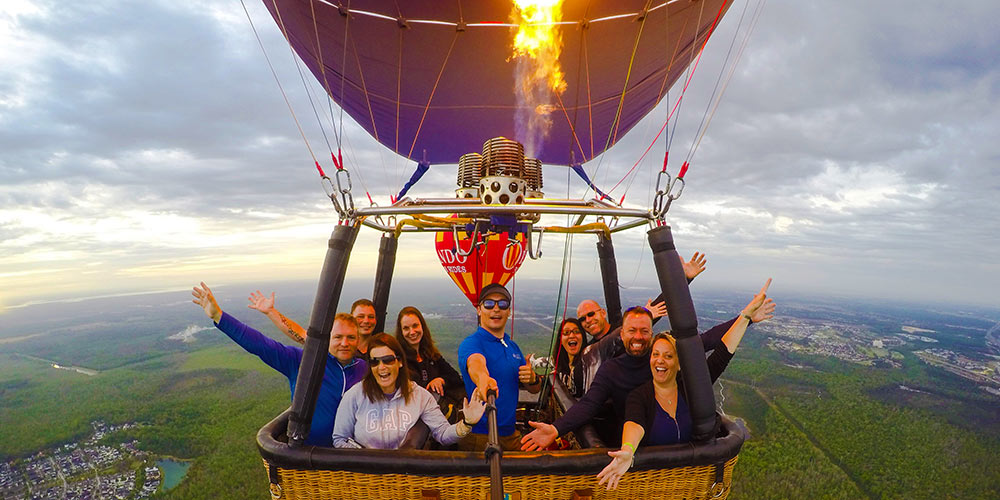 2/5

Orlando Balloon Adventures: sunrise sailing over Kissimmee

If you want to watch the sun come up on another gorgeous day, oversee glossy orange groves and glistening lakes or check out the wild Central Florida Everglades from on high, hot air ballooning is the way to go.

Orlando Balloon Adventures have been sailing gracefully across Kissimmee's skies for almost 20 years, with a perfect safety record you'll be pleased to know. Their Sunrise Charters are ideal for families: each balloon carries up to four passengers and gazing down on Florida's most famous fantasy land is magical for kids.

Each flight lasts an hour, balloons reach heights of 3000 feet and a sedate speed of 25mph means no sight goes unseen. Pick up and drop off at your hotel or villa is included in the adventure, along with a Safari Brunch (champagne for grown-ups, orange juice for kids, pastries for everyone) and souvenir photograph – not that you're likely to forget this incredible experience in a hurry.
Lowdown
Where
25 minutes' drive north west of Kissimmee centre on US-192 W.
When
Sunrise on Saturdays and Sundays, year round.
Cost
Private one hour balloon flight for four, including transport and brunch, from £509.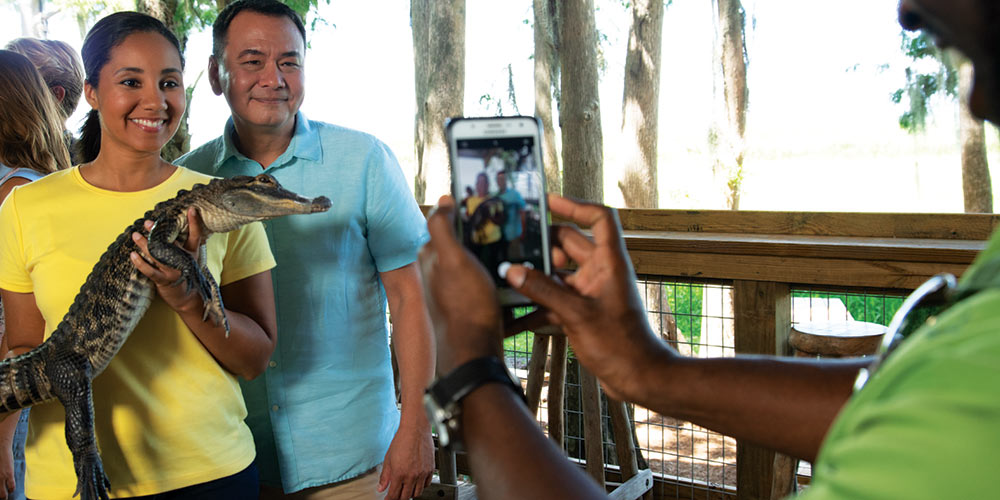 3/5

Wild Florida Airboats & Gator Park: the ultimate Everglades tour
If your idea of the perfect vacation involves spending lots of quality time in the great outdoors, then you'll love Kissimmee, the Gateway to the Everglades®. A visit through the Headwaters of the Florida Everglades will be the wildest adventure you experience in Central Florida.
Wild Florida Airboats & Gator Park offer Everglade tours ranging from a kid-size 30-minutes to eerie Night Tours, much loved by teens. All their airboats are US Coastguard Certified and on-board guides are expert at turning 100,000 acres of swamp into an amazing family adventure.
If kids don't spot alligators in the Everglades, there are plenty in residence at Gator Park, along with hundreds of other animals including sloths, lemurs and Florida panthers. If looking isn't exciting enough, kids can also meet several creatures up-close or even try Yoga with Goats or Albino Alligator Training. And the park's also home to Chomp House Grill, known for its authentic Florida barbecue and fresh fruit slushies.
Lowdown
Where
30 minutes' drive south of Kissimmee centre on Canoe Creek Road.
 When
Monday to Saturday 9am to 6pm.
Cost
30-minute Airboat Tour, Gator Park and alligator demonstration: adults, £22; under 13s, £20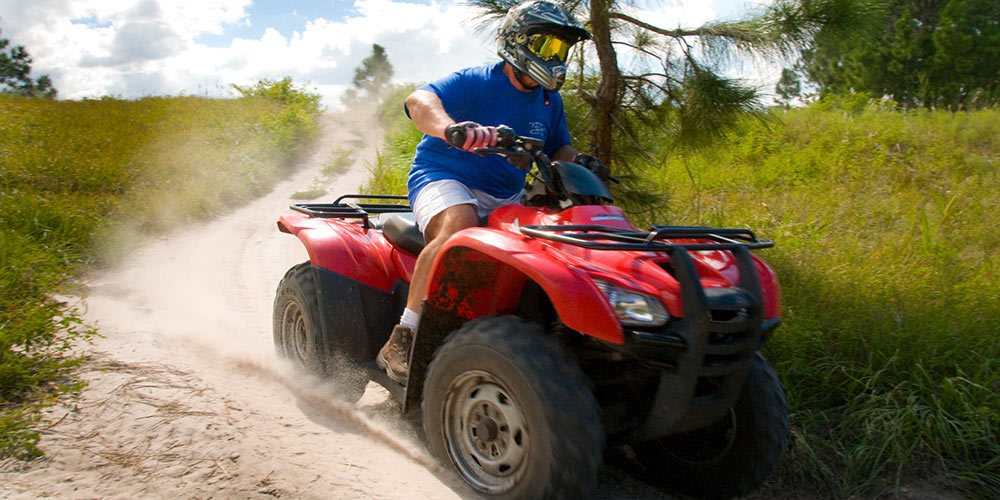 4/5

Revolution Off-Road: Central Florida's #1 off-road adventure
Kissimmee doesn't restrict white knuckle rides to its theme parks, as you'll find out if you head west of Walt Disney World Resort and into the wonderful world of ATVs at Revolution Off-Road AKA Central Florida's #1 off-road adventure.
If you don't mind getting wet and muddy, test your driving skills with the Mucky Duck: a four-person, amphibious eight-wheeler that's at home on ponds and lakes as it on the toughest off-road terrain. Two hours' handling one of Revolution's powerful ATVs around 230 acres of trails makes even the wildest local rollercoasters seem tame. Or there's the Polaris Razor: reserved for the most fearless of families, this is the go anywhere off-roader to take on steep and twisting technical tracks.
Archery and clay pigeon shooting are what counts as downtime at Revolution Off-Road – a hint of how wild the fun gets here. All ATVs are self-drive, so a full driving licence is essential. However, several vehicles carry passengers so kids can come along for the ride, if they dare.
Lowdown
Where
45 minutes' drive west of Kissimmee centre on US-192 W.
When
Seven-days, 8.30am to 4.30pm, year round (all experiences must be reserved in advance).
Cost
One hour Mucky Duck self-drive for driver and three passengers, from £173.
Find out more about Revolution Off-Road with Ocean Florida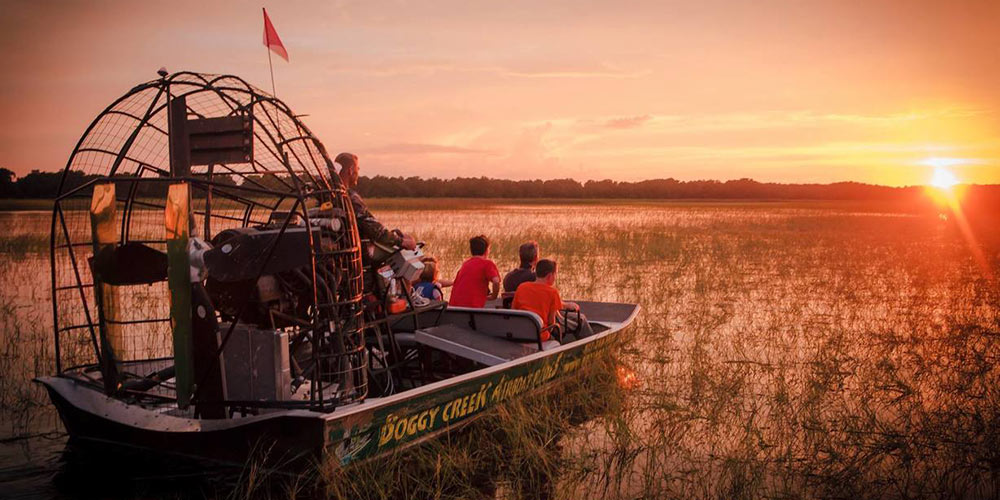 5/5

Boggy Creek Airboat Adventures: family-friendly and fantastic fun

At Boggy Creek families can pick exactly the type of airboat tour that suits them best. Extreme excitement come as standard whether you choose a half-hour morning tour (best time to see alligators), opt to be your own Master Captain on a self-drive boat or head out after dark on a Night Tour.

But Boggy Creek is far from just airboats. Kids can dig for treasure, hunt fossils and discover alligator teeth in the Gem Mine or check-out the toothiest creatures for real at Gator Pond. The Native American Village lets them glimpse the fascinating customs and traditions of Florida's oldest living culture. And authentic BBQ in the pretty lakeside restaurant is just another excellent reason to spend a day at one of Kissimmee's best loved creeks.
Lowdown
Where
On Lake Tohopekaliga, 25 minutes' drive south of Kissimmee centre. 
When
Half-hour airboat tours, 9am to 5.30pm, seven days a week, year round.
Cost
Half-hour airboat tour: adult, £22; child, £19.
Ocean Florida are experts on Kissimmee from fabulous outdoor activities to thrilling theme parks and family holiday villas. All their Kissimmee villa holidays include return UK flights and 24/7 access to help and advice at Ocean Holidays Welcome Centre in Kissimmee.
Start with a look at a 7-night family holiday for four at ChampionsGate in Kissimmee from £599pp, including villa and return UK flights. And if that's not what you have in mind, then visit Ocean Florida to see hundreds of other Kissimmee villa holidays for 2019 and 2020. Or call on 0208 131 1916 and talk to one of the team – they're a big part of the reason Ocean Florida were named 'Best Holiday Company to the USA' at the British Travel Awards 2018.