1. Clearwater Beach
White Sand Haven
Why go? Consistently voted one of the USA's top beaches, Clearwater Beach is a must-go destination. As its name suggests this beach is characterised by crystal clear water and powdery white-sand beaches. With full-time lifeguards lining the beach and gentle waves, Clearwater Beach is a top-choice for families.
Activities: Join Captain Memo's crew on Captain Memo's Pirate Cruise which sails through Tampa Bay and passes by Captain Memo's deserted island.
Top tip: For lunch or dinner, visit Frenchy's Cafe and get one of their famous Grouper Sandwiches, a favourite of locals and tourists alike.
2. Cocoa Beach
Catch a Wave
Why go? Hometown of world-champion surfer, Kelly Slater, and the location of the world's largest surf shop, Ron Jon, Cocoa Beach is a top beach for those who surf or are interested in surfing. Cocoa Beach is the closest beach to Orlando (only an hour's drive) making it the perfect location for families who plan to spend time at both the beach and in Orlando.
Top tip: Head over to Merritt Island and take a drive down Tropical Trail where you'll find fruit stands selling locally grown produce. The mangos and citrus fruits are especially delicious in this area.
3. Anna Maria Island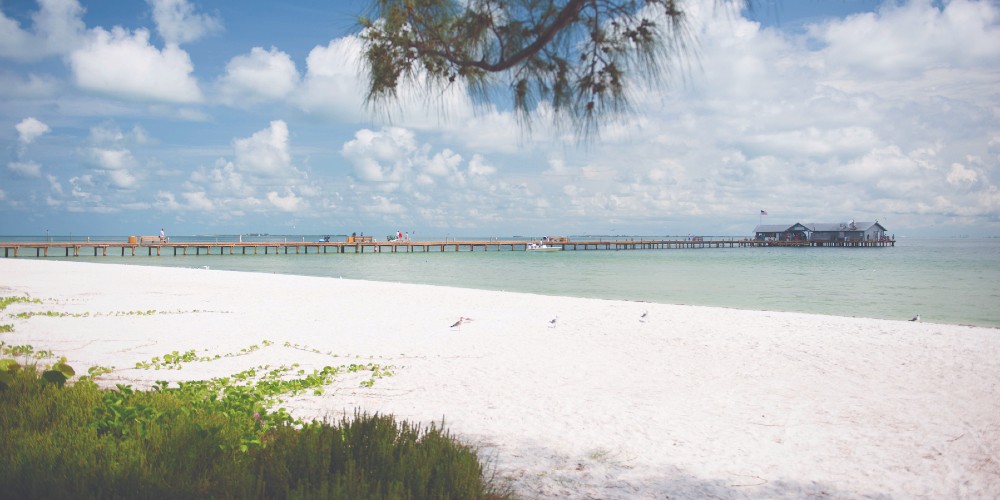 Floridians' Favourite
Why go? A favourite retreat for Florida natives, Anna Maria Island offers the same powdery white-sand and gentle waves as Clearwater Beach without the crowds. While hotels are available on Anna Maria Island, Family Traveller recommends making like the Floridians and renting one of the many vacation homes (from £575 a week) that are available.
Top tip: For a sweet treat, visit 2 Scoops Ice Cream located across from the City Pier. Offering 32 delicious flavours it is a must-visit place that both locals and tourists love.
4. Destin
Emerald Waters
Why go? A great beach for families looking for a variety of activities to do. Families can choose from snorkelling tours, jet ski rides, parasailing, deep-sea fishing, and more. It's powdery, white-sand shores make Destin an ideal beach for those who just want to lie in the sun with a book, or build sandcastles by the water as well.
Top tip: Take the 15 minute drive to Fort Walton to eat at STEWBY'S Seafood Shanty. This takeaway and drive-thru seafood restaurant serves fresh seafood directly off the fishing boats in Destin.
5. Sanibel Island
Shell Island
Why go? If you're looking for a break from city life and want to experience laidback island life, then Sanibel Island is the beach for you. Sanibel is nationally known for its shelling (collecting of seashells) which is a fun activity for all ages. Ocean life encounter cruises give guests the opportunity to see dolphins and other forms of sea life (we recommend Adventure's in Paradise Cruises' Sea Life Encounter cruise).
Top tip: For a fun, family-friendly dining experience head over to the Lazy Flamingo and enjoy the Old Florida atmosphere and fresh seafood.
6. St. Pete Beach

Pink Palace
Why go? Beautiful white sand perfect for sandcastle building, and the warm gulf water make St. Pete Beach the ideal location for a beach holiday.
Accommodation: We recommend Loews Don CeSar Hotel a historic hotel known locally as the 'Pink Palace'. Built in 1928, the Don CeSar was designed to resemble a Mediterranean Castle. The hotel offers babysitting services from £15, as well as a mock summer camp experience with Camp CeSar Kids Camp where children will spend the day exploring the beaches around the hotel. Rates from £170 a night.
7. Daytona Beach
Celebrity status
Why go? Famous for its beachside automobile racing, Daytona Beach is one of the few beaches in Florida that still allows vehicles on the beach (in designated areas). It's a great beach for families with older children as the waves are a bit bigger and there are watersports.
Activities: Visit the Daytona Beach Boardwalk, home to Joyland Amusement Center and the Mardi Gras Fun Center where families can ride the Ferris Wheel or play an old arcade classic, Skeeball.
8. Amelia Island
Secluded Paradise
Why go? Amelia Island is the place to go to experience Old Florida charm. The historic island offers a break from the crowds that can be found at Florida beaches and is the perfect place to catch up on some R&R.
Activities: Take a leisurely horseback ride along the beach at sunset, or go on a kayak excursion through the local inland waters of the St.Mary'ser or Florida's famous Suwannee River. For more adventurous activities check out Amelia Island's sailing school or take a family Segway tour.
9. St. Augustine Beach
Blast from the Past
Why go? Located on Anastasia Island, St. Augustine Beach is a beautiful, natural haven. Take a walk down the beach and see the famous St. Augustine Lighthouse, or take a quick drive over to the mainland and wander around the historic city centre where you'll see the old Spanish fort, Castillo de San Marcos.
Top tip: On Wednesday mornings there is a market on the St. Johns County Ocean Pier where local vendors sell a variety of goods from produce and prepared food to jewellery and crafts. There is a $1 fee to enter the pier.
10. Siesta Key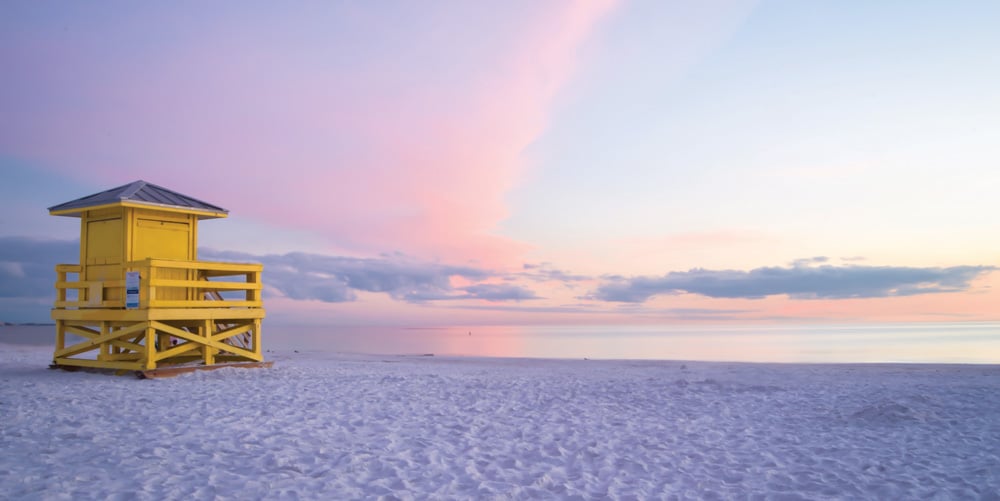 Sandcastle Dreams
Why go? Famous for its soft, talc-like sand that stays cool no matter the temperature, a result of the large amount of quartz off the coast, Siesta Beach is a top-choice for beach walkers and sandcastle builders.
Dining: Captain Curt's Crab & Oyster Bar is a great family-friendly restaurant with a fun atmosphere and fresh seafood.