1/4

 Jackonville to St. Simons Island

This quick hop of a journey is short on tyre-wear and back-seat fractiousness, but big on sea breezes and uninterrupted views. So much is apparent at Cumberland Island National Seashore, which sits immediately over the state line, just 40 miles north of Jacksonville (via Interstate 95) – a wonderland of dunes and wetland so unaffected by the modern world that you have to take a boat to reach it.

Ferries sail from the tiny outpost of St Marys (adults £12, kids 12 and under £8) and deliver you to an enclave where sea turtles swim and wild horses canter. Some 335 bird species have been recorded here, including bright, easily spotted feathered friends such as ducks and pelicans – while Stafford Beach and Sea Camp Beach are dotted with shells.
Explore the shore
Closer encounters with sea turtles are possible a little further to the north – where one of the smaller Golden Isles, Jekyll Island (accessible by road), plays host to the Georgia Sea Turtle Center. This is a marine hospital (adults £4, children 4-12 £3), where junior visitors can see these graceful creatures being rehabilitated. Elsewhere, Jekyll Island also has attractions that do not revolve around nature – notably the Summer Waves Waterpark (adults £12; kids less than 48 inches £9), where splash-happy adventures await in pools and on slides.
The waterside theme is extended – again, directly to the north – at St Simons Island. The largest of the Golden Isles is reached via a four-mile causeway that flits across tidal rivers to another lovely nugget of oceanside charm. Massengale Park Beach is a superb strip of sand for family days. Alternatively, you can head out on the Lady Jane shrimp boat – a working (fully refurbished) fishing vessel. Children can help haul in a catch on the gentle waves of St Simons Sound (full fare £24, kids under six £18).
Drive Happy
Hertz recommends: Ford SWB Crew Van
6 Passengers, 2 large suitcases, 2 small suitcases, 35mpg
Ideal for large families – there'll be plenty of room for everyone, including luggage and more, in this spacious air-conditioned people carrier.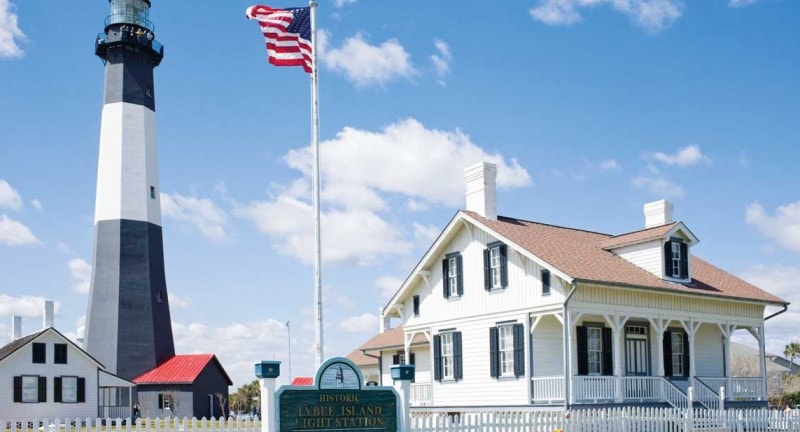 2/4

  Jackonville to Tybee Island

Forge further north along the Georgia shore, beyond St Simons Island, and you roll into one of America's oldest cities. Savannah was founded in 1733 – but its epic heritage does not have to be daunting for youngsters. The Savannah Safari is a free downloadable trail which guides children around the key sights – such as the spooky Colonial Park Cemetery, a graveyard which dates to 1750.

There are exciting 20th-century tales, too, at the Mighty Eighth Air Force Museum (adults £6, kids 6-12 £3.50) – where fighter planes and stories of derring-do salute some of Georgia's Second World War heroes. And if this adds up to too much history, sugary compensation can be found at Leopold's Ice Cream – an old-fashioned parlour with 21st-century flavours (such as mocha chocolate chip, and chocolate raspberry swirl).
Tybee Island
Some 15 miles to the east, Tybee Island is the city's seafront companion (to the extent that it was once marketed as 'Savannah Beach' ). There is much soft sand here – but also child-friendly ecology at Tybee Island Marine Science Center (tickets £2.50), which looks after injured Carolina Diamondback Terrapins. Island biologist Dr Joe Richardson, meanwhile, runs Tybee Beach Ecology Trips, which explore the rock pools and dunes of this pretty outpost (price varies according to group size).
Drive happy
Hertz recommends: Ford S-Max
7 Passengers, 2 large suitcases, 2 small suitcases, 50mpg
There's plenty of room in this comfortable air-conditioned ride that's perfect for large families taking a trip out of state.
3/4

 Jacksonville to Atlanta

If you wish to look further afield, the Georgia capital shines as an alluring light on the horizon. Splendidly transformed by staging the Olympic Games in 1996, Atlanta offers a range of child-friendly attractions, and is well within reach of Jacksonville due to the multi-lane convenience of Interstates 10 and 75 – the latter coursing north at high speed.

Pitched next to the Olympic Park, this museum is unmissable – a permanent party staffed by costumed 'Imaginators' who guide visitors around the exhibits . These include Tools For Solutions – a mechanical device that lets children propel balls along a series of tracks via a system of pulleys, levers and wheels. Cooking With Colours, meanwhile, is a workshop that teaches kids how to create healthy (yet appetising) dishes with fruit and vegetables.
Price: General entry is £7.50.

Depending on your attitude to sugary drinks and the effect they have on your brood, the Coca-Cola HQ, which looks at the story of the planet's most famous beverage in the city where the company has its headquarters – may be a must-see or a definitely avoid.
Price: Adults £9, children 3-12 £7.

The Aquarium on the other hand, might be less divisive – an enormous hotspot of marine life, home to more than 100,000 creatures, including penguins, sea otters, dolphins and a pod of huge whale sharks.
Price: Adults £19, children aged 3-12 £15.
Drive happy
Hertz recommends: Audi A3
5 Passengers, 2 large suitcases, 2 small suitcases, 70mpg
This spacious and fuel-efficient ride is equipped with a satellite navigation system, making long-distance journeys easy on both the mind and the pockets.

4/4

 Tallahassee to New Orleans

A classic American adventure is possible if you begin in Tallahassee. Florida's capital sits in the far north-west of the state, linked to better-known cities (Miami, Orlando, Tampa) by daily flights to Tallahassee Regional Airport. It is also lurks on the edge of one of Florida's wildest areas – Apalachicola National Forest, with its wealth of walking trails.
Deep south
Two of north-west Florida's most inviting hotspots lie close to Tallahassee – Panama City Beach and Fort Walton Beach. Go 60 miles west of the latter and you cross into Alabama, then on into Mississippi. Here, Gulfport is the gateway to West Ship Island – a barrier island, 12 miles off-shore (ferries via msshipisland.com; adults £16, 3-10s £10), where the abandoned Fort Massachusetts is a ghostly playground for children.
A further 80 miles west of Gulfport, New Orleans needs little introduction – although the Louisiana Children's Museum (£5) is an under-publicised interactive gem.
Hertz Recommends: Chevy Cruze – MCAR
5 passengers, 2 large & 1 small suitcase, 38mpg
Ideal for families with young-teenage children on a budget. Spacious and fuel-efficient, it will make for a comfortable and economic journey.
More of what you love…
Discover more great family-friendly things to do in and around Florida – but don't set off for the sunshine state without reading our top tips for holiday planning.