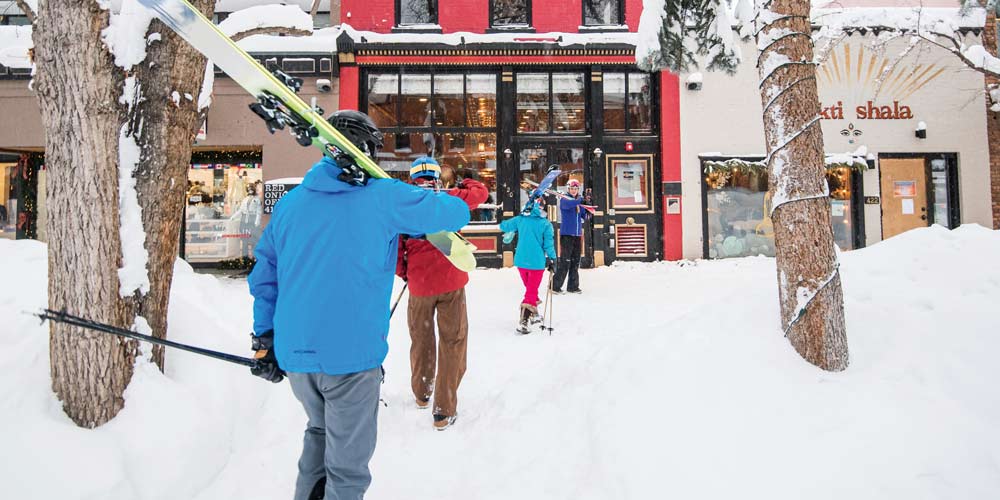 North America's best ski resort?
Aspen Snowmass is frequently named the best ski resort in the USA – not least by independent UK guide Where to Ski and Snowboard – so it's one place to seriously consider for your family ski holiday.
As much thought has gone into planning children's experience of Aspen and its near neighbour Snowmass – which together share four separate ski mountains – as has gone into ensuring adults get the most out of their time in the resorts.
There is an entire mountain (Buttermilk) dedicated to children and beginners, two of the best childcare facilities in the whole of North America in Buttermilk and Snowmass, regular pit stops offering tissues, snacks and drinks all over the mountains and a host of different (free) learning experiences for little ones, ranging from avalanche rescue dog demos to winter mountain animal talks.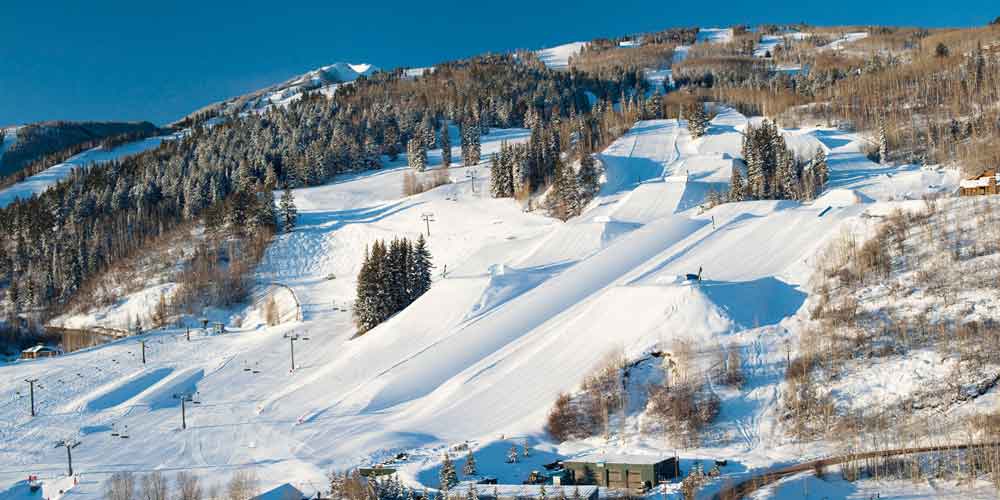 There's so much skiing here, it's hard to know where to start – and all four mountains, each with a different character, are worth visiting. If your children are beginners, there's no better option than to head straight to Buttermilk, with its 470 acres of green and blue pistes (plus a few easy black runs). It's also home to The Hideout, a state-of-the-art centre aimed at kids under six, with an interactive learning experience designed to offer young children an easy introduction to skiing.
Snowmass is a purpose-built satellite village about 20 minutes' drive from Aspen. Small and compact, it offers a number of self-catering apartments, bars and restaurants and hotels, including the new Limelight Hotel Snowmass. The village is home to the Treehouse Kids' Adventure Center, a huge two-storey facility with family-friendly climbing room, teen activities, kids' shop and various themed rooms for different ages. It also offers half- or full-day childcare for children between eight weeks and four years.
If you have some budding palaeontologists in the family, Aspen Center for Environmental studies hosts daily Ice Age Discovery Dig guided hiking tours in the summer. In October 2010, builders found the tusk of a young female mammoth, a discovery that led to one of the largest-ever fossil excavations: more than 5,000 bones from 41 kinds of Ice Age animals, including mammoths, mastodons, ground sloths, camels, deer, horse and giant bison.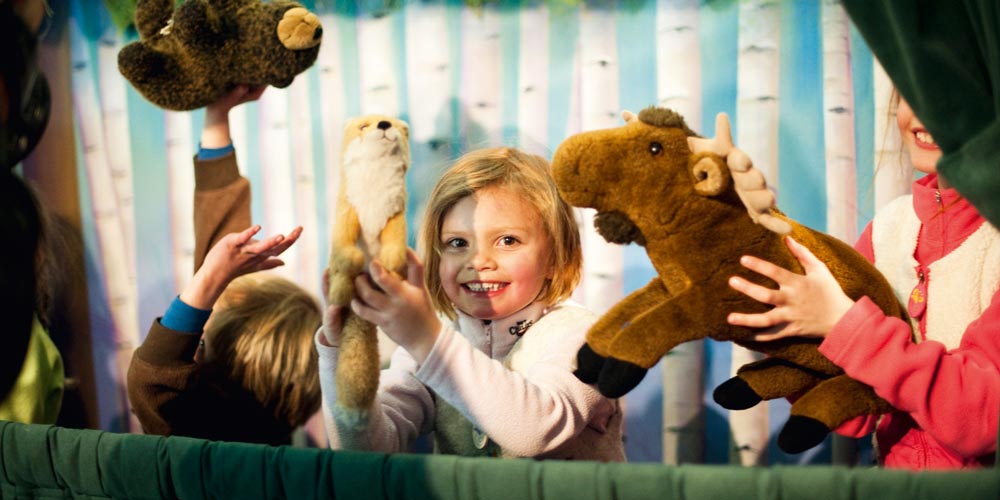 Back up on Snowmass Mountain (from a choice of lifts directly from the village), the skiing is wide, open and groomed, and most pistes are lined with trees. It sounds like Buttermilk Mountain marketing spiel to say so, but rarely are there queues or crowds on the piste. At the top of Elk Camp lift is the Wapiti Wildlife Centre, a cosy warming hut (with a loo) and wildlife education centre. Here, children – and adults – can learn about the animals and birds that live in this high-altitude environment. There are boxes of sand where children can make their own animal tracks to learn what to recognise in the snow, or join a free twice-daily ski run with a wildlife expert. 
The historic town of Aspen was built on silver-mining back to the late 1800s. It's wonderfully atmospheric, with a real character and a gondola that runs directly from the middle of town to the top of Aspen Mountain. From the town of Aspen, skiers can take free and efficient buses to Buttermilk, Aspen Highlands (the more extreme of all four mountains), and Snowmass. Some hotels within Aspen even run free shuttles. 
At the top of Aspen Mountain during safety month in January, the avalanche patrol team organise demos, where a dog handler will semi-bury a volunteer and ask the dogs to seek them out – a great mountain education experience for children. Food in Aspen is a different game altogether – there are the ubiquitous burgers and fries or bowls of steaming chowder, but also a sometimes baffling choice of healthy but tasty options.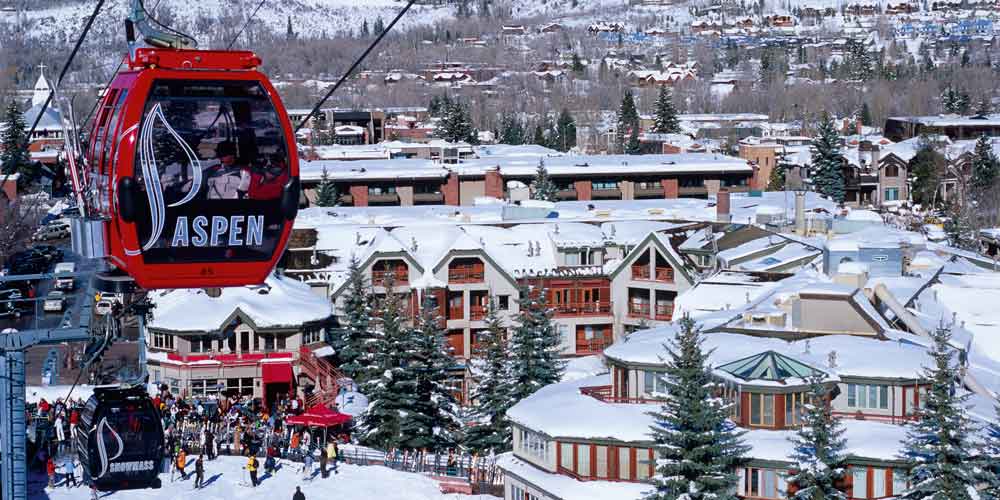 As you'd expect in a town as all-singing, all-dancing as Aspen, there is an array of family-friendly lodging. Two spots that families should seriously consider are the Limelight, a four-star hotel with huge bedrooms, free cookies at après-ski and massive complimentary breakfast options that come with the room price, and the four-star Jerome, an Aspen landmark, built in 1889 and steeped in history. One of the resort's five-star offerings, The Little Nell, has a glitzy reputation but is family friendly to the hilt, offering pink and blue bathrobes for kids, along with, upon request, a surprise gift of a book by local author Jill Sheeley in their room on arrival.
The only problem with this place is that you won't want to leave. Blame it on the jetlag, but don't just book a week's stay. I've been three times now, twice in winter and in summer, and each time I've had to be dragged away kicking and screaming. Aspen is the real deal, and your kids will have a ball.
Aspen Snowmass: The lowdown
Resort height: Aspen is at 2,425m and Snowmass Village 2,565m
Driving time from Denver: 3hr45 (220 miles)
Nearest airport: Aspen/Pitkin, three miles from the town of Aspen, seven miles from Snowmass
Deals: Kids (7-12) receive a complimentary lift ticket for every day of equipment rentals from Four Mountain Sports when booked with lodging through Stay Aspen Snowmass. Valid January 1 – Aspen Mountain closing date. Package must be booked by 15th of month prior to arrival. Kids age 6 and under always ski free!
Lessons: For prices, visit aspensnowmass.com