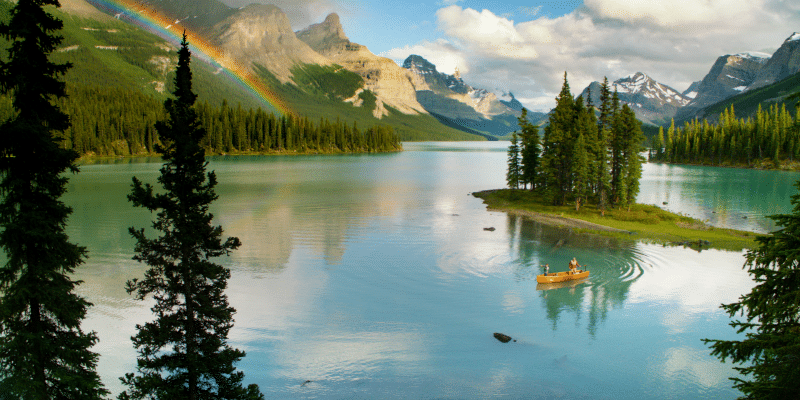 Alberta's the Canadian province famous for the world's largest collection of dinosaurs, the world's biggest annual rodeo and the most enormous indoor funfair on earth. It also lays claim to Canada's first national park, the legendary Alberta Badlands, a huge slice of the Rocky Mountains, iconic Lake Louise and the only shopping mall anywhere which is also, officially, a zoo. A clear contender for an incredible family holiday, but where do you even start when the list of must-dos is this long?
Canadian Sky have decades of experience creating unforgettable adventures for families all over Canada and North America. So, when it comes to picking the best of the best in Alberta, they know exactly what to see, what to do and how to fit a lot in and still leave time to admire the sheer beauty. Here's a rundown of the top 10 activities they say are Alberta family holiday essentials whenever you're planning to go.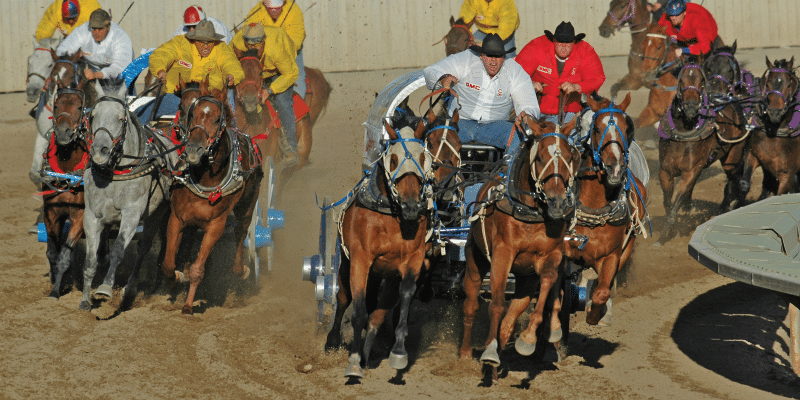 1/10

 Join the annual Calgary Stampede in July
You might not know Calgary's unofficial title is, 'Stampede City', but visit for the Calgary Stampede in July and it's impossible to imagine calling it anything else. This wild and wonderful 10-day event dates back to 1912 and still bills itself as 'The Greatest Show on Earth'. Hard to argue with that when it has the world's largest rodeo along with stage shows, concerts, wagon races, agriculture competitions, funfairs and hundreds upon hundreds of pancake breakfasts.
Think of it like one great, big yeeha of a time and you're pretty close to the exact description. Kids love the renegade spirit, non-stop noise and party atmosphere. But there's tradition tucked into the full-on rowdiness too, so don't forget to take a quiet moment to drop in on the Indian Village, check out the wild west smithies or catch a lariat throwing demo – who knew cowboys were so graceful?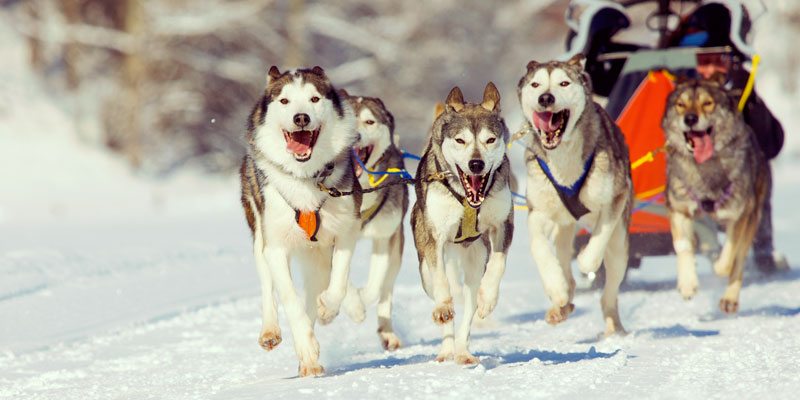 2/10

 Dog sled with huskies in Jasper National Park
Long, long before you could glide around on the SkyTram or simply strap on some snow tyres, the only way to get about wintery Jasper National Park was sledding. They say the old ways are best and when it comes to mushing through the snow with a team of fluffy, white Alaskan Huskies for company, they're not wrong.
Cold Fire Creek are Alberta's dogsledding experts and the friendliest local folk to help you take the reins for the first time. If you're not ready to go it alone, that's fine too. Their guided tours are great for families and kids; cosy sleds in the coldest weather and nothing for you to do except cuddle up and enjoy the ride. Either way, Jasper looks fabulous and there isn't a more typically Canadian way to show your appreciation.
Why not include whilst staying in Jasper on Canadian Sky's Ranchland and Prairie tour?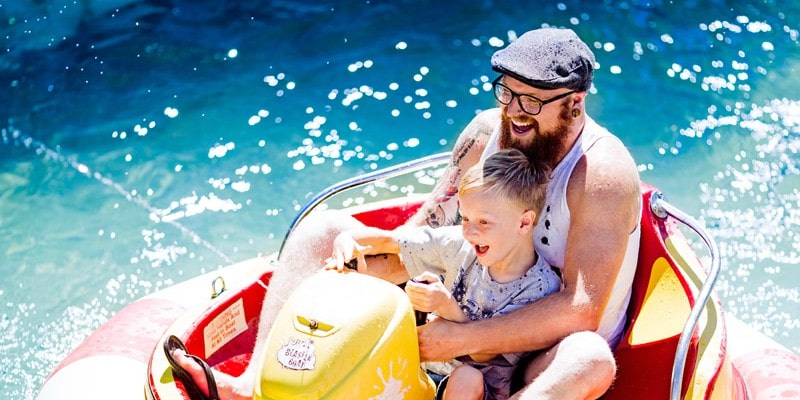 3/10

 Ride the rollercoasters at Calaway Park

'Just for Fun' is the motto at 100 acre Calaway Park and it takes about 30 seconds flat to realise they mean exactly that: fun, straight up and nothing but. Terror-inducing Vortex, Storm and self-explanatory, Free Fallin', are the park's white-knuckle giants for serious fear-fans. But, with over 30 rides to choose from, even the tiny or more timid will find a style, whether that's Tot's Yachts or the sedate glide of an old-fashioned carousel.
This is Western Canada's largest outdoor amusement park, so naturally it has its own railway, vast stretches of open green play space and more eating options than you're likely to need in an entire lifetime. Traditionalists will like the friendly, family atmosphere and there's plenty of peaceful spots for the too-little-to-rollercoaster to get into soft-play instead. Plan to spend the day, Calaway's just 20 minutes from Calgary city centre so you've plenty of time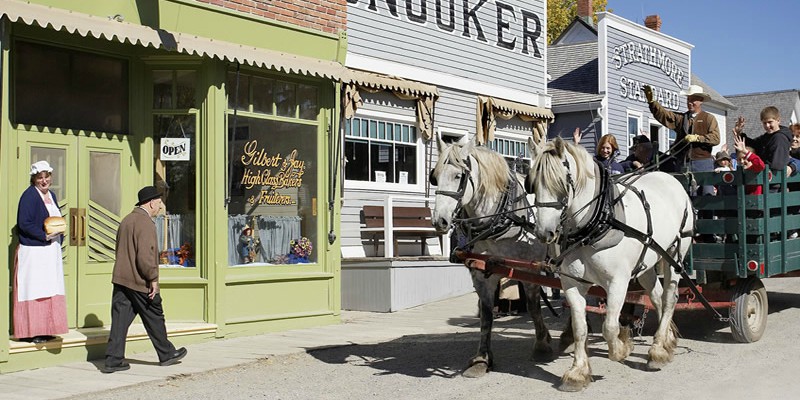 4/10

 Immerse in Canada's largest living history museum
Hear the words, 'heritage village', and you might be charmed, or alarmed. Either way you're probably thinking: small. Welcome to 127 acre Heritage Park Historical Village in Calgary, Canada's largest living history museum and quite likely the only one in the world with its own full-size steam train and vintage paddle steamer.
When they talk about 180 exhibits depicting Canadian life from 1860 to 1950 here, they mean entire towns, ice-cream parlours where kids can hand churn their own treats, First Nation encampments, working blacksmiths and outrageously exciting traditional funfairs. Expect dress-up as standard: heritage villagers take their roles very seriously. And if you want to slide a little education into the day, there's plenty of subtle opportunities to learn skills from barn dancing to olden day clothes' washing.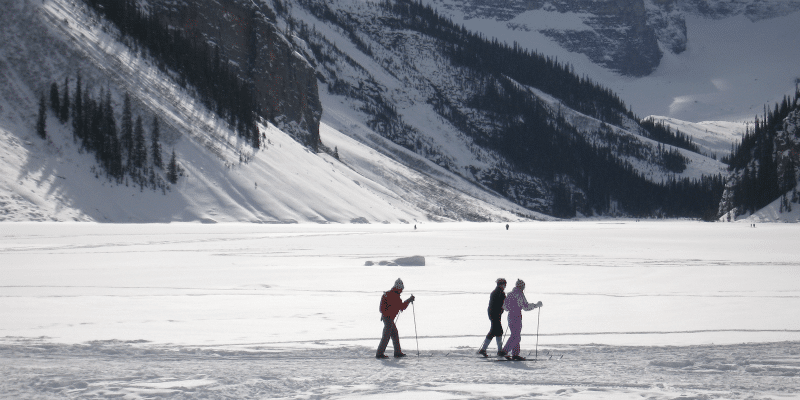 5/10

 Skate, ski and stare in awe at magical Lake Louise
Hard as it is to believe, there was a time when Canada had no National Parks. Then along came Banff: the first and now a UNESCO World Heritage Site. It's the park with monumental ridges of Rocky Mountains, swathes of dense forest and bubbling thermal springs you can swim in (even when it's snowing). Visit in late summer for a high chance of grizzly sightings or save the experience for winter and discover the frozen magic of magnificent Lake Louise.
Known as the 'Jewel of the Rockies', Lake Louise isn't the largest of North America's glacial lakes, but it's certainly one of the loveliest. With over 4,000 acres of slopes and runs nearby even the most passionate skiers can test their courage and stamina. Visit at the right time in winter and watch accomplished ice carvers dazzle during the annual Ice Magic Festival. Or try out ice skating on what's counted as one of the most beautiful natural ice skating rinks in the world.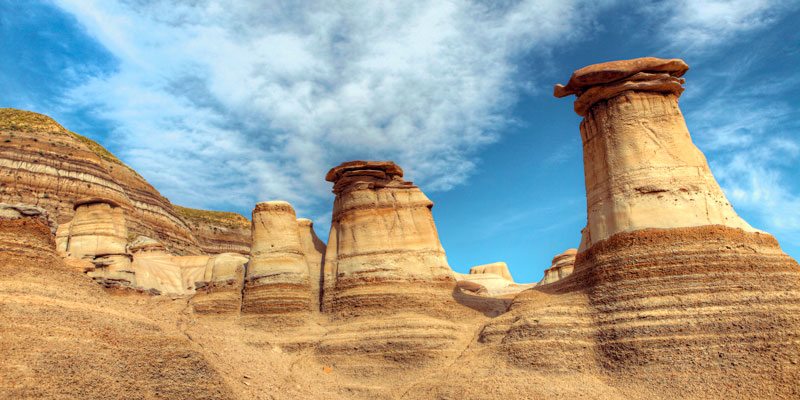 6/10

 Discover Drumheller, 'Dinosaur Capital of the World'
The 2500km long Fossil Trail through the Alberta Badlands is the most dinosaur-rich area on earth. Kids might not uncover entire skeletons, but hunting for fossilised bits and pieces here is great fun, surprisingly rewarding and actively encouraged.
Amateur palaeontology aside, the landscape's strangely alien and strewn with phenomena: it's worth wearing sturdy walking shoes for the legendary Hoodoo rock formations alone. And you have to drop in on Drumheller for the Royal Tyrrell Museum. It's the premier palaeontology museum in Canada and has the world's largest collection of complete dinosaur skeletons.
Visit Royal Tyrrell soon and kids can be among the first to gaze upon the 110 million year old Nodosaur. Excavated in the Badlands in 2011 and unveiled in May 2017, after 7000 hours of reconstruction work, it's the finest example of an armoured dinosaur yet discovered. If keen-eye kids think the 18 foot monster looks familiar, just mention dragons and Game of Thrones.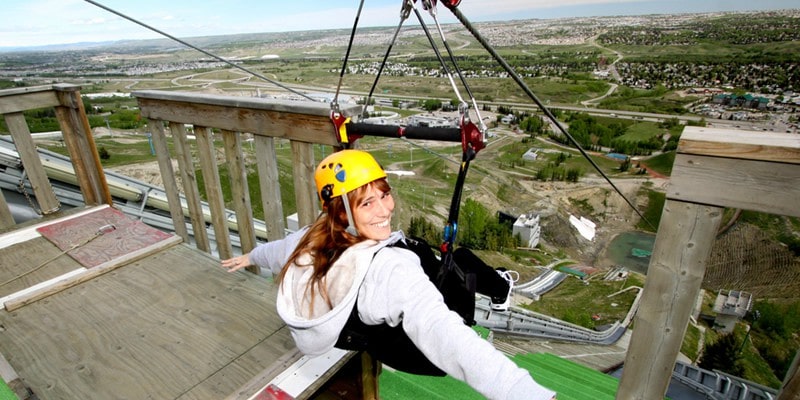 7/10

 Speed round Winsport Canada Olympic Park
Way back in 1988, Calgary hosted the Winter Olympics at Winsport Canada Olympic Park. For trivia lovers, this was year the world first met bespectacled and plucky Eddie the Eagle. Kids are unlikely to be impressed by that legacy, but point them in the direction of Winsport's adventurous activities and expect another reaction entirely.
The 80kmph, 2G, piloted bobsleigh ride is one of the biggest thrills in Alberta, outside an actual theme park. Skyline Luge is another speedy trickster for competitive families, and completely addictive. Young mountain bikers will like 20km of trails ranging from green to black. The 120kmph, 500m long Monster Zipline is the fastest in North America. If you need to take five, a round of mini-golf passes for downtime at Winsport.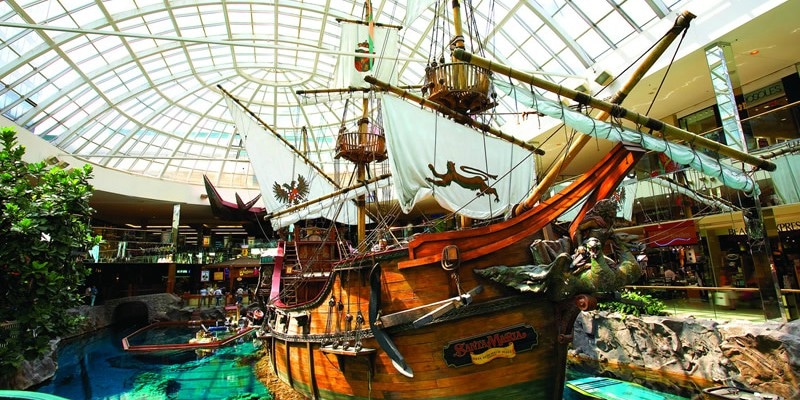 8/10

 Ride, skate and meet penguins at West Edmonton Mall
5.3 million square feet West Edmonton Mall is the size of a large town and the only mall in the world that's an accredited zoo. With over 800 stores, there's no shortage of serious shopping available. But kids are destined to be more impressed by the largest indoor amusement park on earth: GalaxyLand.
If the thought of 27 rides and dozens of different themes doesn't cut it, head to Marine Life underground aquarium and meet the penguins. Or you could always go skating at the Mayfield Ice Palace's league-size rink, hit the world's largest wave pool at tropical World Waterpark or hangout and play a round of mini-golf under cover of darkness at the Dragon's Tail Blacklight course.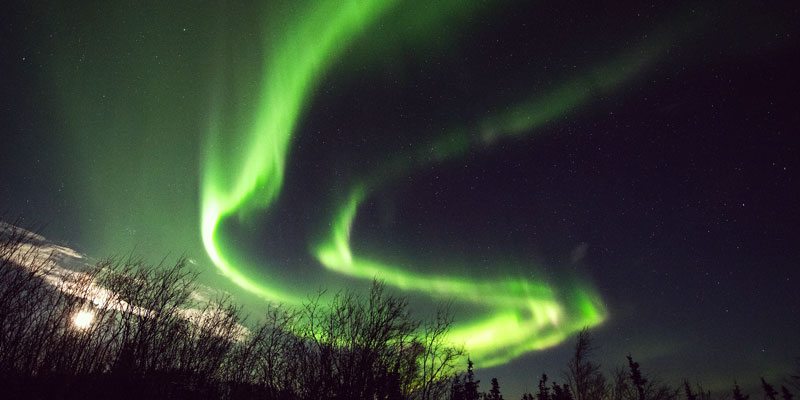 9/10

 Spot the Northern Lights at Jasper Dark Sky Festival
Jasper National Park is the biggest in the Canadian Rockies, it's also the world's second largest Dark Skies Reserve and the only one that's inhabited. So if your heart's set on seeing Northern Lights, this is the perfect place. Especially if you happen to visit in October for the annual Jasper Dark Sky Festival. Two full blown days of astronomy fun for young stargazers and a whole programme of stellar culture and exciting events to entertain teenagers and parents too.
Of course, there's more to Jasper than celestial phenomena. So while you're waiting for nightfall you could always explore the Columbia Icefields on a guided hike or soar up Whistler's Mountain on the amazing Jasper SkyTram.
Why not include whilst staying in Jasper on Canadian Sky's Ranchland & Prairie tour.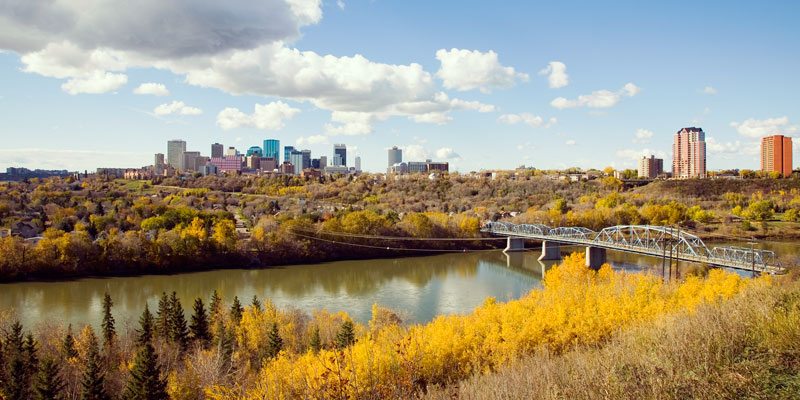 10/10

 Take a tour of Edmonton River Valley Park
Edmonton River Valley Park isn't just the largest urban space in the capital of Alberta, it's bigger than any other in all of Canada. With hundreds of kilometres of walking and cycling trails, 20 smaller parks in the boundaries and the North Saskatchewan River running from end to end, there isn't another area in the city better loved or used.
If you want to meet the charming residents of Edmonton Valley Zoo, spend some time exploring the plant collection in Muttart Conservatory, chill at Churchill Square and explore John Janzen Nature Centre, using your time wisely at Valley Park is a plan. Walking's a pleasure, but a Segway tour is fun with kids and the fastest way to see as much as possible of Edmonton's adored park.