1/10

Ski in Banff

Why go? A powder-lovers paradise and the 'world's biggest playground', Banff National Park has three major resorts nestled within the parks boundaries: Lake Louise Ski Area, Sunshine Village and Mount Norquay. All three areas have nursery slopes and special 'slow-zones' for beginners.

Activities: The ski-season here is the longest in North America, running from November to May and when not hurtling down the slopes, you can be horse or dog sledding, snow-shoeing or taking a wildlife tour.

Book:Virgin Holidays offers seven-night ski holidays in Banff; from £945 per person including flights.
2/10

Go wild in Jasper

Why go? Jasper National Park is the largest park in the Canadian Rockies, a wild, untamed place where grizzlies, elk and moose outnumber the people living and visiting here.

Activities: Think rivers, glaciers, soaring mountainous peaks and flower-filled meadows. Jasper is the go-to place for nature and wildlife lovers, with 615km of trails, over 80 campsites and comfortable lodges.

Visit: For moreinformation on opening times, camping and things to do at Jasper national park visit pc.gc.ca
3/10

Three Bars Ranch

Why go? Saddle up and learn how to be a cowboy at Three Bars Ranch in the heart of the Canadian Rockies, Jasper National Park.

Activities: This family-friendly and family-run ranch specialises in creating bespoke horse-riding programmes for kids and adults of all abilities. It also has a diverse activity programme for non-riders including rafting and archery.

Book: A six night stay costs from £1,283 per adult and from £442 for children under six.
4/10

Little Point Peleea

Why go? Tiny by Canada standards, Point Pelee National Park is our recommendation for the ultimate in rare bird spotting. In mid-May, birds flock here to use the park as a natural stop-over: there are over 360 species or warblers, flycatchers and thrushes making the wetland marshes their home.

Activities: As well as using the walking trails, you can take a canoe out to get really up-close and personal.

Visit: For Point Pelee National Park visitor information visit pc.gc.ca
5/10

Whale watching at Forillona

Why go? Forillon National Park sits at the tip of Quebec's Gaspé Peninsula, a dramatic, coastal landscape where the Appalachian mountain range gives way to the towering cliffs of the Gulf of St Lawrence.

Activities: Although much of Forillon is forested, the cliff-tops are the perfect vantage point for spotting six different species of whales and porpoise. Alternatively, take a cruise accompanied by an interpreter-guide.

Book: A family ticket costs from £100 for four people.
6/10

Bike Kouchibouguac

Why go? 'Kouchibouguac' means 'river of the long tides', a perfect description of this relatively small but enchanting National Park, located on New Brunswick's eastern coastline.

Activities: Bogs, marshes, tidal rivers and freshwater lagoons, tall forests and gorgeous beaches make this a wildlife haven, but the biggest attraction for families is the 60km of dedicated, relatively flat gravel cycle and hiking paths for mix-and-match rides and walks.

Visit: pc.gc.ca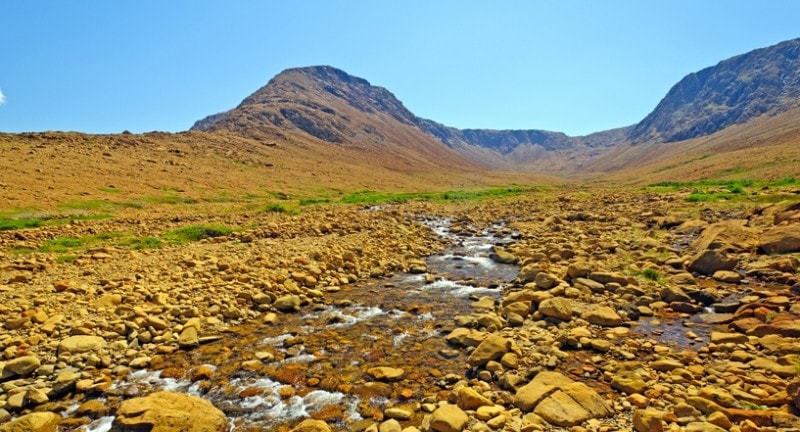 7/10

Explore Gros Morne

Why go? Newfoundland's Gros Morne National Park is best known for its dramatic landscapes – fjords, lakes, plateaus are all here.

Activities: Take a boat tour to the towering wall of rock found at Western Brook Pond. The kids will feel like they're walking on the moon at the Tablelands where peridotite rock can be found: usually buried over seven metres below the earth's surface, this lunar-like terrain is a rare treat for young explorers.

Visit:pc.gc.ca for fees, opening hours and activities.
8/10

Paddle Nahanni

Why go? The Naha Dehé, a spectacular white water river lined by four canyons is the centrepiece of Nahanni National Park, making it a mecca destination for canoeists, kayakers, and any other activity that requires a paddle.

Don't miss: The epic Virginia Falls, twice the height of the known Niagara Falls.

Book: Blackfeather offers family canoe trips for children aged 9-16 years from £3,600 per adult and and £3,200 per child, for two weeks including tent and equipment hire.
9/10

Spot Polar bears in Wapuska

Why go? 'Wapusk' means 'White Bear' in Cree language, and, as the name suggests, offers adventurous families one of the world's best opportunities to spot polar bears as they gather around the shoreline of the Hudson Bay in October and November.

Activities: A tundra buggy tour is a must to get up close to these amazing creatures, but be warned, due to their understandable popularity, these tours get booked up well in advance.

Book: A full day tour costs from £104 per adult, £79 per child.
10/10

Get cultural in Gwaii Hanaas

Why go? For generations, the indigenous Haida people of Gwaii Hanaas National Park in British Columbia have interacted with the spectacular land and seascapes to create a rich, complex and fascinating culture.

Activities: Get the inside story of a people who have inhabited the 'islands of beauty' for thousands of years. See humpback whales and dolphins on a cruise around the islands, visit ancient villages and learn about the culture of the Haida people.

Book: Maple Leaf Adventures offers an eight-night cruise around Gwaii Haanas and the Queen Charlotte islands costs from £2,974 per person.