Find Québec family activities for unforgettable winter holidays. Easier to do than you think, direct UK flights to Montréal take just seven hours. And Québec doesn't disappoint. Take a look.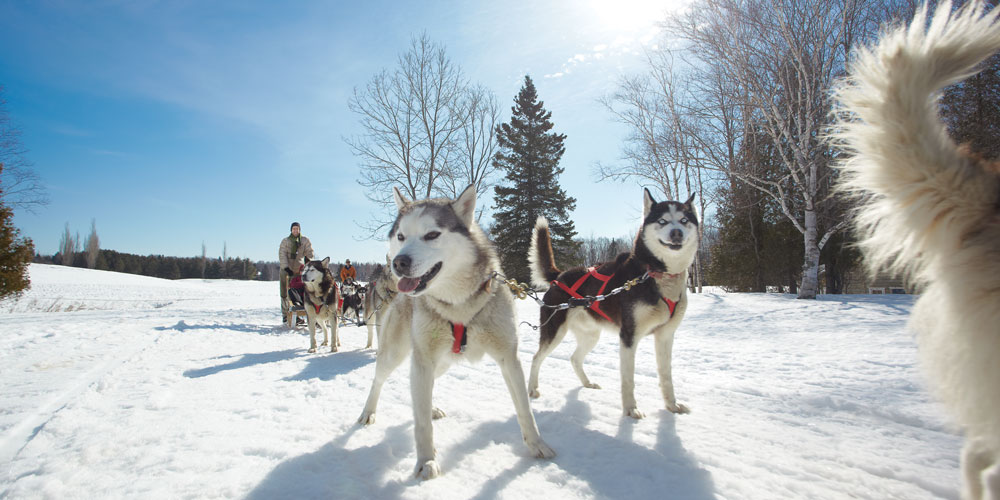 10.

Dog sledding is top of Québec family activities in winter

Apart from ice hockey and big mountain skiing, nothing in Québec is more of an iconic winter experience than dog sledding through snowy forests. Yet you don't have to travel into the frozen wilderness to test the age-old thrill of being snugly wrapped up on a sleigh as a team of keen, beautifully trained huskies do all the hard work.

Aventure Inukshuk are just over 40 minutes north of Québec City, and fantastically good fun for first time dog sledding. Kids as young as two are welcome to ride along, over 18s can try out as trainee 'mushers', and there's hot chocolate waiting for everyone at journey's end. Although that's nothing compared with the thrill of seeing newly born husky puppies: highly possible between December and March.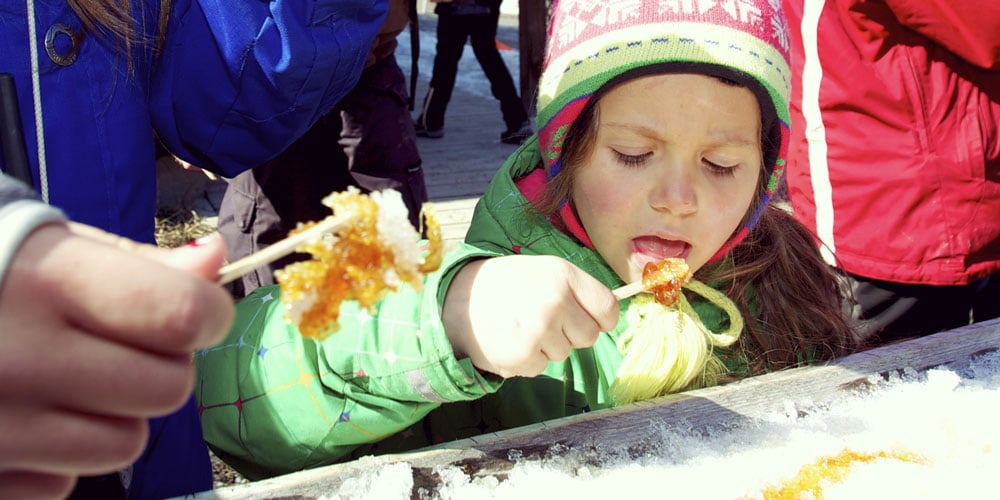 9.

Discover sweet Québec family activities at sugar shacks

Québec is the world's largest producer of maple syrup, and early spring is 'sugaring-off season': a time to celebrate the deliciousness and versatility of the legendary syrup itself and visit as many sugar shacks as possible. There are more than 200 sugar shacks in the province. 

Traditional restaurants number in hundreds too and range from family-style to haute-cuisine, but all with one common thread; everything cooked, baked or brewed has maple syrup in it somewhere.

Seek out heritage shacks to hear live folk music and learn about ancient Amerindian customs; urban shacks with an eco-slant; forest shacks where sleigh rides are part of the fun, or good old-fashioned traditional shacks in the heart of historic maple groves.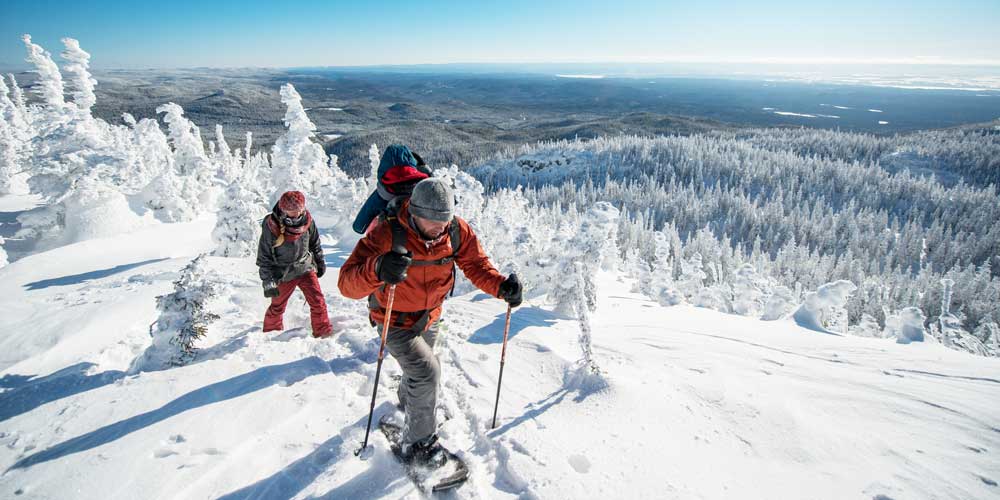 8.

Québec family activities include snowshoeing in fabulous forests

Winter in Québec is fabulously snowy: perfect for sharing the local passion for snowshoeing. What started off as a practical way to get about the frozen wilderness is now one of the province's most popular sports, so you'll find well-marked routes scattered with cosy huts to rest and refresh, almost everywhere. And if you need inspiration, there are always plenty of seasoned snowshoeing Québecers to help out with that.     

There are over 20 incredible snowshoeing locations across Québec's network of national parks: you could start with the sheer atmosphere of trekking the Valley of the Phantoms in Parc national des Monts-Valin.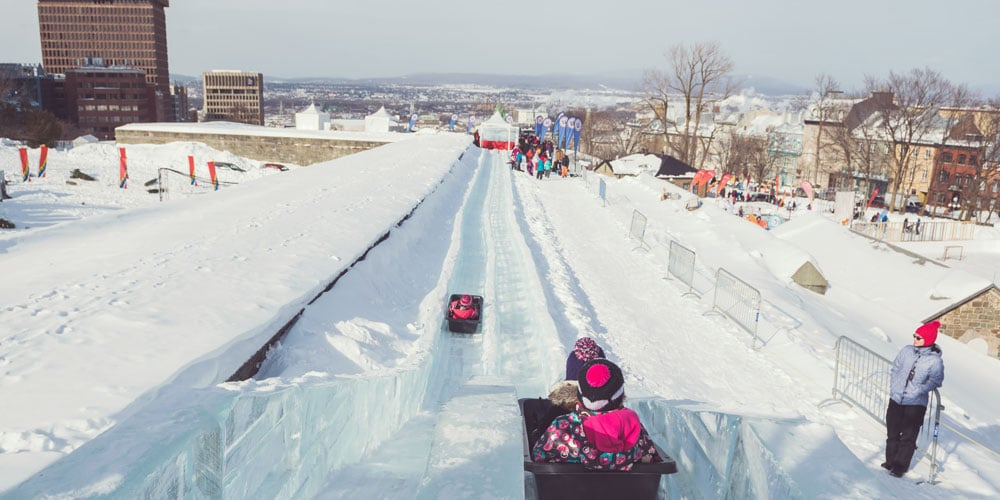 7.

 Wonder at the world's biggest winter carnival in Québec City

For more than a century, Carnaval de Québec has been the biggest winter carnival in the world, and with over 200 activities planned for February 2022, that record seems pretty safe for another year at least.

All the great carnival traditions are in place here, but twists like night parades with illuminated floats add distinctive Québécoise character. Everything from ice sculpting competitions to ice canoeing is done on a bold scale, and you only have to look at the pictures from past events to see why this is one of the world's top three must-do carnivals for families.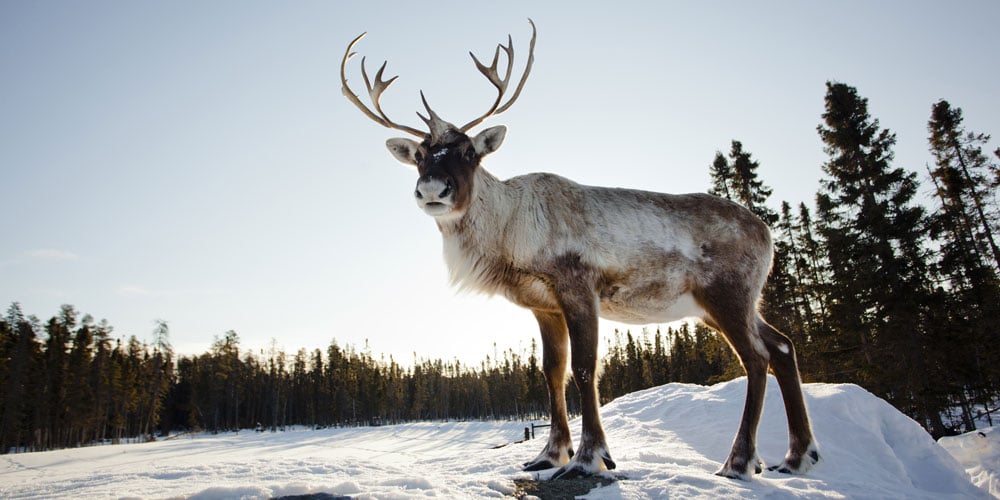 6. 

Find wild Québec family activities at Zoo Sauvage
de Saint-Félicien
For a hint of Québec's magnificent northern wilderness and close encounters with its wildest residents, head to Zoo Sauvage de Saint-Félicien in Saguenay-Lac-St-Jean. Don't worry about the wintery weather, this astonishing park is a year-round marvel, with a comfy train to tour the wildlife, fun pedestrian parts, and lots of places to warm-up on hot chocolate and other freeze-beating treats.
With 1,000 animals from 75 native and exotic species to choose from, kids will naturally have their own favourites. But everyone falls in love with the playful polar bears, loses a little of their heart in the Land of Caribou, and almost inevitably falls head over heels for cute babies in the zoo nursery.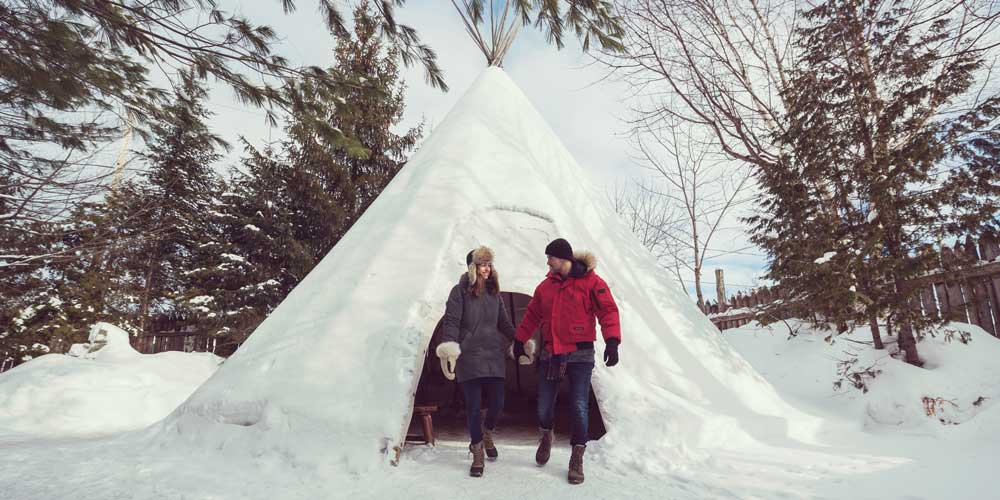 5.

Discover the rich culture of the First Nations of Québec

Set in the region of the Huron-Wendat Nation, the Huron traditional site gives families a fascinating insight into the living indigenous culture of the First Nations of Québec. Daily guided tours are rich in myths and legends, and big on interactivity from visits to traditional longhouses and sweat lodges, to story telling in the giant tee-pee. Kids can learn to make medicine wheels, test their skills at the ancient game of satéchaquay, and try Native American culinary traditions in the superb Nek8arre restaurant: big on bison, elk and deer meat as well as fresh salmon and trout, seasonal soups and authentic banic bread.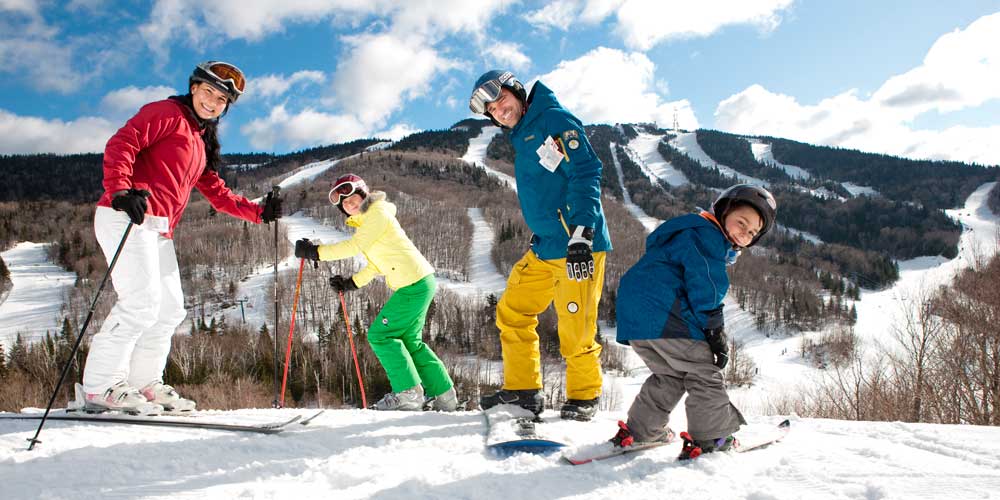 4.

Unforgettable family ski holidays in Mont-Tremblant

With a snow-sure season from November to April, 96 runs and a level-of-difficulty ratio designed to delight skiers of all ages and stages, plus a cute resort village that looks more European than most of the ones in Europe these days, it's easy to understand why Mont-Tremblant was voted the best overall ski resort in North America by SKI magazine.

For UK families, it's a perfect introduction to the thrill of big mountain skiing and is easily accessible from Montréal.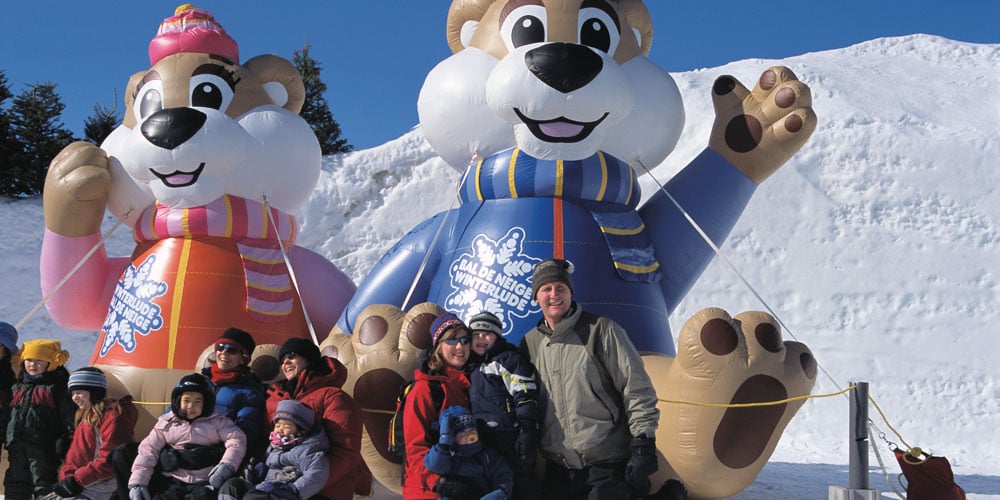 3. 

Celebrate a snowy Canadian winter at Winterlude in Gatineau
You don't have to spend long in wonderful, wintery Québec to appreciate the extraordinary culture and climate. But just in case any aspect of this unique part of the world passed you by, the annual Winterlude festival in Gatineau will fill in the gaps.
This thrilling and activity-packed celebration takes place every February at Snowflake Kingdom: North America's largest winter play area. Younger kids will love meet 'n' greets with the Ice Hog family (Winterlude's legendary mascots). There are concerts and shows to entertain all ages. And the atmosphere is family-friendly, welcoming and warm – only the weather is sub-zero, so don't forget to wrap up cosy.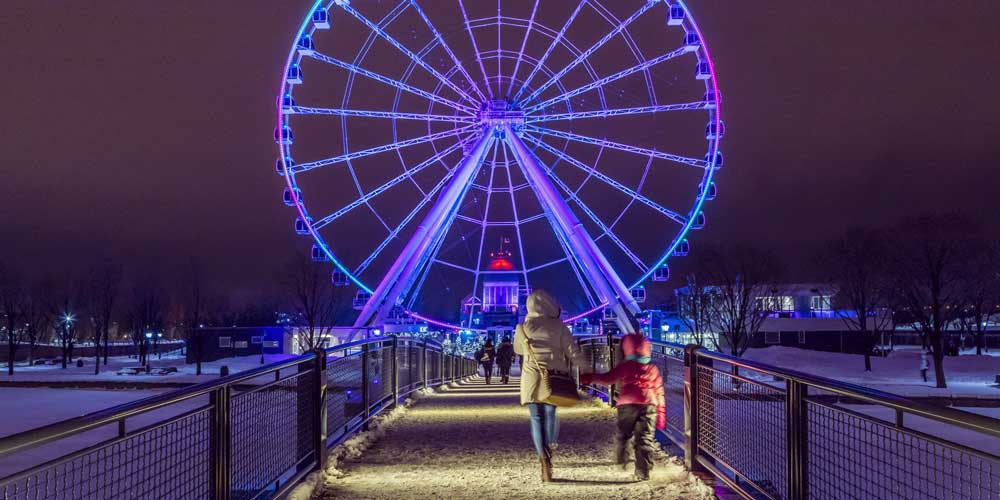 2.

 Take a spin on the Montréal Observation Wheel

The Old Port of Montréal is great fun to explore, but with winter temperatures dropping to a chilly -10°C, you may wish to alternate between outdoor and indoor activities and take advantage of another wonderful way to see the historic quarter, the rest of the city and well beyond.

La Grand Roue de Montréal is the fantastic observation wheel which gently ascends to a height of 60m, and keeps everyone snug in toasty warm, heated cabins. It goes without saying that the view from the top is spectacular any time of year, but a snowy winter day (or evening) is a different type of magic altogether.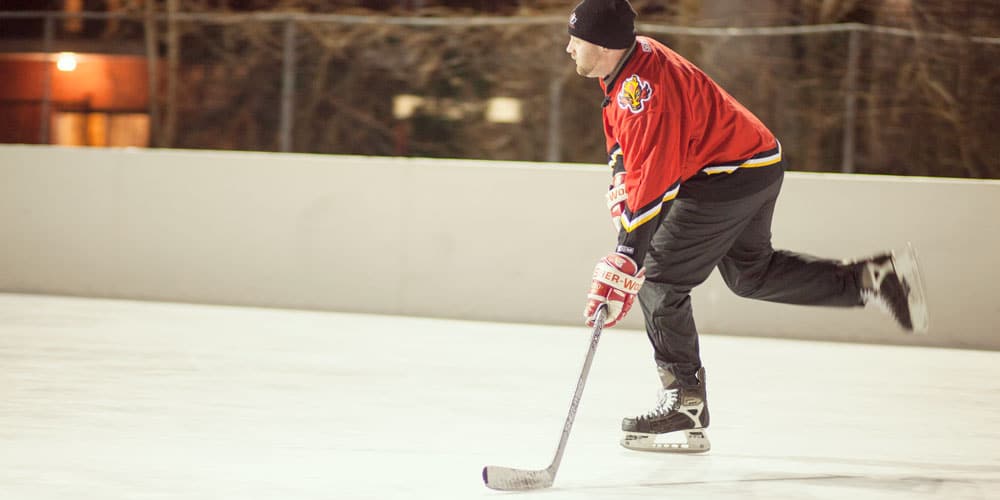 1.

 See an awesome Montréal Canadiens ice hockey game

Understanding Canada's passion for ice hockey is tricky, until you actually catch a game for yourself and then all becomes clear. It's about as close to gladiatorial combat as it gets, on skates, all winter long, and it's awe inspiring.  

Find that hard to believe? Go see the outstanding Montréal Canadiens in action at Le Centre Bell this winter. The record breaking 24-time winners of the Stanley Cup, are the team to beat and loved beyond reason in their home city, so the atmosphere rink-side is incredible, always family-friendly and capable of converting the least sporty spectator into a super-fan. 
In the mood to think ahead? Take a look at our month by month dream holiday guide for 2022. And don't forget to follow Family Traveller on Instagram and Facebook and share your holiday dreams – or just say 'hi'. 
This article contains affiliate links. We may earn commission when you click on them. This does not influence our editorial standards. We only recommend products and services we believe will enhance your family travel experience.