The world's second largest country isn't short on adventure, even its cities are up for more excitement than most, and the capital Ottawa leads by example. Which shouldn't come as much of a surprise, considering it's the winter home of the world's largest ice rink, and the immense Ottawa River is an international legend for whitewater rafting.
But how well does Ottawa mix up urban adventure and sheer adventure for families? Very well indeed according to the experts at Ottawa Tourism who've helpfully put together a shortlist of their favourite kid-friendly activities – indoor and out – to prove the point.
We count down our top 6 reasons Ottawa is a great adventure holiday. See what you think…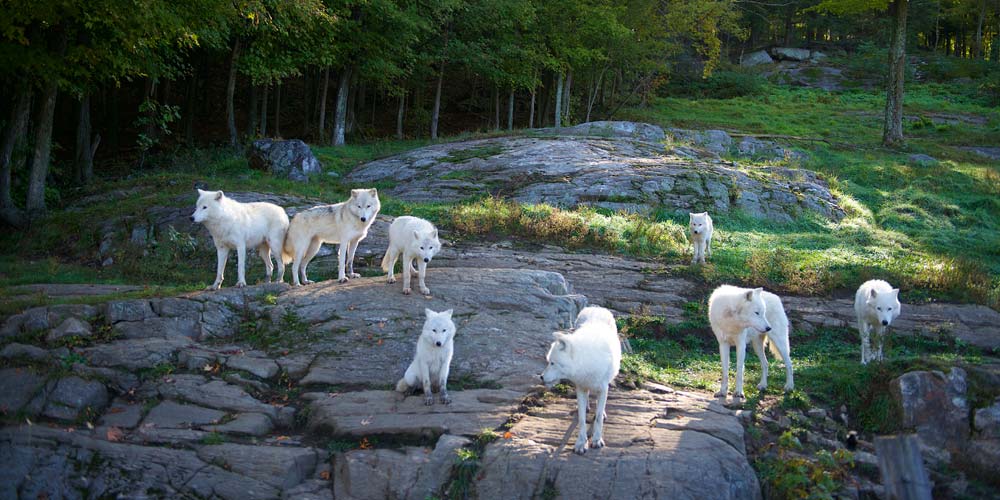 © Parc Oméga
6.

Parc Omega: wildlife safaris and sleeping with wolves

You don't have to head into Canada's wilderness territory to get close to some of the country's wildest creatures in their natural habitat. Parc Omega is less than an hour's drive east of Ottawa and – apart from being the only place in the world where kids can sleep (safely) with wolves – it's home to 15 indigenous species including black bear and bison, elk and caribou, Arctic foxes, Arctic wolves, Alpine ibex and bald-headed eagles.

Take the 15km self-drive safari through a spectacular landscape of meadow, lakes, forests and mountain, through forest and boreal landscape: even in the snowy depths of winter, jaw-dropping is the only way to describe the wildlife you'll see along the way. Then explore the First Nations and Colonisation Trails on foot (or snowshoes, depending on the weather). Visit The Old Farm and Trading Post; take a guided tour of the Wolves Footbridge; follow the totem-strewn Path of the Talking Trees, and don't miss a blessing under the wings of The Thunderbird.

Too much to see in one day? Stay over in a cosy family Stilt House in the forest. Or, better still, spend a night in one of Omega's unique Wolf Cabins where kids can watch the pack after dark through viewing windows in their bedroom: best sleepover, ever.

Where
Parc Omega, Montebello, Québec

How to get there
Parc Omega is 52 minutes drive east of Ottawa on Autoroute 50E.

Where to stay
Wolf Cabin, available year round. From £263 per night for a family of four.

Opening times and prices
Parc Omega is open year round from 10am to 6pm (last entry 4pm).
Family Ticket (two adults/two children) from £53.
Find out more about Parc Omega less than an hour's drive from Ottawa city centre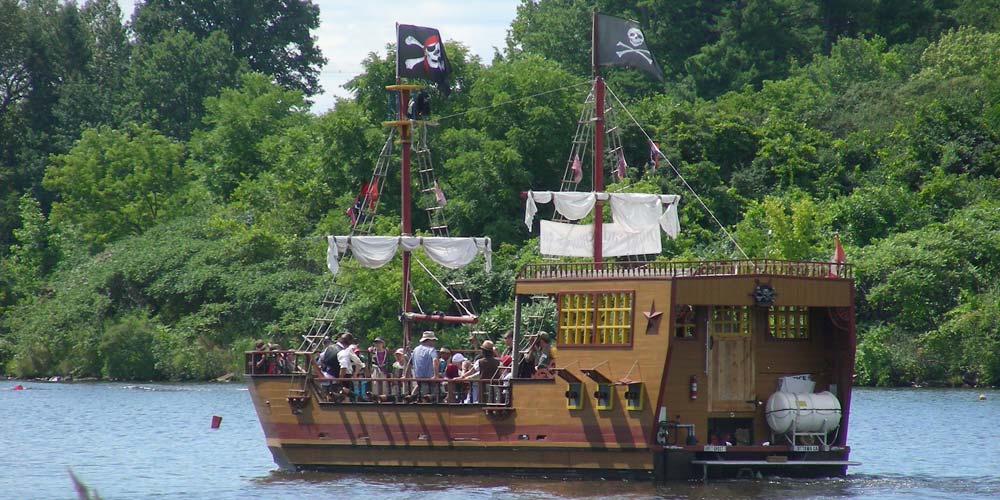 © Ottawa Tourism
5.

Pirate Adventures Ottawa: real-life swashbuckling thrills

A fun day out on Mooney's Bay isn't complete without a turn round the decks at Pirate Adventures Ottawa. This swashbuckling experience is about as authentic as it gets, right down to an 18th century galleon and a salty crew of dastardly looking (but great fun) re-enactors to show kids the ropes.

Young wannabe buccaneers can look forward to learning the ways of everything from manning water cannons to walking planks. Sailing under the Jolly Roger, they get to dress up as pirates, master sword fighting and sea shanties, follow treasure maps, haul loot and hear bloodthirsty tales of derring-do designed to shiver the timbers of all but the hardiest types.

The entire cruise lasts 75-minutes and packs in plenty of thrills, so you'll be pleased to know that Mooney's Bay Beach is one of Ottawa's loveliest, and a great spot for kids to recharge.

Where
Mooney's Bay Park & Beach, Ottawa

How to get there
Pirate Adventures Ottawa is 20 minutes drive south of Ottawa city centre on Route 79 S.

Opening times and prices
Pirate Adventures Ottawa sails seven days a week from late May until early September.
Adults from £15
Children from £8
Find out more about Pirate Adventures Ottawa 20 minutes from Ottawa city centre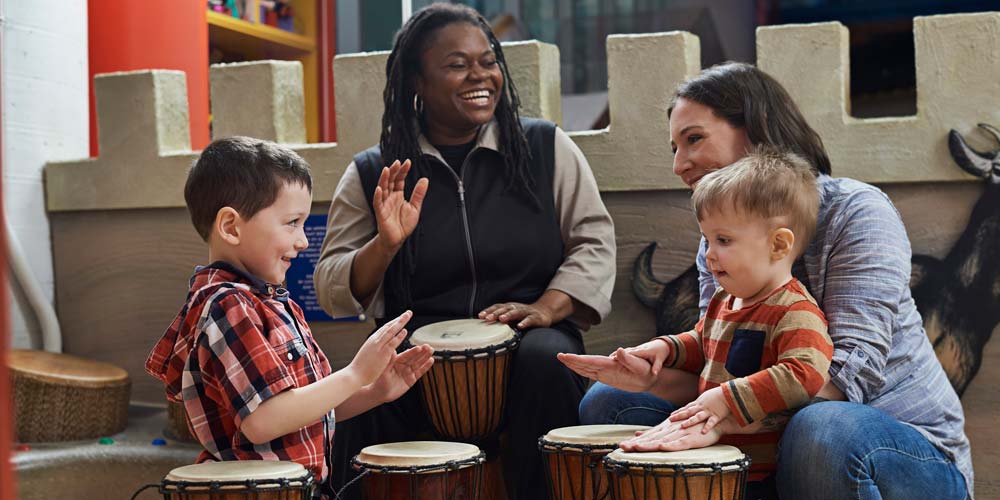 © Canadian Museum of History
4.

Canadian Children's Museum: a wonder-filled world tour for kids

Take a world tour with kids at the Canadian Children's Museum and they can stop off where and when they like; experience anything from trishaw tours in Thailand to life as a Bedouin; dip in and out of lifestyles and cultures through 30 innovative exhibits, and explore their potential with heaps of exciting events and activities year round. It's an unforgettable adventure, but kids also get their own passport which is stamped in all the different places they visit, just in case anything slips their mind.

Where
Canadian Museum of History, Gatineau, Québec

How to get there
Canadian Museum of History is 10 minutes drive north of Downtown Ottawa

Opening times and prices
Canadian Children's Museum is open seven days from 9.30am to 5pm.
Thursday opening from 9.30am to 8pm.
Adults, £12. Under 12s, £7. Family ticket (2 adults, up to 4 children) £30.
Under threes, free.
Tickets to the Canadian Museum of History include the Children's Museum, CINÉ+,
and access to special exhibitions and activities.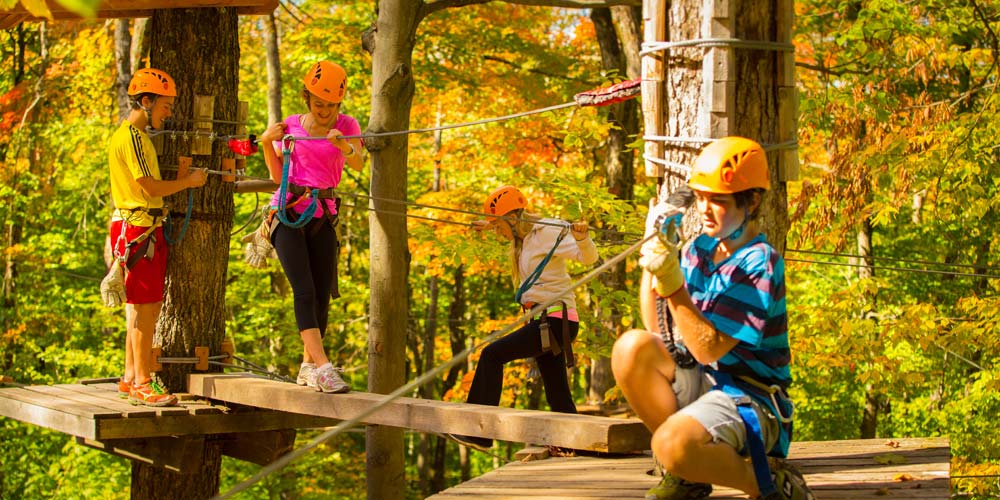 © Camp Fortune
3.

Camp Fortune Aerial Park: high-flying adventure all year round

Camp Fortune is a local legend for skiing and snowboarding in winter. But come spring and summer it's up for an entirely different type of adventure. Think ziplines and monkey bridges, treetop challenges and soaring walkways, and you've a hint of the thrill potential for kids – and daring parents – at Camp Fortune Aerial Park. It's set on the edge of gorgeous Gatineau Park, so the views are amazing too. And you can even add some healthy competition into the experience with a family ticket for the Explorer Course. Or take it a little easier to start with and let kids try out their wings on the Children's Course.

Where
Camp Fortune Aerial Park, Chelsea, Québec

How to get there
Camp Fortune is 25 minutes drive north west of Downtown Ottawa.

Opening times and prices
Camp Fortune Aerial Park is open from May to October.
Explorer Course: Adult, £22; under 17s, £19; under 12s, £16.
Family of three or more, 10% discount on ticket prices.
Aerial courses take between two and three hours to complete.
Find out more about Camp Fortune Aerial Park 25 minutes from Downtown Ottawa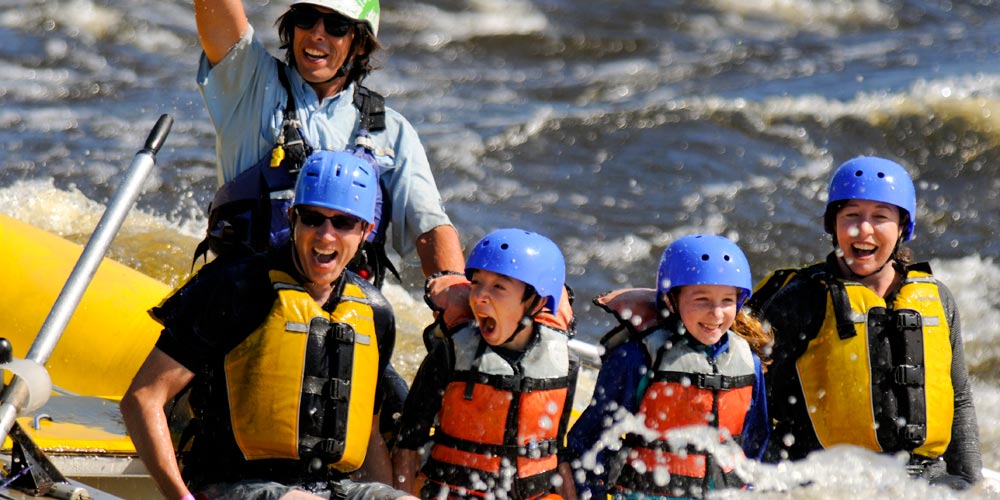 © OWL Rafting on the Ottawa River
2.

Ottawa River rules the world of Whitewater Rafting

The Ottawa River is to Whitewater Rafting what Whistler BC is to big mountain skiing. To the uninitiated that simply means: it's about the best there is, anywhere, worldwide. Naturally it's a mecca for extreme sports fanatics, but even if you haven't so much as paddled a raft before, there are amazingly family-friendly stretches with fabulous city views and some great guided rafting experiences for first timers. Not ready to get wet yet? Hire bikes and cycle the Ottawa River Pathway to Champlain Bridge to watch sensationally skilled Whitewater Kayakers taking on The Wall challenge.
Find out more about Whitewater Rafting on the Ottawa River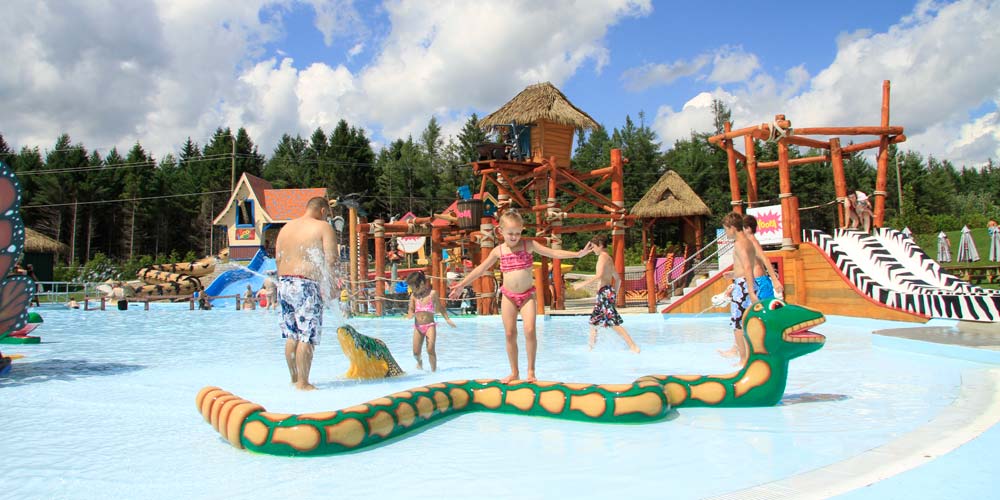 © Calypso Theme Waterpark
1.

Calypso: the biggest waterpark in all of Canada

It goes without saying that the biggest waterpark in the second largest country in the world is going to be immense. But how enormous Calypso is, is hard to get your head round, even when you know it covers over 100 acres, has no less than 35 slides and the breakers in its unbelievably vast wave pool reach heights of almost two metres. Best idea is to go see for yourself during the balmy Ottawa summer months when temperatures of up to 30˚ demand the type of cool, splashy water fun Calypso does on a scale that's literally like nowhere else in Canada.

Where
Calypso Waterpark, Limoges, Ontario

How to get there
Calypso is 30 minutes drive south east of Downtown Ottawa.

Opening times and prices
Calypso Waterpark is open seven days from early June to September.
Full-day tickets: Adult, £30; Children, £24
Find out more about Calypso Waterpark 30 minutes from Downtown Ottawa
The lowdown: Ottawa
Getting there
Direct flights from London Heathrow to Ottawa take seven hours, 50 minutes.
When to go
Ottawa in summer is warm and sunny with temperatures round 25˚.
Temperatures can drop as low as -10 in winter, which means skiing and snowboarding at Camp Fortune and up to 90 days skating on the vast Rideau Canal Skateway.
How adventurous do you want to get? Take a look at Ottawa Tourism for information on the city's family-friendly fun all year round.