Come spend summer in event packed Ottawa
Easy-going, family-friendly and all-round amazing Ottawa is making its mark as the go-to for urban adventurers next summer. Not that it's all urban in the capital most often described as Canada in One City. There's heaps of wild outdoors here, beaches too; as well as canals and rivers, hills, history, heaps of museums and galleries; and an almost endless parade of events, tours and festivals stretching from May right through to September 2020.
For a sneak preview of what's happening on the summer holiday front, Ottawa Tourism have put together some of next year's top fun for families ranging from historic traditions to Pow Wows. There's after dark excitement for older kids and even a hint of swashbuckling thrown in, just in case you're travelling with trainee pirates. Take a look, see what you think and remember: direct UK flights to Ottawa take less than eight hours, year round.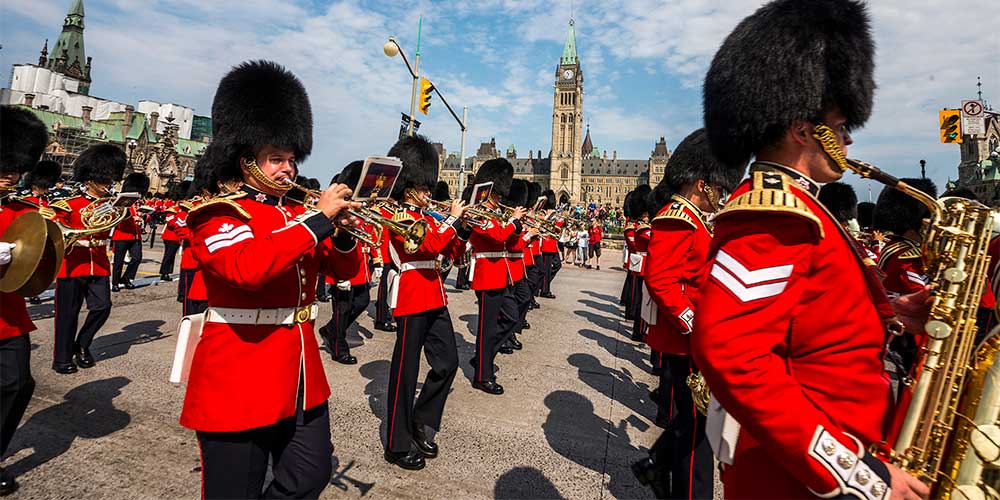 1/5

Changing of the Guard Ceremony
The Changing of the Guard Ceremony takes place on Parliament Hill most mornings from late June until almost the end of August. It's loosely based on the famous Buckingham Palace event, only this one is a little bit more showtime. Not least of all because the entire lawn in front of the main Parliament building is pretty much taken over by parading brass bands, pipe bands and busby wearing guards spruced up to the max in dazzling scarlet and black – watch out for the uniform inspection.
Turn up early to bag a prime spot and catch a full audio-explanation of the ceremony, customs, traditions and history – well worth it for kids.
Apart from the pomp, precision and rousing military tunes, the ceremony's also a great chance to admire the iconic Parliament buildings looking particularly splendid under a sunny Ottawa summer sky. And if you want another excuse to hang out in this historic part of the city, come back after dark for the wonderfully atmospheric Son et Lumière show – more music, this time accompanied by huge images projected onto the Parliament buildings.