Sponsored Content
Looking for a fun-packed family holiday that caters for the whole clan, from toddlers to teens to granny and granddad? Beautiful scenery, fun-filled excursions, charming towns and exciting wildlife encounters await you in the incredible playground of Alberta, Canada. Families will find adrenaline-fuelled amusement parks for the kids, including Rat's Nest Cave, Canada Olympic Park and an indoor theme park, as well as gentler activities and historic landmarks for the adults, including fishing and gondola rides, as well as the western town of Calgary to explore. There's so much to do in the family-friendly paradise of Calgary, that a holiday there never fails to disappoint.
1/5

  Canada Olympic Park

Pack your spurs and cowboy hat and journey to the western town of Calgary for buckets of family fun. Fusing its historic cowboy past with modern architecture, Calgary is a characterful town with plenty of activities the whole family will enjoy. Head back to where Eddie the Eagle took to the slopes and became Great Britain's first Olympic ski jumper in 1988 at Canada Olympic Park, which is now an exciting park for the general public. With climbing walls, bungee trampolines, a mini-golf course, summer bob-sleighing and North America's fastest zip line, this recreational park is a thrilling way to inject a little adrenaline into your trip. For the kids there's also the great Calgary Zoo, which is home to an abundance of exotic animals from across the world, including penguins, hippos and prairie dogs. Adults will relish in the striking 360° views of the Rocky Mountains from the 525 feet high Calgary Tower.
2/5  

West Edmonton Mall

It's almost too easy to spend an entire day at West Edmonton Mall, thanks to its plethora of shops,  attractions, eateries, and even indoor streets. Famous as one of the largest shopping centres in the  world, West Edmonton Mall is a treasure trove of shops, amusements, and much more. Splash the cash and wander around over 800 shops as you let the children loose in Galaxyland – a vibrant,  exhilarating indoor amusement park with plenty of fun rides and attractions to keep them occupied. Europa Boulevard is a fabulous homage to the quaint streets in Europe, with lovely French-style architecture, while Chinatown is a vivid hub of Chinese ornaments and markets. That's not all though, and the children will be sure to love the Sea Life Caverns, an underground aquarium with an abundance of tropical marine life, as well as the Water Park with its twisting waterslides and a bubbling wave pool.
3/5

 Banff National Park

Take the family to Banff National Park to see the abundance of wildlife that live in the park's stunning wilderness. From black bears and wolves, to deer and bald eagles, spotting these elusive animals will be a thrill for kids of all ages. To admire the lush flora and fauna from a great height, take a Gondola ride, which slowly soars through the trees, up to Sulphur Mountain and towards several observation decks – each with an impressive view of the spiralling mountain ranges. Lake Louise is a sight to behold as you wander through Banff National Park, and its incandescent views of sparkling lake and huge, alpine mountains will bring a sense of calm to even the rowdiest of families! Take a moment to breathe, and don't forget to take your camera – this is the most photographed lake in the world, and the perfect backdrop for a family photo. Add a shot of adrenaline to your trip to Banff with a white-water rafting excursion that tumbles and glides amid the rugged banks of Bow River, drifting between rough rapids and calm stretches of river. Along the way, huge birds of prey will swoop above your head, and you might spot graceful deer ducking between the trees and your raft boat captain steers you through the exceptional scenery.
4/5

 Canmore

Arrive in Canmore and you'll find yourself in a delightful, whimsical town with a jaw-dropping backdrop of the grand Grotto Mountain. This large, jagged highland is certainly a grotto full of environmental spectacles, both as a popular hiking spot, and as the home of Rat's Nest Cave. Descend into the shadowy depths of this underground cave and discover the alluring beauty that lurks beneath the Canadian Rockies; crawling, climbing and sliding through the natural caverns to discover its historical and geological quirks. This activity will fascinate the younger ones of the family as they scurry their way past spirals of stalagmite and stalactites, bewitching paleontological structures and the remains of animals engrossed in its walls. For a more laid back stay in the resort town of Canmore, there are plenty of more relaxing excursions, including fishing in the Spray Lakes Reservoir, taking a wildlife tour, or camping under the stars.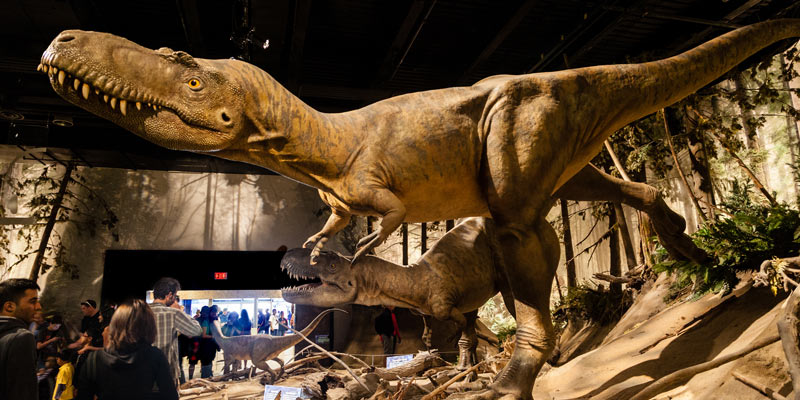 5/5

 Museum of Palaeontology

Curious families will love delving in to the Royal Tyrrell Museum of Palaeontology in Drumheller– housing more than 130,000 fossils from more than 300 species; this distinguished museum invites visitors to get lost in the Earth's enthralling past. Explore the life of dinosaurs with live workshops and skeletal reconstructions, or amble through the Dinosite Tour for sightings of authentic fossils and dinosaur remains buried in the barren land. Keep on the lookout for the World's Largest Dinosaur, an impressive 25 metre high T-Rex guarding the Drumheller visitor centre. Inside the imposing dinosaur are over 100 steps, leading you to a viewing deck in its mouth which will grace you with sweeping views of the town – don't forgot to look out for the monumental hoodoos that protrude majestically from the ground.