Sponsored Content
Ask most UK families which American cities they've visited and you'd be forgiven for thinking the US urban experience starts and finishes somewhere just south of Orlando: Miami occasionally gets a mention and a few intrepid types have even ventured to New York. All great cities and, crucially, all easy to fly into from UK airports. And, when you're travelling with kids, convenient flights are a destination deal breaker.
They're certainly part of the deal with Virgin Atlantic and Delta Airlines for 2017. In what has to be one of the most horizon broadening alliances of recent times, the new partners now fly out of the UK to over 50 US cities from Boston to Honolulu.
So if your family wings are normally clipped by convenience: welcome to the new normal. Here's how it's looking in five of America's lesser visited, but no less spectacular cities, all available from an airport near you, right now.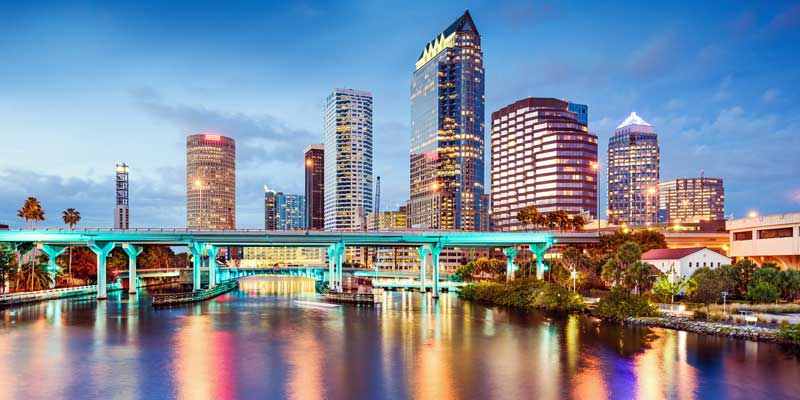 1/5

 Tampa – home to the USA's 'Best Family Beach'
Say you're going to Florida and it's almost a given you'll be off to Orlando. Mention you're heading to the west coast and expect some admiration for your obvious pioneer spirit. Which is completely ridiculous, of course. The west coast is the Gulf Coast: fresh-seafood's a staple diet; the weather's hot and sunny with sea breezes; and the beaches are big, sandy and beautiful – whatever Disney claims about Blizzard, it's not the same.
The cities are pretty amazing too. Take Tampa as the perfect example. Not only is it one of the most famously cultured cities in Florida, its Cuban district rivals Miami's Little Havana, the food scene is seriously cool and local beaches win so many international awards it's almost embarrassing.
Will your kids miss Mickey? Mickey who? Tampa doesn't do mice, it does Safari Wilderness: 260 acres of Serengeti style adventuring with a pick of transport from kayak to camel. If nothing will do but white knuckle, you want Busch Gardens, home to the terror inducing SheiKra rollercoaster. Tamer types might like shark fishing in Tampa Bay or up close and personal with giraffes at Lowry City Zoo. And Fort de Soto Park is just the beginning of incredible on the beach front: also happens to have been recently named, 'Best Family Beach', by USA Today.
Find out more about UK flights to Tampa with Virgin Atlantic and Delta Airlines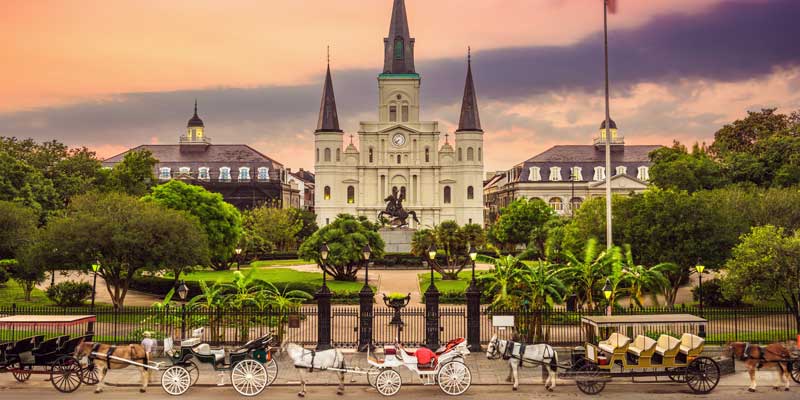 2/5  

New Orleans – from Mardi Gras to the Mississippi
Okay, how much do you really need to know about America to know New Orleans should be up top on the must-see list? By reputation alone, the louche Louisiana legend knocks just about all comers into touch for everything from Cajun cooking to poetic patois, romantic districts to rowdy jazz, and that's before you even get round to the annual blockbuster of Mardi Gras.
But is the city where they count cemeteries as visitor attractions too grown up a treat for kids? Have a hint: the legendary New Orleans' Carnival has a family zone; there are dozens of parks and gardens in the city centre alone; beignet are almost a religion; and there isn't a teen alive who isn't fascinated by the Voodoo practitioners on Congo Square
Younger kids can have a taste of the Bayou without going full swamp on Big Lake at City Park. They'll love the stilt-walkers and street performers in the French Quarter and the 15,000 sea creatures at Audubon Aquarium. Louisiana Children's Museum is rated among the top ten in the US and probably the only one with a giant, explorable eyeball. And nobody, young or not so young, doesn't lose their heart a little on an old fashioned paddle steamer gently cruising down the mighty Mississippi.
Find out more about UK flight to New Orleans with Virgin Atlantic and Delta Airlines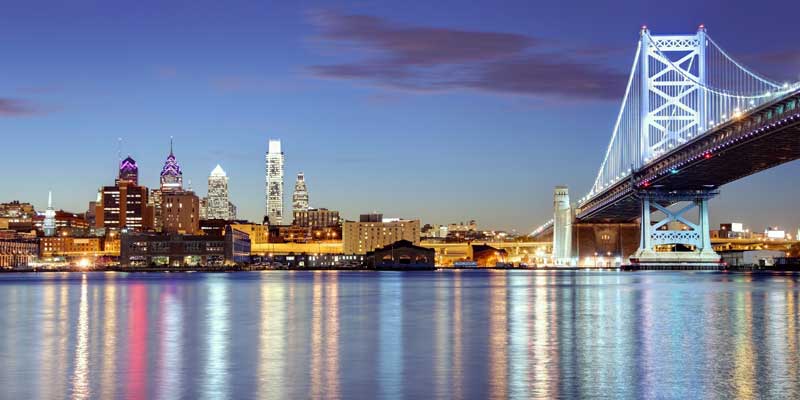 3/5  

Philadelphia – city of bells, balloons and brotherly love
Is there more to the City of Brotherly Love than the Liberty Bell, Declaration of Independence and stately 18th century mansions? You'd have to decide for yourself, of course. But it's fair to say the home of the Philly Cheesesteak, America's largest art collection, a museum simply called 'Touch Me' and the only aquarium in the world with resident hippos, goes well beyond the past to grab your attention.
Getting your bearings from above is a bit of a tradition here: you can ride the elevator 883 feet up to the One Liberty Observation Deck and look around. But no surprise, kids usually prefer catching a flight on the Philadelphia Zoo Balloon – weather permitting, it's as spectacular as it sounds.
Feet on the ground aren't any less interesting. And (whisper it) even young visitors can't resist the lure of history. So don't be afraid to suggest walking in the footsteps of the Founding Fathers round Independence Hall, checking out the science at The Franklin Institute, examining earth's most famous broken bell or hopping on board a Big Bus, sitting back and letting one of Philly's friendly guides do all the explaining for you.
Find out more about UK flights to Philadelphia with Virgin Atlantic and Delta Airlines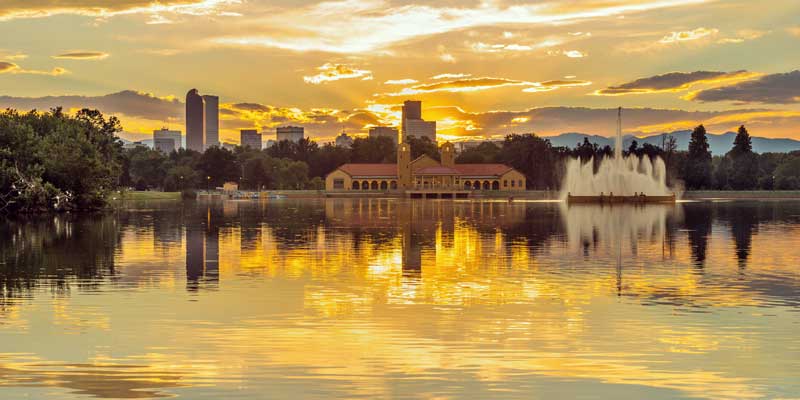 4/5  

Denver – the gateway to the Rockies 
Even if Rocky Mountain National Park wasn't less than an hour's drive from downtown, Denver would still be an outdoorsy kind of city. It's the highest in the US with 300 days of sunshine a year, over 90 golf courses, hundreds of miles of cycle paths and greeters wearing cowboy hats to meet you at the airport.
If you don't want to strap on hiking boots and take to the hills, get kids into a First Friday Art Walk in the Santa Fe District; discover cool and colourful DOLO with tough to impress teens; or ease into the city's sense of adventure with a ramble round any one of dozens and dozens of glorious green parks.
Visit in summer for camping and climbing and roaming round the Rockies. Go in winter and try skiing the wilderness: the guides are great, majestic snow-strewn mountains come as standard, and if you don't see at least one Elk or Moose, you can consider yourself short changed.
Find out more about UK flights to Denver with Virgin Atlantic and Delta Airlines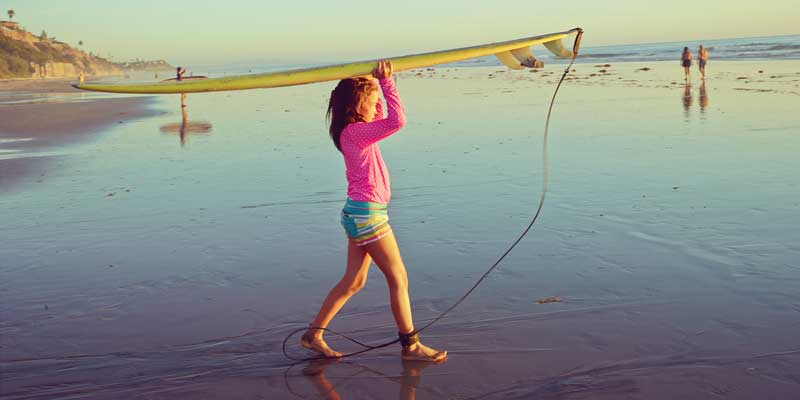 5/5  

San Diego – a surfers paradise 
Surf's always up somewhere on San Diego's 70 mile long Pacific coast and (almost) never-too-young is the city motto when it comes to riding waves from iconic La Jolla to laid back Leucadia. Strictly spectating? Hit the sea in December for whale spotting; make a date with the Children's Pool sea lion colony in summer; or go full local and bike the boardwalk at Mission Beach any time.
The sea might be San Diego's signature, but it's far from all there is to love about this true southern Californian. Head Downtown by day for the historic Gaslamp District and Embarcadero, the New Children's Museum and quaint city trolleys to San Diego Zoo and Bilbao Park. Or take teens touring after dark and revive your reputation for cool – Little Italy's another city centre must-see (and eat).
Mission Bay aquatic park's the biggest in the US and just as wild as it sounds. Little thrill-seekers have LEGOLAND California Resort. And kids can't leave San Diego without riding the 100,000 gallon per minute wave pump at The WaveHouse, at least once.
If you're not sure when to go, San Diego's weather won't help: good chance of sun all year round with 60˚ as a January average and basically, no bad days for the beach.
Find out more about UK flights to San Diego with Virgin Atlantic and Delta Airlines