Sponsored Content
If you're looking for a family holiday that'll give everyone something to talk about back home, skip the classic Disney World itinerary and mix it up with a real American experience. We're talking Native American tribal lands, authentic cowboy ranch stays, glacier hiking and some of the more amazing national parks in the world.
Whether you're travelling as a full family unit, father and son, auntie and niece, grandparents and grandchildren or any other combo, these ten incredible North American family experiences from Grand American Adventures will create life-long memories.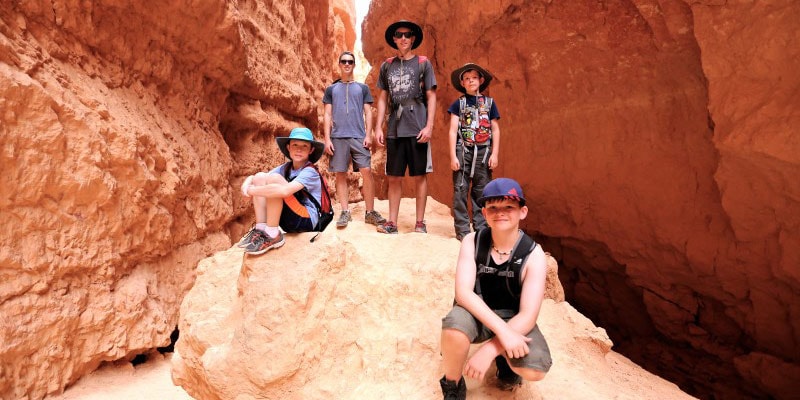 1/10

Navajo guided tour of Monument Valley

While the adults will appreciate the Forrest Gump connection (along with other Hollywood blockbusters), kids will be captivated by the hidden secrets of this tribal land. Taking in an included Navajo guided backroads tour, it's the perfect chance for them to learn more about Native American culture and way of life.

The iconic landscape will certainly have travelers of all ages feeling like they've stepped onto the set of a Western movie – and a night's stay in a traditional Navajo will round off your incredible Western adventure perfectly.

2/10

Grab a super-thick shake on the Route 66

A great combo with Las Vegas and the Grand Canyon, treat the kids to a tasty treat with a stop-off at Seligman's Snow Cap Diner – we promise it's the thickest shake you've ever tried! Seligman is known as the 'birthplace' of Historic Route 66 – one of the world's most famous routes and the subject of countless dream American road trips.

A small town with less than 500 inhabitants, much of the roadside exhibits eye-catching colourful Americana memorabilia, from vintage cars to signage. It's also another prime spot to pick up a souvenir of your family road trip and take some snaps!

3/10

Explore the Athabasca Glacier, Canada

Stepping onto Canada's Athabasca Glacier, the kids might just be speechless for once. Part of the Columbia Icefield, it's one of the world's most accessible glaciers. For an idea of what the world would have been like during the last Ice Age, this is pretty much spot on.

As well as offering up a big dose of fun, a tour of the Athabasca Glacier, which is receding at a rate of five meters each year, is a geography lesson the kids won't even know they're having!
Find out more about family tours in Canada with Grand American Adventures

4/10

Hike to Angels Landing in Zion National Park

If the youngsters have some energy to burn, a family hike to jaw-dropping Angels Landing in Zion National Park is the perfect way to do it. Afterwards, why not dip your feet in the refreshing 'Narrows', a shaded canyon section of the Virgin River?

Before you fall asleep after your day of hiking and exploring, spend the evening bonding around the campfire over a deliciously cooked dinner. The beautiful national park surroundings make for an unrivalled camping experience – it certainly beats a tent in the back garden!

5/10

Visit the Little A'Le' Inn, Extraterrestrial Highway

For the most curious of minds, imaginations will run away with you during a visit to the Extraterrestrial Highway, where many travelers have reported UFO sightings. The small town of Rachel sits close to the boundary of the infamous Area 51.

At the Little A'Le'Inn restaurant, you can tuck into an 'Alien Burger', check out the UFO related memorabilia and pick up an out of this world souvenir to take home. Next stop after Rachel… Yosemite National Park!

6/10

Hike the Mist Trail in Yosemite National Park

For an unforgettable adventure, Yosemite's Mist Trail hike is manageable for all ages. Hiking together as a family is a unique bonding experience, encouraging each other along the trail. And once you hit the top, incredible views await!

The National Park Service's Junior Ranger Program is also a great way to give the kids an even more immersive experience in the park. Activity books can be picked up in the visitor centre, and on completion, they'll be awarded a badge, patch or certificate to keep as a memory of their national park experience.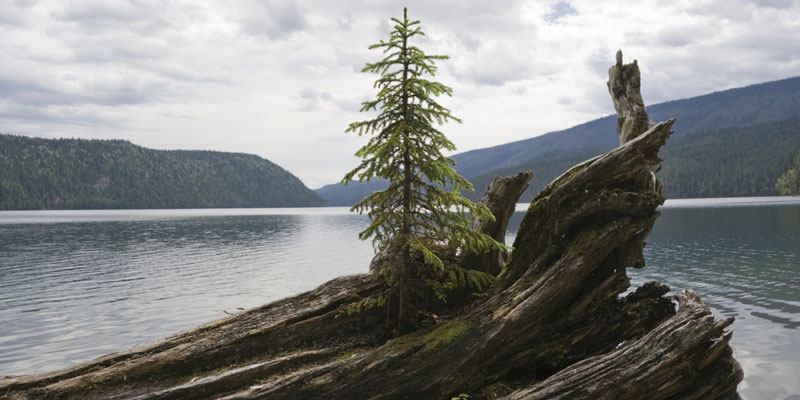 7/10

Stay in a guest ranch in Wells Gray Provincial Park, Canada

There's little argument over why Canada has been named Lonely Planet's top country to visit for 2017; it's easy to understand why. With friendly locals, a whole host of activities and jaw-dropping scenery, it's the perfect place to experience with imaginative and active youngsters.

To feel like you're truly getting away from it all, a rustic guest ranch stay in the beautiful surroundings of Wells Gray Provincial Park is a more laid-back escape for you, and a fascinating adventure for the kids. Wells Gray is the fourth largest provincial park in British Columbia, and home to the impressive Helmcken Falls.

8/10

Pizza overlooking the Grand Canyon sunset

After you've been exploring one of the world's most famous sights, you'll definitely have worked up an appetite. Once the crowds disperse, take the unique opportunity to see the sun go down over the canyon in a more intimate setting – and tuck in to delicious, cheesy pizza! A classic Grand American Adventures activity and the perfect chance to get to know other families and for your kids to bond with new friends.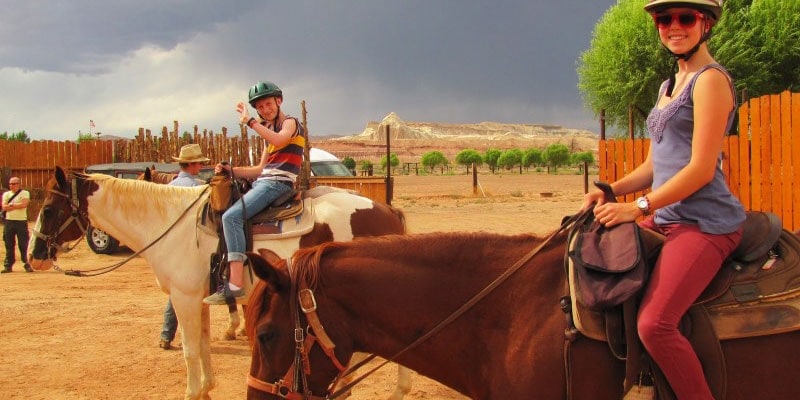 9/10

Western Horseback Riding, Bryce Canyon

What youngster (or adult…) hasn't imagined of acting out their very own Wild West daydream? Amongst the towering hoodoos of Bryce Canyon, you'll be riding the range like a cowboy on your very own horseback adventure.

The spires, fins, arches and mazes of the hoodoos create a weird and wonderful landscape. Native Americans believe these bizarre shapes to be 'legend people' who were turned to stone for their sins.
Find out more about adventurous family tours with Grand American Adventures

10/10

White water rafting on Kicking Horse River, Canada

In 2017, Canada celebrates 150 years since confederation, so it's the perfect time to visit. It's also a great destination for active family members, with a whole host of action-packed activities on offer.

The Kicking Horse River runs through the Canadian Rockies, and white water rafting is a popular activity with visitors to the area. The highly experienced rafting instructors will make sure your adventure down the river is a true adrenaline rush!