Louise and Simon Notton-Brown visit the Emirate of Ras Al Khaimah for authentic activities and chill out time with their three young children
As with most people who have young children (ours are Joshua 6, and four-year-old twins Harry and Olly) and busy lives, my husband and I always want to make sure our family holidays are a time to relax, enjoy time together as a family and most importantly an opportunity to experience new things that appeal to us. Having visited Dubai and Ras Al Khaimah (RAK) four years previously, we took the opportunity to re-visit the emerging Emirate RAK for six days, staying in both a secluded desert resort and a family focused beach resort.
If asked about the main sights in Dubai, most people talk about skyscrapers, but when you ask people about RAK they refer to the Jebel Jais mountain range, the ruins of the historic Sheba's palace and the 16th century hilltop Dhayah Fort.
Just a 45-minute transfer from Dubai International Airport, the desert oasis of RAK, with its rolling sand dunes, wildlife and starlit skies awaits. RAK has a coastline of 64km and covers an area of 2478sqm, milder than the rest of the UAE, RAK's climate is generally hot and dry.
RAK's rugged mountain range, terracotta desert landscape and sand dunes are simply breath-taking. Add to that top class hotels, waterparks, sporting activities and historic ruins, beaches and an abundance of trips to undertake, and you can't go wrong.
The desert is home to our first hotel the incredible Al Wadi Desert Resort, literally an oasis amongst the sand dunes. One hundred and one private villas all with their own infinity pools sit amidst acres of desert and sand dunes. Arabian Oryx, Gazelles, Geckos, Beetles and foxes can all be seen on the guided nature walk or wandering freely around the resort. We were extremely lucky to see free roaming Oryx and Gazelles as well as a sand racer snake.
The Al Wadi Desert Resort is also home to the Heritage Forest, which aims to inspire guests to take part in preserving the environment by planting a Ghaf tree in the Heritage Forest. It was amazing to see how quickly this forest is growing and the learn how the Ghaf trees manage to connect themselves to the underground water supply.
The resort's Ritz Kidz Club offers a myriad of activities for children to enjoy including arts and crafts, films and games in a wonderful air conditioned environment whilst outside they can enjoy the fun of a well-equipped play park. Friendly staff ensuring that all their needs are catered for. The options to fill their itinerary is endless; feathered friends tour, falconry shows, cycling on complimentary bikes, stargazing, camel rides, pony splash and ride to name a few.
On arrival at Al Wadi we were greeted with complimentary drinks and a swift check in. The concierge drove us through the Nature Reserve to our villa and we experienced our first sighting of the beautiful gazelles. Our villa was an extremely comfortable home for a family of five with plenty of living and sleeping space, walk in wardrobes, a huge bathroom as well as a beautifully furnished terrace overlooking our private infinity pool looking out onto the nature reserve.
As a family we tried to squeeze as many activities into our itinerary as possible. With such a rare opportunity to explore and experience so much in such a beautiful setting, the activity team were excellent in their support with planning and co-ordination.
Our eldest son loved the Feathered Friends tour (six years plus), during which he was immersed into the fascinating world of birds of prey and introduced to numerous child-friendly birds by the resident falconer.
Stargazing is an absolute must here. We were collected from the restaurant after dinner by our guide and driven through the Nature Reserve with torches in hand to look out for gazelles or oryx wandering in the sand dunes on route to the stargazing terrace. Our guide was extremely knowledgeable and engaging, and had our children mesmerised. With an extremely powerful telescope and assisted by an app which outlined and described constellations, he talked at length about the starry sky. Our boys were amazed to see Jupiter as well as the craters on the full moon through the telescope.
Our boys were very excited when they learned they had the opportunity to have a pony ride (see below left). We arrived at the stables and were met by friendly staff who clearly loved the animals they were responsible for. We had a full stable tour to see all the horses and ponies before meeting Pebbles, our pony for the day. As the boys had never been around horses before, the stable staff gave a comprehensive safety talk to ensure the boys understand the importance of what they should and shouldn't do. The boys then prepared Pebbles for their ride; grooming her, checking her hooves and saddling her. They excitedly took turns to ride Pebbles around the stables and surrounding areas, before returning her to the stables to help clean her.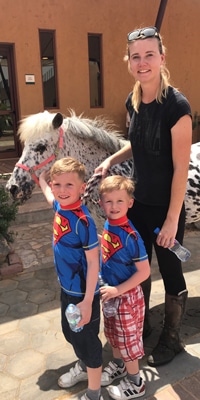 The hugely impressive falconry centre was a huge hit with all the family. Visitors see traditional methods used by the Bedouins for hunting with birds. Situated amongst the Ghaf trees at the top of a sand dune sits the tented wooden falconry deck. From here you get to truly enjoy the panoramic views of the resort whilst listening to an in-depth insight into the role of falconry in the Bedouin culture, learn about both owls and falcons and watch how these amazing birds of prey are trained. With an opportunity for everyone to hold both the owls and falcons for photos during the talk, the resident falconer was knowledgeable, engaging and hugely talented.
The resort spa provides a dozen rainforest themed rooms for mums and dads to enjoy. Lavish pavilions are the perfect setting for a vast array of treatments; including their signature Al Wadi indulgence rituals, facials, massages and body therapies.
On our last night at Al Wadi we visited the nearby Bassata Desert Village, Bedouin Oasis Camp, for authentic Arabic activities such as belly dancing, Tanoura dancing and camel rides as well as sand surfing (see below right) and quad biking. Our boys had lots of fun here before climbing the highest sand dune to watch a spectacular sunset. Once the sun had gone down it was time to enjoy the excellent BBQ under the starry sky whilst watching more traditional dancing and fire eating.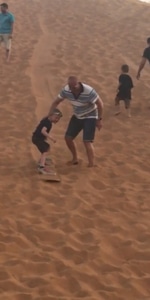 On route to our second hotel Doubletree by Hilton Resort & Spa Marjan Island we took the opportunity to visit the Jabal Jais Mountains – RAK can boast the highest peak in the UAE. With spectacular picnic areas and views that are simply breathtaking it was one of the highlights of our few days. Our boys were amazed to learn that just weeks before we sat eating our picnic in 40 degree heat, there had been snow on that exact spot for the first time in 20 years.
With beautiful sea views, Doubletree by Hilton Resort & Spa Marjan sits on a private 450 metre beach, minutes from the entertainment and shopping at Marjan Island and Al Hamra Mall. On arrival, we were welcomed with signature warm chocolate chip cookies and after check in were driven to our ground floor family room with direct access to the beach from the beautifully furnished terrace. The room was both extremely well furnished and equipped, our only feedback being that the room didn't comfortably accommodate five people.
With seven temperature controlled pools and a Pirate Boat Aqua Zone dedicated to children, there is plenty of opportunity to take a swim. The Pirate Boat Aqua Zone had dedicated lifeguards and our three children happily played away for hours on the water slides, running through the sprinklers and taking a drenching under the giant water buckets. The family and children's pool area was excellent, plenty of space and sun loungers and direct access to the beach, bars and restaurants. The resorts also has a dedicated kids club with a climbing wall, children's outdoor playground and Arcade Zone as well as a multitude of kids' clubs and activities.
Whilst at the Hilton we had a day out at the Iceland Waterpark. Iceland Waterpark was less than a 10 minute drive from the hotel and as a waterpark offers thrilling amusement to visitors of all ages. With more than 30 water slides, a dedicated Kidzone, a huge wave pool, an Olympic size lap pool, an extensive food court and some high end private cabanas, Iceland is all about having a fun time. Fun was exactly what we had as a family, endless thrilling rides on the slides, fun jumping waves in the wave pool, diving in the splash pools and relaxing in the cabana in air-conditioned comfort whilst enjoying our lunch from various restaurants in the food court. The waterpark was very well staffed and the endless numbers of lifeguards on duty ensured that all rides were safe and efficient. After seven hours, we had to drag our boys out with a promise that we will definitely return.
In summary, of our trip, I think it's fair to say it has probably changed our outlook on family holidays forever. Historically, with such a young family we have been reluctant to undertake too many activities and venture too far from our hotel as it usually involves a big effort. Having our days mapped out with the amazing itinerary and the opportunity to partake in some amazing experiences we absolutely see the value in making that effort. We also saw an impact on our children, they have not stopped talking about everything they have seen and did. Their diaries of their Easter break are the envy of their year group and as parents we felt privileged to have experienced it with them. We are lucky to have been to RAK and Dubai on two previous occasions, the changes and development in RAK over the past five years are substantial in a tremendously positive way, we have suggested RAK previously and having seen the extensive development that has been undertaken will be recommending this as a destination of choice for couples, kids and parents alike.
Ras Al Khaimah: The Lowdown
Where to stay
Al Wadi Desert Resort offers Al Rimal Villas from £464 per night for two with breakfast. Kids stay for free.
Hilton Doubletree Marjan Island
 offers deluxe rooms for two adults and two children from £178 per night.
How to get there
Emirates flies direct to Dubai from London Heathrow from £379 return (adult), and from £279 return (child up to 12 years). RAK is a 45-minute drive from there.
 For more information