Sponsored Content
48-hours in Doha isn't like two days anywhere else. The capital of Qatar isn't an urban sprawl, so it's easy to explore from end to end, without a hint of hurry. That said, there are dozens of reasons to stop and stare, linger over amazing sights, and immerse yourself in new experiences. So an expert guide comes in handy, even here.
Guides don't come more knowledgeable than Qatar Airways. Recently voted Skytrax Airline of the Year, and Best Business Class, they're devoted to wonderful hospitality in the air, and on the ground too. So who better to show you the best of Doha in 48-hours?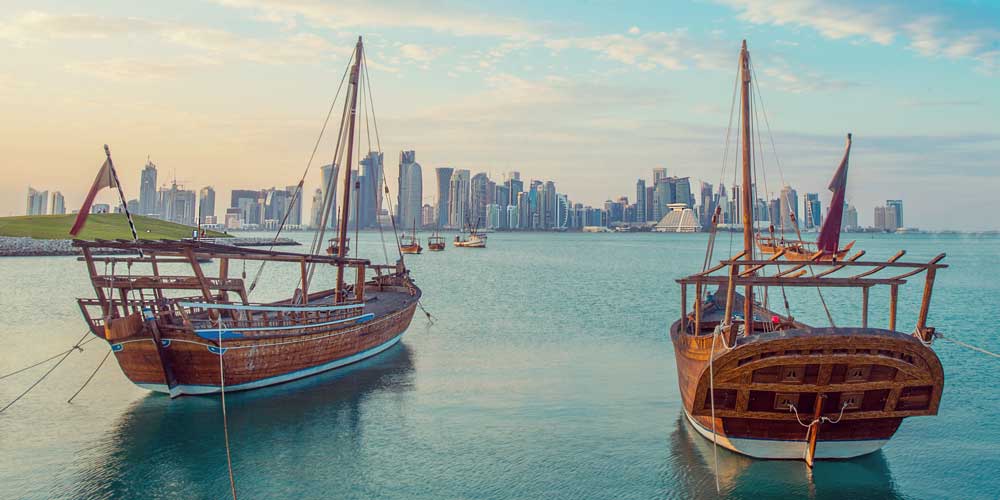 1/6

 Traditional Dhow Cruises

Stroll along Doha Corniche any time of day and kids will see graceful dhow sailing on the Arabian Gulf. The traditional wooden boats are always a surprising contrast to the modern city, and no curious young visitor ever turns down the chance to step aboard and sail away for a little.

Sunset is the best time for a dhow cruise. The air is still warm, with a hint of cooling breeze on the water, and Doha's skyline is slowly transforming from daylight dazzle, into an extravagant show of lights against the darkening sky.

The finest dhow are like small, floating palaces; intricately carved, slow moving, and almost always decked out with soft cushions. Because reclining dreamily as you sail, is really the only way to see Doha by night.

You can take dhow dinner cruises, and daylight cruises too. They're delightful in their own way. But nothing compares to an hour at sunset for sheer, childlike enchantment.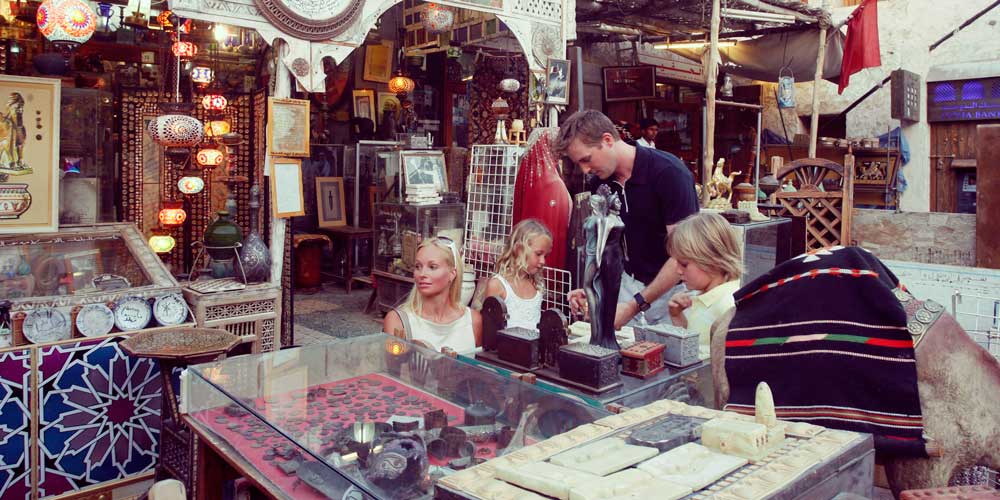 2/6

 Souq Waqif

With 48-hours to play with, shopping may not be high on your list of priorities in Doha. But you can't leave this remarkable city, without spending at least a few hours in Souq Waqif.

The historic 19th century market is at the heart of the old quarter, and the ancient art of trading here is more like theatre, than mere commerce.

Wander the alleys with kids and you step back in time almost instantly. The air is rich with the scent of spices and exotic perfume; smartly dressed porters bustle about with wooden wheelbarrows; music mingles with the sound of lively bartering; and there seems to be nothing in the world you can't buy somewhere.

Visit Souq Waqif for lunch, then go exploring when the market shops reopen in the late afternoon. Don't forget to see the Falcon Souq, and Camel Pen on Al Jasra Street, and always leave time to admire the graceful Arabian horses at the Waqif Stables.
The lowdown:
What: Souq Waqif shops are open from 7.30am to 12.30pm and from 3.30pm to 10pm.
Where: The Souq is close to the eastern end of Doha Corniche, minutes from Doha Port and the Museum of Islamic Art.
Souq Waqif is especially fun in the evening, most restaurants and cafés open at 8am and close at midnight.
Find out more about Souq Waqif in the centre of Doha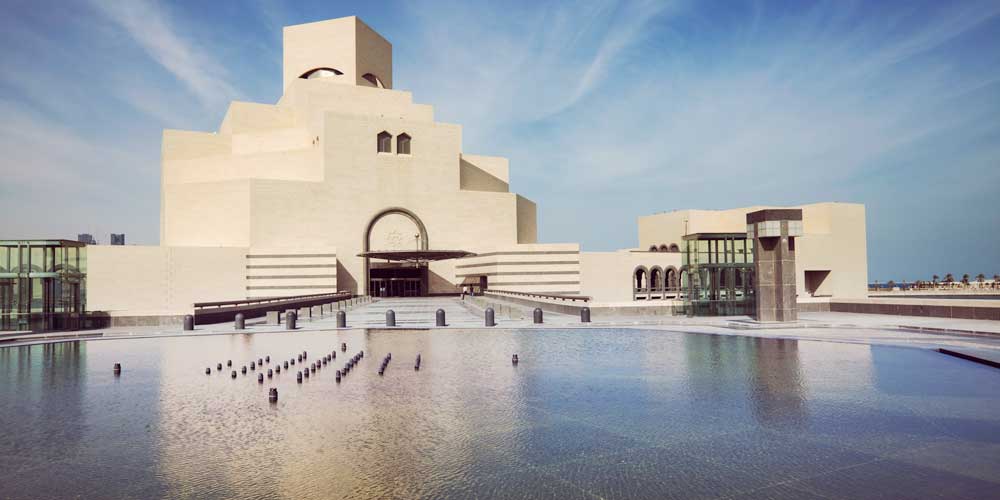 3/6

 Museum of Islamic Art (MIA)

The Museum of Islamic Art is one of the most striking buildings on Doha Corniche. Overlooking the blue waters of the Gulf, from a distance, it looks historic. Move closer, and it slowly becomes clear that it's completely contemporary, and your eye has been tricked by cleverly deconstructed traditional design details.

But save most of your wonder for the interior and one of the Middle East's most impressive art collections. The museum galleries are like a journey through 14 centuries of Islamic culture, and it doesn't take long for kids to be swept up by the ancient myths and legends. You'll probably want to take a little more time to examine the intricacies of the exhibits. But whichever way you see MIA, it's an experience not to be missed.
The lowdown:
Entry to the Museum of Islamic Art is free.
The Museum is open every day except Tuesday, times vary, and  it's open until 8pm on Thursday, Friday and Saturday evenings.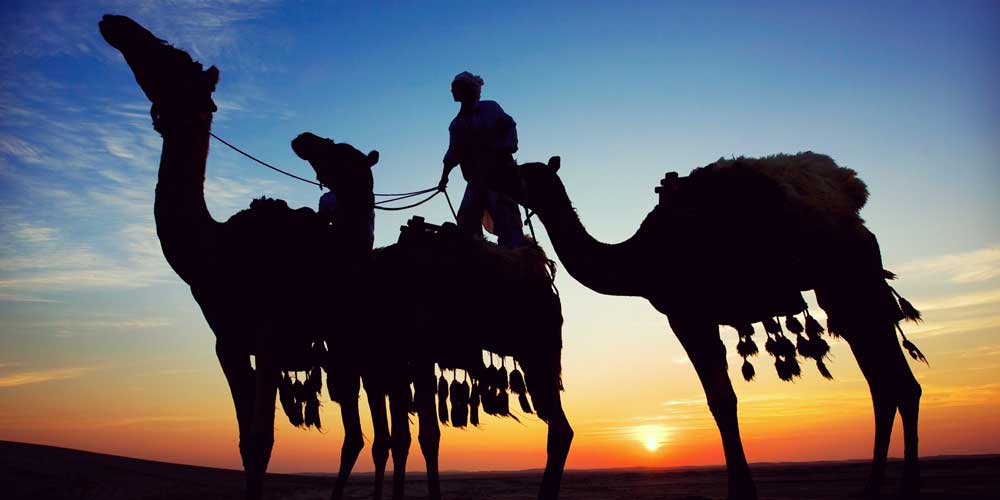 4/6

 Desert Safari Adventures

Fitting a little of the desert into 48-hours isn't just easy in Doha, it's almost essential. There are all sorts of thrilling adventures to be had. But desert safaris where kids can race across dunes on 4x4s, ride stately camels over the sands, and enjoy a traditional Bedouin picnic, are the most fun by far.

The best desert safaris will also offer a visit to Khor Al Adaid; take them up on it. This phenomena, also known as the Inland Sea, is a UNESCO World Heritage site, and one of the only places on earth where the sea is surrounded by desert. It really is as astonishing as it sounds.
The lowdown:
Half and full-day desert safaris are easy to arrange through your Doha hotel. Good tour operators will include transport to and from the city, and offer you a choice of different activities.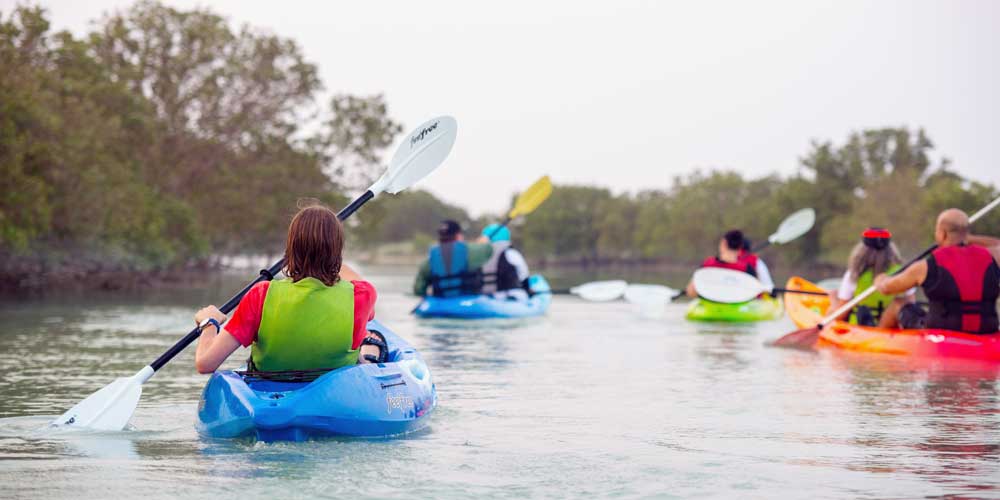 5/6

 Mangrove Kayaking Tours

An hour's drive north of Doha, Al Thakira mangrove swamp is another of Qatar's amazing natural phenomena well worth making time for, even on a short visit.

A unique, watery landscape scattered with wonderfully strange trees, and lush vegetation, Al Thakira couldn't be more different from the surrounding desert. Unsurprisingly it's a favourite haunt for all manner of migrating birds, and spotting glamorous flamingo wading around, isn't at all unusual.

A guided kayak tour is a thrilling experience for kids, reassuringly low impact on the fragile micro-environment, and the only way to really get to the heart of the mangrove mysterious.
The lowdown:
Al Thakira is on the outskirts of Al Khor City, just over an hour's drive from Doha. Specialist guided kayak tours can be arranged through your hotel, and all include transport to and from Al Thakira.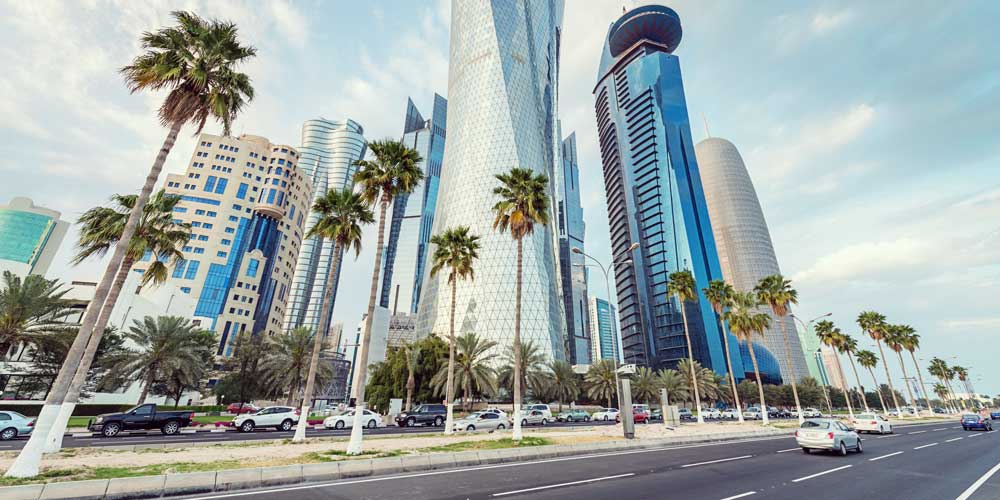 6/6

 Doha City Bus Tours

Taking a guided tour is a great way to get to know a city. But the combination of a set route, and lively kids doesn't always work. Doha City Buses are all the best bits of sightseeing, without being stuck on a tour bus for hours.

Spot something interesting and want a closer look? Just 'hop off'. Take all the time you need to explore. Then simply, 'hop on' the next bus that comes along.

There are over 21 major city sights on every tour, and the multi-lingual guides are as entertaining as the views. So you could even stay on board for the entire journey and get your bearings, before heading off to discover Doha in more depth.
The lowdown:
What: 24-hour family ticket (2 adults, 2 children) is £25
Where: Day tours run from 9am to 7pm, seven days. An entire tour lasts for about an hour.
Doha City Bus also operates a Night Tour, and their Monster Bus Dune Tour is a great way to fit some desert exploration into 48-hours.
Book a flight from the UK with Qatar Airways before 31 August 2017 and stay overnight in Doha free. The offer is open to all transit passengers travelling before 30 September 2017, and includes one room in a four or five star Doha hotel, sleeping two adults and one child.
Find out more about Qatar Airways Doha Stopover offer, and the award winning airline's flights from the UK to destinations in Australia, New Zealand, Asia and Africa.
Qatar Airways flies 72 times a week from the UK to Doha from its London Heathrow, Manchester, Birmingham and Edinburgh gateways.
Intrigued by Doha? Have a look at Family Traveller's guide to Family holidays in Qatar.