Sponsored Content
A day in the life of a perfect family holiday…
It takes a unique talent to combine the peace and harmony of a blissful spa retreat with the wild adventure of an unforgettable family holiday. But that's exactly what Six Senses have achieved at Zighy Bay on the Musandam Peninsula in northern Oman. Naturally, choosing to design the first eco-resort on the Gulf in such a spectacular location does have a few advantages when it comes to soothing adults and entertaining kids. But glorious beaches, an immense and dramatic coastline, porpoise-filled waters and a magical desert landscape are only the beginning of every perfect day.
Good morning and welcome to wonderful
As with any Turquoise recommendation you're guaranteed extraordinary resorts and this is no exception. Wonder is subtly infused into everything and surrounds you everywhere at Zighy Bay.
For a start, this isn't a hotel, it's a charming Omani village of private villas with shady courtyards, personal pools and – if you so desire – stunning beach views or a panorama of astonishing cliffs rising sheer out of the bluest seas. But it's morning and the calm, cool of your new home will have to wait because the kids have already been outside and, 'Mummy, they've got real goats'. So, instead of five more minutes lazing around on pure cotton sheets and admiring the impeccable taste of Six Senses' interior design team, you're on duty. Or are you?
Relax, the kids couldn't be happier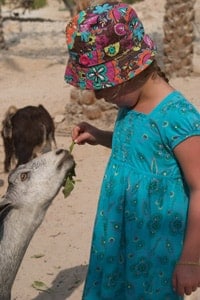 You know your children love you really, but seeing them race off to Chaica's kids club without a backward glance, might leave you wondering. Don't take it to heart. Go savour the sun on the beach or indulge in an hour or two of spa pampering, they're in great hands. And you can't compete. Unless of course you're an expert in everything from the ancient art of henna painting to baby goat training and crab hunting. Or you have the energy to spend hours playing water polo, organising treasure hunts and refereeing mad, bad and marvellous junior Olympics with a crowd of over-excited Usain Bolt wannabes. And even if you are all that and more, letting someone else enjoy the kids can be your good deed for the day.
Even 'too cool' teens are having fun
Too old to be charmed by goats but just a little too young for a holistic anti-aging facial? Al Feetean's has entertained the world's pickiest 13 – 18 year old guests and boredom has never been an option. It goes without saying the play is more sophisticated here. But the blend of skill-building, tough competition and more than a touch of the rugged Omani outdoors is a winning combination. So don't be too surprised to find yourself side-lined for the lure of abseiling and archery, ignored completely in preference to raft building and rock climbing or even – sad but true – abandoned overnight for a survival challenge under the vast, star-scattered desert sky. It's fine, they'll come home, eventually.
If only afternoons could last forever
Did you have lunch in the Summer House? Those amazing vegetables were grown in Zighy Bay's organic garden. So if you're not doing anything else this afternoon, why not spend some time with a Six Senses master-chef and discover how to transform the humblest ingredients into delectable Arabian dishes – skills are the new souvenirs after all.
Or is the idea of exploring too tempting to resist? You're only two hours from the relentless drive of glittery Dubai, but it's almost impossible to believe the Musandam Peninsula exists in the same world. Time seems to have stood still and paid careful attention here. Ancient traditions are alive and well, customs of the country filter gently into every day life and a peaceful cycle or stroll round local villages is destined to be one of the best holiday memories. Obviously you may want to indulge in Dubai too, but you can do that tomorrow or the next day or whenever.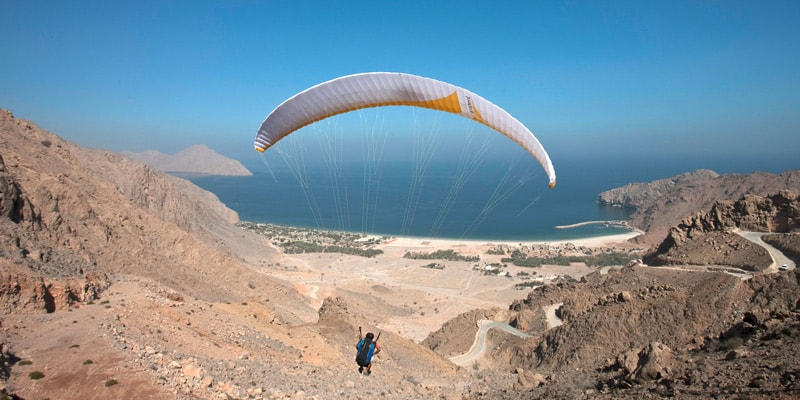 But, after being bombarded with action-packed stories from a morning full of kid's clubs, it might be time to test your own talent for adventure. That's fairly effortless in the land of world-class diving and snorkelling, deep sea fishing, high-mountain trekking, paragliding and biking in the impossibly majestic Hajar foothills. If you aren't sure, take a class – there are dozens of new tricks to master with a little guidance from the patient and talented Zighy Bay experts.
Then drift gently into enchanted evenings
As the sun sets over the endless Arabian Gulf and a gentle, cooling breeze whispers across the sands, take a second to live in this perfect moment.
Another evening you'll try a romantic sundown cruise along the stunning headland. But for now, the kids are ravenous (even after all that late afternoon ice cream by the pool), barbecue smells fantastic, the wine is scandalously good and all anyone wants to talk about is today and tomorrow and the day after that.
Bedtime is easy at Zighy Bay: the sooner sleep comes, the sooner the fun starts again. But if it's too early for you, let a babysitter do stories while you go be grown-up for a little in beachy Zighy Bar or fabulous Sense on the Edge – a restaurant with an ocean view like no other.
Tomorrow is another wonderful day, sleep well
Deliciously tired, you probably have just enough energy for a final, contented glance round your lovely villa. Then, dim the wrought iron lamps, return a stray cushion to the pretty sofa and slip softly in to kiss your sleeping children goodnight.
So to bed, under high graceful ceilings, lulled by the sound of the sea and a sense of complete serenity. You don't need to think about anything, just relax, close your eyes and know: tomorrow is another sunny day just waiting to amaze.
Stay 7 nights in a Pool Villa from £4189 per family of four. Including accommodation on a bed & breakfast basis, return private airport transfers and direct flights from London with Emirates. Based on 2 adults and 2 children under 12 years old.