Sponsored Content
Discover an enchanting playground
Oman is a 1,000-mile-long coastal plain bordered by the United Arab Emirates, Saudi Arabia and Yemen. It borders the Arabian Sea, Gulf of Oman and Persian Gulf, and offers desert in all its golden glory. Endless shifting dunes, forts that look just like children's beach sandcastles, fertile wadis (valleys) and a reputation for quality hotels make this a fabulous playground for families looking for a little luxury – or a lot of nature. The Sultanate is one of the most important sea turtle nesting grounds in the world, and five of the world's seven species are found here.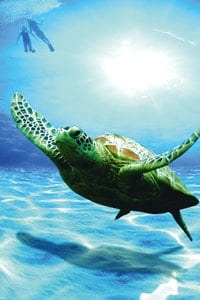 The Ras Al Jinz Turtle Reserve in the area of Ras Al Hadd rarely sees a day where turtles don't nest on its shores. This heavily protected area has recently received investment to provide 700 hotel rooms spread across five-star hotels and
a boutique resort, a dedicated centre for wildlife preservation, an observation park and a specialised marine life park.
September to November is the best time to see both laying and hatching – try the new 9 Day Turtle Watching Tour from £1,595 per person with Corinthian Travel (020 3583 6089; corinthiantravel.co.uk). Culturally, there's a lot going on in the country's archaeological sites. With a clutch of hotels opening nearby, the focus will be on the Al Baleed UNESCO World Heritage Site. Here, you can watch giant pillars and a Grand Mosque dating to the Middle Ages being excavated from piles of rock.
Muscat City's new National Museum of Oman covers an area of 25,000 sq m, and showcases the country's maritime history, weaponry, cultural achievements, Aflaj irrigation systems, coins and currency. The sword collection will particularly appeal to young warriors.
It won't be open for 2016's autumn half term, but return at the same time next year and you'll be among the first to enjoy the Palm Mall Muscat. As well as a snow village and 12-screen multiplex with 4D cinemas, hotel and serviced apartments, the mall will be home to the Oman Aquarium, the country's first, built to mark the 45th anniversary of the reign of His Majesty Sultan bin Said.
Also on the horizon is the Omagine Project, a collection of cultural, heritage, educational, entertainment and residential areas to include a theme park housed in seven remarkable-looking pearl-shaped buildings. The 'pearls' will feature motion ride experiences, simulations, and possibly a planetarium and a multiplex.
Oman became the first country in the Middle East to host America's Cup racing when it staged the Louis Vuitton America's Cup World Series in February this year. The Sultanate is on a mission to win a sailing medal in the 2024 Olympic Games, and as a result, Oman is arguably one of the best places in the world in which to learn to sail, and new courses from Seaoman at The Wave Muscat include two-hour tasters (children must be aged at least eight). If you'd like to set off properly into the sunset, established family favourite Zighy Bay is launching a new three-day, two-night three-bedroom dhow charter around the islands and coast of the Musandam Peninsula. The dhow is staffed with spa therapists, chefs and crew, and kitted out with diving and snorkelling equipment. Adventurous families should get the opportunity to sail alongside or even swim with dolphins. From £9,000 for six guests. Contact Original Travel for details.
Awesome Oman facts
There are more than 8 million date palms in Oman
Kids in Oman love fruit as much as they love sweets
Humans have lived in what is now called Oman for at least 106,000 years
Where to stay
Guests at the new Anantara Al Baleed Resort Salalah (from £299 per night for a family of four, B&B with Original Travel) and Alila Salalah (not until 2018, sadly) will be in prime position to explore the archaeological Al Baleed World Heritage Site. Both are located in the eponymous southern capital, gateway to the 'sand sea' of the Empty Quarter (the largest contiguous sand desert in the world, and Wilfred Thesiger's favourite haunt), and a fascinating region once made wealthy by the frankincense trade.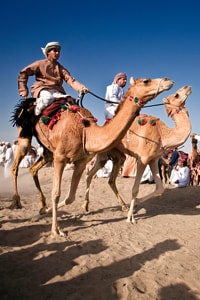 Another new opening is the Anantara Al Jabal Al Akhdar, the first five-star villa resort on Dhofar's south coast. It will be the the highest five-star resort in the Middle East, perching 2,000m above sea level on the rim of a canyon on Jebel Akhdar mountain. In something of a PR coup, the hotel will incorporate the famous Diana's Point, where the then Princess of Wales posed for a photo opp against an extraordinary canyon backdrop in 1986. From £630 per night for a family of four, B&B, with Original Travel.
Or try Wild Frontier's new eight-day Forts and Deserts of Oman tour, and camp in the remote Wahiba Sands, dolphin-spot by boat and explore the 17th-century forts of Jabrin and Bahla and the cities of Nizwa and Muscat. £9,000 for a family of four, including accommodation with breakfast, five lunches and five dinners, guided excursions, entrance fees and private transfers.
Getting there
Oman Air offers non-stop flights to Muscat from £536 return