Sponsored Content
Oman family holidays invite you to enjoy the perfect Arabian playground and this summer Turquoise Holidays are inviting children to stay free at Six Senses Zighy Bay on Oman's magnificent Musandam Peninsula. Take a closer look at Oman and find out more about luxury family holidays with savings of over £1,200 this summer.

Oman family holidays in the perfect Arabian playground
The experts at Turquoise Holidays recommend Oman as an ideal family destination for year-round sunshine, glorious beaches, culture, history and adventure. Plus direct UK flights take just over 7 hours so a week's holiday is very doable and a time difference of only four hours is kind to even the youngest of kids. Here's what else the experts say:
Oman is something of a newcomer to the international tourism market and, unlike neighbouring Dubai, is taking it all at a dignified pace, protecting its heritage before rushing headlong into development. This is good news for holidaymakers, because 90% of the hotels are owned by Oman nationals and the power of the tourist pound goes directly into local communities.
The capital, Muscat, is a clean city with a low-line horizon of shops and houses. Much of the country's history lies inland, which can only be accessed by car or on foot. There is no railway network in Oman and most roads are less than a decade old. There is a network of local buses (with very posh bus shelters) across the country, but most people travel in shiny, white cars.
There's a school in every village today, but before 1970 there were only three government, male-only, primary schools in the whole country. In just under 40 years, that has risen to more than 1,000, educating girls as well as boys. Oman has developed into a progressive country while honouring its Islamic traditions. It has a conspicuous culture that you don't encounter in the neighbouring United Arab Emirates. And it offers a treasure trove of experiences for families. It's sunny, clean and safe, with very little crime, and exceptionally friendly – more than half the population speaks English.

Discover Oman family holidays in the bustling port city of Muscat
Muscat is a bustling port that has always been celebrated for its hospitality. Renowned for its stunning architecture and spotless streets, silk bazaars and souks, it's the perfect starting point for visitors.
The Grand Mosque, built by Sultan Qaboos in the late 1990s, is one of the most popular attractions, but there are plenty of others, from the Al-Mirani Fort to the Bait Al Zubair Museum and the Qasr Al Alam Royal Palace to Al-Riyam Park, where you will find a huge white frankincense burner. Kids of all ages love the drama of the kaleidoscopic underwater world or playing on the beautiful beaches.
A little further afield, the former capital city of Nizwa is fantastic on a Friday – market day – when the surrounding population turn out to market their wares and livestock.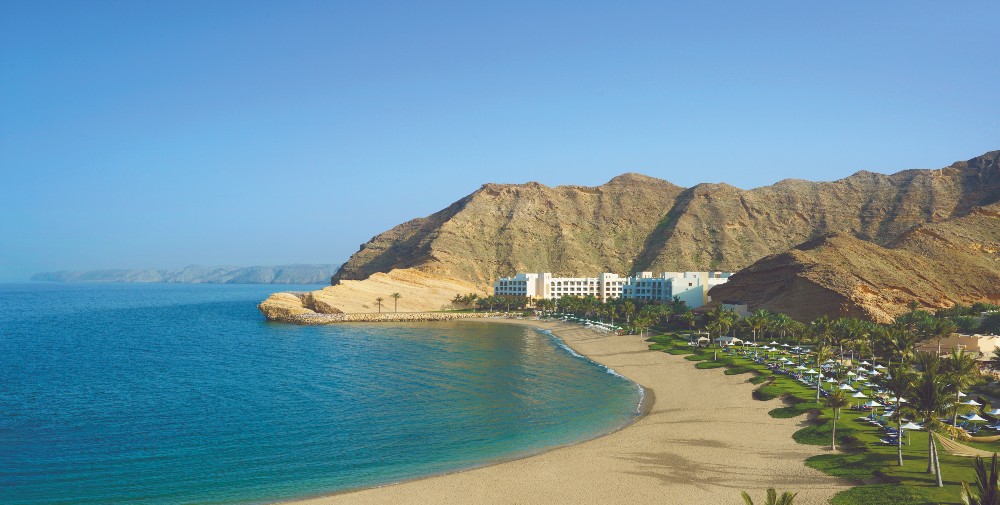 Shangri-La Barr al Jissah Resort for beachy Oman family holidays
Muscat has two main family-oriented hotels, and a boutique option for those looking for more minimalist style. The vast (640-room) Shangri-La Barr al Jissah Resort, which is really three hotels rolled into one luxury mega-resort, sits beside a 600m private beach. For families, the best choice is the unfussy Al Waha section with its complex of interconnecting shallow pools and a lazy river where kids can let off steam, when they're not in the kids' club or dive club.

Al Bustan Palace Hotel between the beach and the mountains
Muscat's second family-friendly resort is the iconic Al Bustan Palace Hotel. Sitting in an oasis between the beach and mountains, it's like a Sultan's palace from the Arabian Nights. Its opalescent dome, turrets and archways shimmer at night as searchlights criss-cross starry skies and the cavernous lobby is designed on the grandest of scales. Its friendly service and fine selection of restaurants mean it is well set up for children. Tennis and diving are good options for teenagers.

Free spirited Oman family holidays at The Chedi
The Chedi is Muscat's answer to boutique beauty. If you're a pool lizard rather than a beach babe, then this aesthete's hangout is the one for you, especially if you prefer to create your own activities rather than enrol the kids in a club. It's also great for foodies, with nine restaurants from Mediterranean and Middle Eastern to Asian or casual barefoot in the sand. Three pools, Muscat's largest health club, and a menu of Balinese spa therapies, Indian Ayurveda and indigenous rituals are among the temptations.
The Hajar Mountains add date groves and oasis to Oman family holidays
The southern slopes of the Hajar Mountains, which drop from more than 3,000m straight into the Gulf, are famous for their oasis villages and date groves. They are in stark contrast to the sand dunes of the sparsely populated Wahiba desert.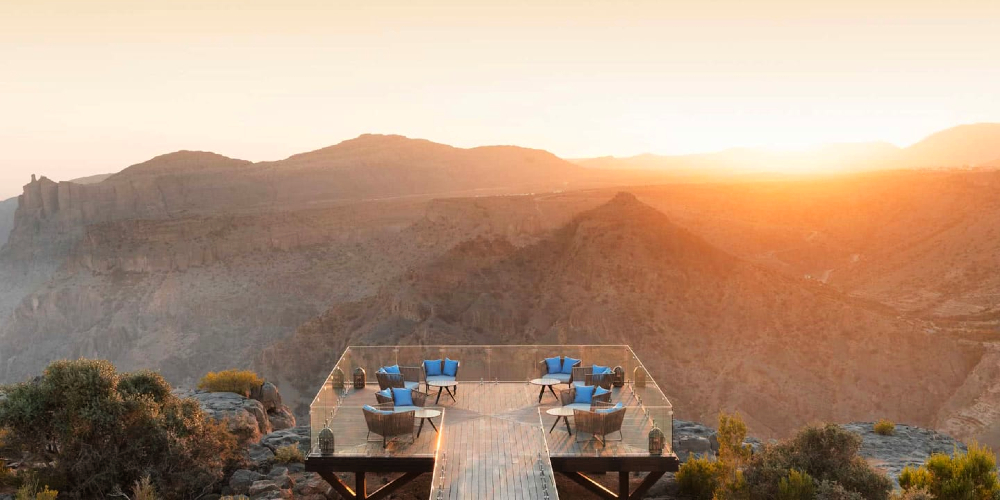 Rooms with spectacular views at Jabal Al Akhdar
Anantara Al Jabal Al Akhdar, set up in the cool mountain air of Jabal Al Akhdar, is a sanctuary of peace and space. The stillness of the surrounding area infiltrates every inch of the hotel where camouflaged rooms crafted from local stone have spectacular views across the infinity pool down the canyon. All the more amazing, then, that it's thrown open its doors to families, who flock here to chill out both mentally and physically – the temperature is 10°C cooler than on the coast.
The scenic, rugged coast south of Muscat has deep sapphire waters entwined with coves that hide white, sandy beaches. It's a hot, arid and unforgiving shoreline, but exceedingly beautiful. South of Sur, Raz al Jinz is Oman's most easterly point and a mecca for green turtles.

Rollercoaster dunes and Desert Nights Camp
West of Sur, the vast Wahiba Desert of undulating sand rises up to 200m, so an off-road, roller-coaster ride across the ever-changing dunes towards the Desert Nights Camp will get you all screaming with excitement. But that's just a hint of this unforgettable desert adventure. Days here start with sunrise camel rides and end with dinner under vast, star filled skies. Kids can look forward to everything from dune bashing to dune bike riding. And if the dreamy experience of sand boarding is on the family wish-list, the Wahiba Desert is a perfect playground for that thrill too.
At the other end of the country, Dhofar's lush greenery, waterfalls and streams are unique in the Gulf, thanks to the hydrating Khareef monsoon. From the first to third centuries, this part of Oman was the wealthiest region in the world due to its trade in horses and frankincense.
Situated on the coast, Salalah's unspoilt beaches offer a range of water sports and diving activities. Several luxury family friendly resorts have opened along this stretch of coast – and dozens more are due to open over the next few years.

Discover the Dimaniyat Islands on Oman family holidays
If accommodation at sea for a night or two floats your boat, why not sail away with Oman Charter on its eight-person catamaran? Teenagers often vote it their favourite Omani experience and the friendly captain and skipper will keep all amused with card games and paddle board races at sunset. The stunning Dimaniyat Islands nature reserve is a relatively new discovery for tourists, and you may still be lucky enough to have the bay to yourselves – apart from the local hawksbill turtles and abundant birdlife.

Musandam and Six Senses Zighy Bay dramatic coastline
There is lots more to explore if you're considering an extended stay. Starkly beautiful Musandam, the northern-most region of Oman, is segregated from the rest the country by the east coast of the UAE (like passing through Canada to reach Alaska). And Six Senses Zighy Bay lies along the coast of the Musandam Peninsula and is therefore more easily accessed via Dubai rather than Muscat.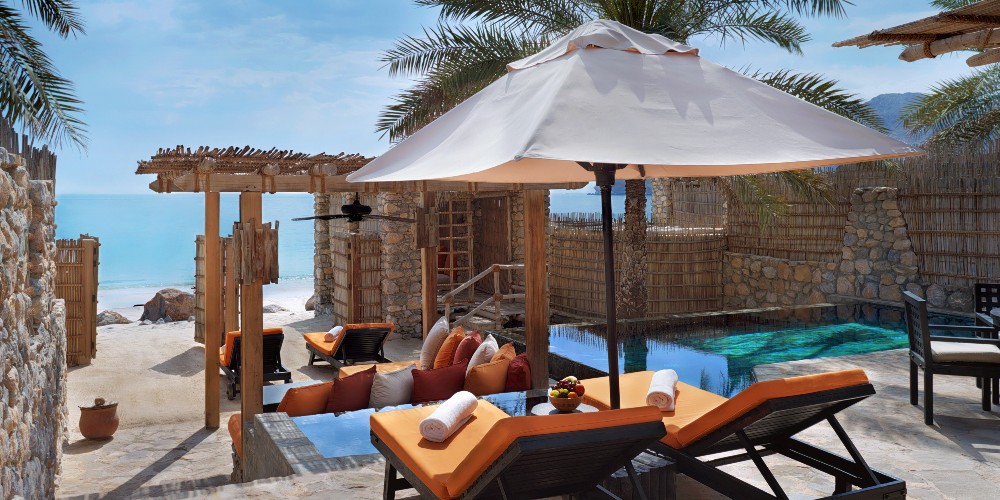 It's no surprise that this is where Six Senses has chosen to locate its stunning family-friendly hideaway. Zighy Bay is a secluded spot between the crystal-clear Gulf of Oman and the Hajar Mountains, an area often referred to as the Norway of the Middle East due to its fjord-like landscape.
Renowned for its marine environment, the coast offers excellent diving and snorkelling. As well as colourful fish and coral, the Gulf of Oman is home to green turtles, humpback dolphins, hammerhead sharks and whale sharks – a snorkelling paradise it's guaranteed to make children squeal with delight.

Oman family holidays at Six Senses Zighy Bay
The 79 pool villas at Zighy Bay are a blend of the traditional Omani village style, combined with luxury, modern amenities. They offer families a spacious environment with rustic-chic design. It is the Gulf 's first eco boutique hotel, and blends well with its surroundings. The staff are proud of their environmental management and hope to contribute to the sustainable development of the local community – a good template for things to come and a concept that children of all ages embrace with open arms.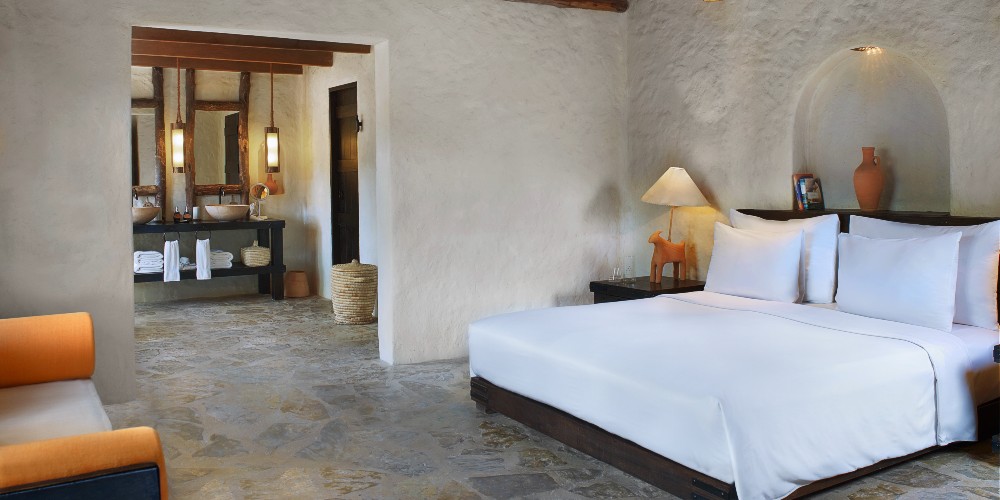 Sightseeing from Zighy Bay on Oman family holidays
From Zighy Bay, head for Fujairah, pausing at Bidiyah to admire the oldest mosque in the UAE. Then move on to the Friday Market in Masafi, and on into the canyons, uphill along winding roads, to reach an altitude of 1,100m to visit ancient stone houses. Cycling Khab Al Shamsi Wadi Khab Al Shamsi near Zighy Bay offers the keen mountain biker some of the best technical trails in the region. The Ras Al Jebel passes many ancient stone settlements and dramatic cliffs as it steadily climbs higher.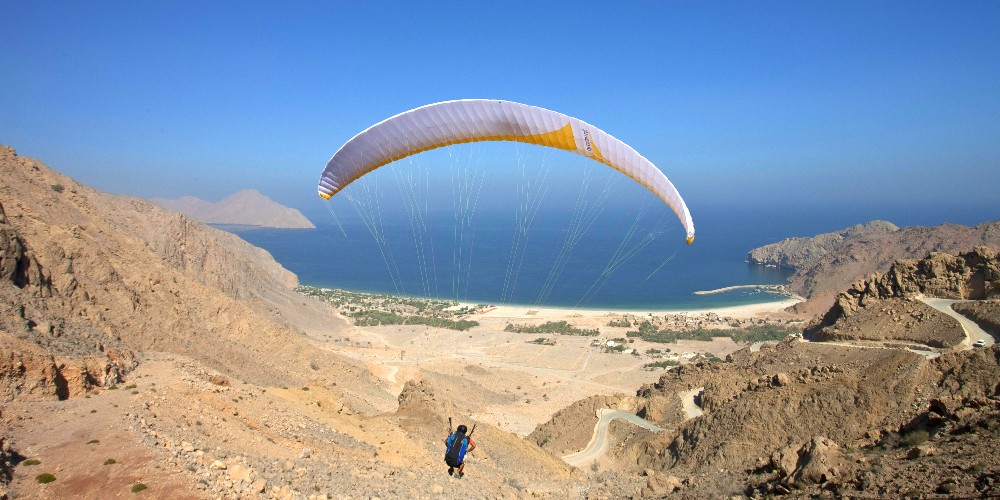 Try catch-and-release fishing with your kids
Much of Oman's heritage and culture are attached to the sea. You can catch fish just minutes from the mainland, but you can also cast your line for a giant grouper, tuna or trevally from the ocean floor 200m below. The government runs a 'common-sense' designated fishing season to ensure that stocks are not depleted. Free divers harvest abalone (a mussel-type shellfish, worth £10/kg) only in November. At Six Senses, a catch-and-release system is in place for all fish.
Discover ancient forts, castles and watch towers
Elaborate forts, castles and watch towers punctuate the landscape. Step inside and imagine life in a desert oasis. Follow ancient trade routes and watch tadpoles swim along the beautifully engineered aflaj surface canals that have watered Oman's crops for millennia, threading their way through villages and along precipitous cliff faces.
Save over £1,200 on family holidays at Six Senses Zighy Bay, Oman
Spend 7-nights at Six Senses Zighy Bay in Oman from just £5,999 per family.
Kids stay free on this incredible Turquoise Holidays summer adventure with also includes international flights and return private transfers.
7-nights bed & breakfast in a Pool Villa.
International flights.
Return private transfers.
This offer is available for travel between 1 June 2022 and 31 August 2022* and is based on a family of two adults and two children sharing a Pool Villa.
Ready to discover Oman with your kids this summer? Visit Turquoise Holidays and find out more about summer holidays at Six Senses Zighy Bay from just £5,999 per family. Or call now on 01494 678 400 and speak to one of the team of Oman travel experts at Turquoise Holidays about creating bespoke experiences in Oman for your family.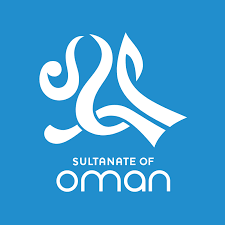 *Supplements for other months may apply.