Rhonda Carrier and her family enjoy the thrills of IMG Worlds of Adventure theme parks in Dubai
Welcome to the world's largest indoor theme park
My sons and I have had our eye on Dubai for years, as some of the world's most exciting theme park projects were announced and then put on ice during the emirate's financial crash. Over the last few months, a couple of major venues finally opened and we headed out to see if they would live up to expectations.
Superheroes and dinosaurs
Already the world's largest indoor theme park but set to more than double in size over the next few years, IMG Worlds of Adventure half an hour south-east of downtown is unique in Dubai for its rides and attractions based around the iconic Marvel characters.
These range from a spinning Spider-Man rollercoaster and several state-of-the-art virtual-reality experiences to a steak and seafood restaurant decked out as a room from Tony Stark's Tower, and a shop selling limited-edition merchandise where rich collectors frequently part with hundreds of thousands of dollars.
For a hefty sum, you can even get an Iron Man figure bearing your own face… (well, this is Dubai).
But IMG isn't all about superheroes. My nine-year-old dinosaur fiend was equally delighted by the Lost Valley with its brilliant Forbidden Territory dark ride and amazing Adventure Fortress playground (the boys could have spent a good half-a-day playing on this alone).
It's here that my youngest got to ride his first two upside-down rollercoasters: Predator and Velociraptor, the latter shooting you outside of the building to loop the loop out in the Dubai sunshine.
And there's more – the Cartoon Network zone pleased my Adventure Time and Amazing World of Gumball loving sons with its quirky rides, but there's also something for Powderpuff Girls, Ben 10 and LazyTown devotees.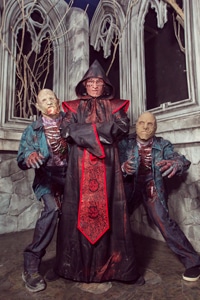 And my husband bravely volunteered to sample the dubious delights of The Haunted Hotel (shown here on the left), where live actors lie in wait to frighten the life out off visitors aged 15 and up.
IMG made an interesting contrast to Dubai's other big new theme park offerings further south (an hour away from downtown). Not fully open when we visited, the mainly outdoor Dubai Parks & Resorts comprises Legoland® Dubai and its fantastic waterpark, the Hollywood-themed Motiongate™ (with the world's first Hunger Games rides – sadly not yet open at the time of our trip) and Bollywood™.
With one of the first Six Flags themeparks outside the USA currently under construction there too, Dubai truly will rival Orlando for theme-park thrills – something to bear in mind as travel to the USA looks set to become more difficult. 
Desert adventures and wild watersports
Another Dubai highlight for us was a desert safari, which includes dune-bashing in an SUV (terrifying and exhilarating in equal measure), camel-riding and a barbecue under the stars. We also stopped off on route to have a go at quad-biking over the sands. For me, heading into the desert is a must to get a feel of Dubai beyond the glitz and the luxury.
Both theme park tickets (and transport) and desert adventures can be arranged by Sovereign as part of its 24-hour concierge service included in stays at the gorgeous JA Palm Tree Court.
This hotel is part of the Jebel Ali Golf Resort, a large all-singing, all-dancing property in a prime spot on the Arabian Gulf about 40 minutes south of the city centre. The beauty of staying at the JA Palm Tree Court is that it has a more exclusive feel than the Golf Resort while giving you access to the facilities of the resort as a whole, include a two-storey spa, tennis and watersports centres, riding stables, 15 restaurants and bars, kids' clubs for all ages and even sea-plane rides.
My boys loved the freedom of the resort. Though there are great kids' and teens' clubs (childcare covers ages four months to 17 years) with lots of outdoor activities, they were most in their element on the fantastic watersports beach.
Here, they went off exploring with new friends on a giant SUP paddleboard, had some sailing tuition and enjoyed a madcap inflatable donut ride. They also enjoyed on-site tennis and horse-riding lessons. And in the evenings they congregated with kids of all ages and nationalities in giant impromptu football matches on the lawns.
Rooms are fresh and stylish, and peacocks wander the palm-tree-dotted grounds. The food is fabulous – especially in the pan-Asian fusion restaurant White Orchid (don't miss the lobster Thai curry – heaven in a bowl). Breakfast is the greatest spread I've seen anywhere – there's even a chocolate board for those who think holidays should all about indulgence.
IMG Worlds of Adventure: The lowdown
Tickets to IMG Worlds of Adventure cost around £55 for adults, and around £50 for kids under 1.2m tall. Those under 1.05m enter for free.
A Desert Safari costs £57.50 per adult and £4 per child via Sovereign (01293 765 003).
Sovereign is offering a seven-night holiday to Dubai staying at the 5-star JA Palm Tree Court on an all-inclusive basis from £3,299 per family of 3 – saving up to £1,422 per family of 3 based on departures from London Heathrow with Emirates on 21 September 2017. All Sovereign Holidays include complimentary airport lounge access and security fast pass at selected UK airports.