Don't miss your chance to discover Expo 2020 Dubai with kids before 31 March 2022. It's a phenomenal experience as Sarah Merson found out when she visited for three amazing days with her young teenagers.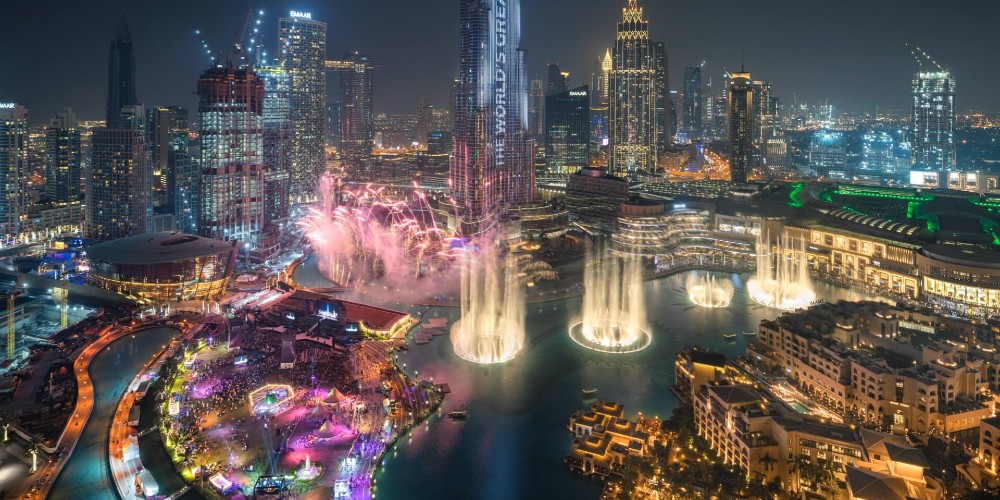 Kids typically live in the here and now, which is part of what makes them so charming. But sometimes it's important to stretch their minds and help them see beyond what lies in front of them.  And what better place to do this than at an Expo in Dubai where 192 countries have come together providing a unique opportunity to experience multiple cultures, history, art, architecture, music, food and everything in between.
With its focus on innovations and technologies of the future and an events and entertainment program based on global human values – including happiness, hope and inspiration – I couldn't wait to discover Expo 2020 Dubai and I simply had to take my young teenagers to be part of it.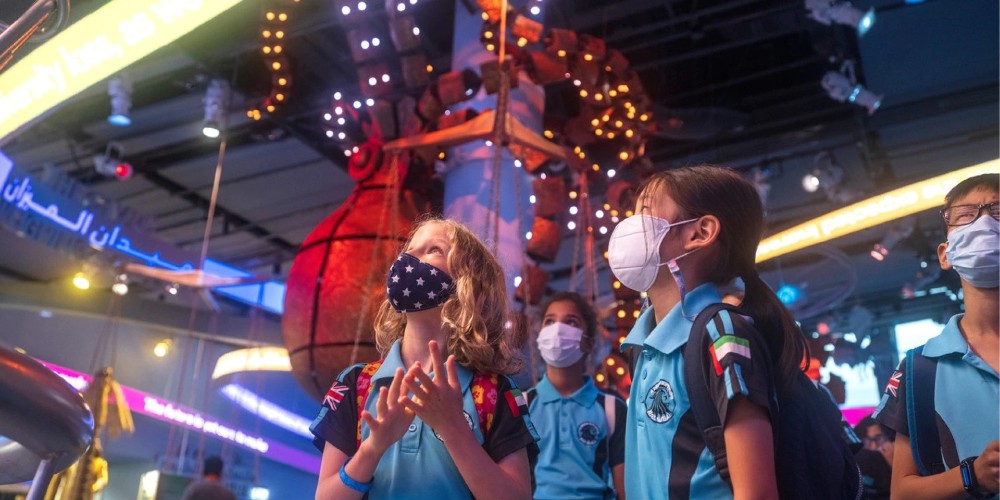 Discover Expo 2020 Dubai and open kids' eyes to the world
Arriving at Expo 2020 Dubai, the atmosphere is intensely multicultural.
We're greeted by a sea of flags from around the world and surrounded with other-worldly buildings and structures, and our immediate response is amazement.
'Whoa, look at that.' 'Is that really possible?' 'How did they do that?'
Instantly, one of the Expo's many friendly volunteers is ready to explain. 'That multi-colored dome that looks almost like a spaceship, that's Russia.' And 'Saudi Arabia? Their pavilion is the one covered in mirrors and looks a bit like a mirage suspended in the sky'.
From enthusiastic human helpers and an AI-powered robot – which saunters up and offers directions – to smart bins that crush waste to a fifth of its volume and even wish us a 'good day', we know right away this experience is going to be an eye-opener.
Germany's take on a sustainable future looks like a lot of fun
Germany has long been known as an environmental trailblazer, and its Pavilion doesn't disappoint.  The multi-layered structure is based around a campus theme and blends creative environmental ideas with real-life results. Incorporating 100,000 ideas for a sustainable future and representing them with 100,000 balls in a giant ball pit is an inspired idea, and my son Jude doesn't even try to resist diving in.  I can't help but smile: at 13 he may be a teenager but he's still a child at heart!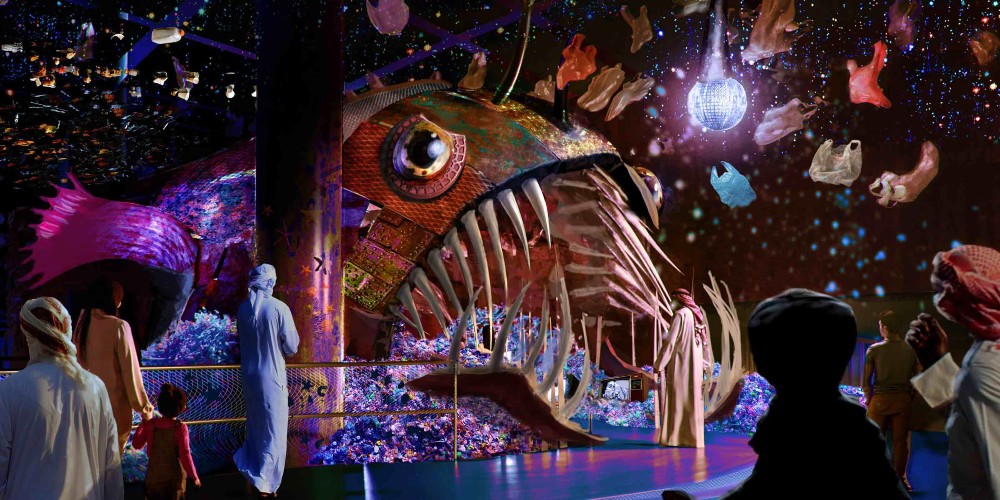 Interactive devices let kids discover Expo 2020 Dubai at their own pace
In the 'Cities of the Future' exhibit, Olivia is taken by the efficiency of an interchangeable lift which travels horizontally as well as vertically, changing direction at any given point. And she's able to explore it in detail, as we're all equipped with connected devices which allow us to interact with every exhibit.
'The Graduation Hall' is my undoubted highlight. A circular structure with panoramic screens it incorporates swinging seats and visitors are tasked with collective swinging to demonstrate how we can achieve great things by working in unison. A perfect example of 'there's more that unites than divides us'.  It's a powerful and poignant sentiment and experience.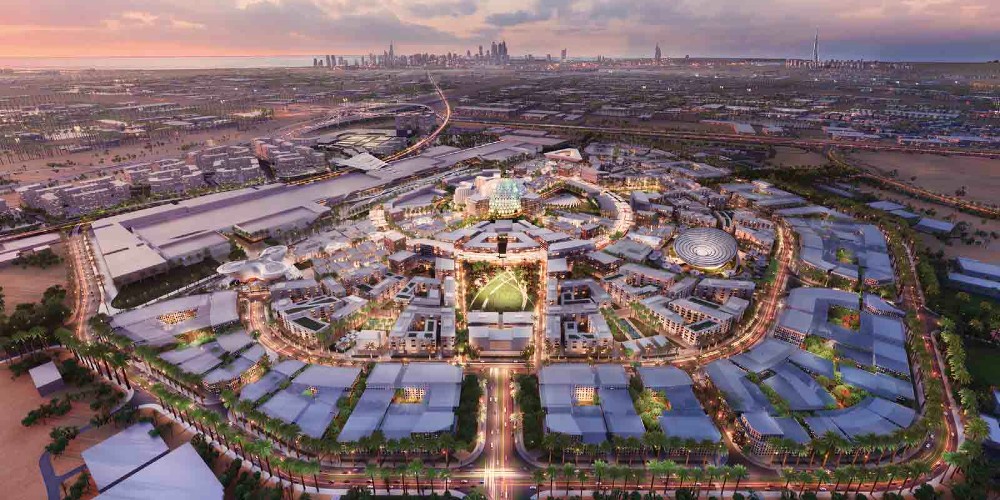 Explore climate change in the virtual Amazon and hop aboard time machines
Experiences keep on coming at Expo 2020 Dubai.  In Brazil, we learn about the effects of climate change in a conceptual Amazon basin. An effect created by hundreds of hidden projectors showing images on a boxy fabric frame with real rain falling, to the delight and excitement of many hot and sweaty kids.
Singapore takes us into a parallel universe by way of a real forest – in the Arabian desert – and demonstrates the limitless potential of design, technology and nature.
In the USA we explore a SpaceX rocket. China gives us one of the first driverless cars.  And in Egypt, we hop into a time machine – a bit like a rollercoaster according to my lurching stomach – and whiz through the ages to witness a future that hasn't yet been written.
Moments of serenity let kids assimilate their experiences
As the heat of the day intensifies, we find refuge in the quietly serene UAE pavilion.
Poetically named, 'The Land of Dreamers Who Do', this four-story pavilion is inspired by a falcon in flight. It's a thing of beauty and each of its 28 wings pivots around a single point which allows the entire roof to be opened in three minutes.
In the shade of the wings outside, a working Al Falaj – ancient irrigation system traditionally used to channel water from the hills into the desert – is an oasis of cool and calm.  Inside, kids are awed as we wander through real desert sand dunes and images, telling the history of the UAE, appear in the wake of our own shadows.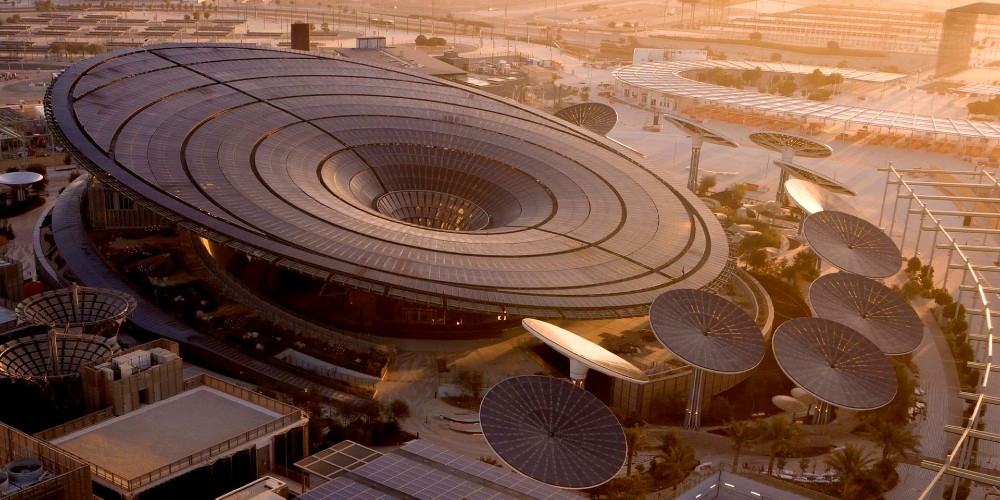 Discover Expo 2020 Dubai beyond the international pavilions
It would be easy to spend the whole time at Expo visiting country pavilions, but other purpose-built structures include the Sustainability Pavilion and that's a must for kids.
With a giant solar canopy made up of over 1000 panels covering the building, and 18 solar energy trees -which rotate with the sun – surrounding it, the Sustainability Pavilion is quite a spectacle. Inside, both Olivia and Jude become fully engaged on a mission to save Planet Earth through a series of interactive experiences in an underwater world and on a forest floor.
In the 'Laboratory of Future Values' they spend an age debating what three things they would save if their house was flooding – later it dawns on them that quick thinking would be of the essence in that dreadful situation.  But most importantly, it gets them thinking about the future, their future and how the actions they take now will shape what that looks like.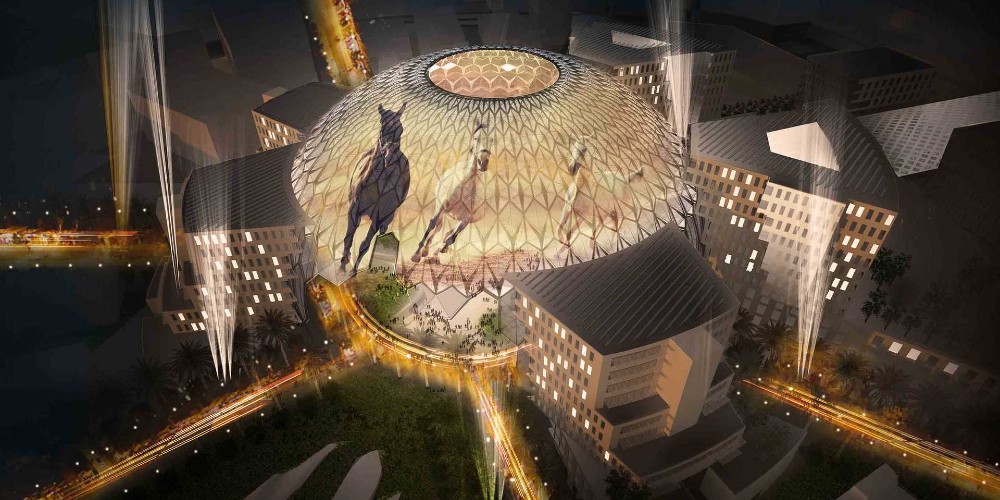 Plan several days to discover Expo 2020 Dubai with kids
Before our tired feet tell us to head off back to our hotel, we stop by the Al Wasl Plaza 360-degree canvas and stage, to watch the light and sound show.  It's truly beguiling and, to a tired mum, somewhat soporific.  Olivia and Jude are mesmerized, and we know that every day for the next 3 days we spend at the Expo, we won't leave without watching the pulsing waves of color as they're beamed up into the night sky.
Expo 2020 Dubai is inspiring and visionary, it's also an education and here's how to get the most out of the experience with kids.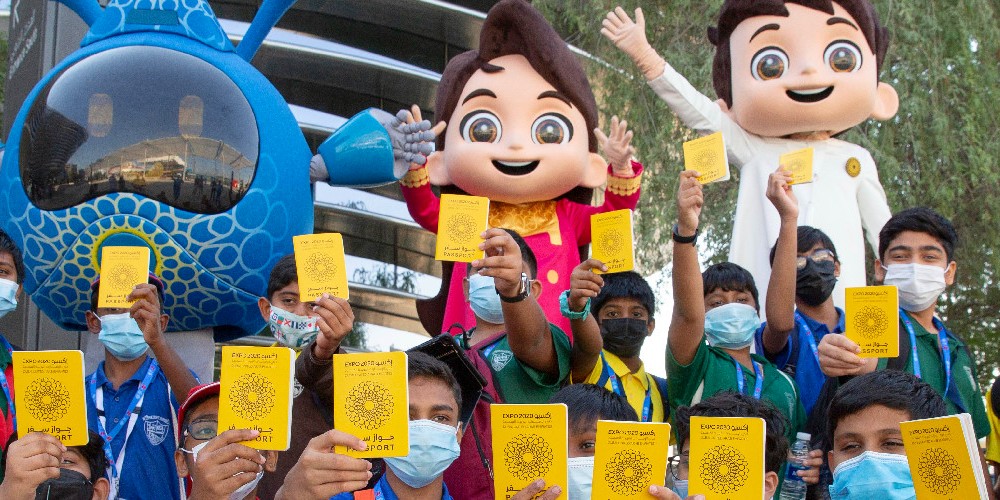 Top 10 tips for Expo 2020 Dubai with kids
Kids go-free. A ticket is still needed, but you don't pay for under 18s.
Meet Expo mascots, Rashid & Latifa at the daily Mascot Show.
Let kid's climb their way to the planets at the Mars-inspired playground.
Get an Expo Passport. It's like a real passport and kids love getting it stamped at each country pavilion.
Cool off at the giant, circular water fountain, where water crashes down, is absorbed into the ground and then circled back up to the top.
Pushchairs to rent for toddlers and a hop-on-hop-off all-electric Expo Explorer train makes getting around easy.
Bratwurst in Germany? Curried noodles in Indonesia? Get kids to try different foods at designated restaurants – some offer free child meals with paying adults.
Want to get your child away from the PlayStation? Introduce them to 'exercise gaming': a new platform combining technology and activity to create fitness crazes of the future
Enroll kids in Expo Kids Camp so they can explore the best of Expo with a dedicated team for up to 3 hours during weekends.
Don't miss out on the awesome light show at Al Wasl Plaza after dark, it's a perfect end to the day.
How to visit Expo 2020 Dubai with kids 
Expo 2020 Dubai launched in October 2021 and closes on 31 March 2022.
Open 7-days from 9am until midnight.
Visit Expo 2020 Dubai to book tickets, under 18s go free.
How to get to Dubai
Non-stop US flights to Dubai take from 12 hours, 15 minutes.
Where to stay in Dubai
Sarah and her family stayed at Fairmont The Palm in Dubai. Set on the Arabian Gulf it's a good choice if you want to mix beach days in with days exploring Expo 2020 Dubai.
Expo 2020 Dubai is on until 31 March 2022 and spring is one of the best times to be in Dubai. Visit Expo 2020 Dubai to find out more. Follow Family Traveller on Instagram and Facebook for other inspired travel ideas.