1. Record breakers
Spend time in Abu Dhabi and you'll soon discover that its residents are only too keen to tell you about the latest architectural record to be broken in the region. It feels as if every new development in Abu Dhabi is designed with the sole aim of outdoing an existing one – usually in Dubai, which so far has the world's tallest building and the world's highest hotel. Not to be outdone, Abu Dhabi's Capital Gate building boasts of having the greatest deliberate lean of any building in the world. The 35 floor building has a 18degree tilt, five times greater than that of the Leaning Tower of Pisa. To accomplish this (which has no purpose other than aesthetic) the entire 17th floor is a giant reservoir, to counteract the lean. Other feathers in Abu Dhabi's cap are the word's largest indoor theme park (Ferrari World Abu Dhabi) and the world's highest suspended penthouse suite (245m above the ground at Gate Towers), a room apparently favoured by Lewis Hamilton when he's in town.
2. Sheikh Zayed Grand Mosque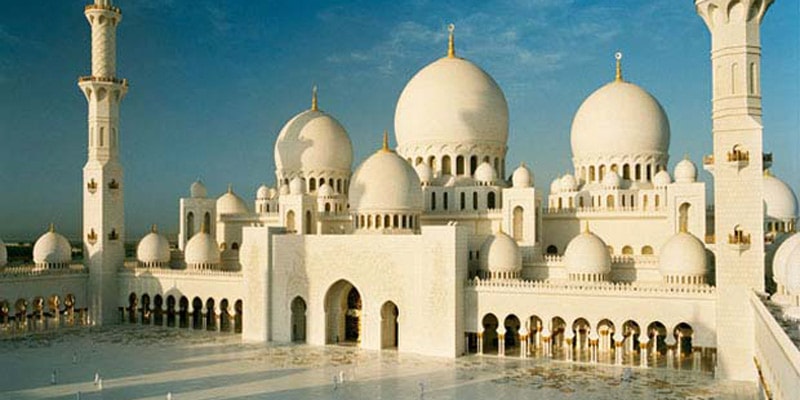 One of the largest mosques in the world, Sheikh Zayed Grand Mosque is breathtaking. The white marble mega-structure cost one and half billion pounds to build and boasts eighty-two domes, each clad in twenty-four karat gold. Yet, despite its excess, the mosque is surprisingly pretty and delicate-looking. The walls and pillars are decorated with exquisite flower designs, inlaid with twenty-eight shades of imported marble. The mosque boasts several record-breaking feats, which English-speaking guides will point out. The main prayer hall is carpeted with the world's largest hand-woven rug, which measures over five thousand metres squared, and took one thousand two hundred knitters over two years to complete. Looming large above this impressive carpet is what is thought to be the biggest chandelier inside any mosque in the world. The monstrous structure is made of Swarovski crystals and is ten metres in diameter and fifteen metres tall.
Shoes must be removed before entering the mosque. Loose fitting clothing that covers legs and arms should be worn and women must cover their hair and wear an abaya, which are available to borrow. Entry to the mosque is free and free guided tours are available.
3. Feel the rush at Ferrari World Abu Dhabi
The monstrous Ferrari World Abu Dhabi is the world's largest indoor theme park. For fans of super cars there are, unsurprisingly, plenty of Ferraris to check out, while simulator experiences recreate the thrill of driving one. The log flume in the dark is great fun and any kids who want to be able to go back to school and boast about having ridden the world's fastest rollercoaster should make straight for the Forula Rossa ride, which reaches speeds of 239 km/hr (149 mph). Riders even have to wear special protective eye wear, like those worn during skydiving – because colliding with an airborne insect at 150mph wouldn't be pretty. Those brave enough can also twist and turn upside down on Flying Aces, the park's latest rollercoaster, which has the highest loop on the planet – a terrifying 52m.
For something much gentler, the Junior GT experience is brilliant for little ones. Kids watch a short film, a bit of training and then they're off on the road (so to speak) behind the wheel of a fun-sized 430 GT Spider. Alongside its coasters, thrill rides and kiddie rides, there are interactive galleries, tours and films about the history of Ferarri, as well as live shows with BMX biking, dancing and of course, driving.
Top tip: Book your go-kart slot at the beginning of the day, otherwise you'll face long queues
Find out more about Ferrari World Abu Dhabi.
4.  Behold the empty quarter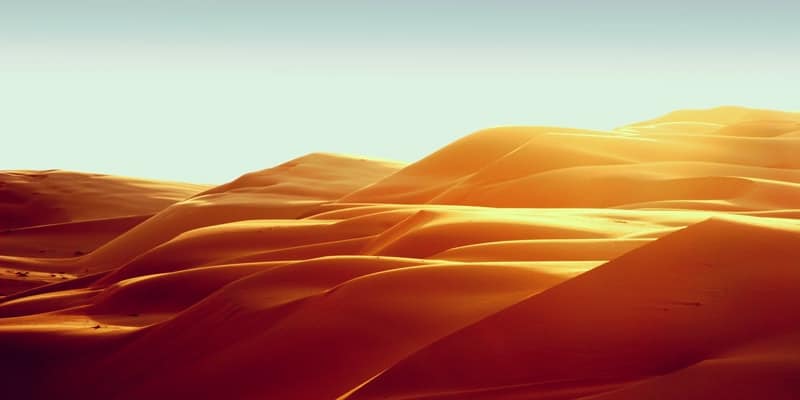 A trip to Abu Dhabi wouldn't be complete with the feel of sand between your toes. Allow time during your stay for a trip to Rub Al Khali, Abu Dhabi's Empty Quarter, which is the largest expanse of sand in the world. It's a place of immense natural beauty and watercolour sunsets, and where scenes from the Star Wars film The Force Awakens were shot. It was here that Sir Wilfred Thesiger travelled across the desert in the 1940s and 50s; journeys he chronicled in his book Arabian Sands.  There are plenty of ways to get your kicks in the desert. Try a ride on a distinctly Arabain rollercoaster known as dune bashing, which is essentially off-roading over sand dunes, or, for a less stomach-churning adventure, sandboarding is not too tricky to master. Other activities include camel trekking, fat-wheeled biking, falconry and campfire barbecues.
Sir Wilfred Thesiger's epic 700km desert journey was recreated in 2013 by British broadcaster and adventurer Ben Fogle and Olympic rower, James Cracknell. Ben's connection to the desert inspired him to create an exciting shore excursion in Abu Dhabi, with Celebrity Cruises, as part of his Great Adventures series. From November 2016, passengers can dock in Abu Dhabi and experience the kind of immersive travel that Ben is famous for. During the five-and-a-half hour excursion, families will journey through the dunes in a 4×4, ride camels, try sandboarding and enjoy an Arabian feast under the stars. From £239 per person. Find out more about the Celebrity Cruise shore excursion – Ben Fogle's Great Adventures: Abu Dhabi's Enchanted Desert.
Find out more about Abu Dhabi's Empty Quarter.
5. F1 thrills
Yas Marina Circuit is the venue for the Abu Dhabi F1 race and, while you may not have the budget to visit on race day, there is a way to get close to that famous track. Half on land and half sticking out over the water, the Yas Viceroy is impressive on lots of levels, but the coolest thing about this hotel is that it straddles the F1 race track. It's the only hotel in the world that can make this claim and all rooms have views over the track or the marina. Whether you're an F1 fan or not, it's pretty exciting stuff. Guests even have the opportunity to walk (or run if you're feeling fit) around the track, which makes for some cool selfies. The F1 theme continues inside the hotel, where the corridors are wide swerving pathways – perfect for remote control car racing (joke).
Find out more about Yas Viceroy.
6. Discover natural wonders
In the group of desert islands off Abu Dhabi's western shore is Sir Bani Yas Island, home to the Arabian Wildlife Park. Here more than 13,000 animals roam free, including gazelles, giraffes, hyenas, Arabian oryx and even cheetahs. There are three Anatara resorts on the island and, as well as setting off on safari drives, guests can try their hand at traditional Arabian activities like archery and falconry. The resorts also offer water sports, mountain biking and kids clubs.
Another much smaller island in the group is Bu Tinah Island. While visitors are not permitted on Bu Tinah – it is a protected nature reserve – it is a fascinating place to tell the kids about. This unique island is perhaps the last thing you'd expect to find in Abu Dhabi, a place famous for towering sky-scrapers and fast cars. Bu Tinah in an uninhabited and undisturbed paradise, with shallow waters, seagrass beds and tall mangrove trees, all surrounded with coral reefs. The island is home to several species of marine life such as dolphins and critically endangered hawksbill turtles, as well as seabirds including flamingos and osprey. It's no wonder Bu Tinah has been shortlisted (at the time of writing) as one of the new Seven Natural Wonders of the World.
Find out more about Sir Bani Yas Island.
7. Discover the desert oasis of Al Ain
Abu Dhabi has no shortage of lavish restaurants and designer shops, but beyond the malls, race tracks and hotels is a rich historical culture to explore. An hour and half's drive from Abu Dhabi city is Al Ain, one of the world's oldest inhabited settlements and a UNESCO World Heritage Site. Qasr Al Muwaiji is a fascinating new museum built around a century-old fortress that was home to generations of Abu Dhabi's ruling dynasty. The current president of the UAE, his Highness Sheikh Khalifa bin Zayed Al Nahyan, was born in this fortress, which is a powerful reminder of just how much, and how quickly, Abu Dhabi has changed. Qasr Al Muwaiji is free to visit; call ahead to book a guided tour.
For a fun and rather smelly immersion into Middle Eastern culture, take a turn around the Al Ain camel market. One of the last of its kind in the region, at the vast souk you'll come face to face with literally hundreds of camels, including adorable babies. Strolling though the camel market is a great experience, but be wary of vendors who might try to charge you for photographs.
Find out more about Qasr Al Muwaiji.
8. Breathtaking views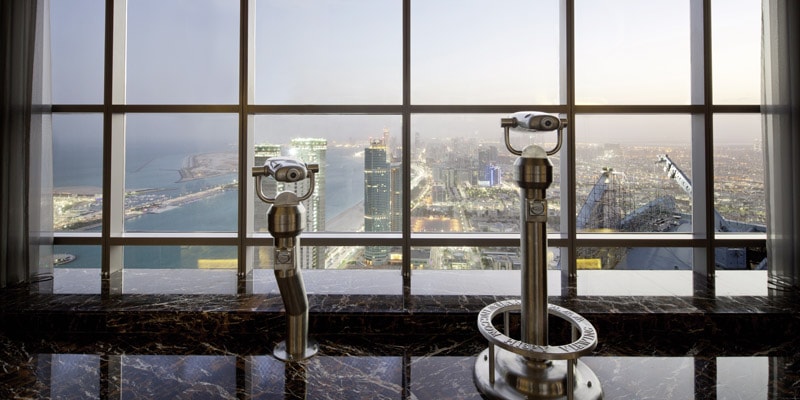 Fans of the Fast and Furious franchise will recognise the Jumeirah Hotel at Etihad Towers from the Fast and Furious 7 film. The hotel's iconic five towers were designed to look like palm leaves, and guests can enjoy their own private beach. The observation deck on the 72nd floor is the perfect place to take in all of Abu Dhabi, while tucking into a delicious pastry.
The city is expanding at a rate that makes your head spin. Looking down from 72 floors up, you'll see new desert islands being built. Coming from the UK, the concept of creating space is an odd one. Indeed, the sense of limitless space is everywhere in Abu Dhabi. Hotel lobbies with their chandelier-adorned ceilings are like vast ballrooms, and corridors seem needlessly wide. To see it now, it's hard to believe that just decades ago, before oil was discovered in 1958, this vast and glittering city was just desert.
Find out more about Jumeirah Hotel at Etihad Towers.
9. Fascinating Al Jahili Fort
The Al Jahili Fort was built in the late 19th century and is now home to a permanent exhibition about British adventurer Sir Wilfred Thesiger, who crossed the deserts of the Empty Quarter twice in the 1940s disguised as a Bedouin. The story is powerfully told in the exhibition of Thesiger's photos, which are guaranteed to stir the spirit of adventure in young visitors.
Find out more about Al Jahali Fort.
10. Saadiyat Island Cultural District
The phrase 'cultural district' is likely to cause kids to start dragging their feet, but Saadiyat Island is a fun and fascinating place. The island will be home to three super-sized museums: the first Louvre outside France, the Zayed National Museum, which is backed by the British Museum, and the Guggenheim Abu Dhabi, which is 12 times larger than its New York sister. At the time of writing, the museums are still under construction, but there is still plenty to see. The Saadiyat Experience is an interactive museum which leads visitors through the story of Saadiyat's history and culture through video, touch screens and interactive models. A highlight is seeing architect Frank Gehry's original sketch of the Guggenheim, which looks like a big squiggle. After all he has described as 'intentionally messy, moving into clarity'.
Find out more about Saadiyat Island Cultural District.
Abu Dhabi: the lowdown
How to get there
Flight time is approximately seven hours. Etihad Airways flies directly to Abu Dhabi triple-daily from Heathrow twice-daily from Manchester and five times a week from Edinburgh. British Airways flies its new 787-9 Dreamliner daily from Heathrow.
Where to stay
Yas Viceroy Abu Dhabi – Rooms start from £144 per night incl. tax.
Jumeirah at Etihad Towers – Rooms in spring (April/May) start from £121 per night; rooms in summer start from £106, both excl. 10% service charge and 6% tourism fee. Travellers can also take advantage of the Jumeriah City Breaks package – book any room category for a minimum of three nights and enjoy a host of discounts.