Abu Dhabi winter sun breaks promise temperatures around 25˚ from November to February. Even better, they don't involve a long-haul flight with kids: direct UK flights take under seven hours and there's no jet lag. Sound interesting? Take a look at what else Abu Dhabi promises families this winter.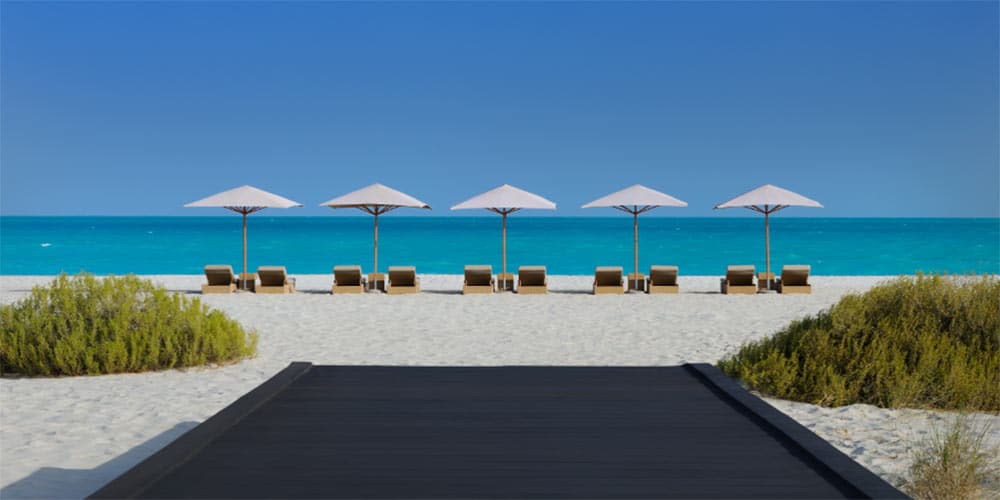 1/4

Incredible family beaches for Abu Dhabi winter sun breaks

Abu Dhabi does beaches beautifully. Many family resorts sit on the Arabian Gulf and have their own, private stretches of sand. But several of the emirate's public beaches are too good to miss.
Corniche Beach is one of the city's best loved beaches, not least of all because it has sensational views of Abu Dhabi and two of its three zones are reserved for families.
Saadiyat Beach is pristine and lovely. It's also a nesting site for Hawksbill Turtles, protected dune area and offers low-impact water sports.
Yas Beach has cabanas, loungers and cool drinks for lazy-day sunbathing. Plus it's packed with family activities from SUP on the Arabian Gulf to kayaking through mangrove reserves.
Nation Riviera Beach Club belongs to The St. Regis Abu Dhabi, welcomes day guests and is everything you'd expect from a five-star resort beach.
Al Bateen Beach is 800m long, overlooks Hudairiyat Island and recently received a Blue Flag for sustainability.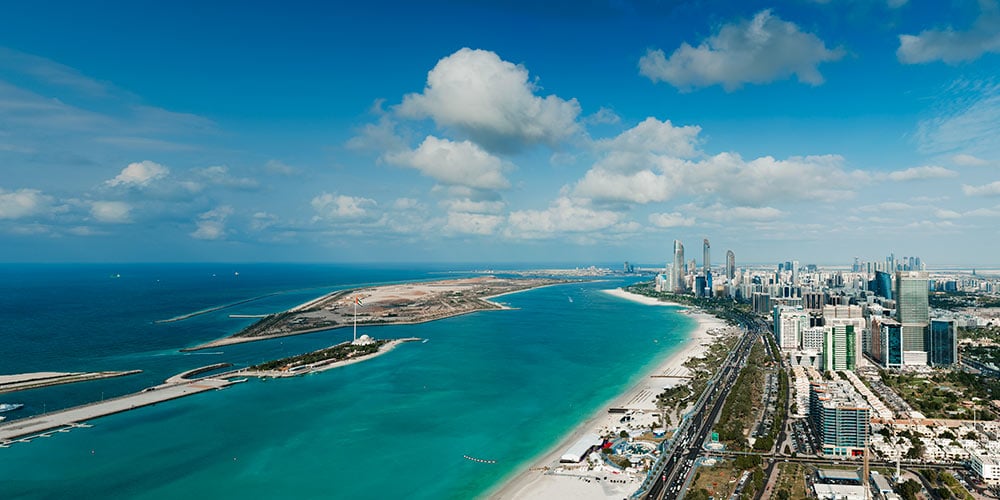 2/4

Try amazing island hopping adventures in Abu Dhabi

Abu Dhabi spreads across more than 200 islands. Several are mini fun-satellites loaded with family attractions. Some have wildlife experiences. And all come with winter sun.
Yas Island is where to head for Ferrari World Abu Dhabi, Yas Waterworld, Warner Bros. World™ Abu Dhabi and Yas Marina Circuit.
Sir Bani Yas Island gives more than half its area to the Arabian Wildlife Park. And dedicates quite a bit to sustainable, family-friendly Anantara Resorts.
Saadiyat Island is the one for Louvre Abu Dhabi and sensationally long Saadiyat Beach.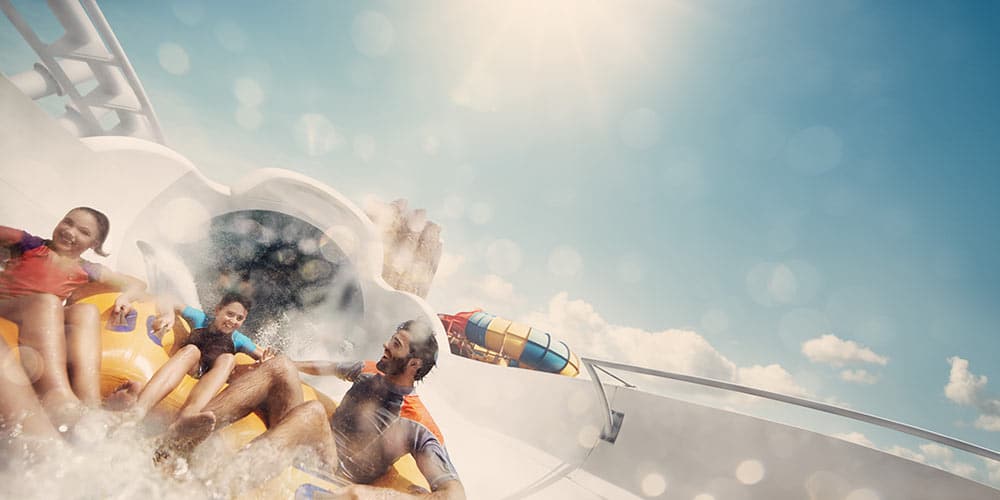 3/4

Abu Dhabi winter sun breaks are packed with family attractions

Abu Dhabi is a fun city with a strong spirit of adventure, a cultured soul and plenty of family attractions as proof.
Sheikh Zayed Grand Mosque contains one of the world's largest chandeliers, over 1000 marble columns and the largest hand-knotted carpet on earth.
Warner Bros. World™ Abu Dhabi, Yas Island is the world's biggest indoor theme park and features over 30 rides as well as restaurants, shops and family shows.
Ferrari World Abu Dhabi, Yas Island has more than 35 Ferrari themed rides including Formula Rossa – the world's fastest rollercoaster.
Yas Waterworld, Yas Island includes the world's largest simulated surf waves, and a 550m water-coaster incorporating interactive laser effects.
Wadi Adventure, Al Ain is where to find the UAE's first man-made white water rafting experience, plus 200m long ziplines and vertical climbing walls.
Marina Eye, Abu Dhabi Corniche has Abu Dhabi's best view from Marina Eye Ferris Wheel set on the Corniche Breakwater.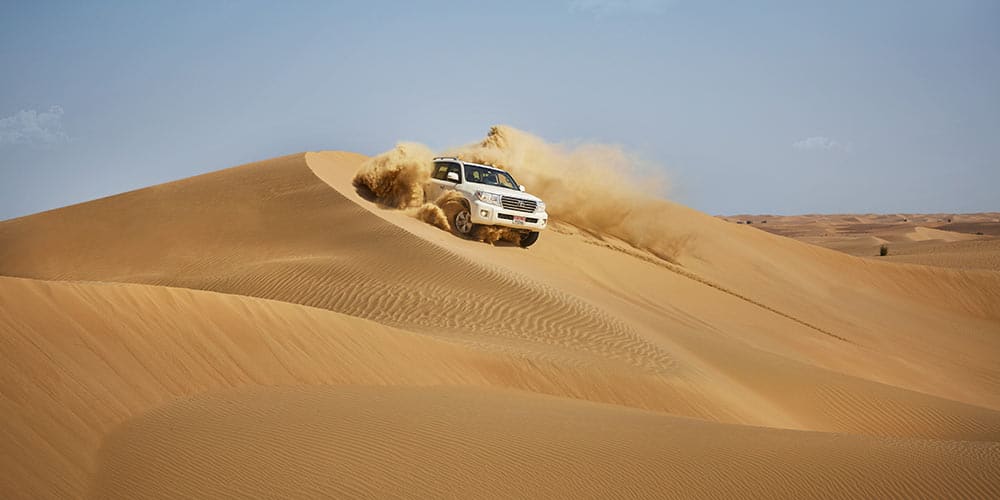 4/4

Have an Abu Dhabi family activity holiday this winter

Sunshine, Arabian Gulf beaches, vast deserts and outdoor adventures make Abu Dhabi a prime pick for family activity holidays in winter.
Desert Safaris at authentic camps in Al Dhafra desert region let you spend the day playing before an evening of feasting and entertainment under the stars.
Sand boarding and skiing on the unimaginably tall dunes at the edge of Rub Al-Khali, the Empty Quarter, takes winter sports to another level for kids.
Kayaking in Abu Dhabi's legendary Mangrove National Park is unforgettable. Try eco-kayaking tourss with local guides.
Snorkelling round the clear, protected waters of Sir Bani Yas Island in mid-winter is an amazing experience for older kids.
The ancient city of Al Ain is a World Heritage site, just two hours from Abu Dhabi and one of the world's oldest permanently inhabited settlements.
Jebel Hafeet Tombs are the pitstop to make before you drive up the iconic, snakelike mountain road to the top of Jebel Hafeet.
The Yellow Boats are a fun way to see Abu Dhabi from the Corniche and Lulu Island to the Grand Mosque.
Abu Dhabi Information
Capital of the United Arab Emirates and the largest emirate of all, Abu Dhabi covers over 80% of the UAE, borders Rub Al-Khal and incorporates the ancient city of Al Ain, as well as the desert region of Al Dhafra, and more than 200 developed and undeveloped islands.
How to get there
Direct flights to Abu Dhabi from Manchester and London take from six hours, 50 minutes.
In the mood to think ahead? Take a look at our month by month dream holiday guide for 2022. And don't forget to follow Family Traveller on Instagram and Facebook and share your holiday dreams – or just say 'hi'.
This article contains affiliate links. We may earn commission when you click on them. This does not influence our editorial standards. We only recommend products and services we believe will enhance your family travel experience.